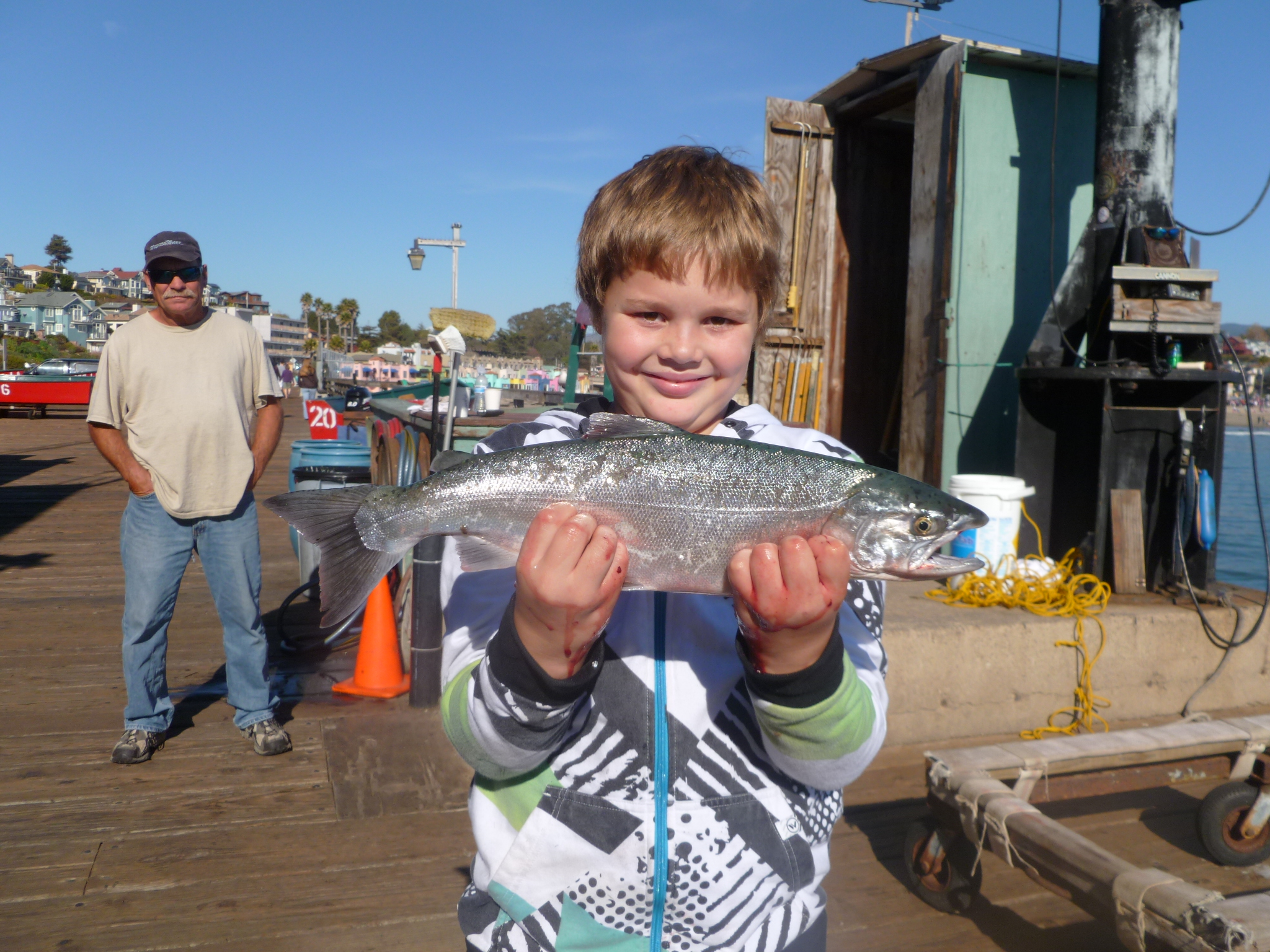 Silver Salmon —Picture courtesy of Capitola Pier Bait and Tackle
Most steelhead are landed during the late fall to winter months although a few may show up in the spring depending upon the year's rain patterns. Many of the steelhead are caught on live bait (anchovies, if available), but pile worms, night crawlers, frozen anchovies, strips of squid and lures take a considerable number (Roostertails and Krocodiles seem to be the preferred lure of the local experts although some have also been taken on simple Sabiki rigs). The steelhead, some small 12-14–inch fish, but commonly up to about six pounds in size, often like to school in the fairly shallow, mid-pier waters on the north side of the pier. A nine-pound steelhead was reported in October of 2003.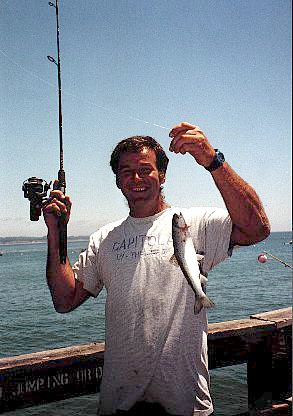 Steelhead — Picture courtesy of Capitola Pier Bait and Tackle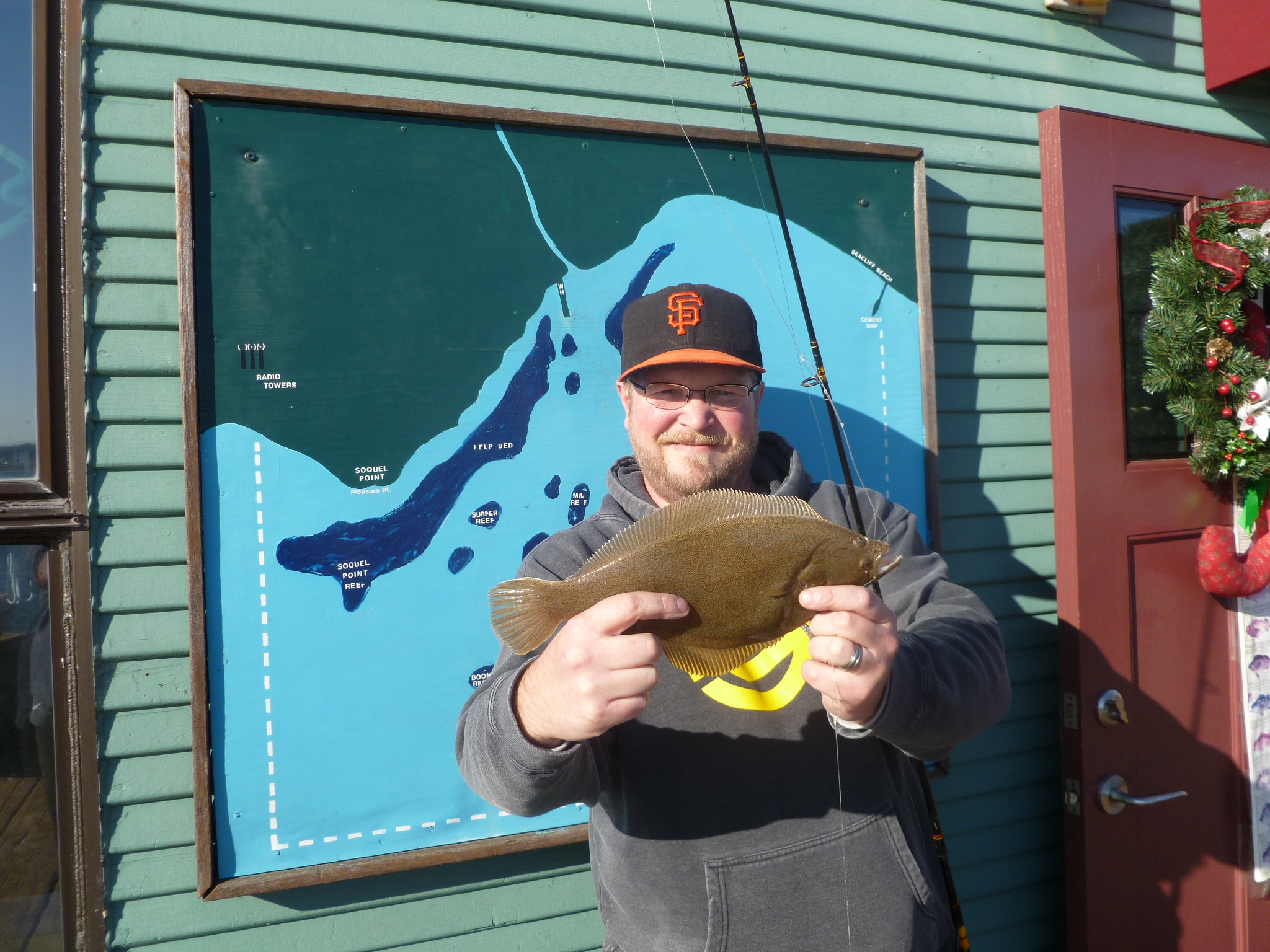 Sand Sole — Picture courtesy of Capitola Pier Bait and Tackle
As mentioned, staghorn sculpin (bullheads) are common. In fact, they are too common. I had one trip here where I stopped fishing simply because I couldn't keep them off my line. Although these sculpin are notorious for hitting hooks on the bottom baited with pile worms, that day they seemed to hit any bait and hit it not only on the bottom but at mid-depth. I tried artificial lures for a while but when a sculpin finally hit one of those, I decided it was time to move on. It's easy to see why one local calls them the vermin of the sea!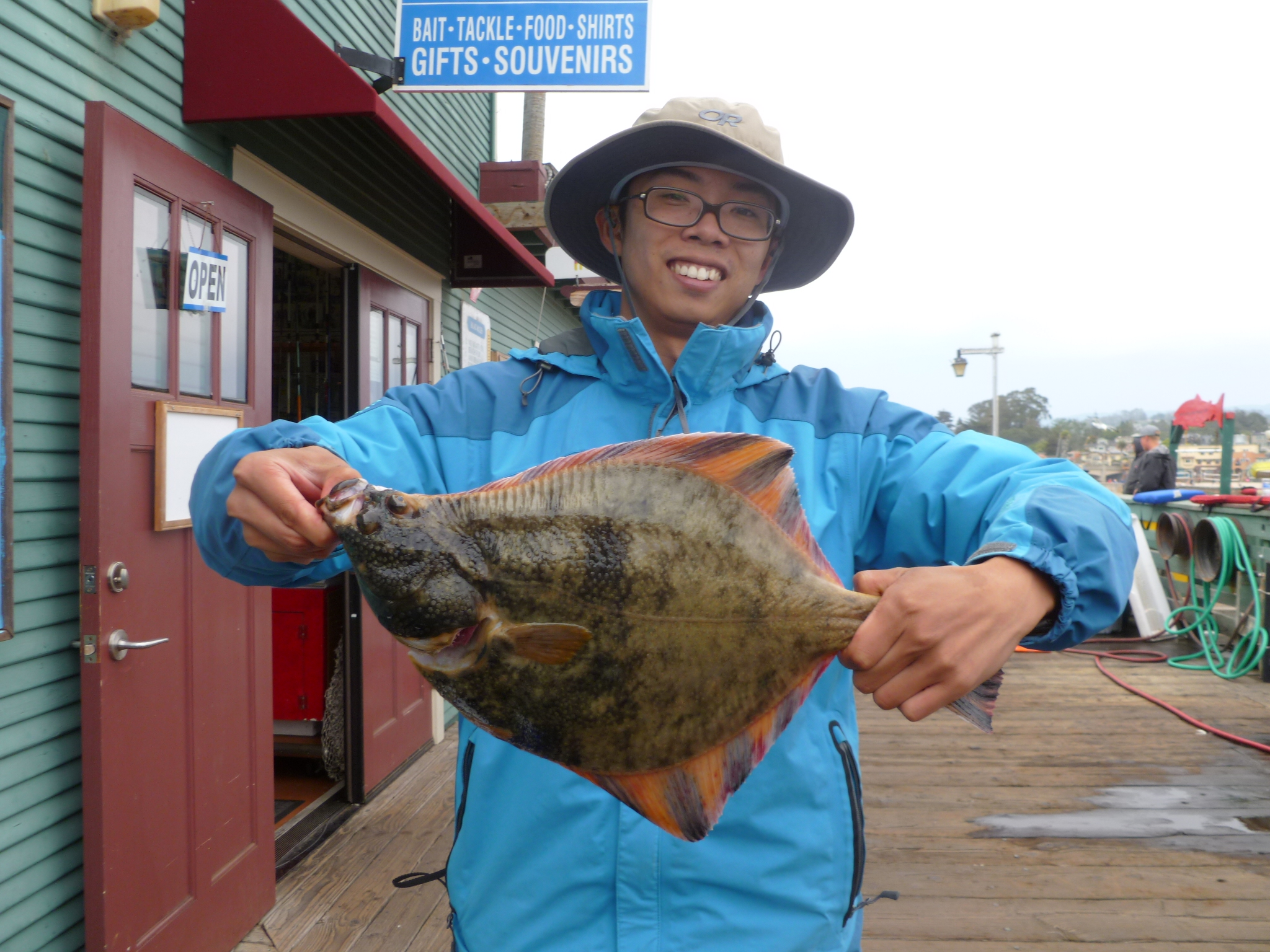 Starry Flounder — Picture courtesy of Capitola Pier Bait and Tackle
Crustaceans, etc. Crabbing is also practiced at the wharf although I do not believe it is as productive as down the road at the Santa Cruz Wharf. Nevertheless, several species including Dungeness, slender crabs, rock crabs and spider crabs are taken down by the pilings.
September 2008 saw anglers landing small squid on Sabiki bait rigs. If you're a newbie to the pier, and in doubt, consult the folks at the bait and tackle shop on the pier, they're knowledgeable and ready to help an angler.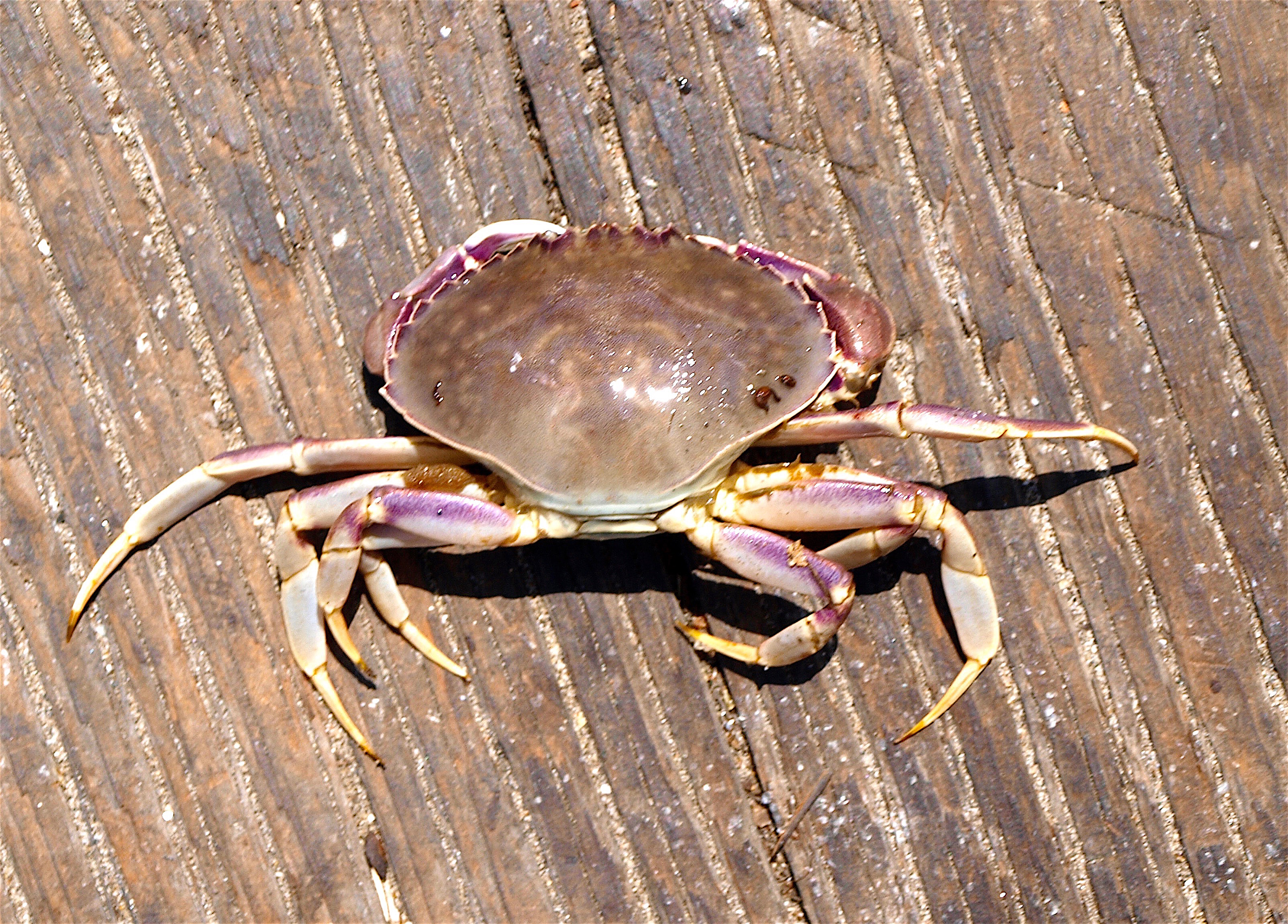 Crab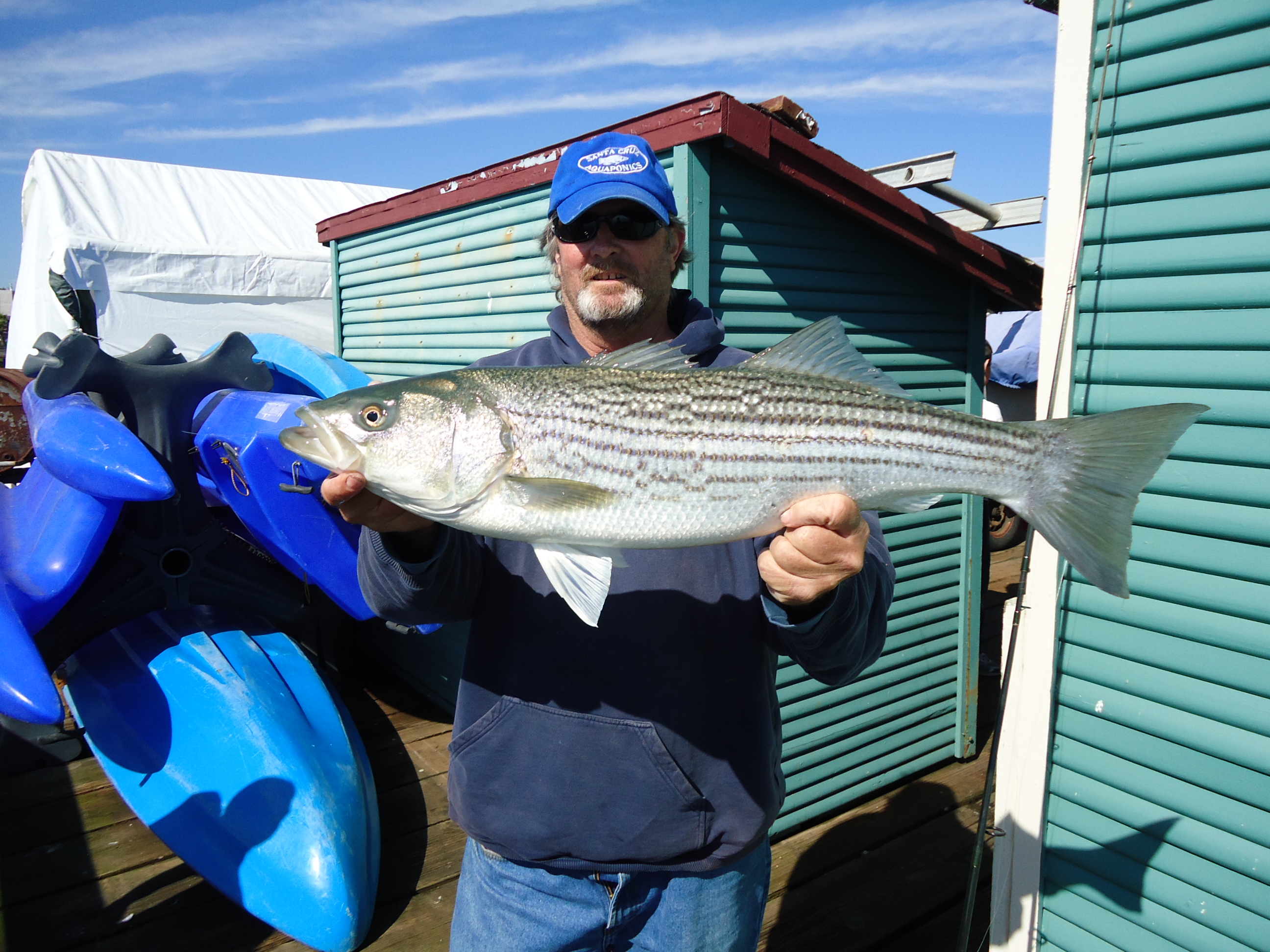 Striped Bass — Picture courtesy of Capitola Pier Bait and Tackle
The Pier Rats Speak
Date: September 1, 2000; To: Pier Fishing in California Message Board; From: Ken Jones; Subject: Capitola Wharf
 Ed, at the Capitola Boat and Bait Shop (on the wharf), reports that some stripers are still being taken from the wharf and they're reaching good size (including fish up to 25 pounds last week). Not a lot of them but enough to keep it interesting. He says there is a lot of bait in the water (sardines and anchovies) and most of the big fish are falling to live bait that has been taken on bait rigs. It's slow on kingfish (white croaker) but some halibut are also showing at the pier. Unfortunately most are too short to keep. Quite a few perch are also available but they are small-sized perch – walleys and shiners. Shark fishing has been slow with only a couple of leopard sharks being taken. Most interesting are the reports of barracuda close in near the pier although none have been caught at the pier so far.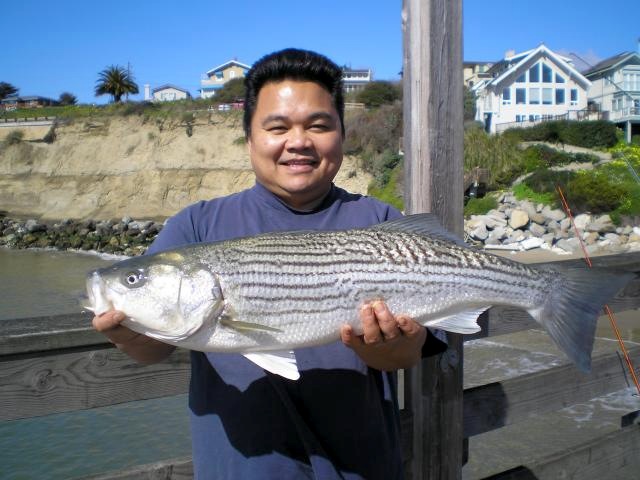 Striped Bass —
Date: October 1, 2000; To: Pier Fishing in California Message Board; From: Ken Jones; Subject: Capitola Wharf
 Ed at the Capitola Boat and Bait Shop (on the wharf), reports that a 45-pound white seabass was taken from the pier this month and that a few salmon have also been landed. He didn't have much else news about the pier but that wasn't bad.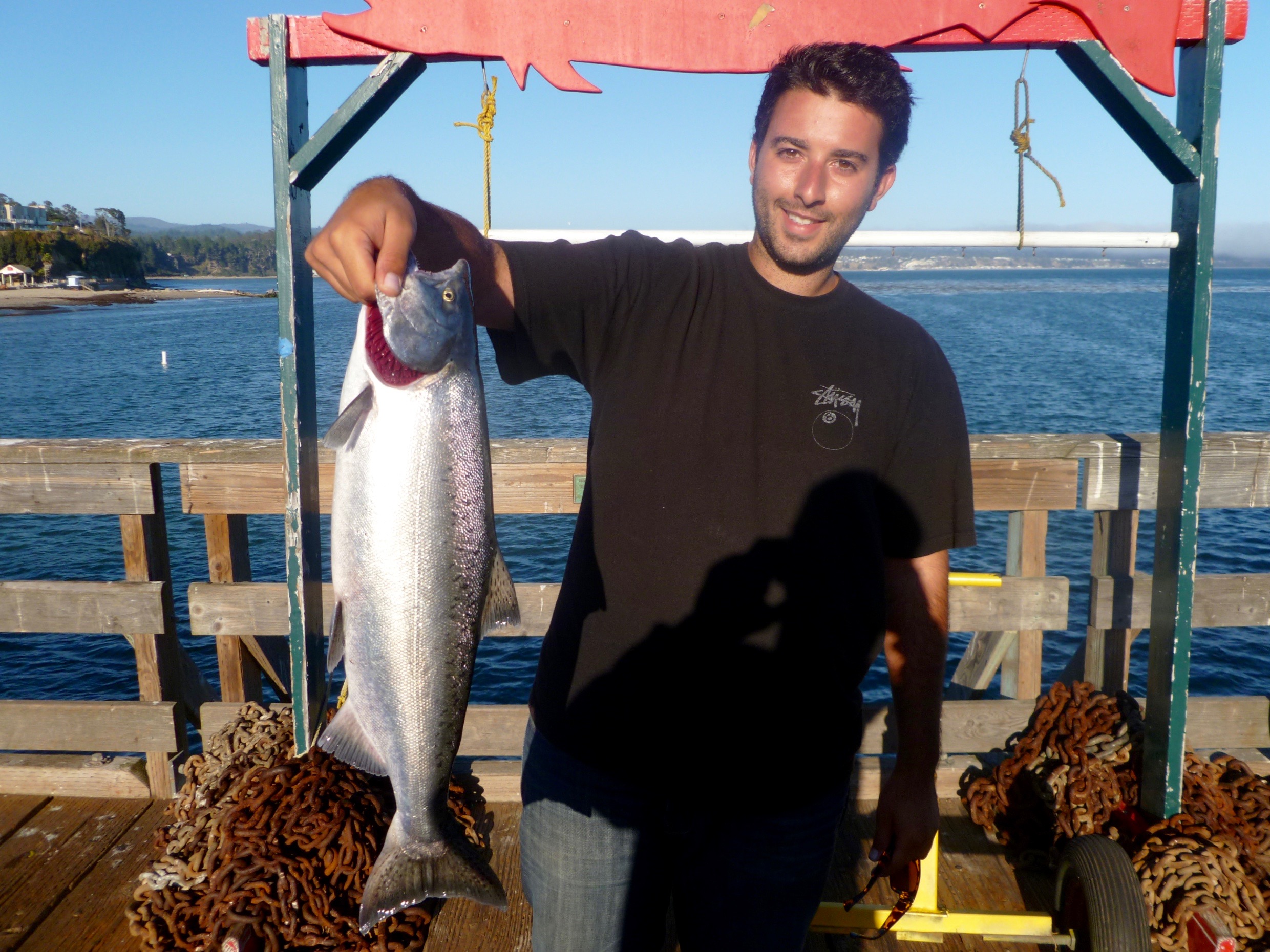 King Salmon — Picture courtesy of Capitola Pier Bait and Tackle
Date: February 25, 2002; To: PFIC Message Board; From: geckomd; Subject: Capitola Pier Report
Fished Capitola from about 9:30 to 12:30. Action was slow for us but perch were being caught by all of the regulars. They felt so sorry for us that they started giving us their catches!
All in all, it was a great day and the sea was glass-surfaced. Met a couple of the regulars…really nice old-timers, Harry and Dave to name a few, who gladly stopped their fishing to give us tips and the how-to's and where-to's to land these perch and other species to be found in the Capitola waters. Met Dan, Ed, and Anna from the bait shop. Really nice people with many photos of trophy fish caught in years past hanging on the walls, who also took the time to share with us their experiences and tips. Dan even invited us to follow him out in the boat to some of his favorite and productive spots.
Bait used was shrimp and motor-oil plastic grubs. However, according to these guardians of the pier, the secret was the green colored, chartreuse, plastic grubs. Apparently, if you were using the green grubs, you were sure to limit out on the perch. Can't wait for those halibut to start coming in. Capitola, here we come!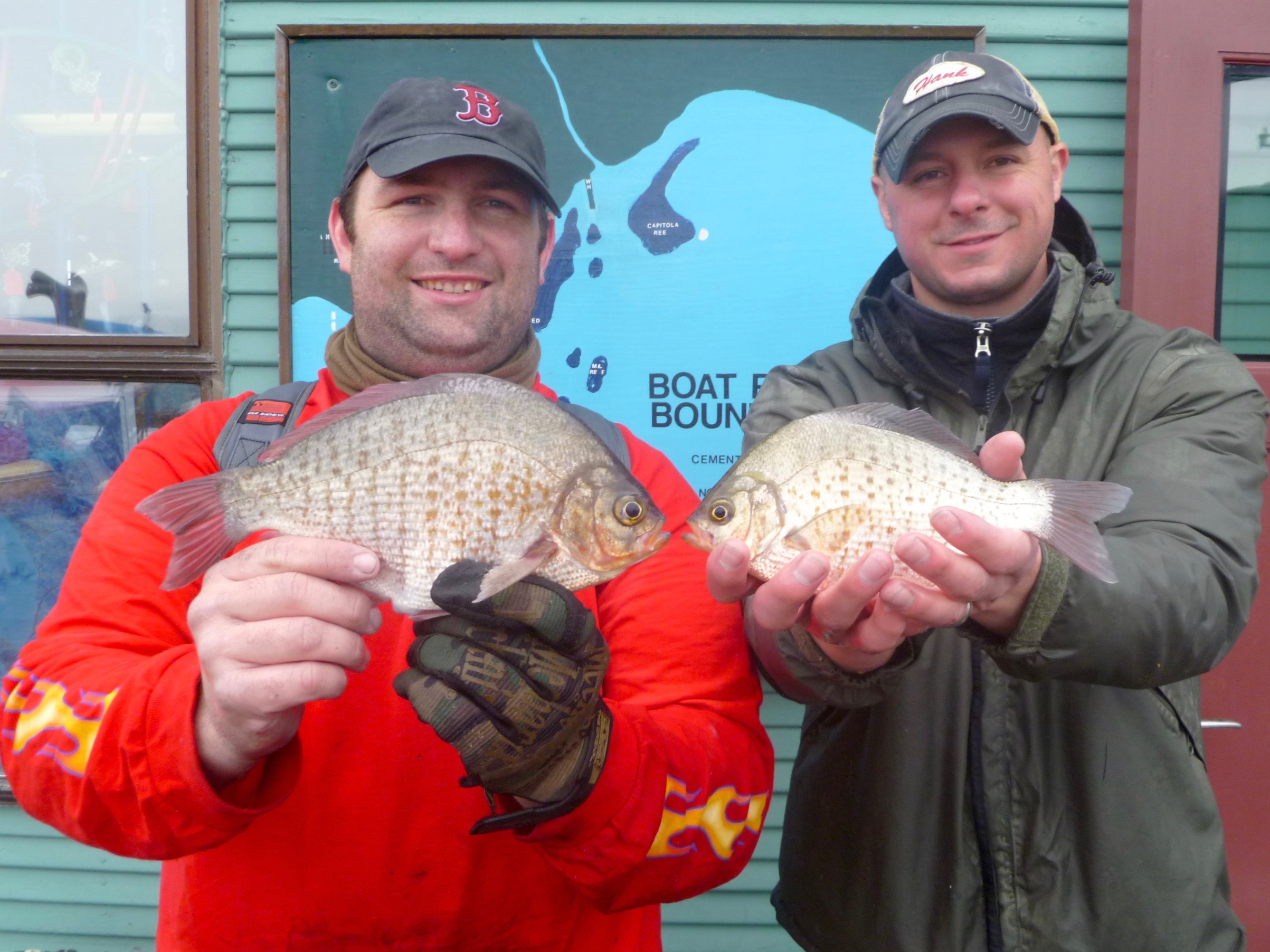 Calico Surfperch — Picture courtesy of Capitola Pier Bait and Tackle
Date: March 22, 2002; To: PFIC Message Board; From: geckomd; Subject: Capitola Pier Report
Fished at Capitola Pier yesterday afternoon from 1:00 – 4:00PM. Non-stop perch action the entire time that we were there. When I left, they were still biting! The three of us averaged about one hook up every 2-3 minutes and this particular school had larger walleye perch with most fish in the 9-10+" range. Believe or not, my arms actually got tired from hauling those fish up the pier, unhooking them, and throwing them back. One of the customers in the restaurant, who was watching us do this for an hour, rushed home to get his gear just so he could join in on the fun! Best action to date! Enjoy!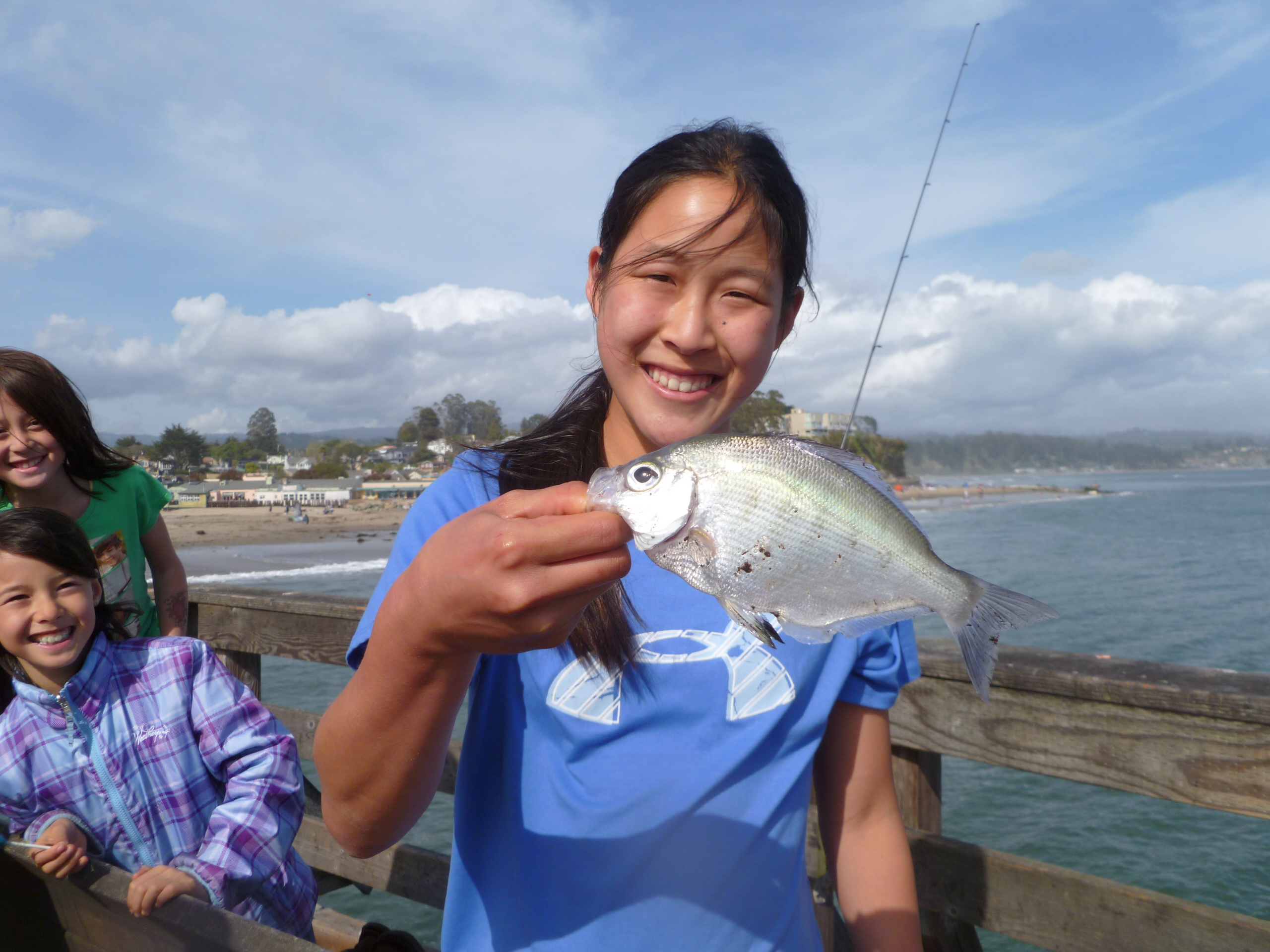 Walleye Surfperch — Picture courtesy of Capitola Pier Bait and Tackle
Date: September 29, 2002; To: PFIC Message Board; From: Russ Johnson, Fat Rat; Subject: Capitola Pier Report
There's been a fair amount of bait in the water, and people are catching halibut and even a few stripers off the pier. There was a 15-lb. striper on 9/16 and a 14-lb. striper on 9/21, but nothing reported since then.  Someone caught a 7-lb. salmon on 9/18, and there was also a 10 lb-halibut caught on the 18th. These along with the numerous perch, kingfish, bullheads.  All were caught using anchovies or sardines, most off the bottom with a slider rig of some sort.  Although one guy told me he saw a big striper caught last weekend using a live anchovy about six feet below a bobber. The weather has fantastic all month.  Yesterday was the first chilly day, but today was nice again. I fished Capitola for about three hours this morning, and caught five perch and a bunch of bullheads."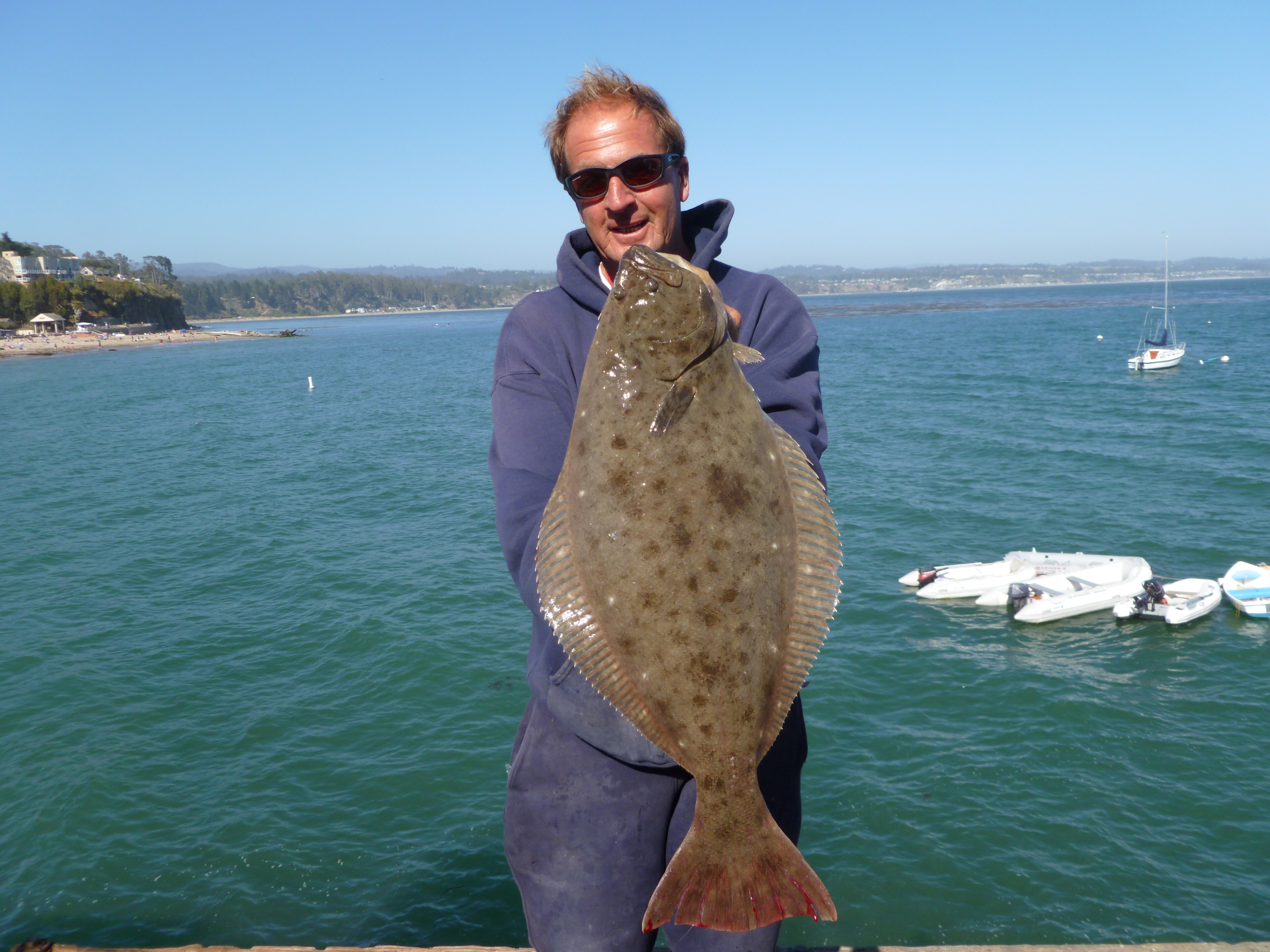 California Halibut — Picture courtesy of Capitola Pier Bait and Tackle
Date: June 19, 2003; To: PFIC Message Board; From: pescare; Subject: Capitola 6/19 – Stripers!
Not me of course, but the other guys… We fished from 3pm to 6pm this afternoon. Pretty good crowd on the pier and the sweet spot just inside the grey gates was a little crowded. I personally saw five stripers landed and heard of one more caught before we got there. Not a single halibut as of 6pm. All stripers were caught on live anchovies of which there were plenty to be caught as needed. The largest was about 17lbs and was hooked on the west/north side right next to the gate on a Carolina rig. The others were in the 7-8lb range and were caught with a mix of Carolina and float rigs. Only saw one picked up on the east/south side today.
I fished with my girls next to the gate on the east/south side and we were as busy and could be with walleye, shiners, anchovies and sardines on Sabiki rigs. I had a line out with live bait the whole time but got no good fish. I did have one bit of excitement when my bobber went under and headed toward shore. My heart was racing until I set the hook and felt that the fish was not a big one. I got it to the surface and just couldn't believe it. A big fat jacksmelt of about 18″ somehow managed to get my live anchovy and #hook down its throat!
Highlight of the day was not the big fish though. We had been fishing next to a very nice gentleman and having a nice visit and sharing live bait with him. Later on he was joined by his wife who had their two grandchildren in tow, a girl of about 6 and a boy of about 8 years. I learned that neither of them had ever been fishing before so I Okayed it with my girls and lent the grandpa their two rods so the kids could give it a go. The little girl hooked a big walleye within about 15 seconds and just went nuts! She screamed and jumped around and was just loving it. That was followed up by the boy doing the same thing a couple of minutes later. Can't really say if the kids had the bigger smiles or grandpa did, but it sure felt good to see it. The kids insisted they call their parents right away and grandma got on the cell and made the connection so they could share the excitement. I feel like we made some friends for life even though we'll likely never see them again.
Oh, that 36 fish day I heard about…. Never happened. I talked to Ed at the boat rental about it and he said no way. There were 6 caught on the wharf that day if I remember correctly, and about 12 from skiffs. There was a 14-lb salmon caught from the wharf yesterday too. Great day out there. I'm still buzzing over all the cool stuff. Ed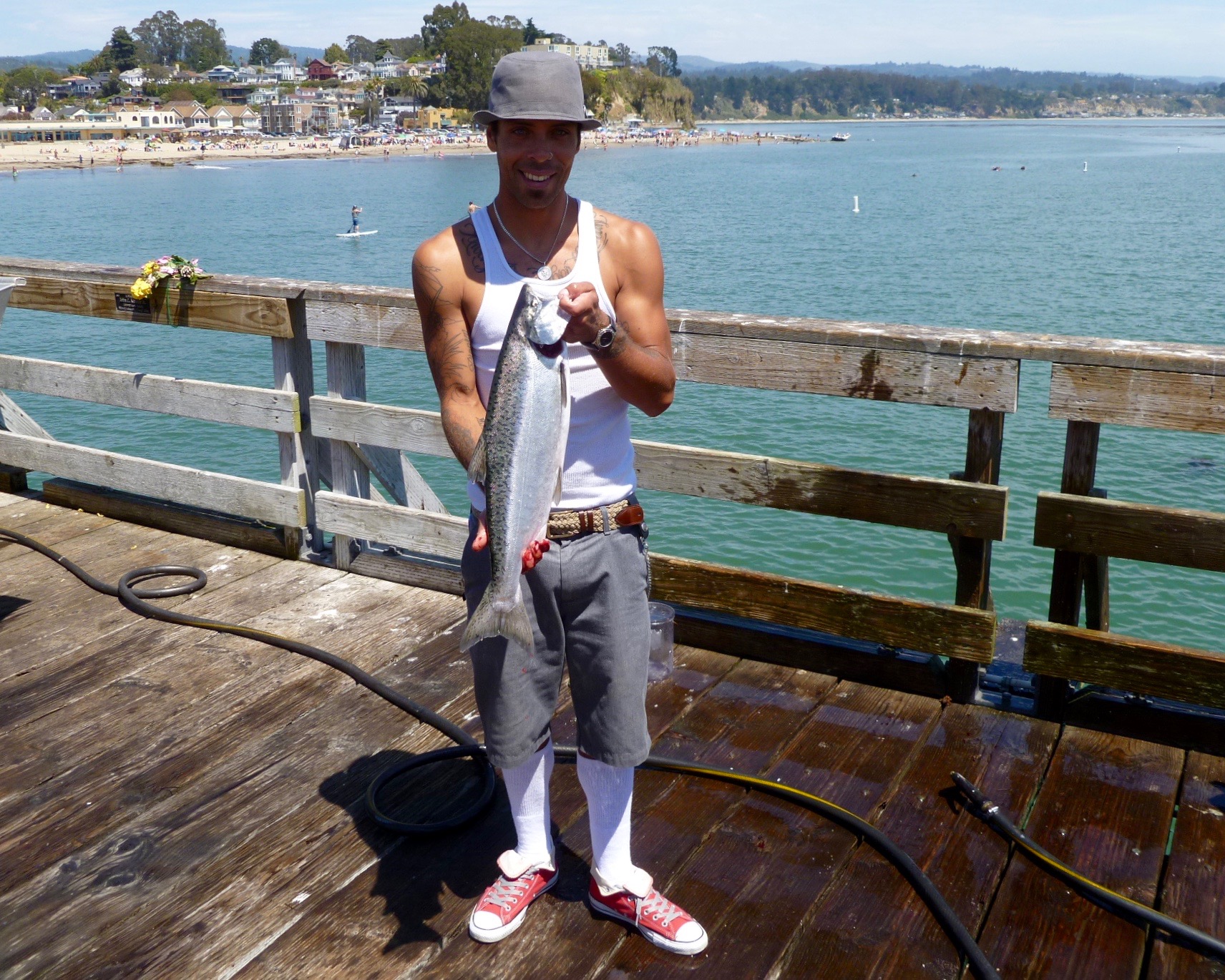 King Salmon — Picture courtesy of Capitola Pier Bait and Tackle
Date: November 17, 2004; To: PFIC Message Board; From: FakeFisherman; Subject: Capitola Pier Report
After poking around the archives for some new piers to check out, I decided to head down to Capitola with a friend to check out the wharf. We missed the incoming tide, unfortunately, but it was a quick drive down from Palo Alto. Got there at around the top of the tide and fished the surf for a while. It was a really beautiful day.
Threw out some mussels and ghost shrimp and got some taps and finally reeled in a silver surfperch (released) on the mussels. There were lots of very large pileperch feeding around the pilings. One guy was trying to snag some, but no luck. Not much else happened so we moved out towards the end and threw out some squid and anchovies. My friend brought in a smallish kingfish, her first, and then her first baby bat ray. As the sun started to go down we nailed kingfish after kingfish, but they were TINY. Gave a couple of the decent-sized ones to a cool Jamaican dude (a regular there, I think) that was also fishing there. Thought about using some as bait but didn't think there was anything other than the babies that would be biting. The fog and cold rolled in around 6:30 so we headed out.
Total: 1 – silver surfperch — 1 – baby bat ray — 2 – kingfish — 18 – micro kingfish — 3 – bullheads — 1 – micro sanddab
This was a really nice pier and relaxing day out. If it weren't for PFIC I wouldn't have known to check it out!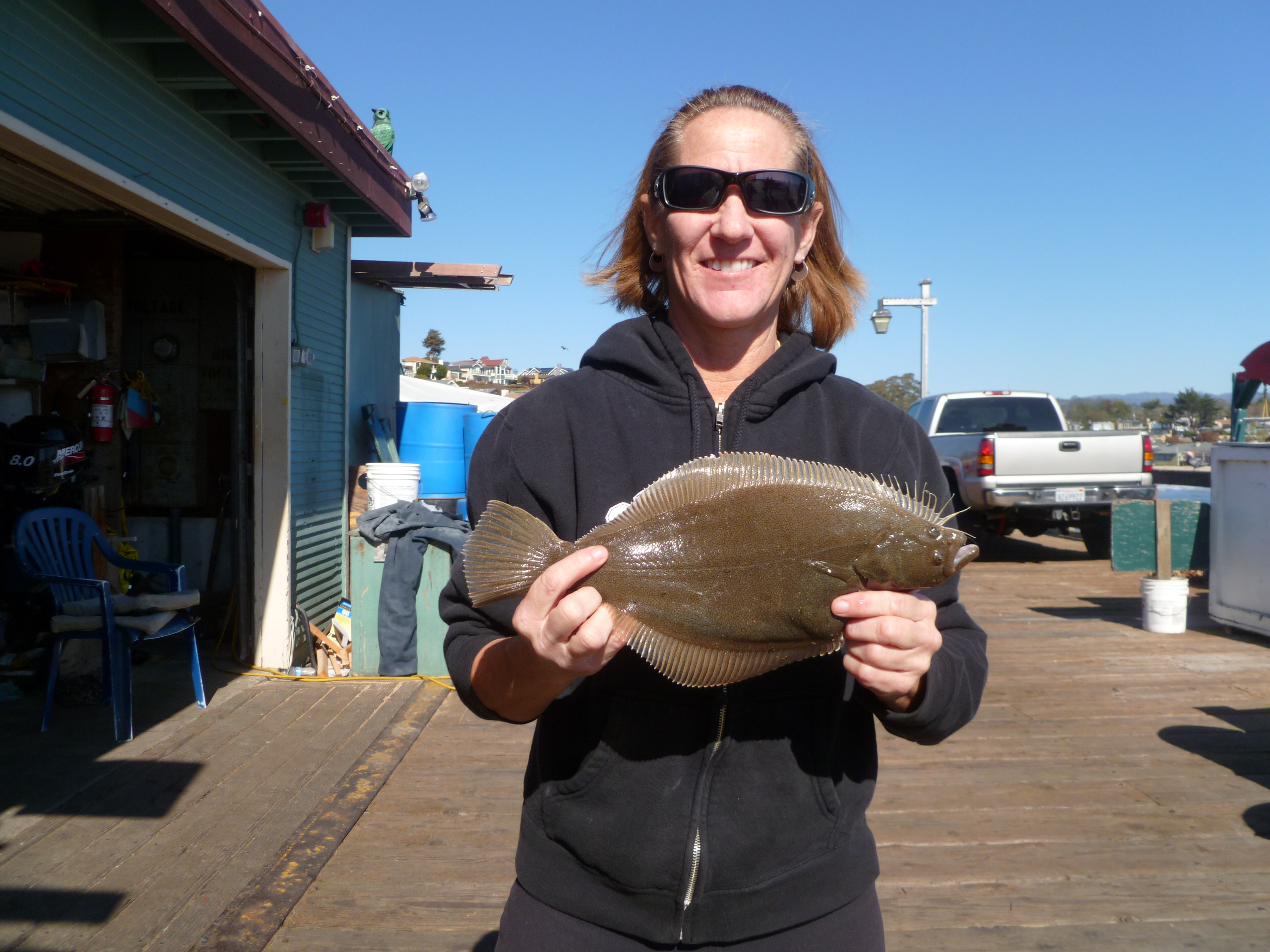 Sand Sole — Picture courtesy of Capitola Pier Bait and Tackle
Date: June 14, 2007; To: PFIC Message Board; From: tenaciousD; Subject: White seabass at Capitola
I just got back from the pier literally 2 minutes ago. The bite was still hot, but not for white seabass. Stripers were hitting live anchovies really hard, but unfortunately not swimbaits or topwaters. I was there for 1.5 hrs throwing out a Big Hammer bait fish color 6" swimbait w/ 3/4oz head. One good tap on my 3rd cast out that nearly took my swimbait off, but nothing after that. In my short time on the wharf, four stripers were landed, two seemingly over the 10-lb. mark, and all looked like keepers. The bite seemed to have died down in the last 15-20 min that I was there, but I'm sure it was only temporary.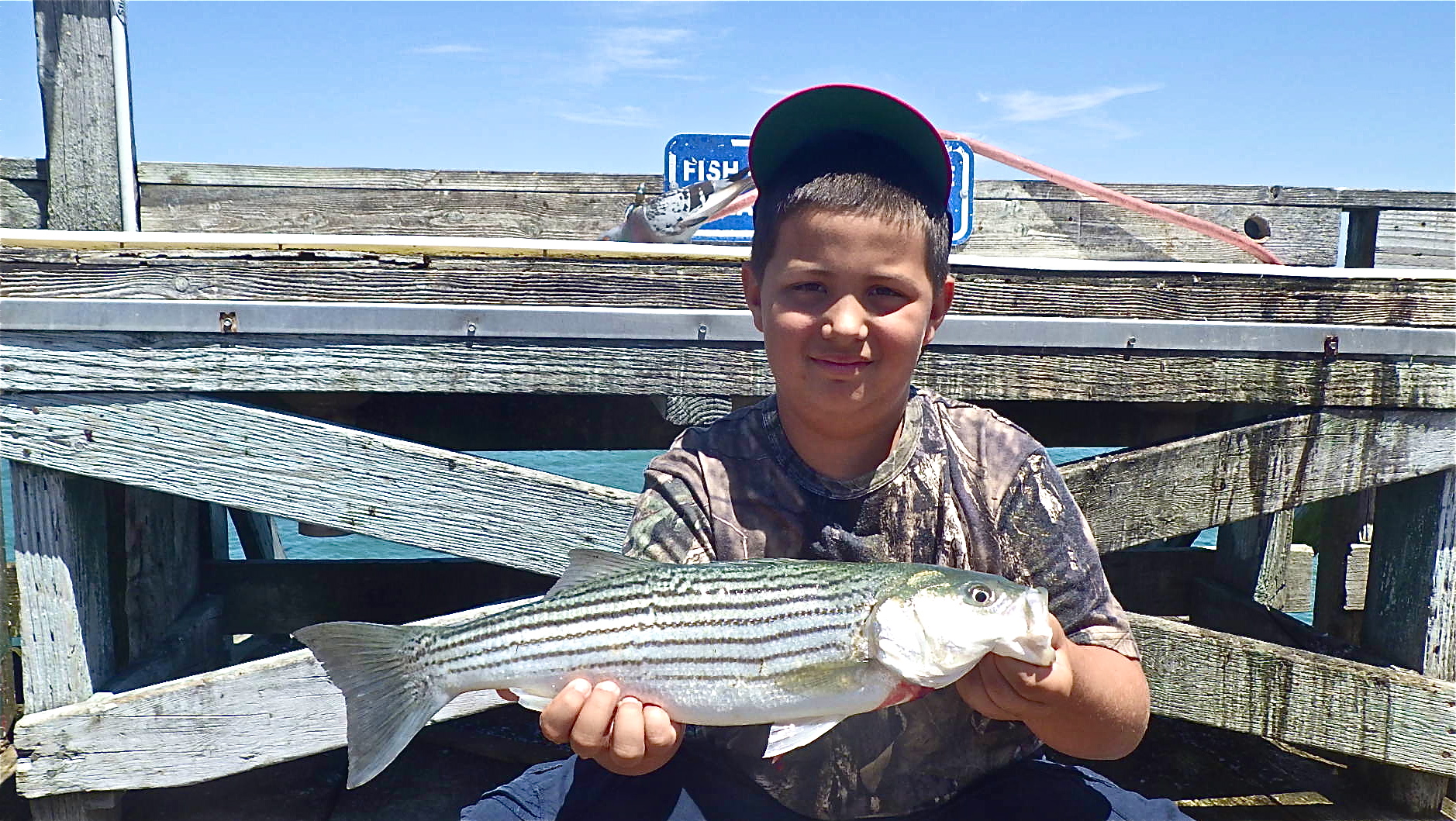 Striped Bass — Picture courtesy of Capitola Pier Bait and Tackle
Potpourri — Possibly More Than You Want To Know About The Capitola Wharf

<*}}}}}}}}}>< — Fish and Game fish surveys done from 2004-2009 showed 26 different species as follows (numerically) — northern anchovy, white croaker, jacksmelt, barred surfperch, shiner perch, walleye surfperch, calico surfperch, topsmelt, silver surfperch, black perch, brown rockfish, pile perch, Pacific mackerel, white seaperch, Pacific sardine, blue rockfish, Pacific sanddab, staghorn sculpin, leopard shark, sand sole, rock sole, starry flounder,  gopher rockfish, grass rockfish, vermilion rockfish, thornback ray. Surprisingly no striped bass or halibut were recorded even though many were caught.

<*}}}}}}}}}>< — You just never know!
Fish Rap — Saltwater Report
Big fish honors this week go to angler Larry Roland. While soaking a 7-inch smelt off the Capitola Wharf last week, Roland hooked a rare giant black sea bass. The barrel-shaped beauty, estimated to weigh around 40 pounds, provided a lively 15-minute fight fro Roland. Ed Burrell provided a timely assist from Capitola Boat and Bait, using his shore boat to net the fish. A quick picture was taken, and the fish was successfully released.
—Allen Bushnell, Fish Rap, Santa Cruz Sentinel, September 14, 2006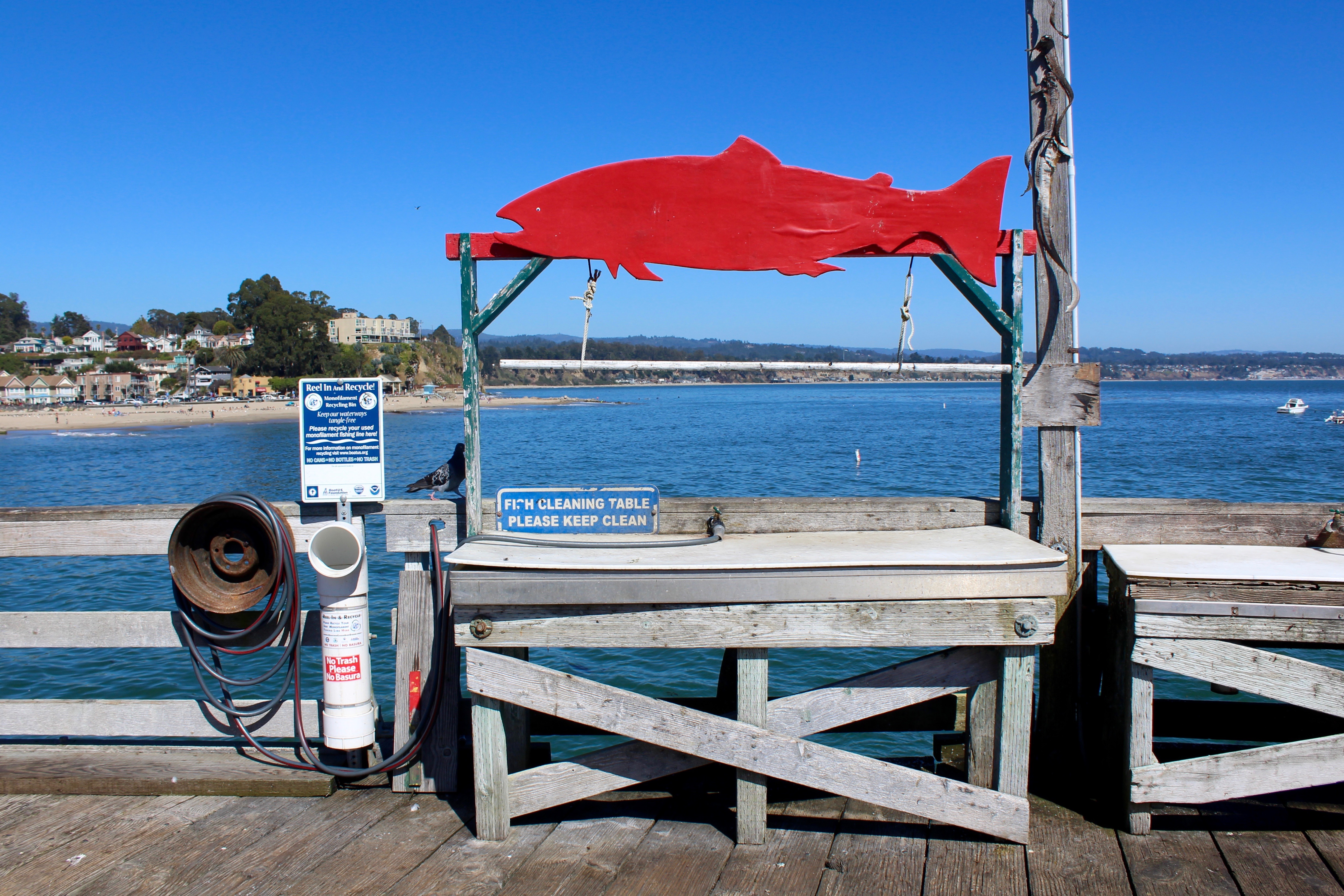 <*}}}}}}}}}>< — Capitola Boat & Bait is located mid-pier and is one of the best-run pier tackle shops that I have seen and deserves congratulations for a job well done. A full line of fresh and frozen baits are available as is tackle, rod and reel rentals, crab nets, snacks and drinks, and a wide variety of odds and ends catering to both anglers and non-anglers. Boats, of course, can be rented and pictures of the catches are pretty impressive. Of note is that live anchovies are available some summers. This is one of the few remaining piers in California that (sometimes) offers live anchovies (and the only pier in northern California). The shop even offers free pier fishing seminars ("Learn to Fish Off the Wharf"). Perhaps most impressive to me is the professionalism of every employee that I have met. By the way, one of the pier's most unusual catches of recent years was made when Frank Ealy, owner of the bait shop, decided to drift a live Spanish mackerel (jack mackerel) from the pier in early September of '98. He was rewarded for his efforts with a 40-pound giant (black) seabass that was gently returned to the water. Shortly thereafter, Ed Burrell, one of Ealy's employees, was drifting a live Pacific mackerel off the (Seacliff Pier) Cement Ship in 32 feet of water when he hooked and landed a nearly identical fish. A third giant (black) sea bass, was caught from the wharf in September of 2006. The fish was taken on a live jacksmelt and 12-pound test line and weighed, like the first two, 40 pounds. It was netted, weighed, and released back into the water.