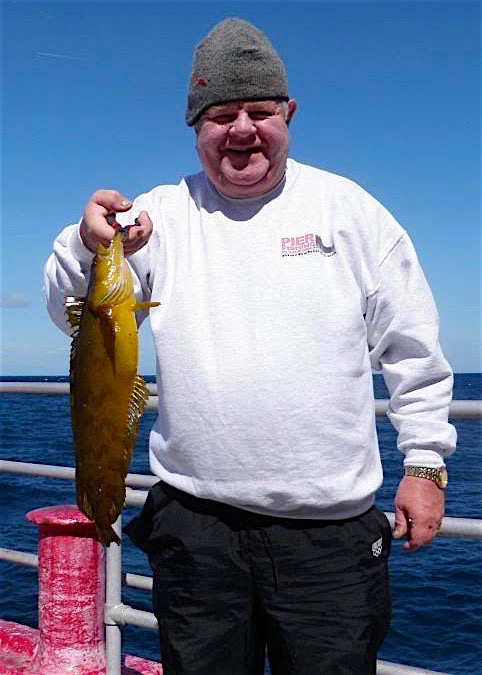 A good-sized giant kelpfish — and astill cold  KJ with several layers of clothing. 
No matter my success in keeping the sinker out of a crevice, the area did not produce a moray. I did manage a few fish including a large 16 1/8-inch giant kelpfish that was a good size fish for the species. The nets had been put away by this time and Hashem had joined in the fishing. We continued to fish through the morning but the bite was fairly slow and surprisingly the wind had started to increase. Hashem wandered over to the Ferry office to confirm our reservations and when he returned he said, "do you want the good news first or the bad news?" The bad news was that all ferries were cancelled for the day and we were stuck on the island. The good news was that we were stuck in Catalina. We would have to get a motel, figure out a way to keep our fish and lobsters on ice, and be forced to spend an additional day fishing at Catalina—oh no! Once more we moved to the Green Pleasure Pier and its fish but now we were both really tired and stopped early.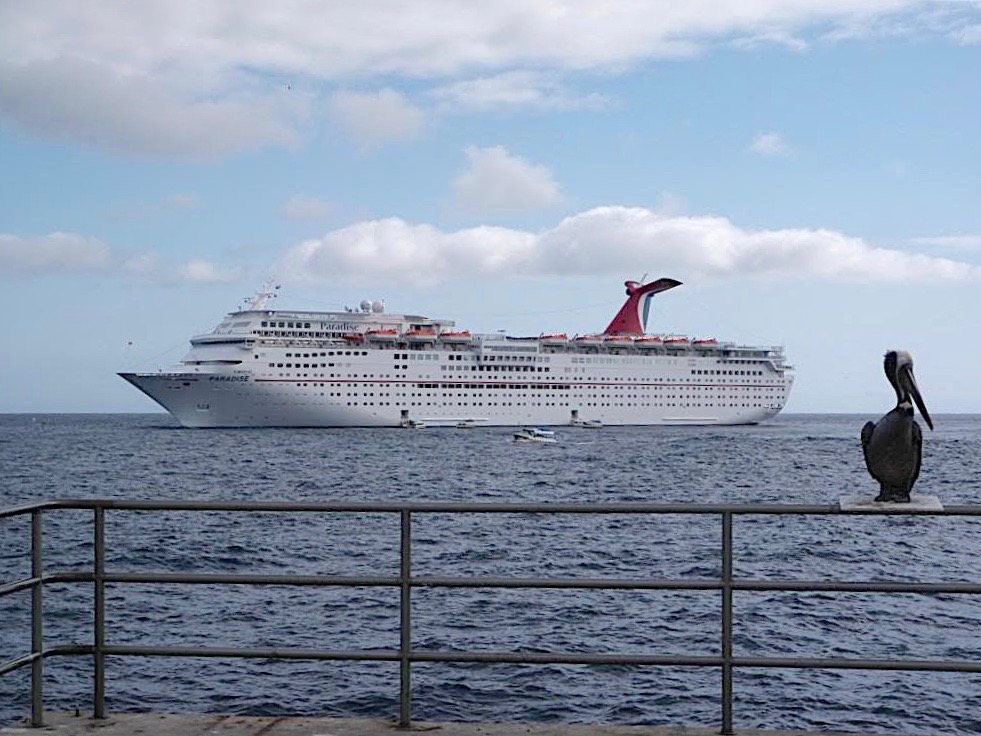 The  next morning seemed to be beautiful. There was slight breeze, a big cruise ship was sitting just out from the Mole, and we expected an uneventful ferry ride back to the mainland. It WAS beautiful at 7 a.m. but by 8:30 conditions were starting to change. The wind was picking up and the single red flag of the early morning was changed into another two-flag warning.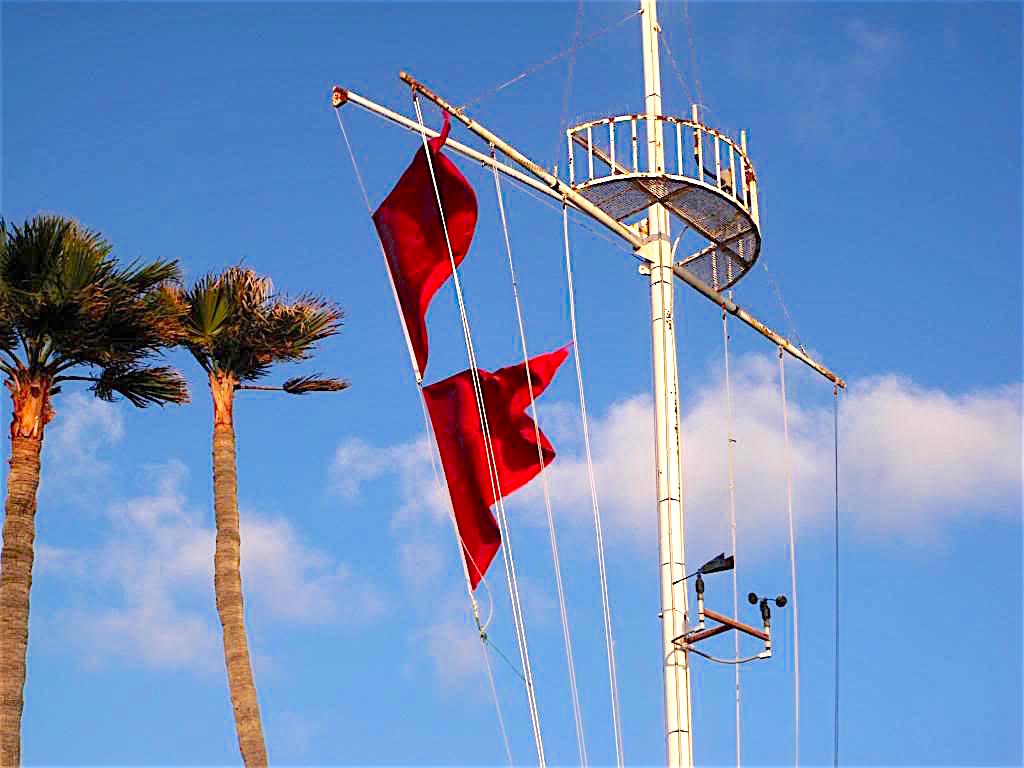 It was a two-flag morning meaning the wind was picking up and the ocean would be rough
We had skipped the 8 a.m. ferry and instead chose the 11:30 departure time. Turned out it would be the last boat back to San Pedro for the day and it would be a bumpy ride home.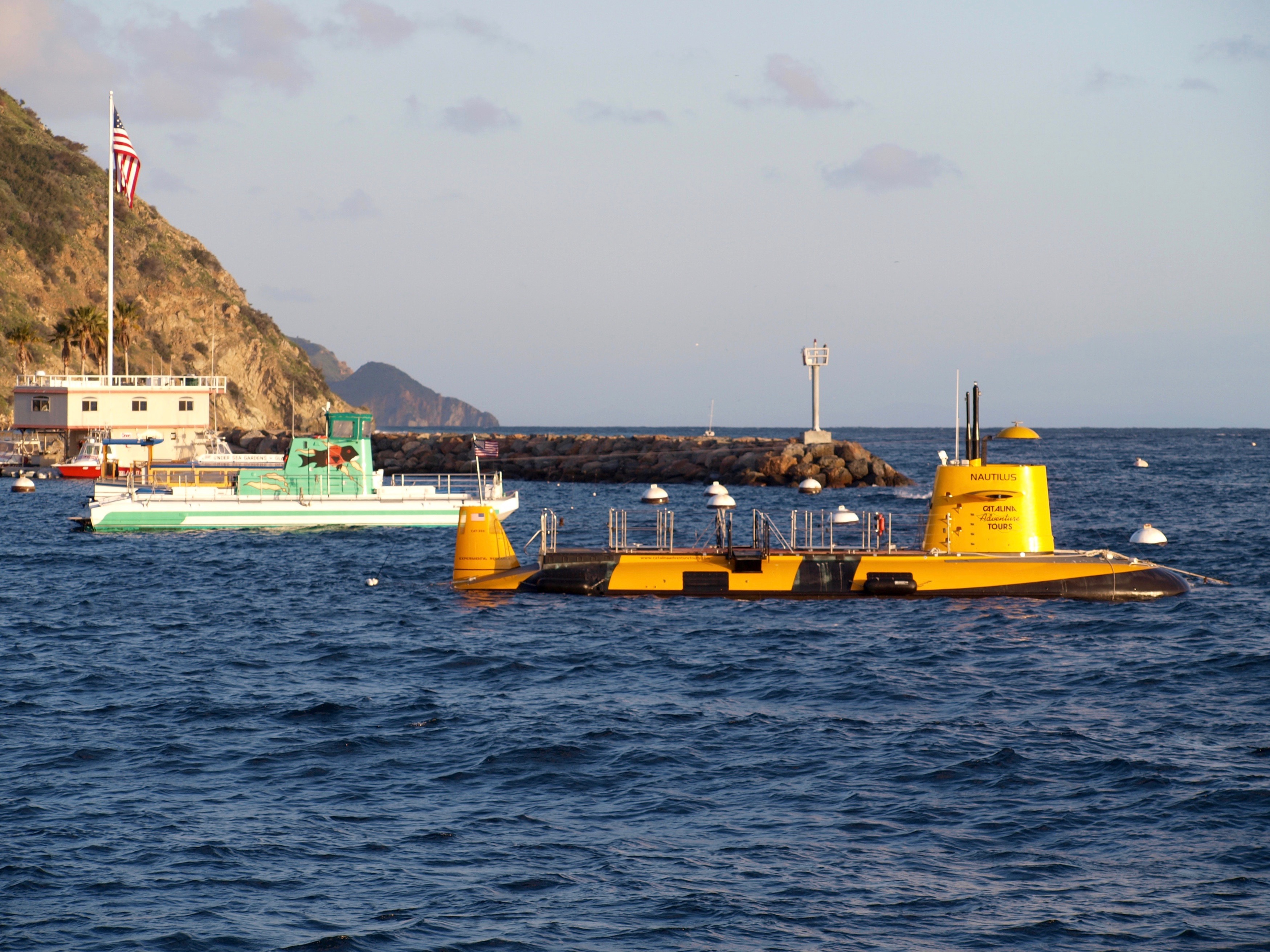 The local fleet was grounded
As for the fishing, we opted out that last morning. Although I normally would have been up early to fish, everything was packed away and I simply felt no need to add another hour of fishing to the itinerary. Although the fishing was fairly slow, I had caught an even 100 fish on the trip and most were decent-size fish. It was time to relax and go home.
<*}}}}}}}}}>< —
Most people want to follow the rules; some do not care. The following note was sent to me by one of the PFIC regulars in 2016. The story concerned giant (black) sea bass ,a protected and illegal species that is seen quite often at Catalina. Date: 11/22/2016 — There was an angler who was on the same boat as me that had heavy duty setup. He told me that he was
targeting
black sea bass. He knew it was illegal to keep, yet he was targeting them. He hooked and brought one to the rocks. Using a gaff to hook his mouth he brought fish close enough to remove the hook and released the fish. By this time the fish was exhausted and floating belly side up… It was not doing too well and it was not able to turn itself.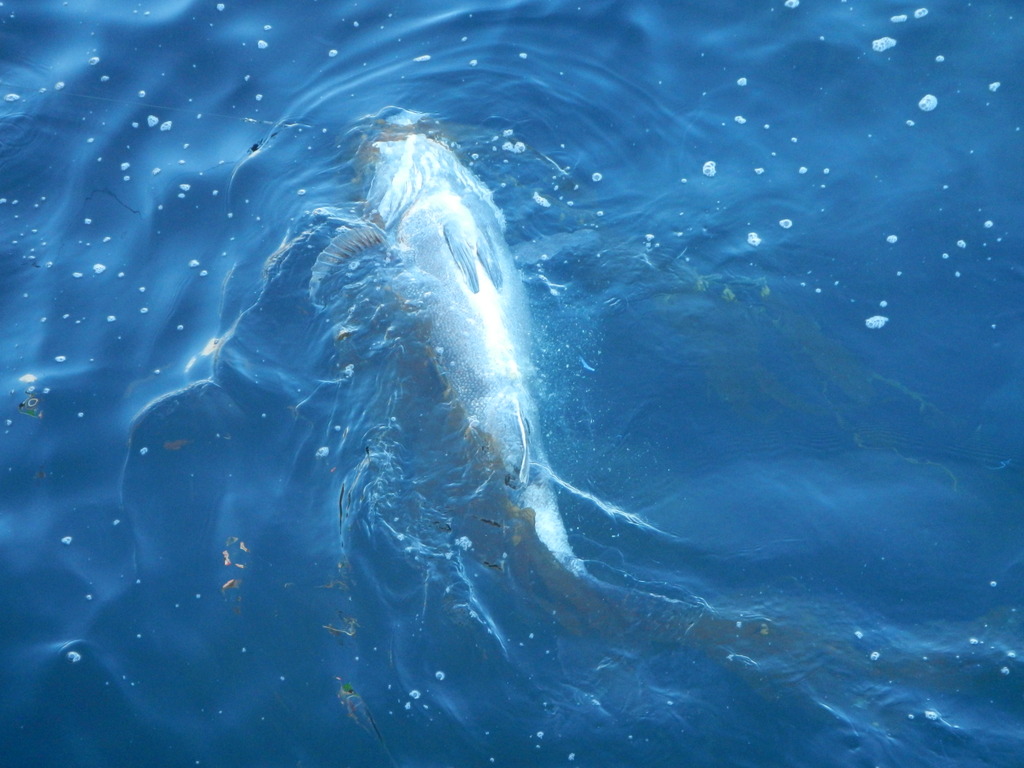 A Good Samaritan local was at Mole witnessing the release of the fish and the fish not being able to turn itself, took a boat and grabbed its tail and turned it right side up. The fish did a powerful kick and swam away. The angler continued fishing for them all day. Only one was "landed." Next day I had to clean after him the trash that he had left and a filthy cutting board.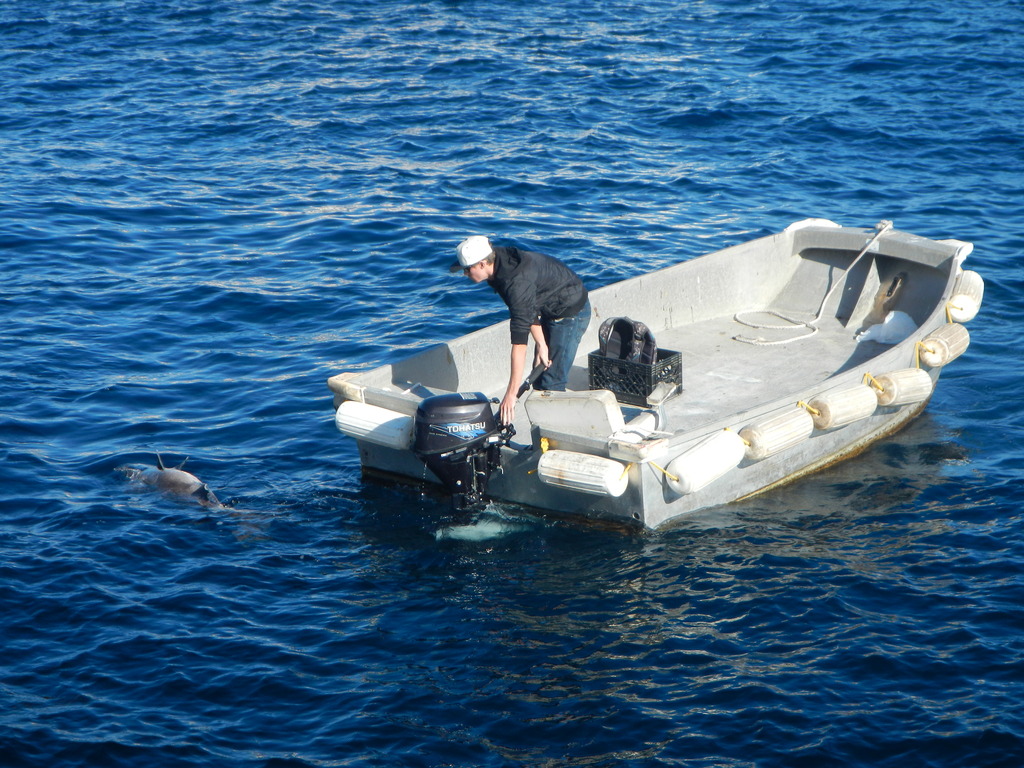 There is never a lack of dumb, imbecilic, shortsighted anglers who give a bad name to fishing and who make it really hard on those anglers who do try to be ethical anglers. A pox on this angler and others like him.  [In addition, I've now been told the angler makes regular treks to Avalon to seek out the giant sea bass. Why are the wardens of the Fish and Wildlife Department or Harbor Patrol unable to stop him?]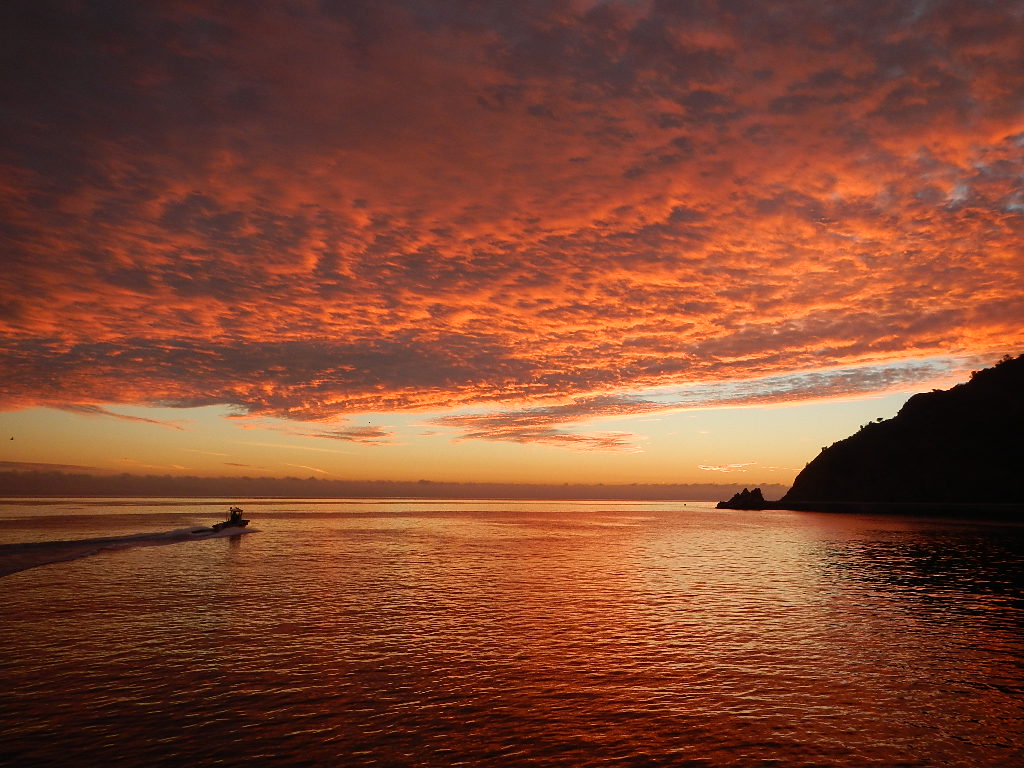 A beautiful sunset picture from the Mole taken by Mahigeer (Hashem Nahid)
<*}}}}}}}}}>< —
Raymond Chandler, creator of the famous detective Philip Marlowe (the main character in several of his books), was known for his colorful, unique and non-stop descriptions of people, places and things. In
Farewell, My Lovely
, he had Marlowe describe a colorfully dressed character: "he looked about as inconspicuous as a tarantula on a slice of angel food." The same could be said of garibaldi. When you get off the ferry that brings you from the mainland to Avalon one of the first things you may see in the crystal-clear water by the landing dock are those tarantulas, I mean garibaldi. They're Catalina's gold fish and California's state marine fish (golden trout get the freshwater honor). It seems fitting for the golden state. You'll see Garibaldi at the Mole and basically everywhere around the harbor. They're illegal to keep but you will almost inevitably hook a few when you're fishing for the other assorted species that make up the inshore mix. They're pugnacious, hard fighting, territorial, and often good-sized, but handle them with care and gently return them to the water. Almost everyone considers them a special species to be protected and the thought isn't new. The following appeared in the local newspaper nearly a hundred years ago.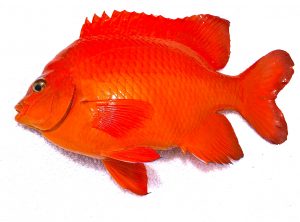 The Finny Bachelor — E. Cortisso
I know a little garden
Beneath a green-gold sea
Where bright, bronze plants are growin'
And grow so gracefully
Amidst their undulations
A flash of gold I spied;
And in and out the waving
Kelp it seemed to hide.
It was a little gold-fish
Who lived there all alone,
In this most lovely garden
In the Bay of Avalon.
Day after day I find him
Alone in his domains;
He darts, then lingers, to and fro,
And in his garden reigns.
I see that he is happy,
And that—his praise' to One,
Who caused his life to happen
In the Bay of Avalon.
"Neath the music of the waters,
In his garden of the sea,
Long may that garden denizen
Enjoy immunity
Immunity from humans,
And maws of ev'ry gauge;
I want my little goldfish
To pass away from age!
—Catalina Islander, March 26, 1924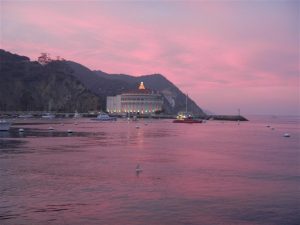 The Casino at Christmas time — Picture by Mahigeer (Hashem Nahid)
Cabrillo Mole Facts
Hours:
The pier is open 24 hours a day.
Facilities:
Tackle and bait is available a short way away at the Green Pleasure Pier. Lights and restrooms are found on  the Mole. A snack bar is adjacent to the ticket office.
Handicapped Facilities:
Handicapped restroom facilities; railings are 42 inches high. Some spots on the surface may not be good with regard to the wheels on wheel chairs.
Location: 34.14066900185003 N. Latitude, 119.19479370117188W. Longitude
How To Get There:
Ferries to Avalon, Catalina Island, run on a regular schedule from San Pedro, Long Beach (the main location), Balboa and Dana Point. Once you get to Catalina you will be at the Mole since it is the site where you embark and disembark onto the ship that brought you to the island.
Management:
City of Avalon.