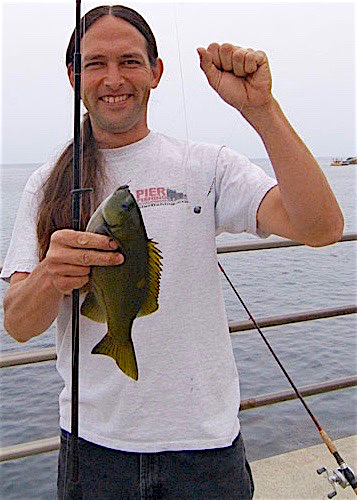 Jimbojack and an oplaeye
Their rigging isn't complicated, a long, sensitive rod that records every bite, light 6-10 pound test line (usually fluorocarbon), a slip float, and a long, 4-6 foot-leader. The leader terminates in a single small hook. Some people do not use sinkers but most add a small split-shot or rubber core (aka rubber grip) sinker about 6-12 inches above the hook.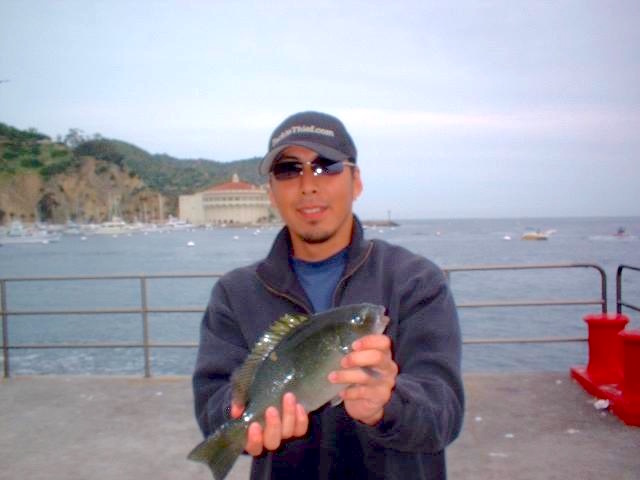 Tom and an opaleye
People disagree on the hooks, some suggest a Baitholder hook no bigger than size 8 down to a size 10 or even 12. Some anglers prefer circle hooks and one angler mentioned his use of Eagle Claw circle hooks model 1702 in sizes 14 and 16 (but there are many brands). Brand and type isn't as important as size. Considering that you usually are only using a single pea it's easy to see that a small hook is mandatory.
One final thought regards chumming. Most of the guys who concentrate on opaleye chum whether simply throwing out a handful of peas or using a more complex concoction. Some people suggest using peas mixed with moist bread crumbs, some people suggest cooked oatmeal mixed with cat food, some have even suggested (in jest?) using cooked Kraft macaroni and cheese; use your imaginatio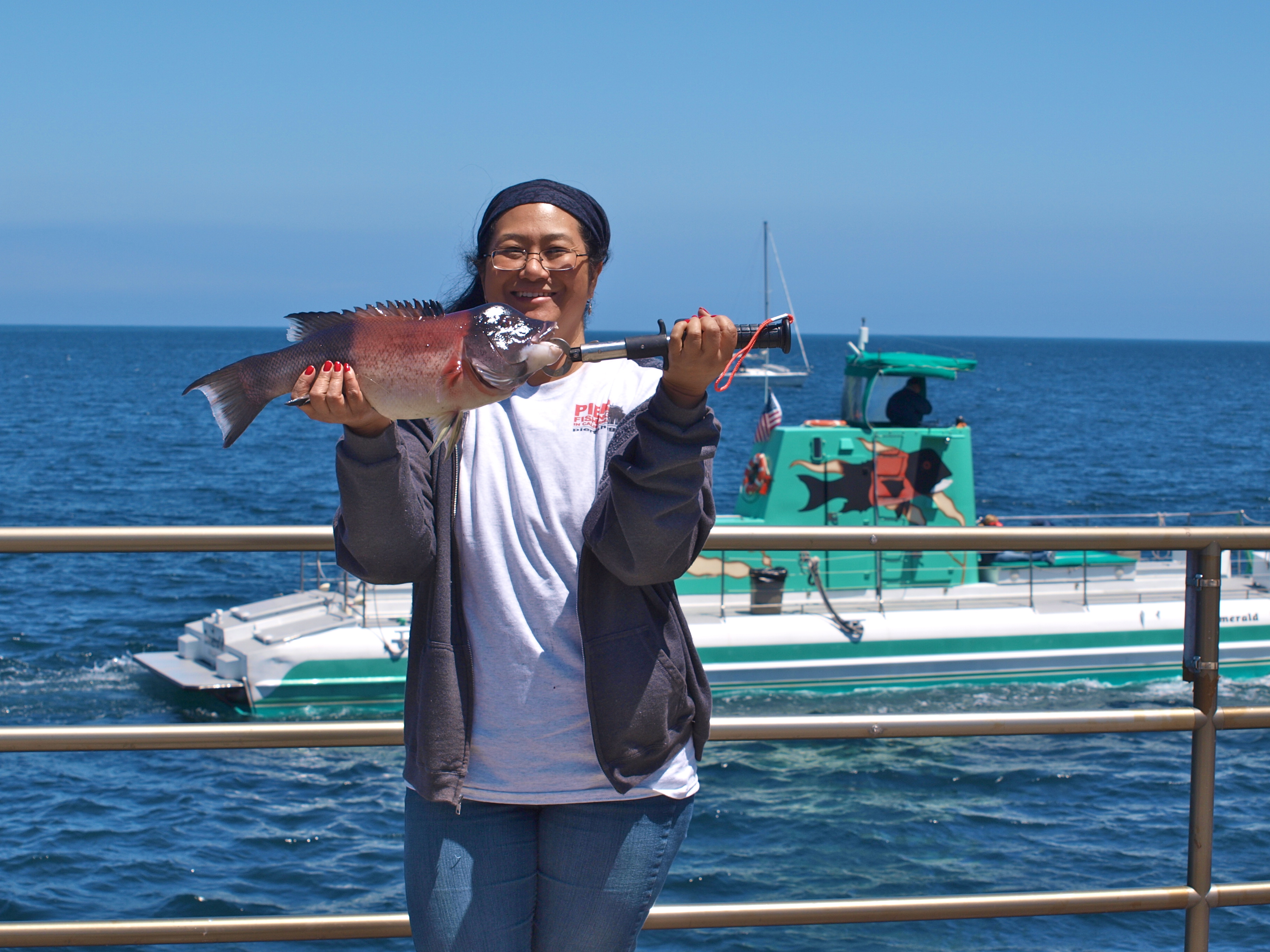 Rita and a sheephead
Bonito Rigs —Bonito are one of the hardest fighting fish in the sea and about the closest to big game fishing that many pier anglers will see, especially if large 6-8 pound fish start to show up (most are 1-4 pounds). Luckily, the Mole is one of the best places in SoCal to catch bonito when they decide to invade local waters (essentially during, and for a few years after, warm-water El Niñoconditions). My records have shown bonito at the Mole on about 2/3 of my visits.
Catching bonito is fun but does require a different rig. For years the most common bonito rig was a "splasher rig" that would create a disturbance in the water attracting the bonito. The "splasher" varied over the years. When I first started fishing in the '60s people used a large circular piece of cork with a torpedo sinker in the middle or they used a wooden dowel. Later the "Cast-a-Bubble" was developed and it became the rig of choice. People who didn't have such a rig concocted their own rigs using rubber balls and even golf balls. They all seemed to work to some degree. The "splasher" was attached to the line and a 3-4 foot leader was attached from the splasher to a "bonito feather" trailing behind. Feather colors varied with chartreuse and white, green and white, or blue and white seeming most popular.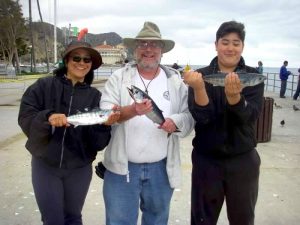 A trio of bonito caught by a trio of PFIC regulars—Rita, Ross, and Kyle
Recent years though have seen more and more anglers using a variety of spoons—Megabaits, Kastmasters, Krocodiles, and even buzz bombs—and all work to various degrees.
A couple of posts to the Pier Fishing In California message board from PFIC "experts" deserve a special read.
The first is by a dear friend, James Liu, aka gyozadude or simply GDude. James attended every PFIC/UPSAC Get Together at Avalon from the initial event in 2002 to 2013 when he unfortunately passed. He didn't care much for bait fishing but loved to catch bonito and became one of the experts. Given his brainpower (he had a couple of PHD's in nuclear physics) he also enjoyed analyzing situations and offering solutions—including his thoughts on how to catch bonito: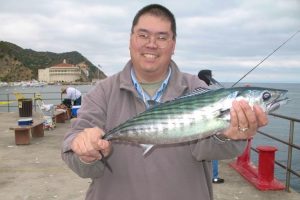 James Liu aka GDude aka Gyozadude with a bonito he caught at the Mole in 2009
Date: April 8, 2008
To: PFIC Message Board
From: gyozadude
Subject: Bonito fishing at the Cabrillo Mole, Avalon, Catalina Island
If you're coming to Catalina and want to catch bonito, here are some tips:
Gear to bring: Get an 8–10 ft. spinning rod with a mod-fast action, and 12–20 lb. test line. Try to avoid a full surf rod as the butt section may be too long for good under-hand casting. I like to use braid as it seems to have less memory and casts farther.
Bring some metal spoons, in the 1–3 oz. range. Kroc spoons in chrome with a splash of color works. Also an in-line golf-ball with two small screw-in framing loops works if tied to a 5 ft. leader and streamer or Hoochie or glow grub. The golf ball is just a bit denser than water so it sinks slowly, and will create a splash if you retrieve it quickly. My favourite lure has to be a size 4 Buzzbomb. A popular lure up in B.C. for salmon, the Buzzbomb flutters when jerked and released and catches all sorts of fish. The Buzzbomb is about 1.75 oz. and casts far, plus sinks fairly quickly. Due to its pulsing hydrodynamics, however, the lure puts out a huge alert under water. So unlike the golf ball rig that generates the most flash just at the surface, the Buzzbomb draws out fish from deeper waters… Chrome or holographic finishes are ideal.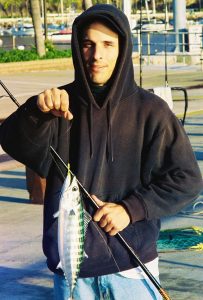 SteveO and a bonito at the Mole
Location: Best location I think for bonito is the Cabrillo Mole. You can often spot them at a distance offshore attacking schools of baitfish. The water dances wildly on the surface. But even when there is no surface activity, there are schooling bonito that may be sub-surface, around 6–10 ft. deep.
How far you need to cast varies. Sometimes they're in close. More often, they're out beyond 30–50 yds. As the Mole only allows for underhand casting, we get best results using an 8–10 ft. spinning rod held vertically downward. 10 ft. seems ideal for me. The extra length allows me to clear the structure and swing inboard and under the Mole in a pendulum motion, then quickly pull back on the butt section, which lifts the tip and shoots the lure out quite a ways.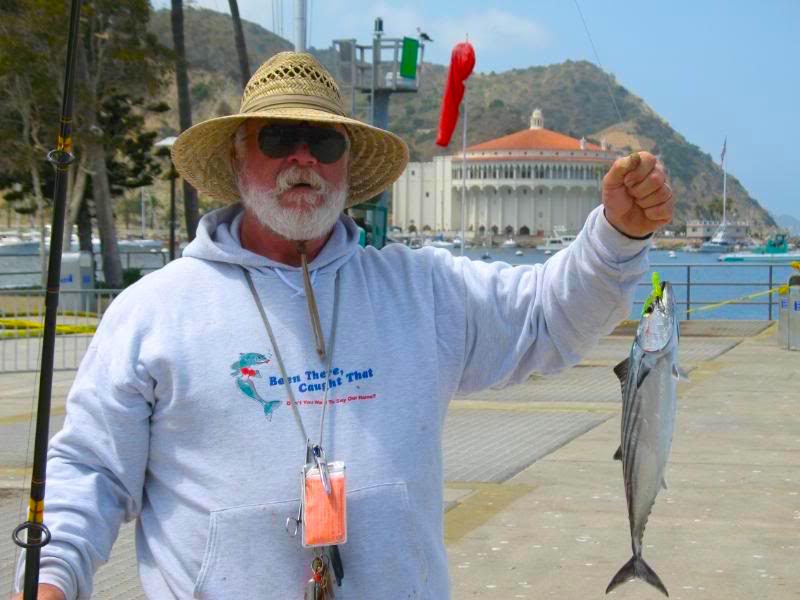 Santa (Mike Spence) and a bonito
Useful tips: Be careful during underhand casting so as not to smash rods against the concrete Mole understructure. This can chip ceramic guides. I recommend a Berkley or Abu made rod or custom rod that uses either the new flex ring memory metal titanium guides or Berkley SS304 type guides which have no ceramic ring inside but just a hardened TiCh or TiNitride coated metal ring.
The kelp grows thick in front of the Mole and bonito will tangle up in it. Try to keep lines tight and fish from diving into the kelp if possible. Braid can help in these cases if you hook up because the thin, tough line can cut somewhat through the foliage. Best tactic is to be quick and keep the fish's head up and out of the water.
If the bonito seem to disappear and stop hitting, often, they're still there. Just cast further, and let the lure sink to about 10 ft. and work your lure. Bonito are attracted to the surface often because of baitfish. But otherwise, in bright sunlight, they will stay deeper.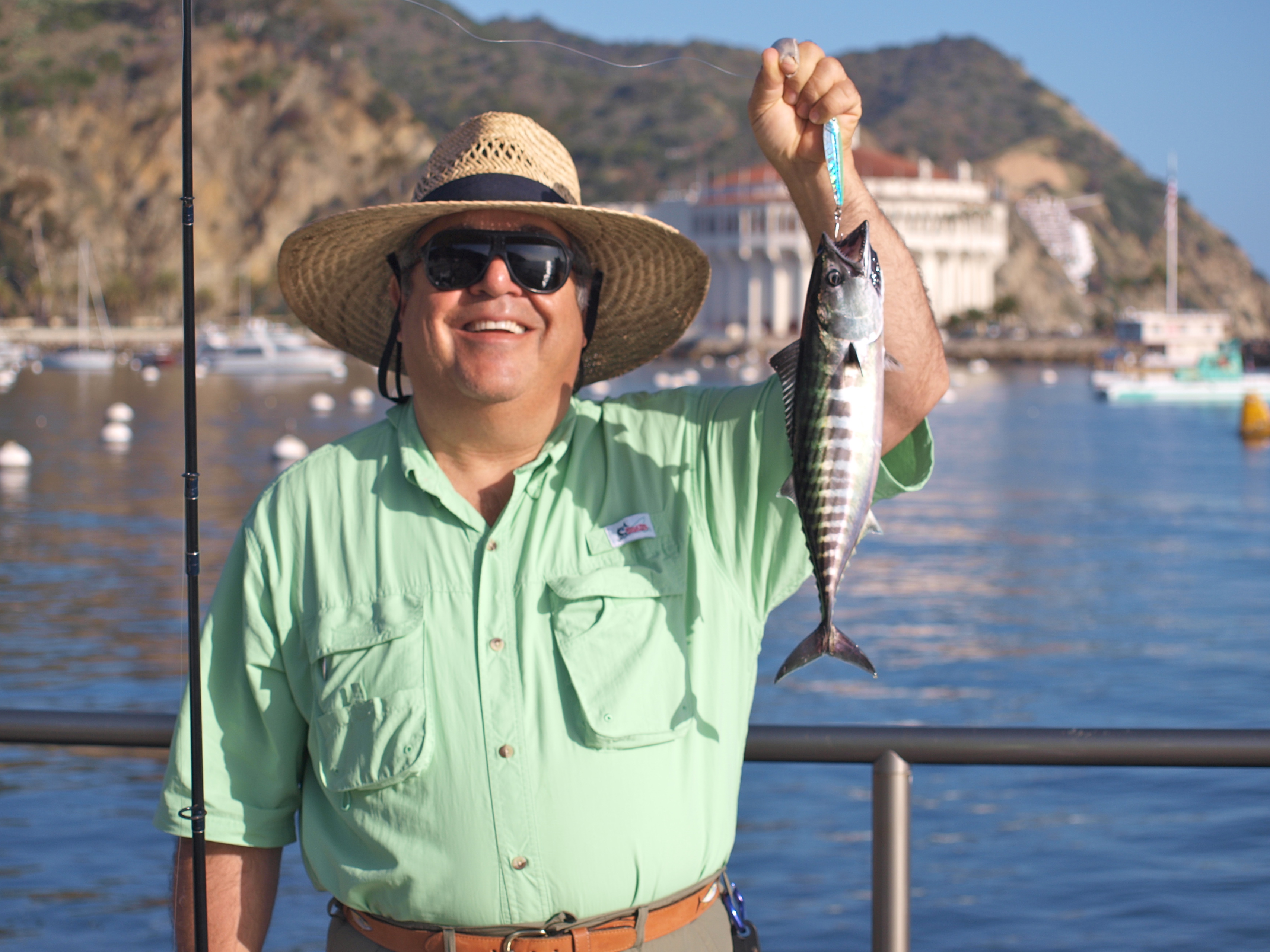 Bonito caught by Mahigeer (Hashem Nahid)
Vary the speed of the retrieve and depth to find where the fish are and then work that section for 10 minutes or until the hits stop and then move on. If the bonito are out there, they won't waste time chasing food, and they are picky. If there are no hits, change positions and cast some more.
When a bonito hits, often, you won't hook up. Crank up the slack quickly, and continue to retrieve. Bonito will give chase and often smack a lure multiple times until hooked.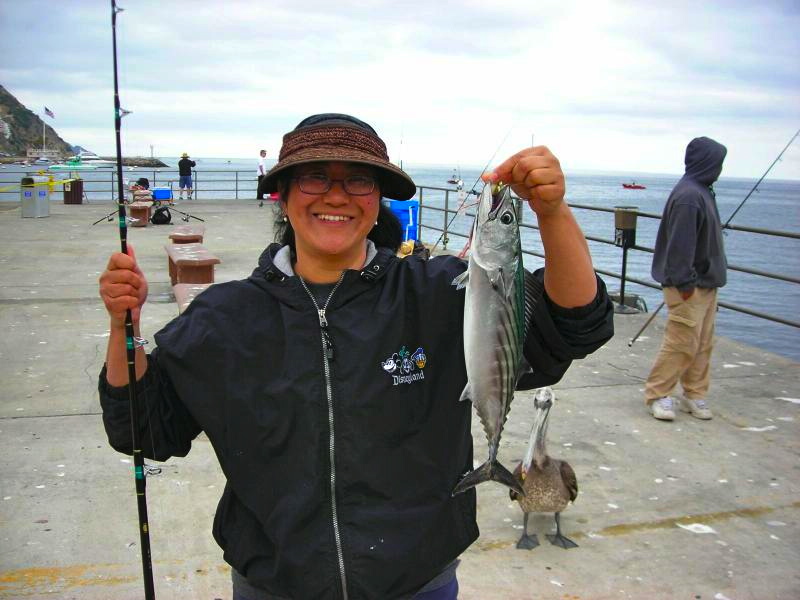 Rita, a bonito, and a pelican that wants Rita's bonito
If you plan to have kids working rods and fighting bonito, you may want to go with 8 lb. line and a tether to the rod just in case the kids let go and fish wants to pull the rod into the water.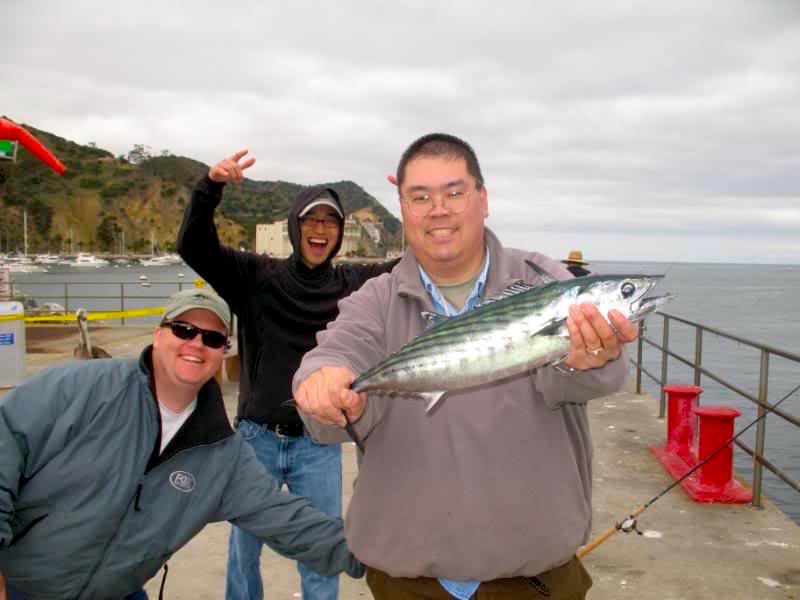 GDude (James Liu), a bonito, and PFIC members Baitfish (Adam) and kelpangler (Eugene)
The second post is by long time PFIC member Scott Geerds aka Scooterfish. Scott was one of the original members of PFIC dating back to the late 1990s and though he moved to Louisiana he managed to attend the PFIC/UPSAC Get Togethers from 2007 until 2010. He too was seeking out the bonito and fished for little else. He quickly gained respect as anexpert on bonito and posted the following: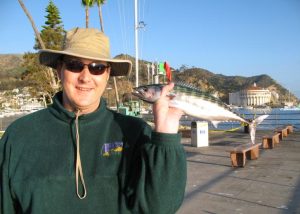 Scott Geerds (Scooterfish) with one of the smaller bonito he caught at the Mole in 2009
Date: April 24, 2008
To: PFIC Message Board
From: Scooterfish
Subject: Catalina bonito rigging 
Some folks at Catalina were interested in details about the bonito rig I was using at Catalina, so here they are, starting with the terminal end…
Lure — ¼ oz. jig head dressed with a 4-inch Saltwater Assassin "Sea Shad" in the "Space Guppy" pattern (Chartreuse with salt + pepper flaked clear). Not the most durable plastic by a long shot (1 per landed fish), but very effective with great action. I like using a ¼ oz. head because it keeps the lure ~6" underwater even when retrieving "bonito fast." Tail action of the Sea Shad is frantic, even at lower speeds and on the fall.

Leader — 5+ feet of 20-lb P-line CFX fluorocarbon leader. I've used this stuff for quite a few years in the 15-30-lb. test and have never had it fail me. Works well with my Uni knots.
Splasher — 3" Magnum (1-1/8 oz.) Flexcoat "Launcher" casting float. There are larger sizes of this float, but this size casts best for me with this rod. The larger sizes seem awkward and have too much wind resistance, and the lighter sizes are too light to get distance… *Distance casting was less important this year as the bonito were cruising primarily just outside the kelp, and inside the harbor. On Sunday I caught a few smaller sized bonito on long casts, but the rest of the week they were close in. Thursday afternoon they were cruising the Green Pleasure Pier and the harbor and technically could have been caught with a handline!
Launcher configuration

These are different than most floats in how they connect. Both mainline and leader are attached to the same point, giving the splasher erratic action.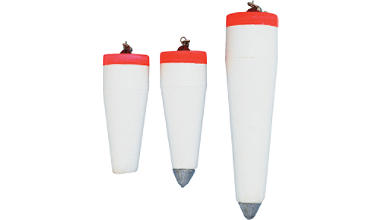 I use the one in the middle, 3″ Magnum, weighing 1 1/8oz.
Mainline — ~270 yds 20-lb PowerPro. Old reliable! Casts far, sensitive, strong. Brought a spare spool with 30-lb PP, but never needed it. FWIW I had zero break-offs this year from kelp, fish, or bad casts!
Rod — 11' G-Loomis SUR1324s (Fast Action ½-3 oz. lure, 15-30-lb. line). Same rod as last year, and same rod I use primarily for Jack Crevalle and Redfish here in Louisiana. Light, strong and fast. Allows me to easily load up under the pier for a pretty effective underhand cast.
Reel — Shimano Sustain 4000fe. The drag on this reel got a pretty good workout this year, and did not disappoint. Spool lip is definitely smoother than the Stradic, although I did not notice any big difference in casting distance.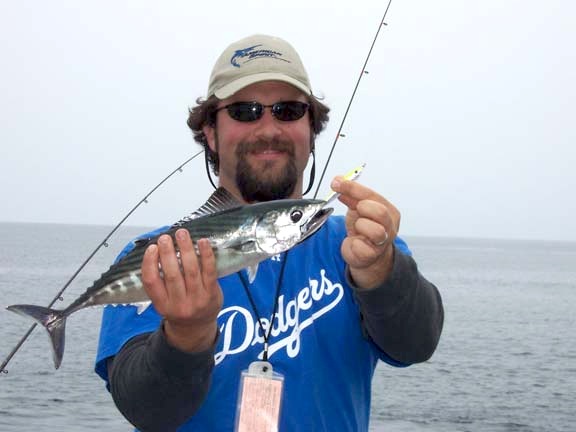 DompfaBen (Ben Acker) and a bonito
Date: May 1, 2010
To: PFIC Message Board
From: Scooterfish
Subject: Bonito fishing, rig and technique notes from Catalina 2010
This is a summary of my bonito fishing notes from Catalina this year. Hopefully this adds some more useful information to the PFIC archives for future visitors to the island, and those who are obsessed with targeting these awesome fish!
There were two environmental factors that I believe directly affected fishing at the Catalina event this year for bonito. It was generally more overcast, usually for the first half of the day, and windier with a light chop on the water (with the exception of Friday). Wednesday the weather was very windy, with a huge swell, which stirred up the water quite a bit and seemed to put off the bite for pelagics for about a day and a half. We were also faced with a situation where the anchovy that are usually present around the island (and usually available at the bait shops frozen) were reportedly nowhere to be found. Anchovy happen to be the primary food source for Sarda Chiliensis (Pacific Bonito), closely followed by squid…