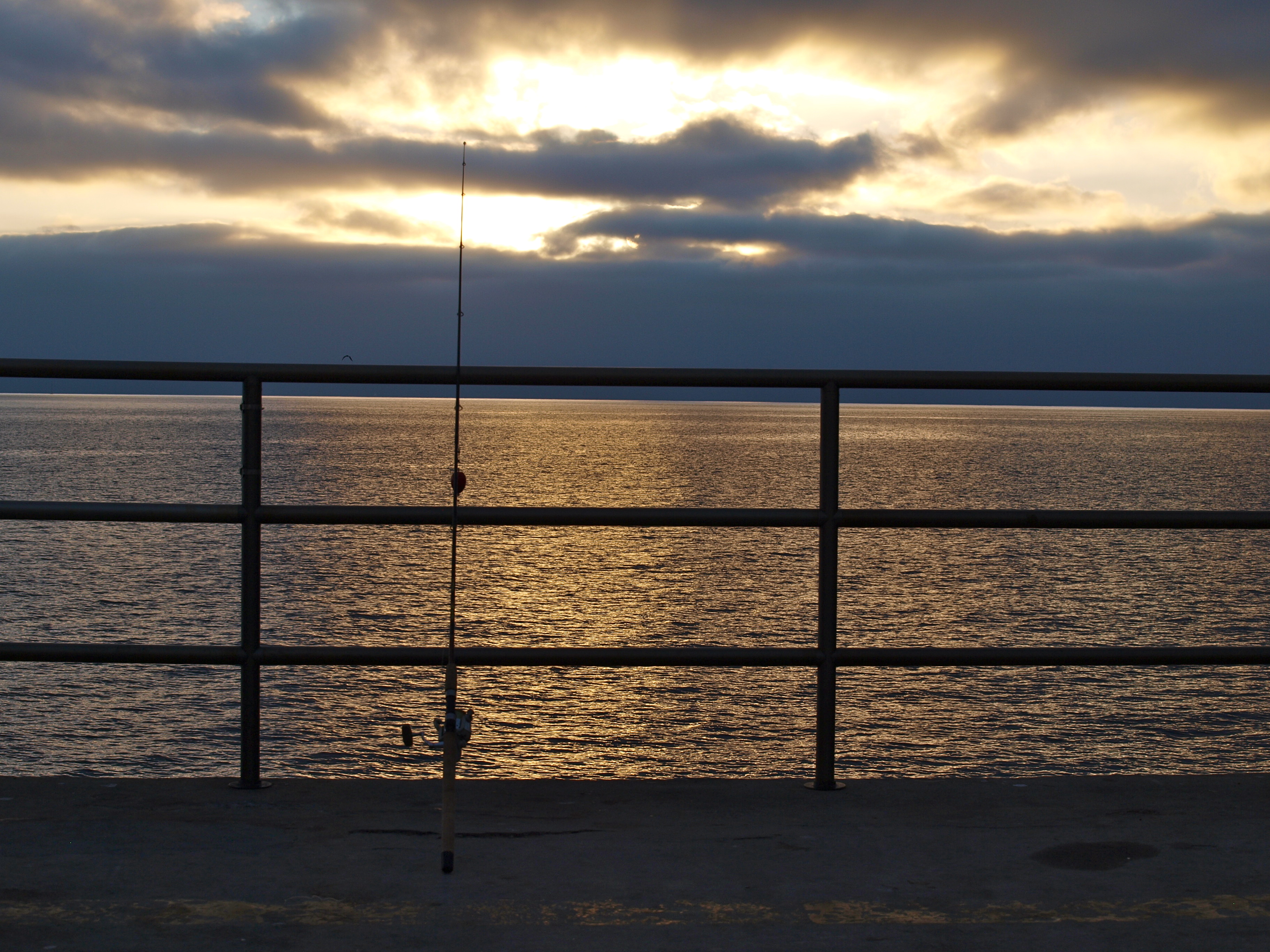 A word of advice: the Mole extends out at the entrance to the harbor and as such is wide open to the elements; it can get quite windy at times. A person can be on the Green Pleasure Pier in the bay, just a few hundred yards away, and be short sleeved and comfortable while a person on the Mole needs a jacket and is cursing the wind.
In Denmark there is a saying—"Det blæser en halv pelikan" ("It's blowing half a pelican") which simply means it is super windy. As far as I am concerned it was blowing a full pelican the night I spent on the Mole during a lobster expedition in March 2010. It was one of the coldest nights of my life and the memory still gives me goose bumps and chills. My friend Mahigeer (Hashem Nahid) had already made several trips for the bugs that winter and warned me to bring warm clothes—and I thought I had. However, I didn't realize you sometimes might need a fur-lined parka, hand warmers, and three layers of clothing in Avalon. But when double red flags are blowing, ferry trips are cancelled, and a low 50-degree night is mixed with winds 30 mph and higher, it can feel like the low '20s. That night I didn't follow the 7 P's that I always preach—Proper Prior Planning Prevents Pi.. Poor Performance, and I suffered the consequences. The wussy suffering of that night is detailed in greater depth in the section (below) titled "Potpourri."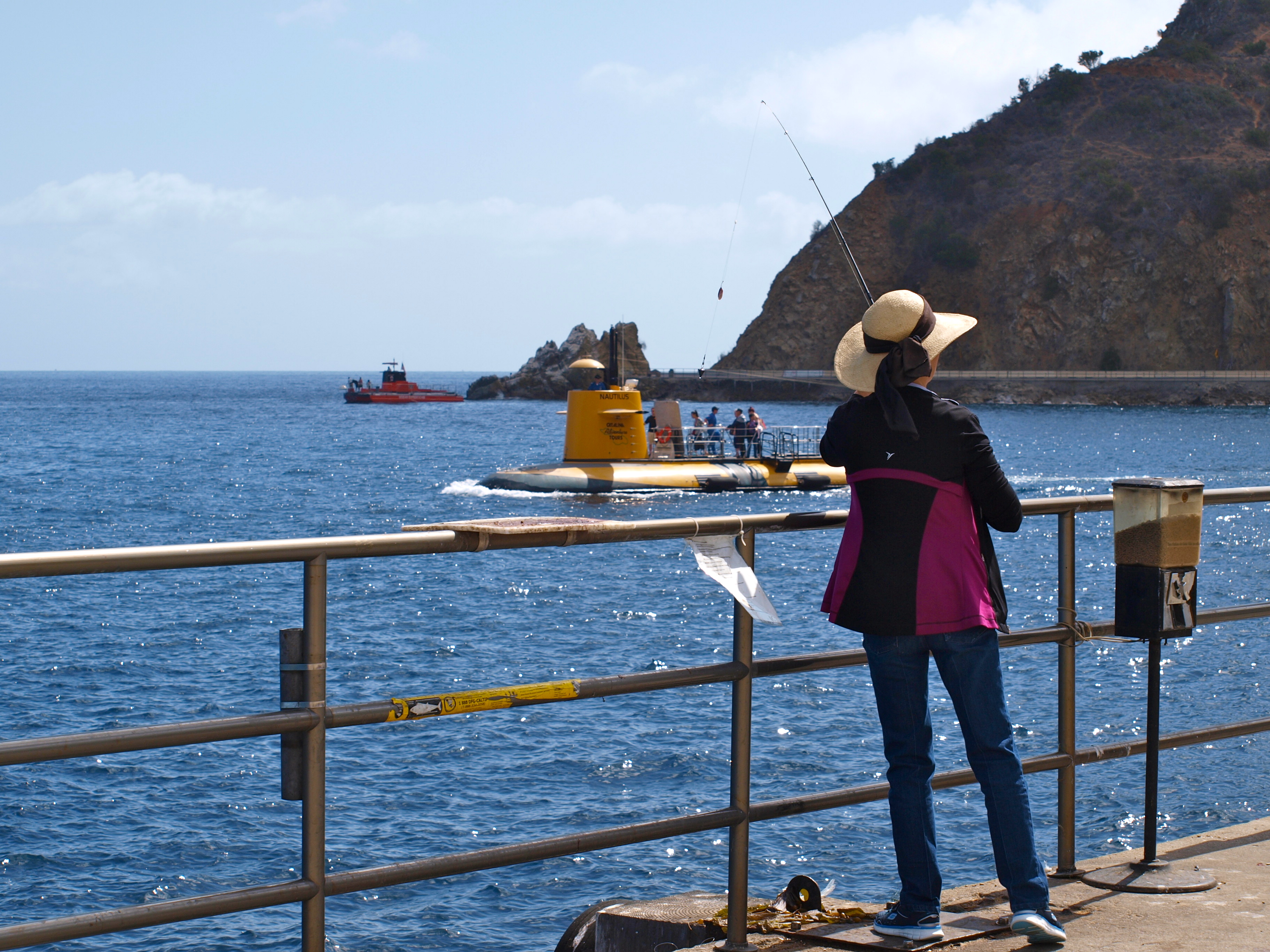 The Fish. The variety of fish, even more than size or quantity, is what most attracts me to the Mole and it's a big reason why this pier is one of my favorite piers even though it's not the prototypical pier.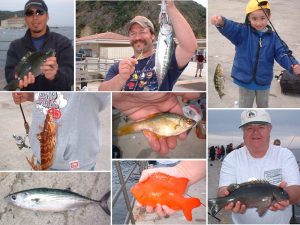 Variety—(top row—opaleye, bonito and kelp bass); (middle—giant kelpfish and kelp perch); (bottom—bonito, garibaldi and opaleye).
However, even if the variety is what I find most intriguing, the overall catch numbers at the Mole, and the chance to sometimes catch bigger fish, are pretty impressive in themselves.
Starting in 2002, Pier Fishing In California (pierfishing.com) began a yearly "Get Together" at Avalon (which later evolved into a joint "Get Together" with United Pier and Shore Anglers of California—UPSAC). Those trips prompted additional visits that occurred throughout the year. The results were several hundred hours of fishing and data that I feel is accurate even if anecdotal in nature. The result for slightly over 40 trips to the Mole is an average of 6.74 fish per hour and 14.89 points per hour (a figure using number and size of fish).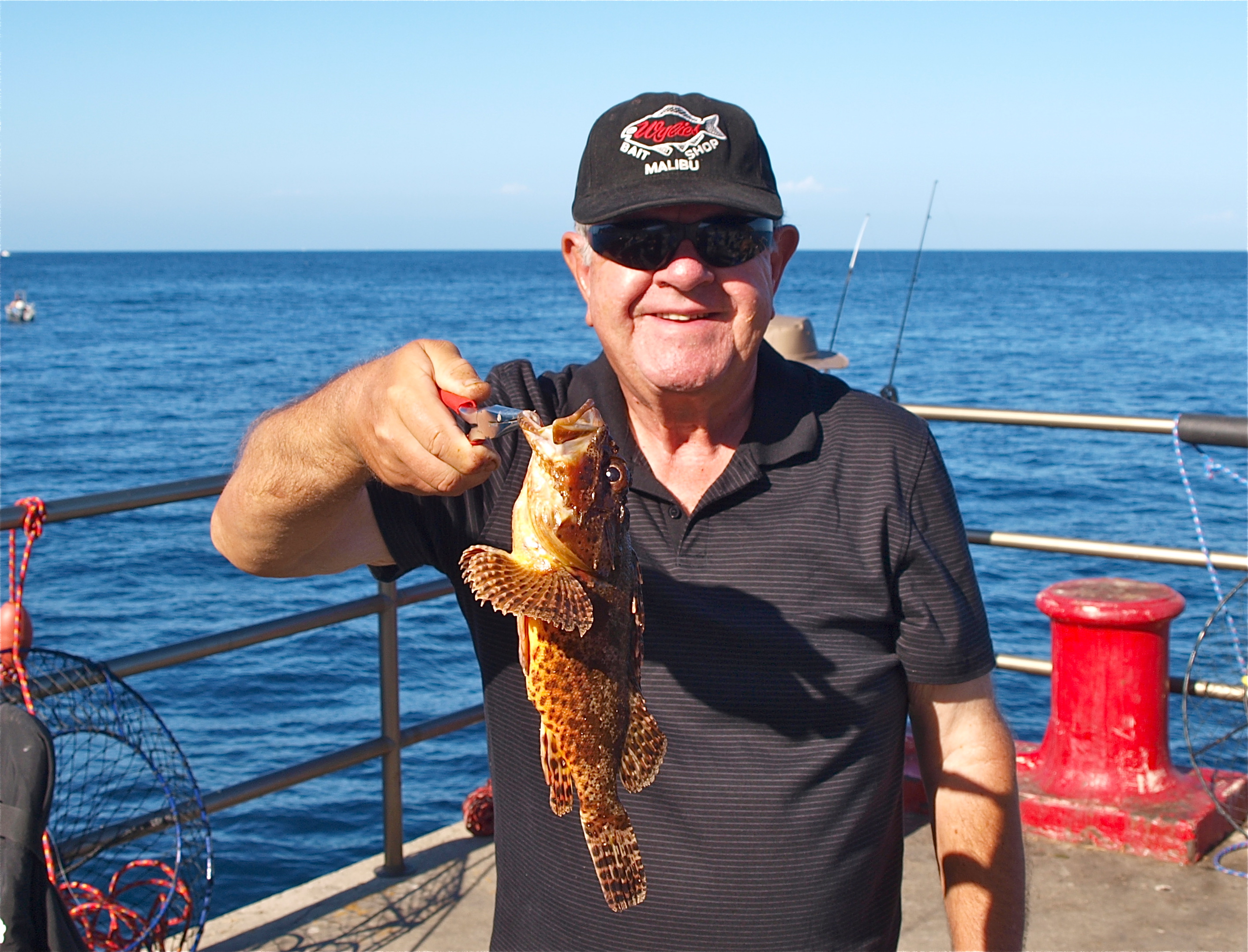 KJ and a scorpionfish
As to variety, I have landed 33 different species at the Mole and have seen many additional species landed (which I hope to get some day). The fish, in order that I caught them, include kelp (calico) bass, giant kelpfish, senorita, striped kelpfish, rock wrasse, kelp perch, garibaldi, blacksmith, Pacific mackerel, sheephead, opaleye, halfmoon, jacksmelt, treefish, California scorpionfish (aka sculpin), crevice kelpfish, Pacific bonito, brown rockfish, kelp rockfish, rubberlip seaperch, Mexican scad, olive rockfish, spotted kelpfish, ocean whitefish, salema, jack mackerel, black seaperch, finescale triggerfish, Pacific sardine, cabezon, grass rockfish, moray eel and largemouth blenny. An occasional spiny lobster also latched onto a baited hook.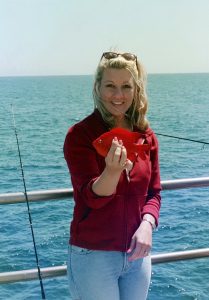 My daughter Kim and a garibaldi
In addition, I have also seen several other species caught at the Mole including barracuda, yellowtail, horn sharks, swell sharks, bat rays, and giant sea bass. Again, you just never know what you'll get.
Lastly, when looking at my records for single day, single pier, multi-species trips, the Mole is at the top of the list with a 16 species day, 15 species day, 14 species day, and numerous 13 species days. Only one mainland pier showed a 13 species trip, and just once—the Avila Beach Pier.
Most of these are regular, resident species that you should be able to catch on most trips to the Mole. These include kelp bass, opaleye, halfmoon, blacksmith, sheephead, ocean whitefish, scorpionfish, treefish, jacksmelt and several varieties of kelpfish. Less common but also resident species include cabezon, moray eel and finescale triggerfish.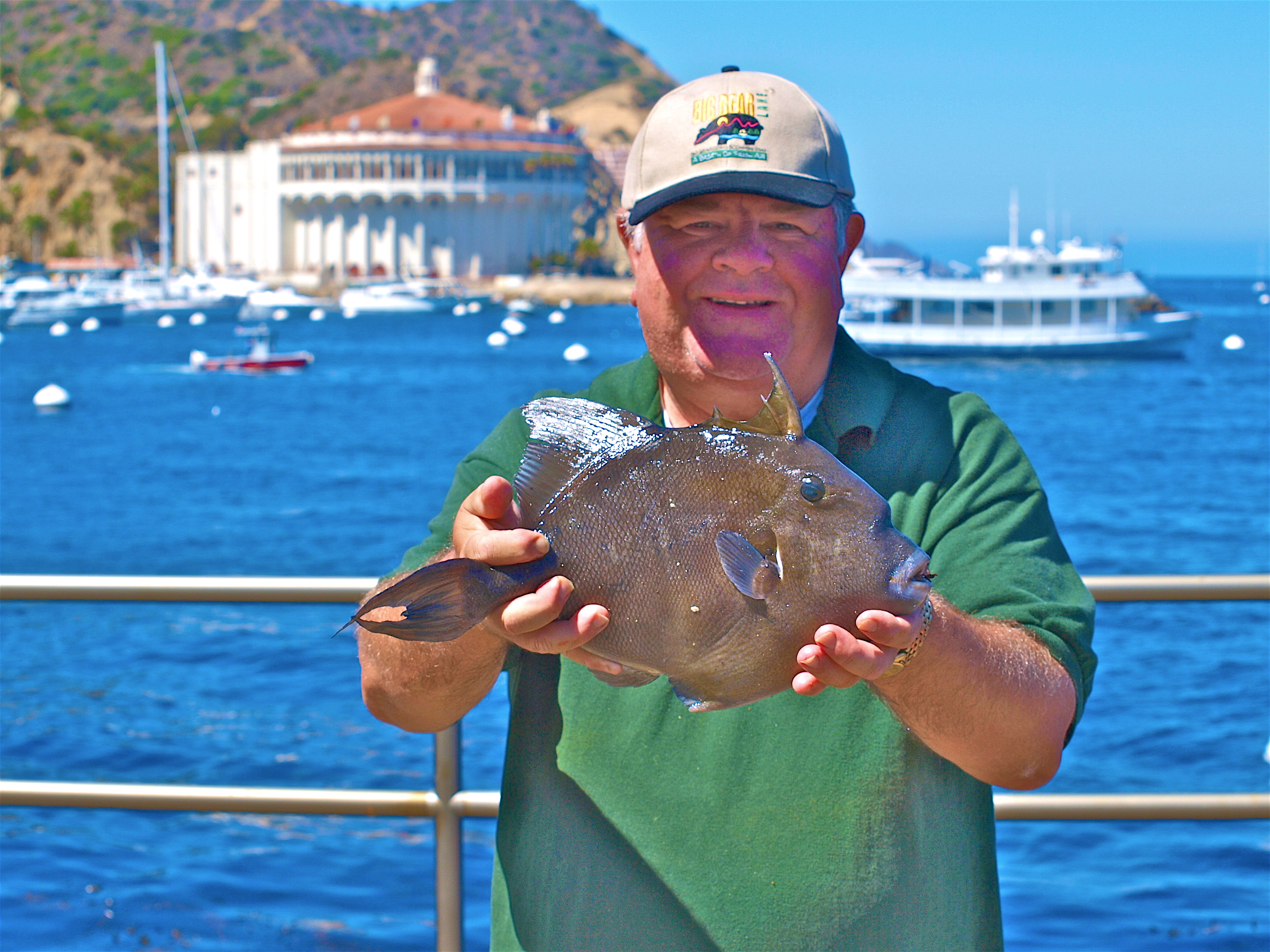 Finescale triggerfish caught by KJ in 2010
Pelagic species that can vary upon year and season include Pacific mackerel, jack mackerel, Pacific sardine, Pacific bonito, California barracuda and yellowtail.
Unusual/Rare Species. An unusual species that now seems to have made Avalon a home is the largemouth blenny, Labrisomus xantia, a fish that didn't show up in California until 2015 when it was spotted in La Jolla. Since that initial sighting, it's only been seen north of the border in La Jolla and Catalina. I've managed to catch four of the blennies, three at the  Cabrillo Mole (June and December 2017) and one at the Green Pleasure Pier ( June 2017).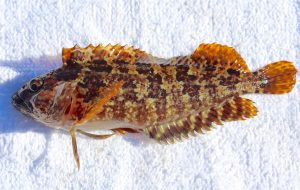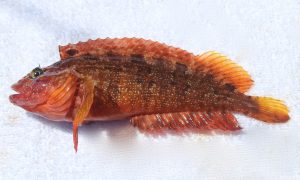 Largemouth Blenny
A rare fish was one I saw in December 2017. I was with my friend Hashem for a two-day combination fish and lobster fest—me fishing and he hoop netting. Hashem wanted some lobsters for Christmas and I was just "Jonesing" for a fish.
The last afternoon was spent fishing on the Cabrillo Mole with the usual species being caught. At 5:30, with darkness descending, I stopped fishing and headed over to get a cup of hot chocolate. Upon my return I packed up the gear and sat down to relax and wait for the last ferry back to the mainland.
My rest was interrupted when I saw a nearby angler pull in a fish. I walked over to see what he had caught which, I expected, would be a type of rockfish or a salema, both of which hit well at the Mole after it is dark.
The angler showed us the fish that he said he had caught on a small piece of market shrimp. It was a species that was new to me (and a quick check of my reference book did not reveal a picture). My first thought had been of a juvenile giant sea bass (it was only 5-6 inches long) but the fin structure was wrong. My next thought was of a popeye catalufa, the fin structure was about right but the color was wrong. My friend Hashem and I talked the angler into letting us take a couple of quick photos before returning the fish to the water. Since I am always seeking out new species, that fish, even though I didn't catch it, highlighted the trip.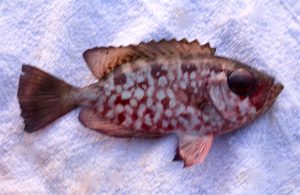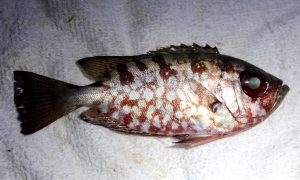 The "mystery fish" showing signs of stress and changing color.
Upon returning home I sent a copy of the pictures to Milton Love at UC Santa Barbara for identification but he said he's never seen it before. He said he would send the pictures out to a network of experts who should be able to identify it. It took a while (with input from both scientists and members of the Pier Fishing In California community) but eventually it was decided that the fish was probably a Pacific glasseye, Heteropriacanthus carolinus, a fish more common to Indo-Pacific waters like Hawaii and Australia. Unfortunately, we had returned the fish to the water which Mr. Love let me know is generally a good thing to do but in this case might have been a mistake (me bad). Given that it may have been the first recorded sighting of the fish in California the scientists would have loved to get the actual fish for study.
Fishing Tips. Perhaps somewhat surprisingly, not a lot of different techniques or riggings are required to successfully fish the Mole. A high/low rig will essentially catch any fish at the Mole excepting perhaps bonito (although I have caught a couple on high/low riggings at other piers). Nevertheless, more specialized rigs are better for certain species—specifically opaleye and bonito.
High/Low Rig —The most common rigging used is a high/low rigging; it is the rig that I primarily use and it has probably caught 95% of my fish at the Mole. The rig is simple: a sinker at the bottom, one hook on a short leader about a foot up from the bottom, and a second hook about 12-18 inches above the bottom hook. I use two variations depending upon where I am fishing and what fish I am trying to catch.
Light Tackle High/Low —Several of the main species—opaleye, halfmoon, blacksmith, rock wrasse, kelpfish and several other smaller species are both hook and line shy. Best hook size is no. 6 or even no. 8 with 6-8 pound line (and I always use fluorocarbon line that is nearly invisible). I use a ½-1 oz. torpedo sinker depending upon the rod I am using.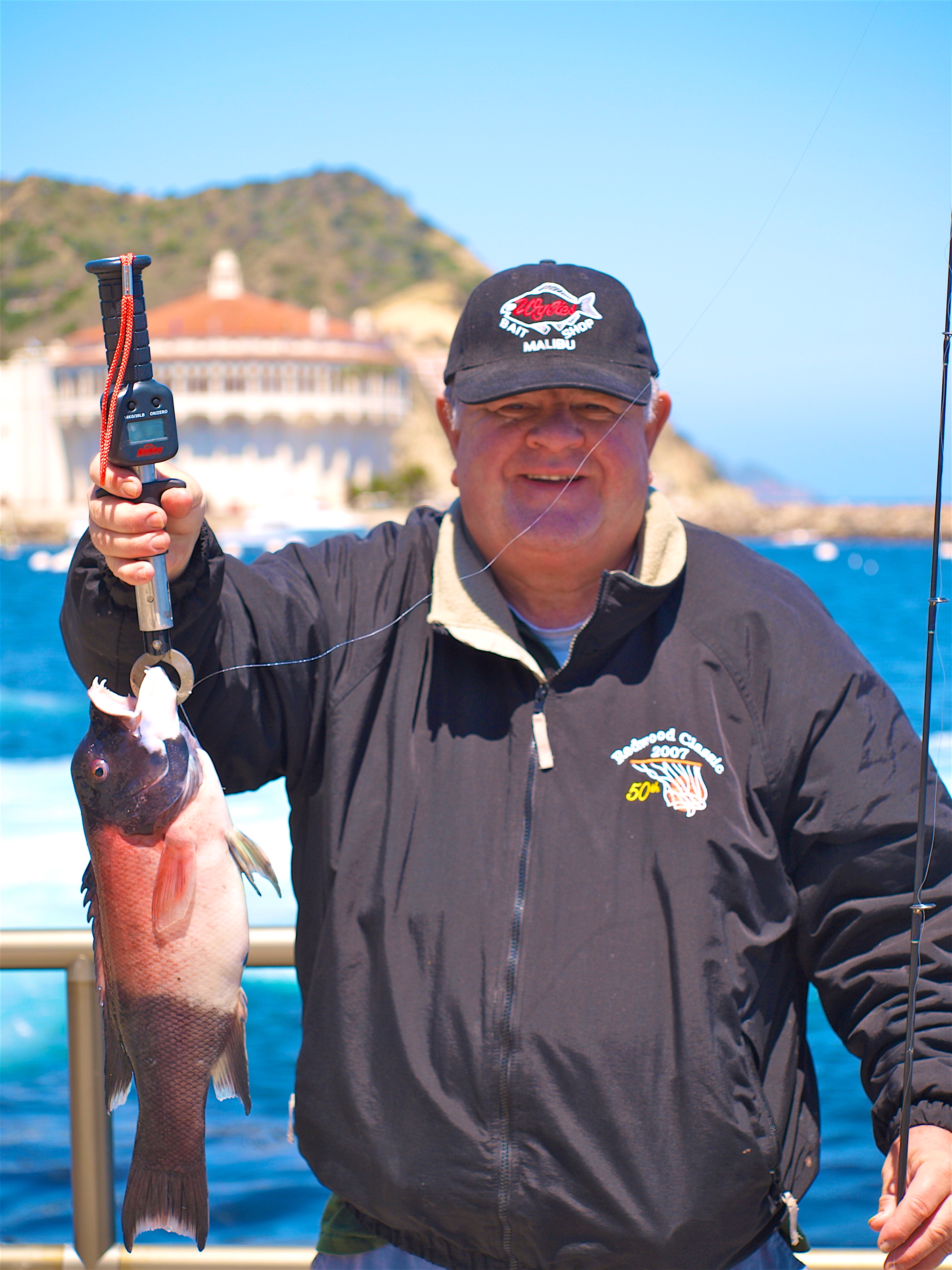 Sheephead caught by KJ on a high/low rigging baited with ghost shrimp
For the bottom-dwelling species—sheephead, kelpfish, scorpionfish, whitefish, rockfish, bass, etc., I fish straight down from the railing or I make a fairly short cast under or out from the pier.
To date, I have not found an area that is particularly better along the end railing although the left corner is close to the deep-water channel into the harbor and the cut-out section, mid-way on the right side, has a lower level near the water that some people like.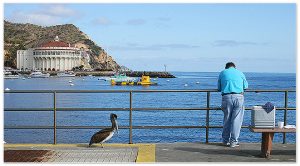 Fishing the end section with a pelican buddy keeping me company
A favorite area for me is the inshore rocky areas found at both ends of the Mole. Here you can drop your bait down into the crevices between the rocks. I look for channels between the rocks and rocks that may have holes under them. Both areas often hold fish. Drop your bait down between the rocks, let the current sweep it under the rocks, and be prepared for a quick strike. Unfortunately these inshore areas can be unfishable at times depending upon the tide and surge conditions. High water with minimal surge is the ideal time to fish the rocks.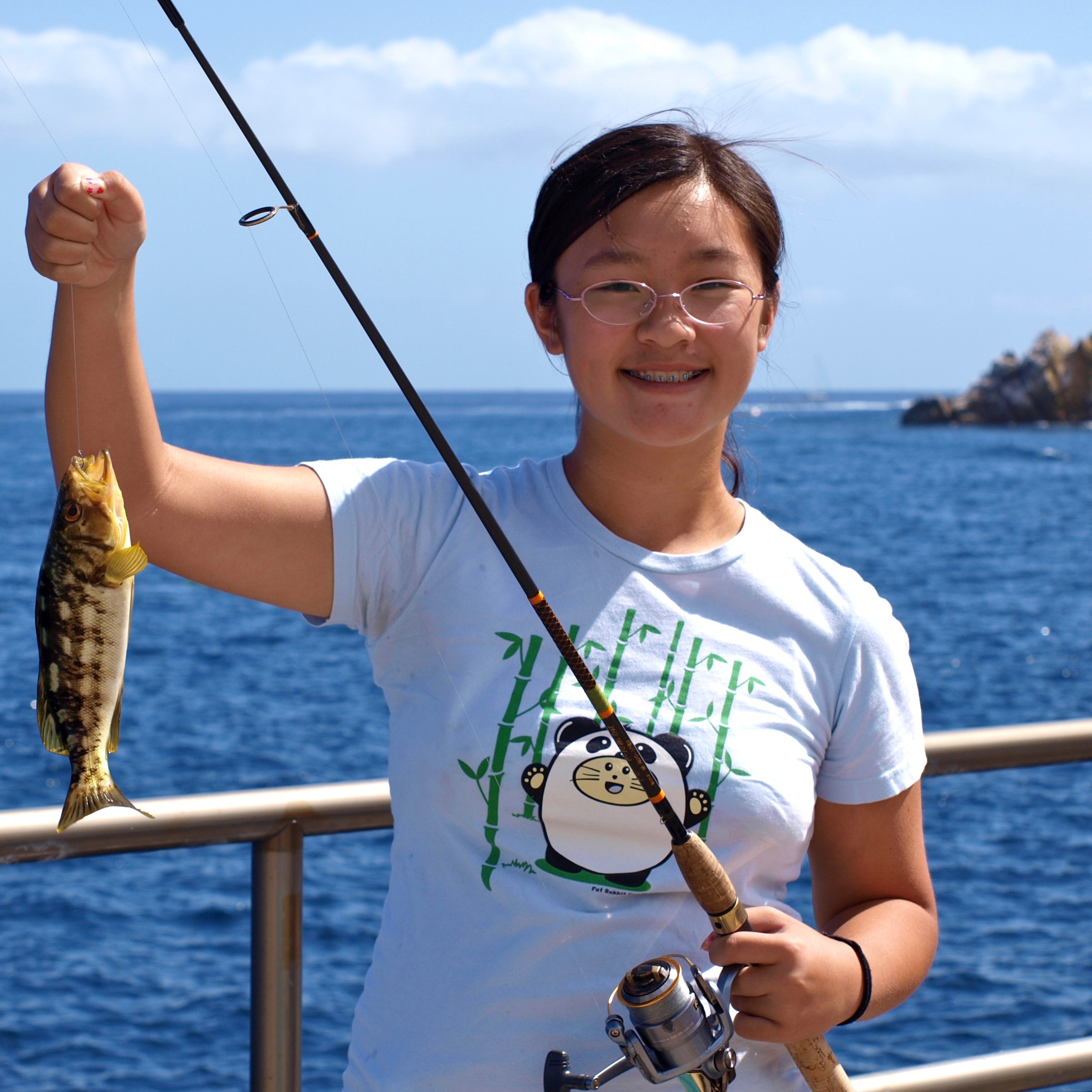 Amanda Liu (one of the nicest girls I have ever met) and a small kelp bass
If I am seeking out mid-water species, fish such as opaleye, halfmoon and blacksmith (and sometimes bass), I generally will drop the rig down 5-10 feet under the surface. If I can see the fish I will try to drift the bait into their area. At other times I try to drop the bait next to kelp fronds since the fish often hang just under the fronds and will dart out to get the bait.
You can usually tell fairly easily where the schools of fish are hanging out and it often varies depending upon light/shadow conditions (afternoon sees the Mole in shadow) and tidal conditions (are the fronds drifting toward or away from the Mole?).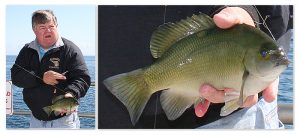 Your truly with an opaleye

As for technique, I keep the rod in my hand at all times so that I can strike quickly if there is a bite and keep the fish headed in toward me. Give the fish a chance to get to the kelp and you might lose them. I want to be able to feel every nibble or if the line is tangling in kelp or among the rocks. Although it is bait fishing, it's not a cast and wait type of fishing and I probably cast and retrieve as much as if I was using an artificial lure.
Usually if you are using the right bait you will feel a bite almost as soon as you reach your desired depth and then it's a matter of hooking the fish or losing your bait (and this is where experience can come into play). If you are not feeling bites after having experienced initial bites it probably means you no longer have bait. If in doubt, pull in your line. An empty hook rarely catches fish.