Public Pier — No Fishing License Required

This small pier (only 125 foot long) adjoins the public launching ramp at the foot of Ninth Street in Benicia. When the ramp was built in 1976, someone with a little foresight decided to include a small pier off to the right side. It has become a popular spot for anglers of all ages and especially families and young kids fishing during the summer months. Many of the youngsters fish for shinerperch or bullheads and never seem to mind if the average fish is small. Nor do they seem to mind the constant traffic as boats leave and return to the dock. That's good since generally the fishing is only fair.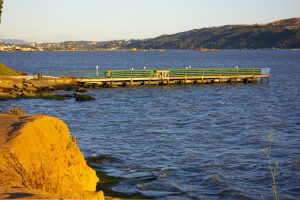 Environment. The pier and launch area sit near the end of Commodore Jones Point, a short distance down the shoreline from Southampton Bay and the popular Benicia State Recreation Area. The pier itself is tiny and anglers primarily cast straight out from the end or fish off the right side of the pier. To the left of the pier is a floating dock from which boaters board and disembark from their craft. The dock itself is generally unfishable although children love to use the float when it is unoccupied. Pier pilings are devoid of mussels but do have a few barnacles and the bottom here seems primarily to be mud. Although shallow inshore, there is deeper water straight out from the pier. Unfortunately, many boats cross the area in front of the pier (both while fishing and when coming in or leaving the launch area); it takes a lot of patience if you want to fish in that water.
The species most sought after by anglers are striped bass, sturgeon, flounder and salmon but availability varies according to the season. Wintertime is the best time for starry flounder. Spring and fall are the prime times for striped bass; fall is best for salmon. Summertime (if waters are salty) will see kids catching small fish like jacksmelt, shiners and bullheads (staghorn sculpin) with late summer to fall occasionally yielding up a shark or ray (October 2004 saw a large, 40-inch wide bat ray tangle with an angler for over an hour before being subdued—and released). Throughout the year the possibility exists for a sturgeon but few are actually landed off of this pier.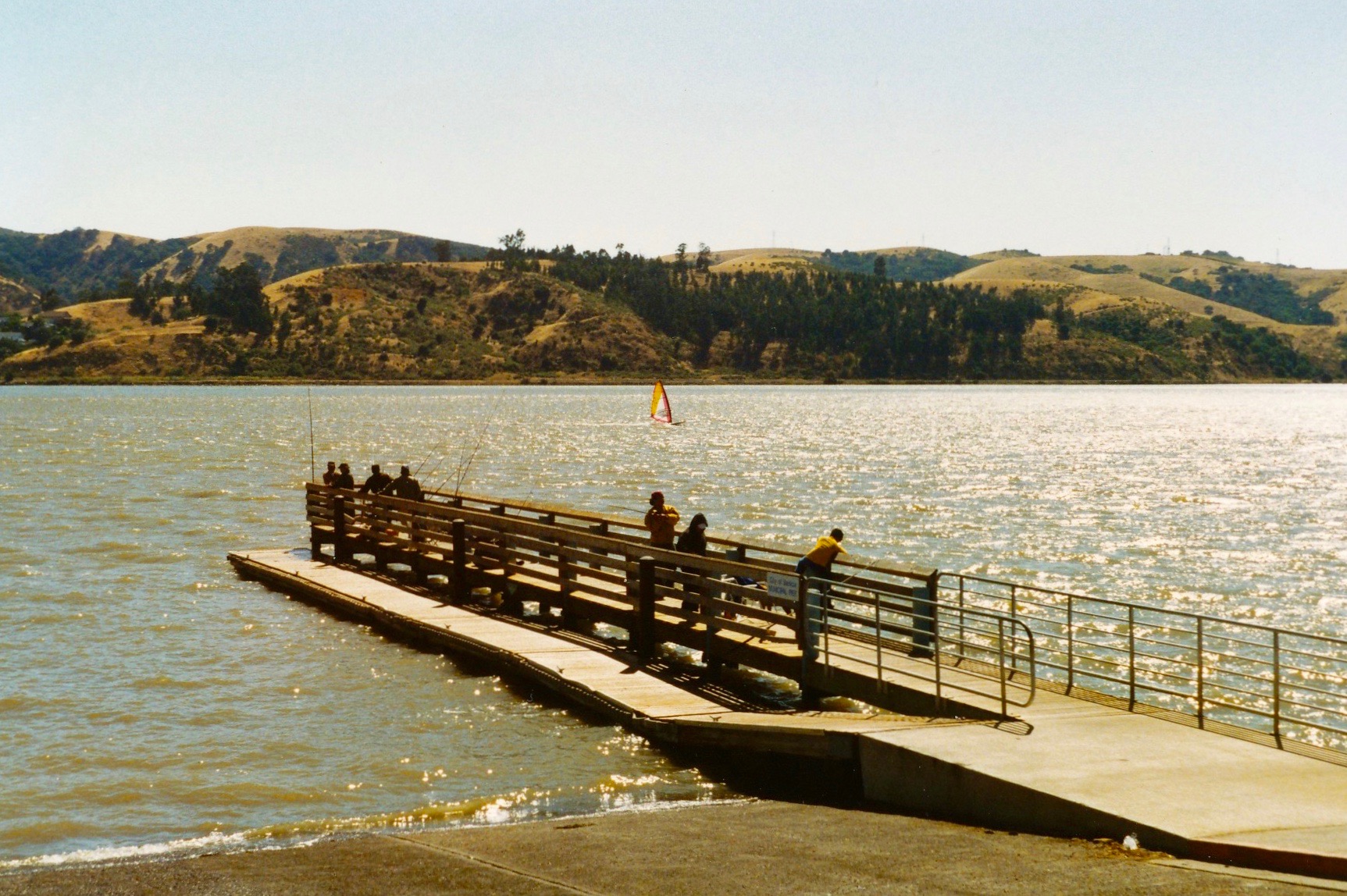 Fishing Tips. If you wish to fish for the larger striped bass and sturgeon, the best time is probably in the late evening when there is less boat traffic. Although small fish predominate for the children, stripers over 40 pounds, and sturgeon as large as 140 pounds, have been caught in this area.
Stripers are, by far, the fish of choice for most anglers along this shoreline. Some stripers will be caught year-round, but the best times are in the spring (when striped bass are heading down river to the lower bays and the ocean), the fall (when stripers are moving up river toward their winter holding areas), and the summer (when a few fish always seem to stay in the immediate area). Most fish will be caught on boats but remember that stripers like to roam the flats and shallow areas during incoming and high tides. During these high tides, and especially an evening tide, fishing can be great.
Most bait enthusiasts will try cut anchovy, cut sardine, live or dead bullheads (staghorn sculpins), grass shrimp or pile worms, and will use a sliding sinker rigging on the bottom. Regulars like to use live bait. They catch it by using a light line, small hooks (size 10 or 12) and a small piece of pile worm. Dropped directly under the pier, the offering will often be gulped by small gobies or sculpins. In the summer to fall the small hooks may be grabbed by staghorn sculpin or shinerperch but the small gobies and sculpin seem to be given a higher ranking by live bait enthusiasts. Once caught, the live bait is usually used with a sliding sinker rigging or a hollow egg sinker.
A few, but not many, anglers will try artificial lures and sometimes they will have the best results. Copy the boaters (if the lure allows it). Artificials that seem to produce fairly consistently in this area include Cordell Spots, Hair Raisers (red and white or lime green), wormtail lures, and plugs such as the Rebel Broken Back lure. Spoons and spinners may also produce a few fish but most of these will be small, illegal (under 18 inch) schoolie stripers. Remember that safety comes before fish. As mentioned, a lot of small children like to use this pier. Be very careful around these children if you are using artificials.
For sturgeon, the best bet would seem to be a heavy 30-40 pound test line, a sliding sinker set-up equipped with number 2/0 – 4/0 hooks, and ghost shrimp, blue mud shrimp, or grass shrimp as bait. A few sturgies will also fall to pile worms or anchovies but far fewer. Time of day is less important for the sturgeon, but a good current is necessary and usually there is a good current at this spot.
In the fall, typically September through October, salmon will swing by the pier. Your best chance to catch one of the fish is to try artificals with Blue Fox and Mepps No. 5 spinners being the lure of choice for most anglers. You might also try fishing anchovies under a bobber.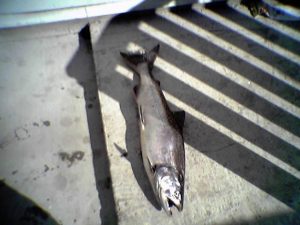 During the winter and early spring this can also be a good spot for starry flounder (although they have shown a dramatic decrease in recent years). For the flounder use a sliding rig baited with any of the above listed baits but use a slightly smaller hook; generally size 4 to 2.
Winter and spring may also produce a few of the larger perch, especially during low rain years. Pile perch will sometimes be taken mid-winter, and rubberlip seaperch and black perch are sometimes taken in the late winter to spring months. For these, use grass shrimp or pile worms and use smaller size 6 hooks tied directly to your line.
Spring through fall may see schools of jacksmelt swim through the area (it is somewhat rocky) and when they do, be prepared for some great action. Most jacksmelt I've seen taken here were large size fish; in fact, sometimes bigger than the small stripers being caught. Most of these will be caught on pile worms but I've seen many also caught on small pieces of anchovy.
In the summer a few white croaker, white seaperch, walleye surfperch and silver surfperch may show up mixed in with the schools of shinerperch but they are not really common. Occasionally seen, but even more rare, are Pacific tomcod and small sole.
Increasingly, Chinese mitten crabs are becoming a problem. This is especially true when there are heavy, sustained rains that make the Carquinez Strait resemble a freshwater river. At such times the crabs may seem to cover the bottom and they quickly grab any bottom baits intended for fish.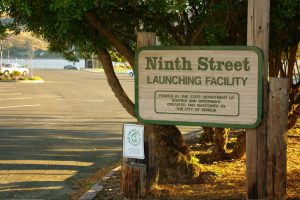 History Note. The shipyard of Matthew Turner used to sit near this area, specifically on the flat land between the boat ramp and Commodore Jones Point. He built his ships between the years 1883-1903 and during his lifetime launched more than 228 vessels, more than any other single builder in North America.
In fact, the entire Benicia area is filled with early California history. On August 15, 1775, the site of Benicia was discovered by Jose de Canizares, the pilot of the schooner San Carlos. Because he found a sheltered, deepwater cove on a feast day, it was called Assumption Bay (although today it is called Southampton Bay). In those pre-gold mining days the bay was much deeper.
The next spring Don Juan Bautista de Anza explored the strait and called it "Boca del Puerto Dulce" or Mouth of the Freshwater Port (since there also used to be more of a freshwater runoff from inland rivers). But the name didn't stick, by 1810 the channel was called El Estrecho de los Carquines, the Strait of the Carquines (a local Indian tribe).
Benicia itself was named after Dona Francisca Maria Felipa Benicia Carrillo de Vallejo, the wife of Mariano Vallejo, the Comandante General over the northern frontier of Alta California and eventual owner of over 120,000 acres in the North Bay.
Growth in the area was slow however until the late 1840s and the discovery of gold. After that date, the city grew rapidly and the shoreline became filled with wharves and the abandoned hulls of numerous ships. Many of the older local residents later recalled fishing off these wharfs when they were children but most of these wharfs are now gone. The Dillon Wharf (in today's Benicia State Recreation Area), Larkin's Wharf (later called Gulick's Wharf), and McKay's Wharf are just a few of the local wharfs that populated the waterfront.
"There was a lot of sport fishing, as well as commercial fishing for salmon and sturgeon… Clams were everywhere in the beaches and mud flats. Even shark fishing became popular off the end of Municipal Pier No. 1. In 1919, for example, a large school of the beasts was "playing havoc" with fishing lines so watchmen began to catch them with lines set at night. The big fellows, 3-4 feet, put up a pretty good fight. They were not eaten, but used for chicken feed… All through the 1920s, many fishing shacks perched on rocks and piers of Benicia's three and a half miles of tidewater."
—Great Expectations — The Story of Benicia, California — Richard Dillon, 1976
Ninth Street Pier Facts
Hours: Open 24 hours although the parking lot that fronts the pier is posted for no parking from 1/2 hour after sunset to 1/2 hour before sunrise.
Facilities: No lights or benches on the pier although there is a small fish cleaning station. Restrooms are located a short walk up from the launching ramp. Nearby is a small picnic area with tables and barbecue grills.
Handicapped Facilities: Because of the narrow conditions of this pier and the steep incline up to the parking area is not a pier I would recommend for handicapped fishermen. However, there are handicapped parking spaces adjacent to the restrooms, and handicapped restroom facilities. The railing on the pier is approximately 42 inches high.
How To Get There: From I780 take the Seventh Street exit south to Military Street, turn right and follow to Ninth Street, turn left and follow it to the end of the street and the pier.
Management: City of Benicia.