Snake Eels and Worm Eels: Family Ophichthidae
Species: Ophichthus zophochir (Jordan & Gilbert, 1882); Ophichthus, from two Greek words meaning serpent and fish, and the Greek zophochir, for darkness and hand (dark pectoral fins).
Alternate Names: Eww, a snake! In Mexico called Tieso Amarillo; in Peru called Anguila amarilla or Culebra marina.
Identification: Typical eel-like shape with a spike-like tail, the dorsal fin starts above the pectoral fin and ends before reaching the tail; no fin rays. A barbel between the front and rear nostrils and usually two barbels behind the rear nostril. Reddish-olive, purplish, brown, yellowish-brown or yellow above; lighter below; no spots.
Size: Up to 38.6 inches.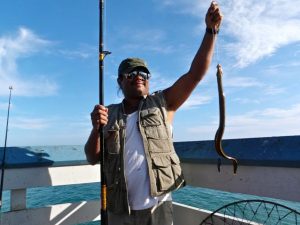 Range: From Srica, Chile, Huacho, Peru, and north along the Pacific Coast to Eureka, Humboldt Bay, northern California; also seen in the Gulf of California. First reported in California by Hubbs in 1916 from a specimen collected off Long Beach and once considered rare (California Fish Bulletin Number 157, Miller and Lea, 1972—with under 20 ever reported in California). However, Pier Fishing In California has had many reports of these eels, most commonly from Dana Point Harbor Pier and Huntington Harbor but also a few from San Francisco Bay. They are now considered fairly common north to Long Beach.
Habitat: Found in both sandy and rocky areas down to a 60-foot depth (although one source, Wintersteen, 1975, says 210 feet).
Piers: PFIC has had reports from quite a few piers. Best bets: Oceanside Harbor Pier, Dana Point Harbor Pier, Balboa Pier, Newport Pier, Seal Beach Pier, Belmont Pier, Burton Chace Park Pier, Venice Pier and the small piers inside of Newport Bay and Huntington Harbor. Science records show an Ophichthus zophochir being taken from the Del Mar Pier in 1960 (although the pier was demolished in 1959) and from the Berkeley Pier in 1964. PFIC regular "Mel" caught, photographed and released a yellow snake eel from the Berkeley Pier in 2006. I photographed one that was caught by a fellow angler one night out at the end of the Newport Pier. That fish, taken in 2002 was given to the DF&G.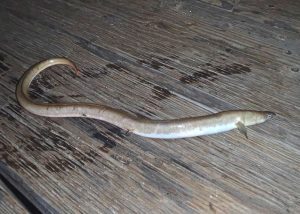 Shoreline: A rare catch by southern California shore anglers.
Boats: An inshore species rarely seen on boats.
Bait and Tackle: Taken incidentally by anglers fishing on the bottom for other species. Most commonly taken at night and with squid as bait (although their preferred food is supposedly fish and clams). I would also think saltwater worms such as bloodworms and lug worms would be excellent baits. Tackle should be kept simple: a medium-sized outfit with light line and a size 6 to 2 hook. Be prepared for a surprisingly spirited tassel.
Food Value: I don't know anyone who has eaten one although most eels are considered fair to good eating.
Comments: An unusual, gnarly catch that enjoys twisting its limber body around your arm (and scaring the bejeebers out of you) when you try to unhook it.