Croakers: Family Sciaenidae
Species: Atractoscion nobilis (Ayres, 1860) from the Greek words atrax (spindle) and skion (from sciaena, an old name for a European croaker) and the Latin word nobilis (noble). Known as Cynoscion nobilis until the 1990s.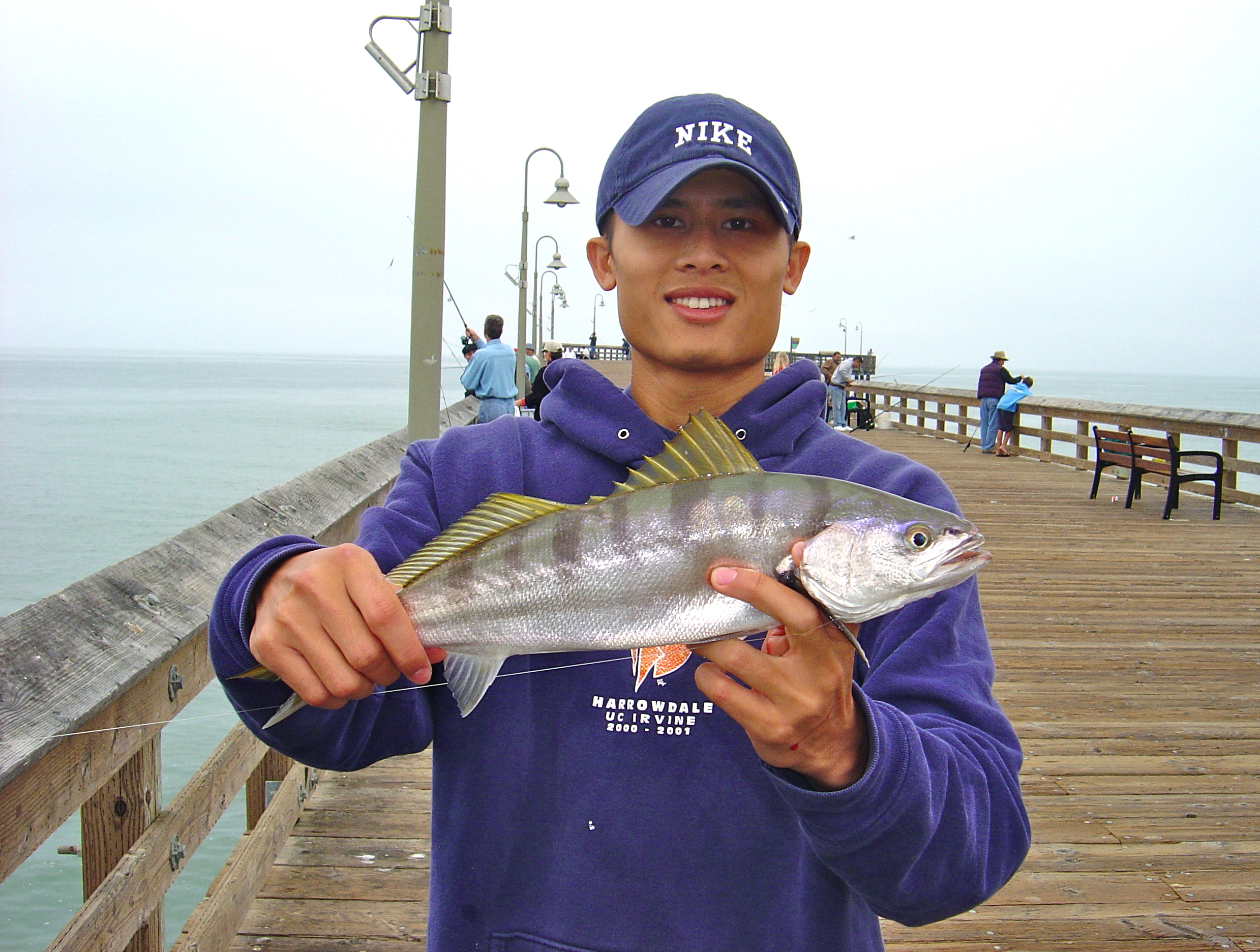 White seabass taken at the Ventura Pier
Alternate Names: Ghost, grey ghost, biscuits, king croaker, Catalina salmon, bull tomcod, croaker, weakfish, or seatrout (young fish). Called corvina cabaicucho or corvina blanca in Mexico.
Identification: Large, elongated body with a large mouth in which the lower jaw protrudes slightly beyond the upper jaw. Unlike the shortfin corvina that has large, fanglike-canine teeth, the canine teeth in the upper jaw of white seabass are small and barely noticeable. Very young white seabass are somewhat variable in color—silvery, brownish, golden or even reddish, but as they age their color becomes more standard—silver or gray. Up to two feet in length (most of the fish seen on piers) the young white seabass have three to six broad black vertical bars on their sides and dusky yellow fins. Adults tend to be blue to gray on the back, with silvery sides and a dark spot on the inner base of the pectoral fin. Young white seabass are sometimes (somehow) confused with white croakers but the juvenile white seabass have bars on their sides and do not have a barbel on their chin. White croaker lack bars on their sides and do have a barbel. White seabass are perhaps most easily separated from other croaker by the presence of a ridge running the length of the belly.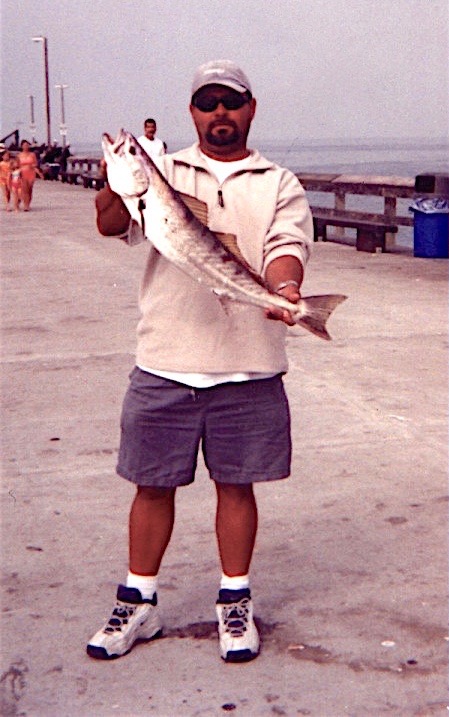 White seabass taken by Humberto at the Newport Pier
Size:  White seabass are the largest of the California croakers. To 65.4 inches and over 90 pounds; those caught from piers are usually the young "seatrout" ranging up to 24 inches in length. The California record "angling" fish weighed 79 lbs. 0 oz. and was caught at the mouth of the Pajao River in Santa Cruz County in 2011. (The previous, long time record was for an 83-pound, 12-ounce fish caught by Lyal Baumgardner off of San Felipe, Mexico in 1953.) The California diving record fish weighed 94 Lbs 6 oz and was taken near Santa Barbara by John Ringer in 2023. (The previous record was a 93 Lbs 4 oz fish speared by Bill Ernst near Malibu in 2007.) The International Game Fish Association (IGFA) World Record fish is listed at 88 Lbs 0 oz for a fish taken at La Pax, Mexico in 2020. On May 9, 2020, a 78.2 pound white seabass was caught by an angler drifting live bait in San Francisco Bay.
Range:  Gulf of California, Todos Santos and Bahia Magdalena, southern Baja California, and along the Pacific coast to Juneau and Boca de Quadra, southeastern Alaska. Considered uncommon north of Monterey Bay (although an increasingly common catch in San Francisco Bay) and rare north of California. In the late 1800s the main commercial fishery for white seabass was off San Francisco and large catches were seen in both San Francisco Bay and Tomales Bay. By the 1930s, 90% of the catch was from southern California. The reason most often given was that waters in central California had cooled and that the white seabass were unable to produce as successfully as in earlier years. A more limited population still existed and still exists in Monterey Bay, especially in the Soquel Cove area, which typically sees the warmest waters in Monterey Bay.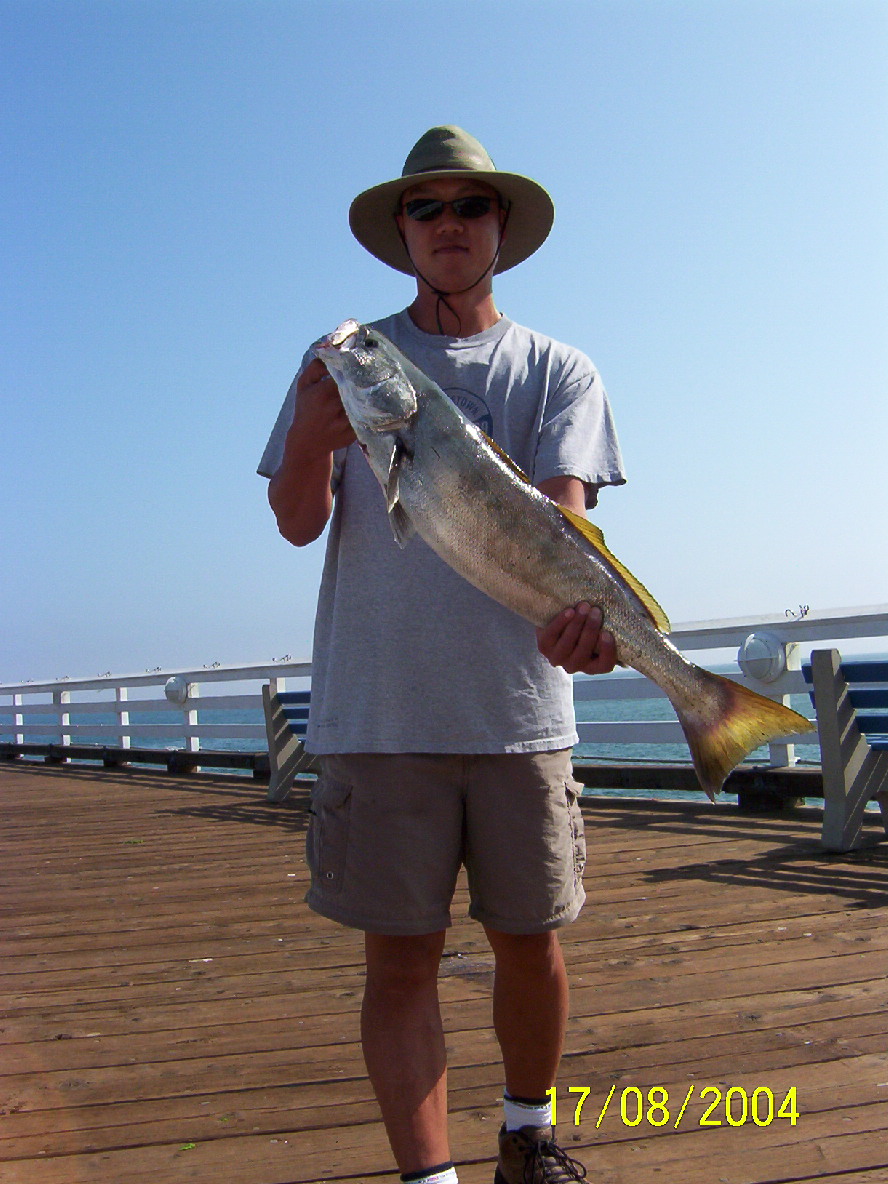 White seabass from the Malibu Pier
Habitat: White seabass migrate along the coast according to their spawning habits. Although some may be caught in southland waters year-round, they tend to move north in the spring and south in the fall, spending the winter months in Baja California. The best fishing is usually June to September. They're most common around offshore islands. Typically schools over rocky bottoms from 10-40 feet deep feeding on squid and small fish; recorded to a depth of 804 feet.
Piers: Commonly taken at southland piers, although rarely if ever caught in numbers approaching that of 40-50 years ago. Runs of the smaller sea trout do occasionally occur in late summer and fall, however, these are usually fish that are under the legal size and must be returned to the water. Best bets: Ocean Beach Pier, Crystal Pier, Oceanside Pier, San Clemente Pier, Seal Beach Pier, Hermosa Beach Pier, Malibu Pier, Paradise Cove Pier and Ventura Pier. The last decade has seen quite a few taken from the Seacliff Pier and Capitola Wharf in central California.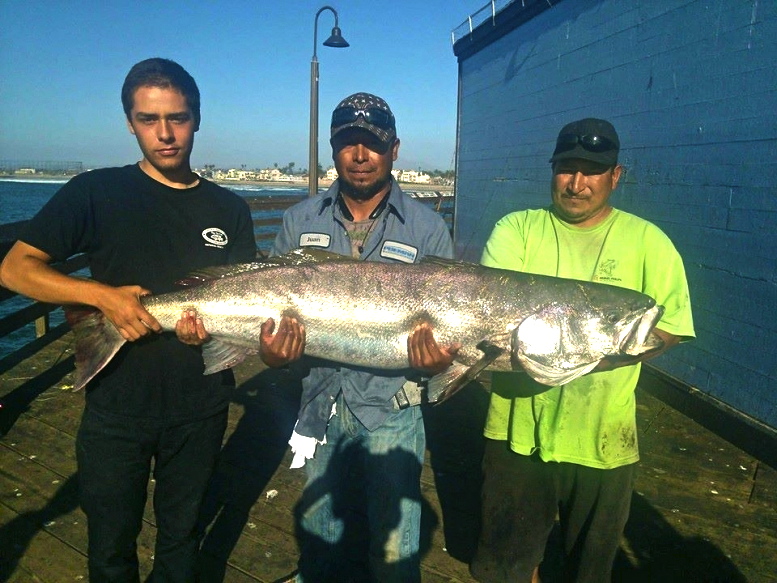 Large white seabass caught at the Imperial Beach Pier in 2014
Shoreline: A favorite but infrequent catch by southern California shore anglers.
Boats: One of the most prized species for boaters in southern California.
Bait and Tackle:  Unlike other California croakers, white seabass prefer the pelagic habitat rather than inshore areas. They prefer to feed in mid-depth areas rather than on the bottom like most croakers. They're favored meals appear to be squid, pelagic crabs, and small fish. As a result, anglers should seek them from the deepest waters of the pier and be willing to try different depths. In addition, the early morning hours have traditionally been the best time for white seabass. Tackle should be medium to heavy with at least 20-pound test line and size 2 to 2/0 hooks fished near the bottom. The best bait is live bait: anchovies, smelt, queenfish or shinerperch. Next, would be frozen anchovies, sardine or mackerel strip bait, or squid. If specifically seeking these fish, try using a live bait sliding leader and cast out a considerable distance from the pier. At the Hermosa Beach Pier, and other piers where artificial reefs have been constructed, a favorite ploy is to cast out a live jack mackerel as close to the reef as possible.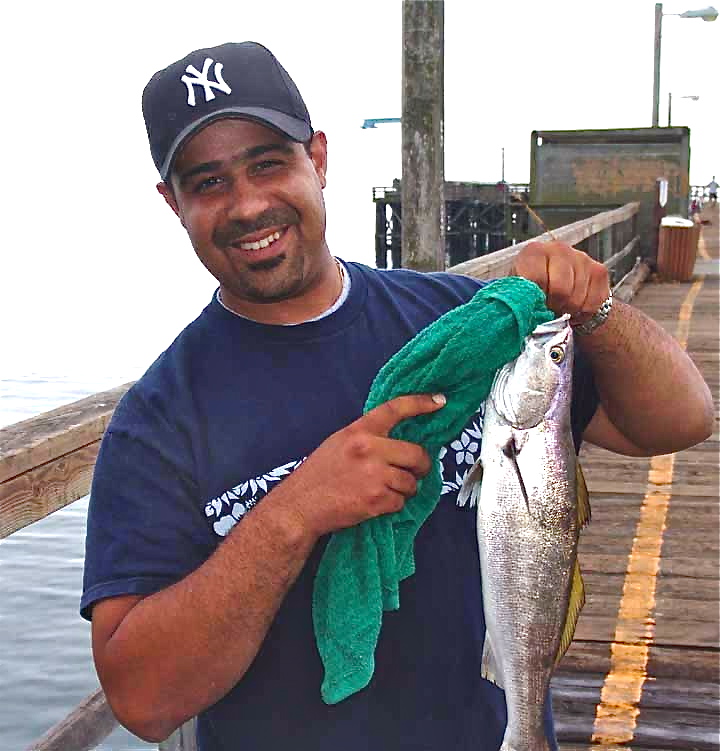 Typical "seatrout-size" white seabass taken from the Goleta Pier
Food Value: Excellent, mild-flavored flesh that is firm in texture and low in fat content. The meat can be prepared in many ways. Unfortunately, the flesh tends to discolor rather rapidly which has created a limited market for the frozen form.
Comments:  Large white seabass are one of southern California's top partyboat gamefish. Unfortunately, the numbers of these fish decreased markedly in the 1970s and 1980s. However, with an increased legal size, a decreased daily limit, and efforts by several groups to pen raise juvenile white seabass, a comeback is being made. It is important that all sportsman, and especially pier fishermen who catch the small illegal "seatrout" adhere to the existing laws. If so, large white seabass may once again be a common catch of pier fishermen and stories like the following may once again be recorded.
Biggest Run of Sea Trout, Bass at Pier in Years —One hundred fifty white sea bass in a single evening's fishing from the Ocean Park Pier during the past week is positive proof of the biggest run of sea trout in years, reports Commodore Bob Oefinger. —Van Nuys News, June 14, 1934
Last week brought one bright spot to anglers, particularly those fishing the Santa Monica Bay. This was good pier fishing, and think of it, you old timers, white sea bass fishing at that. These conditions are likely to continue for some time. The pier fishing found many anglers on the job, particularly at Ocean Park. White sea bass, a misnomer by the way, the fish being officially considered a croaker, have been taking live bait, jigs and scooter lures. Anglers fishing from all piers in the Santa Monica Bay region have been having more or less success at these fish. Hundreds were caught… —Frank M. Bockway, Los Angeles Times, June 18, 1934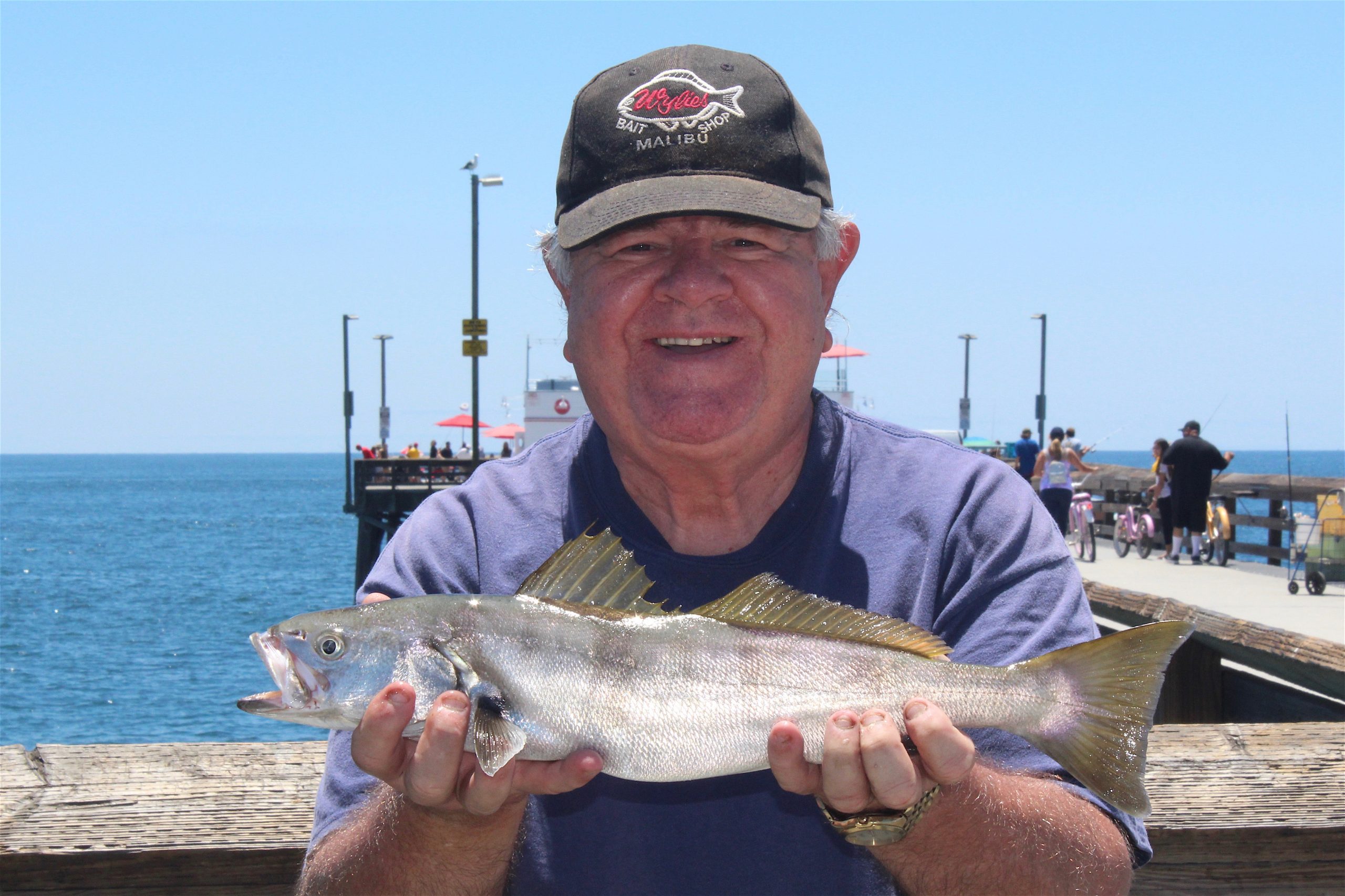 Small white seabass caught by KJ at Balboa Pier in July 2020
Ocean Park, July 17. (A. P.)—A one night's catch of 600 white sea bass, known as the trout of the sea, was reported from the Ocean Park pier here today. It was the biggest run of the season for those who do their angling under the powerful spotlights.—Bakersfield Californian, July 17, 1934
Pier anglers here (Ocean Park Pier) literally "went to town," during the past week with almost every fisherman taking a limit of white sea bass during the night hours. Daytime pier fishing afforded devotees sport with halibut and barracuda.—Los Angeles Times, August 15, 1937
White sea bass also visit certain piers at times, and heavy specimens are pulled up. An instance of this occurs at Newport, where during the dark of the moon in late spring these fish make nightly raids on the hopeless sardines quaking under the pier. Word of this situation drifts inland, and thongs of ardent anglers jam the pier from dusk until the wee hours of the morning, all bent on hanging up a few fine tasting lunkers… Sardines are obtained for bait by snatch-hooking them, and when impaled on 2/0 to 5/0 size hooks of O'Shaughnessy brand it seems that 15 to 20 pound bass are commonly duped into grabbing hold. Some even run as high as 50 pounds…and you can imagine the furor one of these babies creates among the pier fishermen!—Mortimer Norton, Pacific Coastal Fishing, 1950
Most piers, sooner or later, will have a super run of fish that will be forever etched in the minds of local anglers. Santa Monica, because of its location and size has had several of these. The most famous took place back in 1957 (some sources say 1959) when the waters around the pier were invaded by schools of marauding white seabass. They were in the deep waters of the pier, the mid-pier areas and even the surf. More important, they seemed to hit almost any bait or lure (although the regulars, who would snag a sardine and lower it to the water using a live bait leader, had the best success). Early morning and evening were the best times but fish hit all day. One single afternoon saw 200 of the fifteen to forty-two pound fish landed, and the run lasted for nearly two weeks.—PFIC
Many times pier fishermen seem to do better than the ones out in boats. At Santa Monica pier last fall, for instance, pier fishermen actually caught more white sea bass during the big run than party boats.—Pasadena Independent, June 9, 1960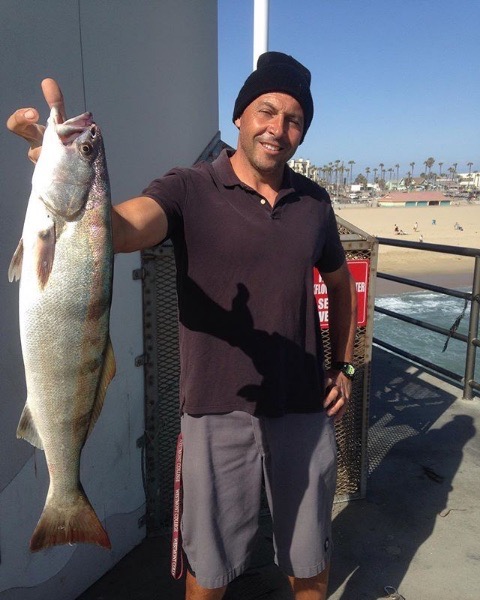 White Seabass from the Huntington Beach Pier caught on a live smelt
"Unofficial" records of large white seabass — Most, but not all, large white sea bass are taken from boats although a tremendous number were caught from the Ocean Park Pier and the Newport Pier in the '20s and '30s.
83 Lbs. — Newport Pier, 1920s
Source: Personal communication, Patrick Kennedy, Baldy's Tackle (1990)
61 Lbs. — Newport Pier, Roger Jackson, December 1, 1927
Source: Santa Ana Register, December 1, 1927
50 Lbs. — Imperial Beach Pier, "Oyuki", October 2014
Source: sdfish.com (October 28, 2014) and Oceanic Angler (oceanicangler.com), November 11, 2014
48 Lbs. — Newport Pier, June 1, 1934
Source: Santa Ana Register, June 2, 1934
47 1/2 Lbs. — Belmont Pier (Long Beach), October 28, 1959
Source: Long Beach Independent, October 30, 1959
47 Lbs. — Redondo Wharf, Charles McGehee, May 19, 1914
Source: Los Angeles Times, May 19, 1914
45 Lbs. — Capitola Wharf, September 2000
Source: Capitola Wharf Bait Shop
45 Lbs. — Seacliff State Beach Pier, August 2000
Source: Capitola Wharf Bait Shop
45 Lbs. — Avalon Pleasure Pier, Pat Casey, May 5, 1936
Source: Catalina Islander, May 14, 1936
45 Lbs. — Redondo Wharf No. 3, August 5, 1919
Source: Los Angeles Times, August 8, 1919
42 Lbs. — Santa Monica Pier, 1957
Source: Santa Monica Pier Bait Shop, Newspaper & CA DF&G
42 Lbs. — Wharf No. 1 (Redondo Beach), J. V. Henry, May 18, 1914
Source: Los Angeles Times, May 18, 1914
42 Lbs. — Wharf No. 1 (Redondo Beach), N. Row, August 31, 1890
Source: Los Angeles Times, August 31, 1890
41 ¼ Lb. — Pacifica Pier, July 1992
Source: Pacific Bait Shop
41 Lbs. — Balboa Pier, Snagger, June 15, 2017
Source: PFIC and Verona Fath
41 Lbs. — Point Mugu Pier, Charles S. Leonard, August, 1959
Source: Oxnard Press-Courier, August 5, 1959
≈ 40 Lbs. — Monterey Wharf No.2, October 2009
Source: PFIC
40 Lbs. — Balboa Pier, Frank Lopez, July 19, 1959
Source: Los Angeles Times, July 23, 1959
40 Lbs. — Avalon Pleasure Pier, A. E. Eaton, July 3, 1916
Source: Catalina Islander, July 4, 1916
40 Lbs. — Hueneme Wharf, Charlie Chambers, October 1895
Source: Los Angeles Herald, October 27, 1895
36 ½ Lbs. — Balboa Pier, Ed Steif, May 30, 1928
Source: Santa Ana Register, May 31, 1928
35 Lbs. —Wharf No. 1 (Redondo Beach), Harold Rempe, June 3, 1909
Source: Los Angeles Herald, June 6, 1909
32 Lbs. — Hueneme Wharf, Charlie Chambers, October 1895
Source: Los Angeles Herald, October 27, 1895
30 Lbs. — Wharf No. 3 (Redondo Beach), A. J. Bell, May 25, 1909
Source: Los Angeles Times, May 26, 1909