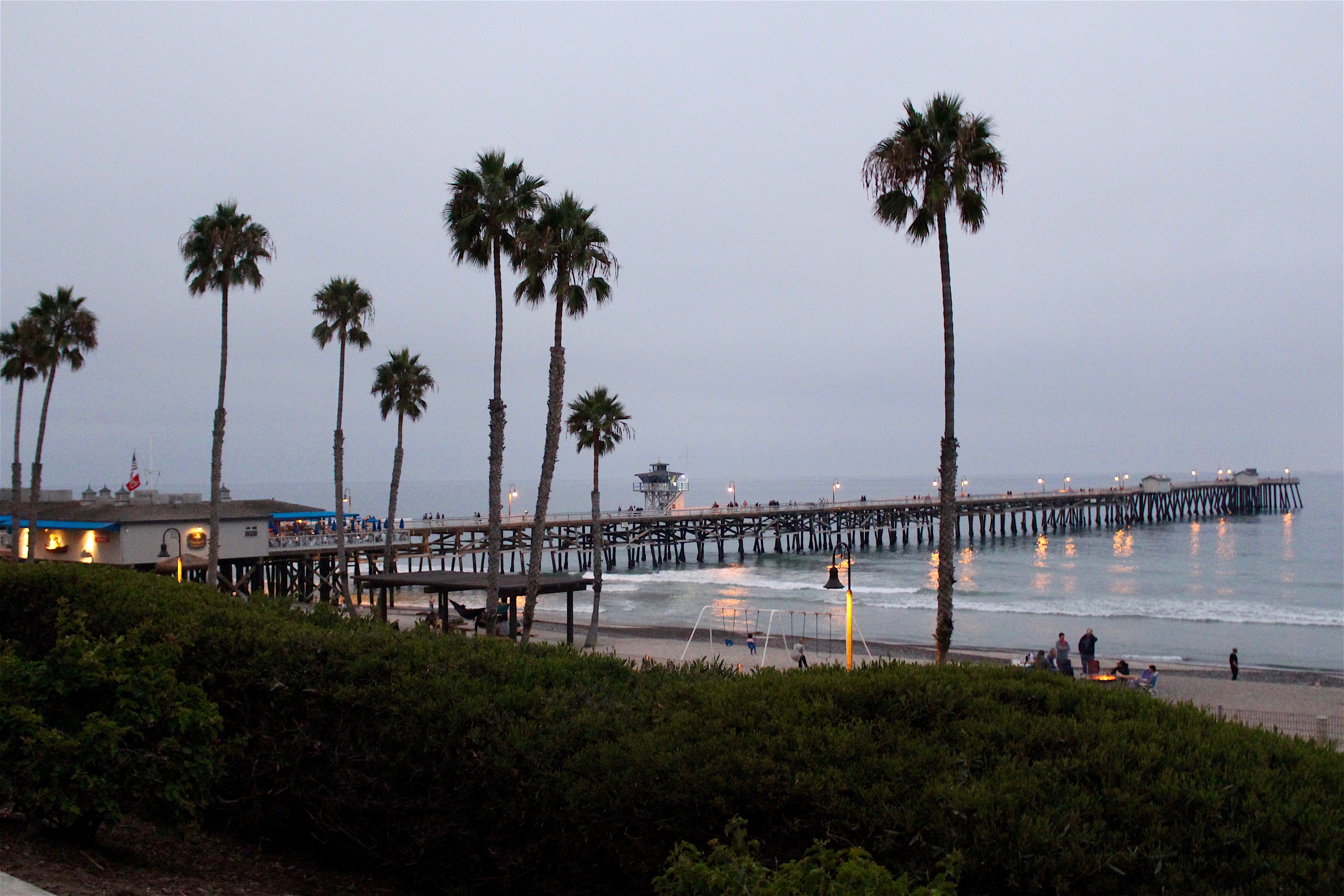 Night time is best for the sharks
The Dompfa Ben Chronicles — Thirteen posts, all by dompha ben (Ben Acker)
A great fisherman and one of my favorite writers (as well as a fellow "Pier Rat") is Ben Acker aka dompfa ben. He has fished San Clemente from an early age and still continues to call it a home away from home. Among the hundreds of Email messages PFIC has had regarding the San Clemente Pier, his are special. Herein a sample. Oh, and by the way, he loves to hoop for lobsters.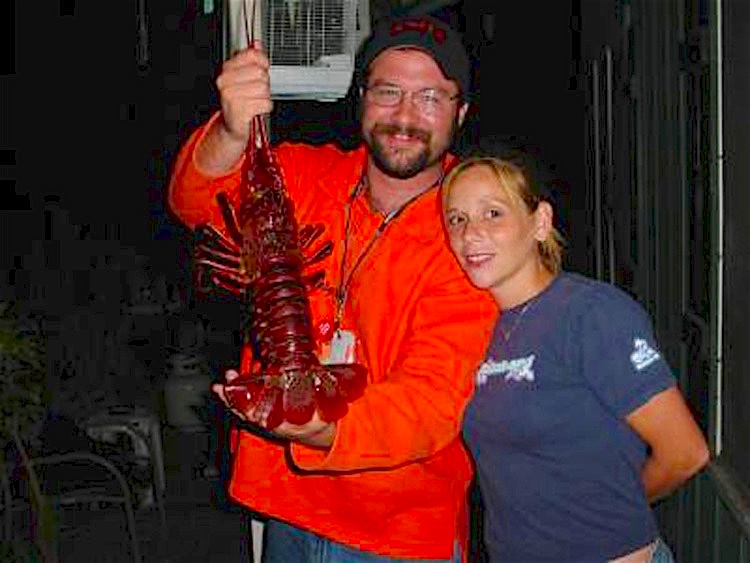 Ben and future wife Brandy in 2003

Date: May 17, 2004; To: Pier Fishing In California Message Board; From: dompfa ben; Subject: One more bachelor fishing report this week?
For over 25 years, I have fished alongside my dad, mom, and five younger brothers. I've angled and tangled with friends and strangers. I've introduced dozens of people to the sport–two of whom turned those day trips into fishing careers. I've learned from veterans, deckhands, skippers, pier rats, and coke-canners at Pier J.
I've even managed to talk several girlfriends into fishing along the way. A few even enjoyed themselves. But as of Saturday, I will have a lifelong opportunity to do something I've never done before… Fish with my wife.
A pretty accomplished pier, shore, and kayak angler (and hooper!), Brandy and I hope to have many adventures together for years to come–many of them fishing!
With the wedding on Saturday, I hope to get one more trip in as a bachelor, probably at San Clemente pier this week. After all, she knew what she was getting into when I picked her up with a kayak on my truck for our second date:)
Good wishes, thoughts, advice, and prayers are appreciated, but not necessary… your presence on this board is reward enough.
Best, DOMPFA Ben, Ripple in still water. When there is no pebble tossed, nor wind to blow. —The Grateful Dead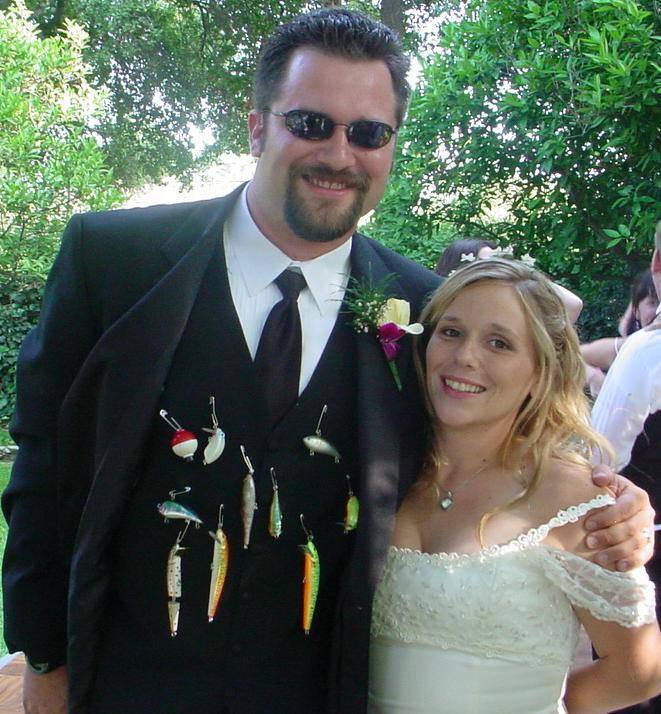 Wedding Day
Date: June 8, 2004; To: PFIC Message Board; From: dompfa ben; Subject: Lavish Leopard Love, 6-7-04
TEAM DOMPFA, comprised today of me, Dad aka Wildbillfisher, Dan, Thomas, Bryan aka Male Trout, and Rob aka Bearkiller, challenged the Monday afternoon commute, and made the long drive to San Clemente Pier from Pasadena. After a rough journey past several accidents—including a spilled load of bulk glass in the middle of the southbound 5—it was refreshing to turn the corner on Del Mar and see the beautiful pier jutting out into the Pacific.
Speaking of "Pacific," the low tide surf was anything but. There was a nice break coming through, and several dozen surfers were taking advantage of the nice lefts.
We started out near the bathrooms, fishing live smelt in the white-seabass-green colored water. I had a few rips with the trolley rig, but nothing stuck. Dan managed to pull too soon, and came back with a raked bait (kiss of the halibut.) Dan managed one smallish mackerel on a squid strip, which we soaked for a while, then kept for cut bait when it rolled.
Around 7:30 P.M. the smelt disappeared, so we decided to make a move closer to the beach. Fishing behind the surf line, in a location only to be disclosed as "Captain Ross' Leopard Hole," we set up an arsenal of rods. Fishing two rods each, the heady scent of cut anchovy, squid, and cut mackerel created a nice chum slick in the roiling surf.
Around 9:20, the clicker on my Sealine-X starts singing, and I set the hook on a small bat ray, maybe 5 lbs. A quick release before the tourists could regroup must have given us some karma…
In what will forever more be described as "The 9:40 Miracle," we managed a triple hook-up on the same wave of fish. Dan hooked a leopard, Tom hooked a slightly larger bat ray, and I hooked the biggest thornback I've ever seen. All fish were brought to the net quickly and CPR-ed. The bite slowed considerably after that, but not before we managed to land another bat ray, several more thornbacks, a small round stingray, and a gray smooth hound that ate a squid head.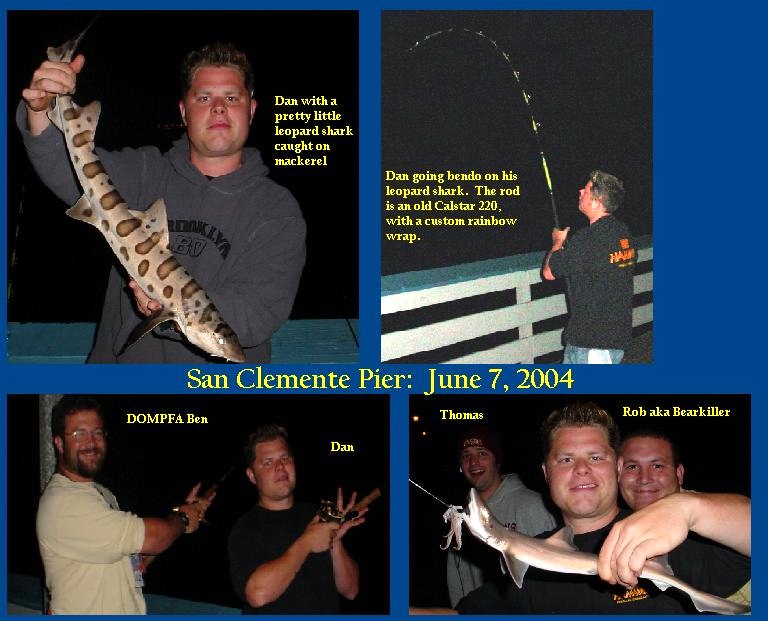 With a heightened sense of Dominating Positive Fishing Attitude, and a renewed spirit, we called it a night and headed for the barn around 11:30. On our way out, there was a charming man and woman fishing couple that was fishing an undisclosed glob-bait for several nice barred perch right in the wave wash. Several anglers walking towards the parking lot reported throughout the evening that the end of the pier was slow. The surf line was the place to be tonight.
But perhaps, in a larger sense, the place to be tonight was fishing with friends and family on an errant, pre-summer Monday. DOMPFA!
Date: July 15, 2004; To: PFIC Message Board; From: dompfa ben; Subject: San Clemente Pier, fishing & teaching, 7/14
Last night, after exhausting all possible options for finding a fishing buddy among friends and family, I left the house for a rare solo trip to San Clemente pier. Besides, I needed a couple of specimens for my classroom, and San Clemente is one of the sharkiest places I know. San Clemente pier does not really have the personal safety issues presented by some other piers, but it is nice to have someone watch your gear while you run to the bathroom, or to hold the light and landing net.
Such luxuries were not mine last night, but the pier was bustling with activity. I had forgotten what a summer night looks like at San Clemente Pier, as hundreds of people swarmed all over like so many ants. It seemed crowded for a Wednesday. Couples walked past my pier cart, embracing beneath the romantic orange glow of sodium halide lamps. There were dozens of young children running about, and I caught myself thinking, "Where are their parents?" …perhaps a sign that I am finally growing up.
But amidst the melee, several families were out fishing in the balmy weather, and it made me smile wistfully, remembering such trips my own family made when we were young. One family next to me was doing very well on 20 inch-class shovelnose, as I set up about thirty feet closer to the beach than them.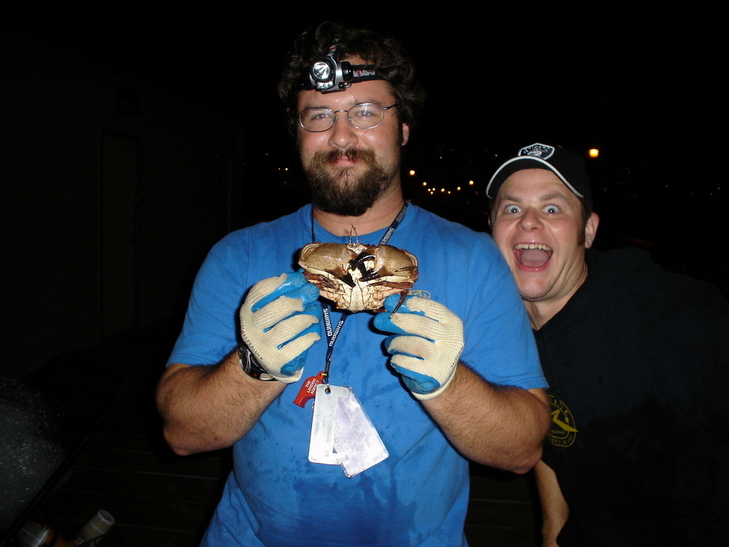 Dompfa bro's Ben and Dan with a small crab
I put out two rods: An 8 ft. G. Loomis rod with a Sealine-X 20SHV, fishing 15 lb. Yozuri hybrid, and a 7 ft. All Star spinning rod with an Okuma reel, fishing 20 lb. Izorline. Both were tied with a dropper loop, 3 oz. torpedo sinker on the loop and a 3-foot leader with a size 1/0 Gamakatsu live bait hook. I baited one with squid, one with frozen sardine, took a long draught from my AMPM drink, and settled into my seat for more people watching.
My wait was not long, as two minutes after splashdown, my 15 lb. rig was dancing. I swung and set, and hauled in a 2-foot smoothhound. Before I could get her into the bucket, a crowd of children and their parents had gathered around. Knowing that the shark was destined for the classroom anyway, I took the opportunity to show the people the finer points of Mustelus californicus. The kids were very pleased with themselves, feeling the rough denticles, marveling at the spiracles behind the eyes, and comparing the eyes to a cat's. Parents thanked me, and for a moment, without pomp or circumstance, I was pleased to represent pier fishing and sharks in a positive light.
I managed to land two shovelnose, and three thornbacks before I left at 10:30. It was a short trip to the pier, but one that I really enjoyed. Not only did I have some nice specimens for my students, I also had the pleasure of speaking with dozens of folks last night. I think an interest in pier fishing was sparked in at least a few of them, and I wouldn't be surprised to see them out there again, rods in hand, and grins from ear to ear. Ben
Date: August 9, 2004; To: PFIC Message Board; From: dompfa ben ; Subject: very cool…my earliest "quote" on PFIC
I found my earliest "report" on PFIC… it's listed under San Clemente Pier and under Balboa Pier…two piers I frequented in the 90's. So many years lurking… I'm happy I decided to become more involved, and equally happy that PFIC has proven to be a continued and growing success for Ken. Kudos!
The link has a report from Ben Acker under San Clemente Pier 🙂 Too cool!
San Clemente Pier… Another note came from Ben Acker who said that his early morning visit was good for white croaker and a "big old bat ray." He says his brother and a friend have also gotten quite a few lobsters there recently.
Balboa Pier—Ben Acker visited the pier mid-month and said it was a "virtual Mac-attack, though on four pound test and a trout rod, it was a good time…"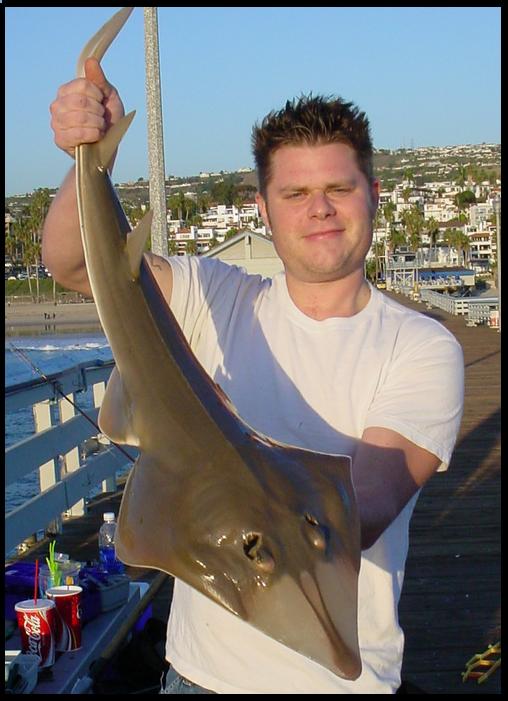 Dompfa Dan and a shovelnose
Date: September 25, 2004; To: PFIC Message Board; From: dompha ben; Subject: San Clemente Pier, 9/25/2004
After a "week of Mondays," I spent the better part of Friday evening on the couch, dozing comfortably, and waking only to catch a snippet of the Dodger game or MXC on Spike TV.
Around 3:00 A.M. I awoke refreshed and ready to start my day. Trouble was, not a creature was stirring, not even my wife. I called my brothers, knowing that with each additional ring, the chance of them going fishing with me was slim.
By 3:20, I decided to make it a solo trip, loaded the truck, and headed south. I arrived at San Clemente Pier around 4:45. The pier looked like the work of a great Impressionist, with a veil of fog softening the edges and corners of things. As the first suggestion of light glowed just above the horizon, I set up at the end of the pier.
Around 6:00, the mackerel attacked the pier with reckless abandon, corralling a school of smelt into formation near the pilings. I fly-lined chunks of anchovy and fished them in free spool, waiting for the telltale zip of the line flying off my reel before setting.
By 7:00, I'd had enough of mackerel, and decided to try for bonito. I had seen several crashing on baits, and they appeared to be the bigger variety. Meanwhile, the entire end of the pier looked like Balboa or Newport. The bite was not wide open, but it was steady on bonito from 1 to 4 lbs. Some of the bonito were bigger models, and all seemed to be taken on bubble and feather combos. I threw a golf ball rig, two different Krocs (green mac and prism), a diving Rapala, and an egg bobber/fly combo for nothing but mackerel.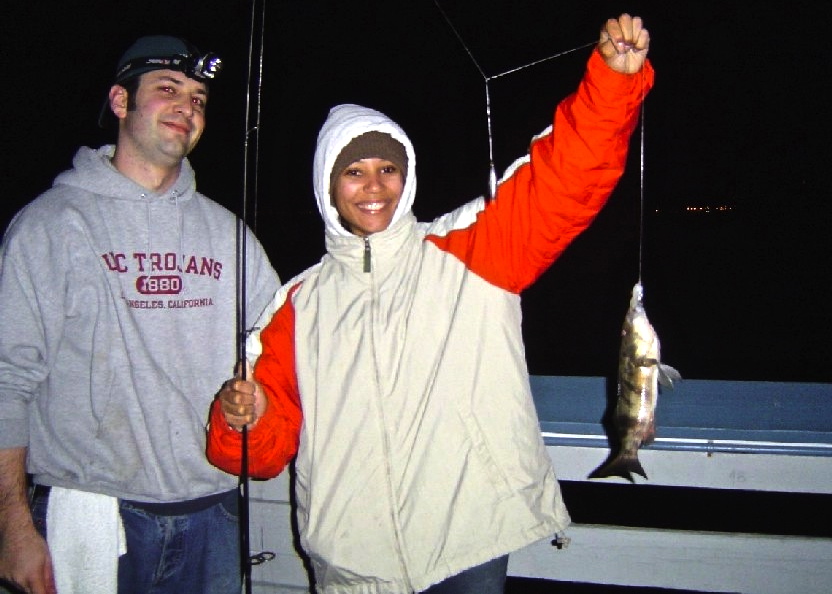 Tom and Krista with a sand bass she caught
At 8:20, I hooked a juvenile white seabass on cut anchovy, and saw five others hooked by other anglers. One particularly idiotic angler who caught one of the small croakers made a big to-do about how it's illegal to keep them, then proceeded to take over three minutes to unhook the fish, after a photo session. The final insult was the flipping slap down he offered the fish, which made no attempt to swim upon its return to the water. It floated off towards the beach, and I toyed with the thought of the bonehead angler doing the same thing.
Around 9:15, another angler borrowed my hoop net to land a 3-foot shovelnose caught on a dropper loop/squid setup. The bonito bite remained steady for those who knew what they were doing.
At 9:45, I packed it up and headed for the parking lot. San Clemente Pier starts checking the meters in the parking lot at 10:00, and with my fishing fix sated, it was time to head home.