Public Pier — No Fishing License Required
I have been lucky enough to fish on the opening day at two piers: Point Pinole Pier when first built, and Point Arena Pier after it was rebuilt. I missed the opening here by a couple of months. In fact, I ran across this pier by mistake one day in 1989 while checking out other piers for pictures. The result was an exciting loss of a fish. During that first visit, I noticed an angler's above average catch of leopard and brown smoothhound sharks. Wanting to experience some of that shark action for myself, I decided to come back the next day.
However, I made a major mistake when I returned, I forgot to bring my treble-hook gaff or a net. Sure enough, after fishing uneventfully for about 40 minutes, I hooked a medium-size bat ray and the scrimmage began. It was the typical fight of a strong ol' mud marlin and it took me about ten minutes to get the fish in by the pier. Then I had to figure out how I was going to land the scrappy beast.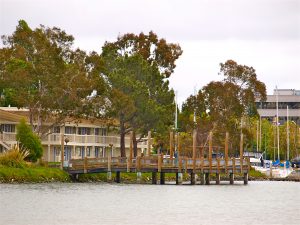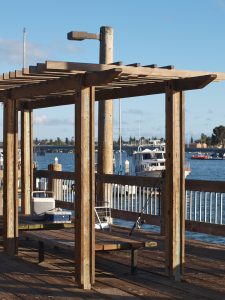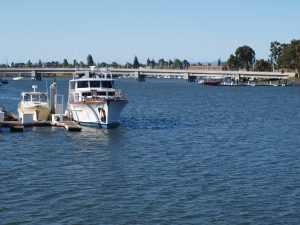 Fishing Tips. The species here are somewhat seasonal. Winter and spring see some of the larger perch—pileperch, whiteperch, blackperch, and rubberlip perch. They typically are in schools and if you get one you'll probably get more. Summertime sees less of the large perch and more of the smaller walleye and silver surfperch. The large species can be caught on high/low rigging using size 6 or 4 hooks and the primo bait is pile worm, ghost shrimp or grass shrimp. Small pieces of market shrimp and pieces of mussel will also work. The walleyes and silvers are best caught on size 8 or 6 hooks with pile worms or a very small piece of anchovy.
Spring to fall months are the prime time for striped bass with cut bait, live bait and artificial lures all working to bring in the stripers. A high/low rig baited with cut sardine or anchovy works well; a live bullhead (staghorn sculpin) or shinerperch on a Carolina-type rig also works; and a variety of artificial lures will work. Check with the locals to see what's producing the fish.
Summertime is the prime time for sharks and rays. Most of the sharks will be brown smoothhound sharks or leopard sharks while bat rays lead the list of rays. Use a live goby or shinerperch for the leopard sharks, a piece of an oily fish such as sardine or mackerel for the smaller sharks. Use squid for the bat ray. Since this pier has lights it is one of the few piers where you can still fish at night for the sharays.
Summertime will also see some kingfish (white croaker). They can be taken on cut anchovy fished with a high/low rigging on the bottom.
Wintertime may yield a few starry flounder when using pile worms, grass shrimp or ghost shrimp with a fish finder rigging or a Carolina-type rig. Use fairly small hooks, size 4 being optimal.
Year round will see jacksmelt show up in schools. Use 2-3 small hooks, size 8 or 6, under a float when seeking out the scrappy small fish.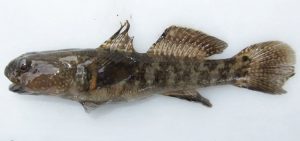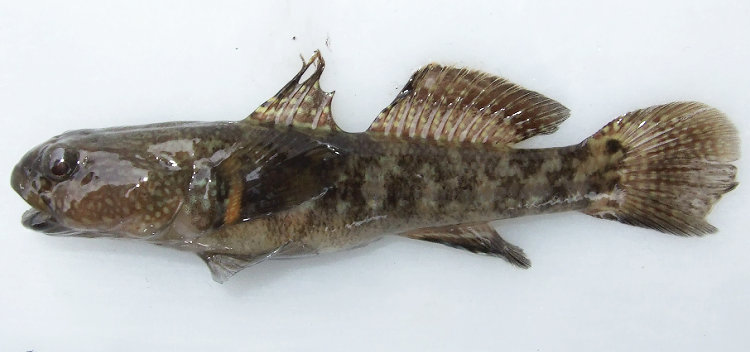 Chameleon Goby
An unusual fish that I have caught several times while fishing here is the chameleon goby (tridentiger trigonocephalus), a small fish native to Asia but a fish that has unfortunately begun to show up in San Francisco Bay and Los Angeles Harbor, presumably from the ballast of ships coming into the Bay from Asia.
<*}}}}}}}}}>< — Special Bay Area Regulations:
A perch closure exits in San Francisco and San Pablo Bay from April 1 to July 31. No perch may be kept other than shinerperch (20).
In San Francisco and San Pablo Bay a fishing line may not contain more than three hooks.
Sturgeon Regulations:
A sturgeon report card and tags are required for anyone fishing for or taking sturgeon. (a) The card must be in the angler's possession; (b) a tag must be used for any sturgeon retained by the angler; (c) the angler must record information on the Sturgeon Report Card immediately after catching and   keeping or releasing the sturgeon.
White sturgeon can only be kept from 40-60 inches; larger and smaller sturgeon must be released.
Green sturgeon may not be taken or possessed.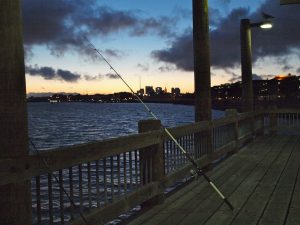 History Note. Why was it named San Antonio Pier? Very simple! When California was under Mexican rule this area was part of Rancho De San Antonio, a 44,800 acre Spanish land grant given to Luis Maria Peralta in 1820. The water which today is called the Inner Harbor part of the Oakland Estuary was a shallow creek known as Estero de San Antonio or San Antonio Creek. The creek connected to a tidal marsh that was known as San Antonio Slough (today's Lake Merritt).
Why Brooklyn Basin? In the early 1850s Oakland was the town to the west of the San Antonio Slough. To the east were established the towns of Clinton (1850) and San Antonio (1851); in 1856 these towns were consolidated under the name of Brooklyn (a name chosen by one of the town supervisors who had arrived on the ship Brooklyn in 1846). In 1870 Brooklyn incorporated, while adding the neighboring town of Lynn, and then, in 1872 Brooklyn itself was annexed by Oakland.
The little town of San Antonio saw a wharf built in 1851 by James B. Larue; the wharf was built at the end of Thirteenth Avenue, the trail that led from the nearby redwood groves down to the bay. This wharf would later be used by ferries of the Oakland and San Antonio Steam Navigation Company. A price war soon developed between this line and the ferries operated by the Contra Costa Steam Navigation Company (which sailed from the wharf at the foot of Broadway in Oakland), the result was a bargain basement cost of only twelve and a half cents for the Oakland to San Francisco ride. (It's also reported that prior to the Gold Rush in 1849 the sloop Pirouette sailed between a San Antonio wharf and Yerba Buena carrying both goods and passengers.)
As for Government Island that sits across the water from the pier, it is a man-made island created by the mud and dirt dredged up during the enlargement of the channel in 1915.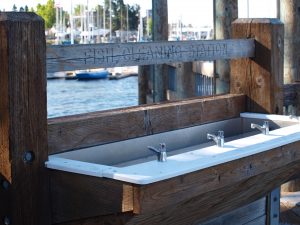 San Antonio Pier Facts
Hours: Open 24 hours a day (although recently marked sunup to sundown).
Facilities: There is free parking at the foot of the pier and portable toilets. On the pier there are benches, lights, a fish cleaning station and a water fountain. This is one of the best designed small piers I have seen. There are no bait and tackle shops or snack facilities. The pier adjoins the Motel 6.
Handicapped Facilities: None. The pier surface is wood and the railing is approximately 40 inches high.
How To Get There: From I880 take the 16th Avenue exit onto Embarcadero and turn left, follow the Embarcadero until you see the Executive Inn and the Motel 6, the pier is located between the two motels.
Management: Oakland Parks and Recreation Department.