Redondo's most famous fish may have been a 532-pound black sea bass caught on Bill's Barge (Bill Hall's barge off the pier in 1925). Eli Dessery, the business license administrator for Redondo Beach, caught the fish. He hooked the fish using an one-pound mackerel bait, fought it for 85 minutes, and donated it to the local Salvation Army when he got back to shore. Two of the "Sally" workers, Captain Margaret Rice Cole and Lieutenant Lila Ward, then borrowed a flatbed truck, put on their aprons, and headed out with sharpened cleavers to distribute the fresh food to the needy.
28 Jewfish Caught at Redondo Beach
The total number of jewfish caught at Redondo since the first of May was brought up to 28 yesterday, following the catch made by William Smalley of a jewfish weighing 368 pounds. The largest fish caught since May 1 weighed 489 pounds, while the smallest was a 232-pounder. All other fish have been biting fairly well.
—Redondo.bargee
Many anglers, including myself, lament the loss of barge fishing and unfortunately my experience on the Redondo barges was limited to two trips. The first, in July of 1978, was on the barge California, and it was an all-night trip. The barge had hourly "taxi" runs to the barge that started at 7 a.m. in the morning and ended at midnight. If you chose to stay past midnight you could fish all night. There was a full galley and places to curl up if you got sleepy. I was on a fishing trip and returning north. I figured why not combine some fishing with a place to stay for the night; why pay for a motel? I headed out to the barge at 7 p.m., fished most of the night, and returned (somewhat sleepily) at 7:30 a.m. in the morning. Luckily, the boat was anchored near the deep-water Redondo Canyon and as a result I saw a nice mix of the deeper water rockfish along with some sablefish, another deep-water fish and one of my favorite eating fish. The seas was calm, the night was beautiful, and I managed quite a few fish—54 bocaccio (rockfish), 14 Pacific mackerel, 5 sablefish, 1 rosethorn rockfish, one blue rockfish and one white croaker. As to the number of fish, naturally I only kept my limit.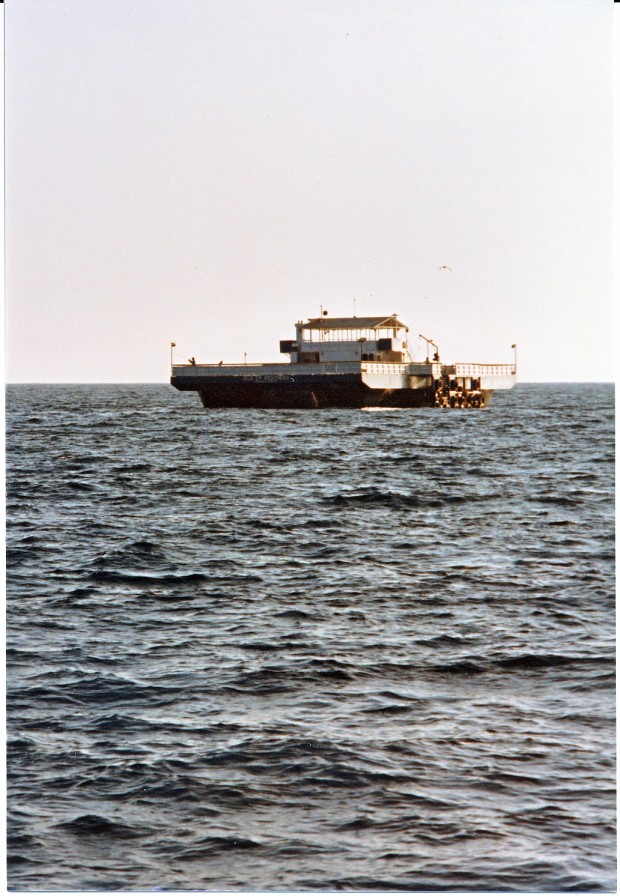 A few years later, in August of 1982, I returned for a somewhat shorter trip but one that also took place in the evening. The barge was now the Isle of Redondo. I taxied out at 6 p.m., fished 6:30 to 11 p.m., and arrived back at 11:30 p.m. The fishing was not as good although I did manage to catch some fish—48 Pacific mackerel, 2 vermilion rockfish and a squarespot rockfish. Good action, but the quality of fish was not as good as the first trip. What was interesting was watching a couple of guys hook really big sharks and fight them for an extended period of time. Unfortunately both were lost.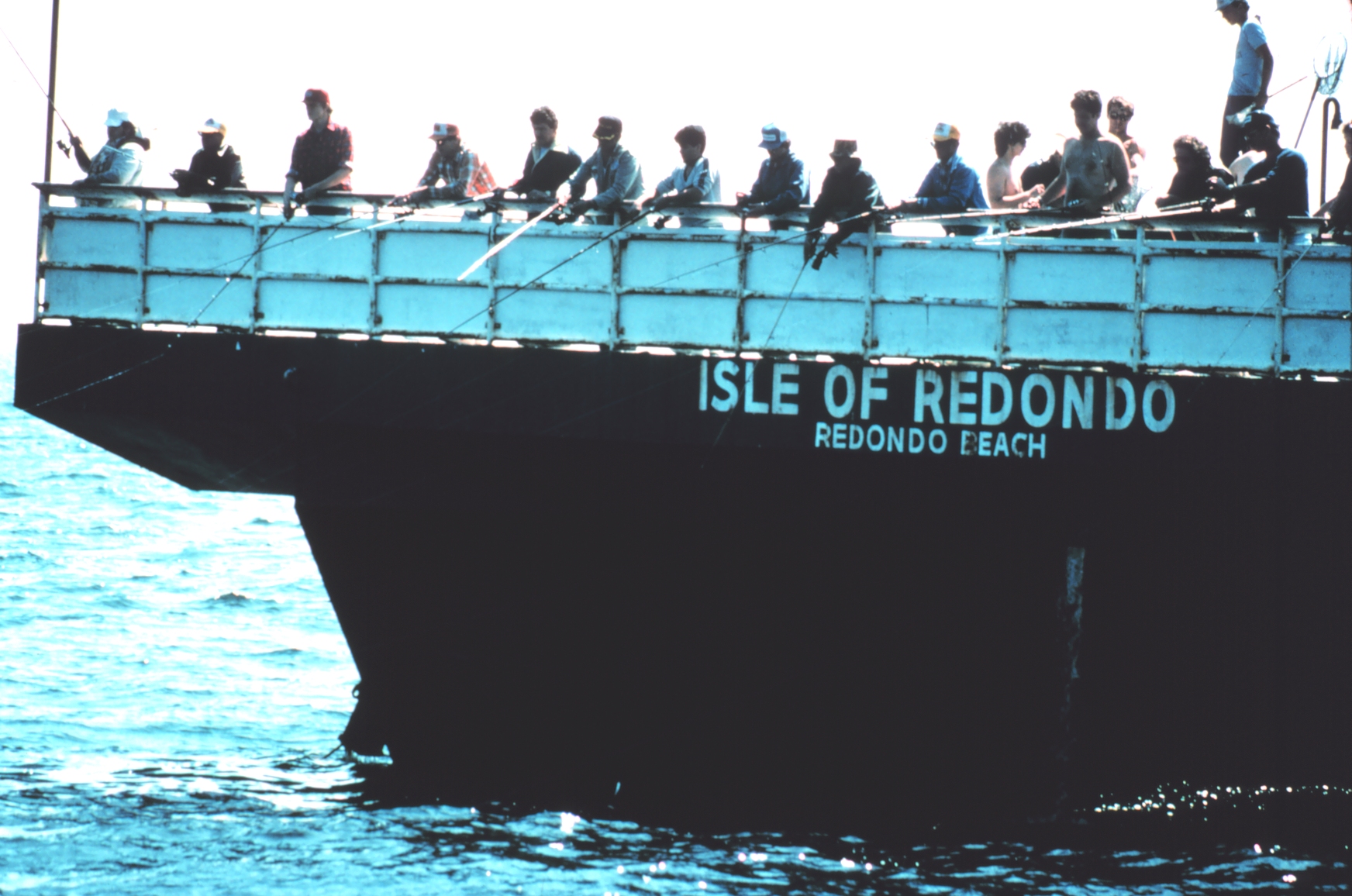 Fishing Barge — Isle of Redondo
That would be my last trip on a Redondo barge, a fact that I regret to this day (if I had only known). The Isle of Redondo ceased operation in 1998 and today the barges are merely history.
<*}}}}}}}}}>< — The most famous family in Redondo, at least as far as fishing, was perhaps the Monstad family of Redondo—Hans, Daisy, Wilbert L, Jesse, Florence, and Walter Eugene.
In 1923 Hans Monstad, patriarch of the family, began to operate a fishing business in Redondo Beach with his boat Daisy. His son Wilbur (W. L.) skippered the boat from the Municipal Pier. He soon added another boat, the Daisey II and in time the two boats became known as Big Daisey and Little Daisey.
In 1925, well aware that fishing barges were beginning to gain a stronghold in the Southern California fishing industry, Hans bought the Lahaina and soon after acquired the Fullerton, both former barkentines.
By now the Endless the pier was in dire need of repair and unsuitable for a landing. In response, Hans had his son Wilbur petition the city to build a pier. He obtained a 20-year lease with the main stipulation being that he would pay all construction costs.
1926 saw the construction of the Monstad Pier, a 300-foot-long "straight pier" that was built adjacent to, and connected with, the south leg of the new Horseshoe Pier. It was designed to be used as both a fishing pier and as a dock for the family's "Pleasure Fishing" fleet.
Anglers had their choice of live bait boats or barges like the Big Lahaina, Fullerton, and Thomas P. Emigh. Shoreboats ran out to the barges every 20 minutes and for a mere $1.25 anglers were provided tackle and all the bait they could use. Non-fishermen could catch the daily ride to Catalina on the Enterprise—for a slightly higher $2.00. Business was good and the Monstad Pier was lengthened to 400 feet in 1927.
The height of the family fortunes was the early '30s when the Monstad's had three barges in operation, six live bait boats, their own pier, and more than 40 employees. Anglers numbered as many as 2,500 in a single day.
The family would own a number of additional barges over the years including the Oceania Vance, Irene, Kohala, Star of Scotland, and the Homer. The family also would own and operate a number of smaller boats including the Hawk, New Monterey and the Tennessee.
Although the Fullerton was wrecked at Redondo Beach in May 1927 it didn't seem to slow the family. However, family luck seemed to change in 1932 (as it did for many during the Great Depression years). The Thomas P. Emigh was driven ashore and wrecked during a 65 mph gale in April 1932. The Lahaina sunk in 1933. The Oceania Vance sunk in 1936 and the Irene sank off Redondo Beach in January 1937.
World War II started on December 7, 1941 and just two and a half weeks later, on Christmas Day 1941, the Kohala was mistakenly sunk by friendly fire—U.S. bombers.
The war years meant that no fishing from boats was allowed for a period of time and then the Star of Scotland (former Texas), while awaiting reconditioning, sprung a leak and sank in 1942.
Fishing resumed a few years later but then the Homer sank in Wilmington Harbor in 1948. Every barge that the family had owned had sunk, some from old age and neglect, some from Pacific storms, and one from the U.S. Air Corps. The business seemed at an end.
Many felt that the family business had really ended in 1939. In June of 1939 Wilbur had taken a leave from fishing and began managing the large gambling barge Monte Carlo that was anchored off of Redondo Beach. A few months later, in August, he and his brother Walter were on another gambling barge, the Texas, when it was raided. $25,000 of gambling equipment was destroyed and the ship was towed to San Pedro. Both Monstad brothers, along with several other people were arrested. Included in the list was "Russian Louie" Strauss, a killer for the L.A. Mafia. Both brothers would face court cases lasting several years. In December of 1939, apparently despondent over family fortunes, a despondent Hans Monstad committed suicide.
Through the years the family had operated the largest fleet of fishing boats out of Redondo Beach—and perhaps suffered the most misfortune. Though the family no longer runs the fishing fleet the pier that bears their name is still in existence (if somewhat changed).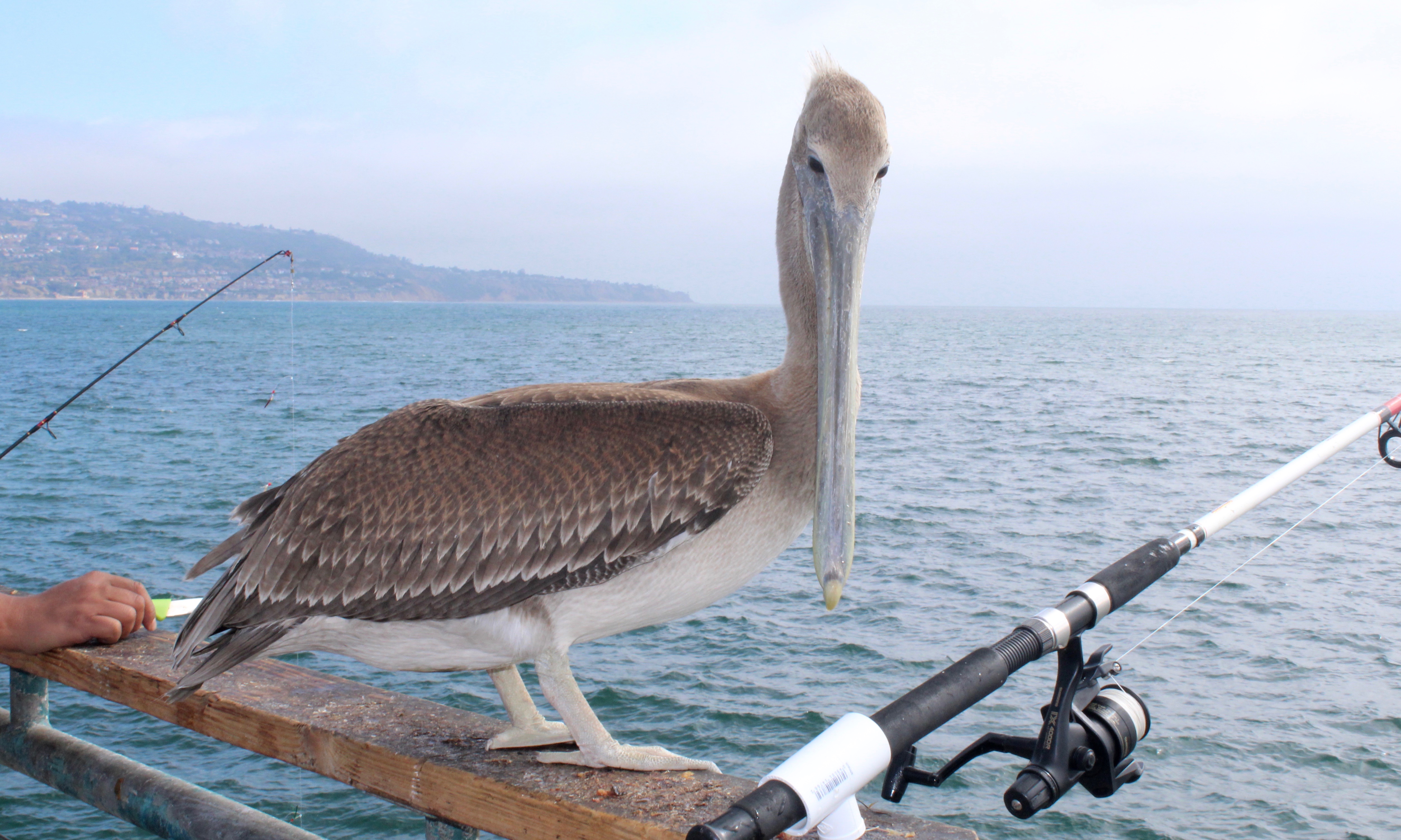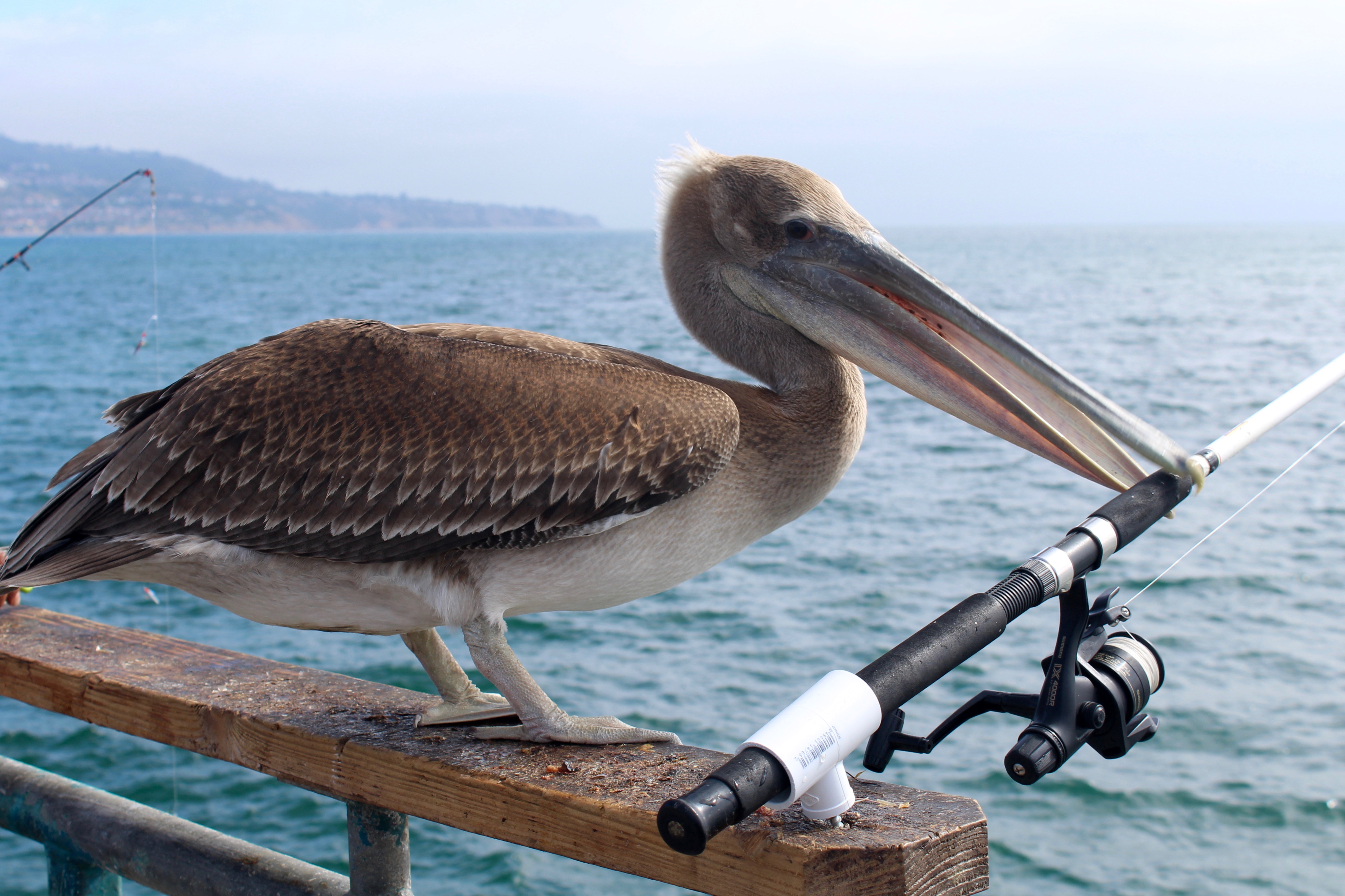 <*}}}}}}}}}>< — If you think things are tough now when it comes to fishing, at least you don't have to keep an eye out for the trains. Not so for the unlucky fisherman in the following story.
Train Dumps Fisherman Off Pier Into Ocean — Santa Fe Accident Brings A Damage Suit
"Suit for $5,250 against the Redondo Improvement Company was commenced before Judge Gibbs of the superior court yesterday by John G. Thompson of Redondo. The plaintiff alleges that while he was fishing on Pier No. 1 a Santa Fe switching train knocked him from the pier into the ocean, at the same time inflicting a severe scalp wound upon him.
Pier No. 1, which is named in the complaint, is the property of the Santa Fe company and the one through which an engine plunged several months ago, carrying to death the fireman. A spur track is operated upon the pier, hauling cars to and from the point where steamers are loaded. The complaint alleges that on the occasion named in the complaint the train was handled carelessly.
The pier is said to be crowded daily with fishermen and Thomas alleges that on August 12, 1904, he was seated on the track when a free freight car was bumped into by the switch engine, causing the car to move forward a distance of ten feet, striking Thomas and hurling him against a timer, inflicting a scalp wound.
When Thomas was jammed against the timber he claims he was in such a position as to render it impossible for him to regain his balance, and consequently he fell into the ocean, a distance of thirty feet below.
The impact with the timer rendered him unconscious and in the complaint it is alleged he was in danger of being drowned. Since the accident, Thomas says, he has been ill a great part of the time and medical attention has cost $250."
—Los Angeles Herald, February 14, 1906
<*}}}}}}}}}>< — There are several good restaurants on the pier albeit some can be a bit pricy. Several however are moderate in price and quite good. One of the most famous (supposedly at one time the highest grossing restaurant in the U.S.) and a place I like to visit is Tony's (aka Old Tony's). It has a '70s-'80s Rockford Files feel to it (you almost expect to see James Garner walk in wearing one of his plaid jackets), and autographed photos on the walls of the movie and T.V. stars of those years. It's an old-fashioned kind of fish restaurant, with many menu choices reflecting an earlier era, but the food is excellent and it has provided me with delicious seafood dinners many times over the years.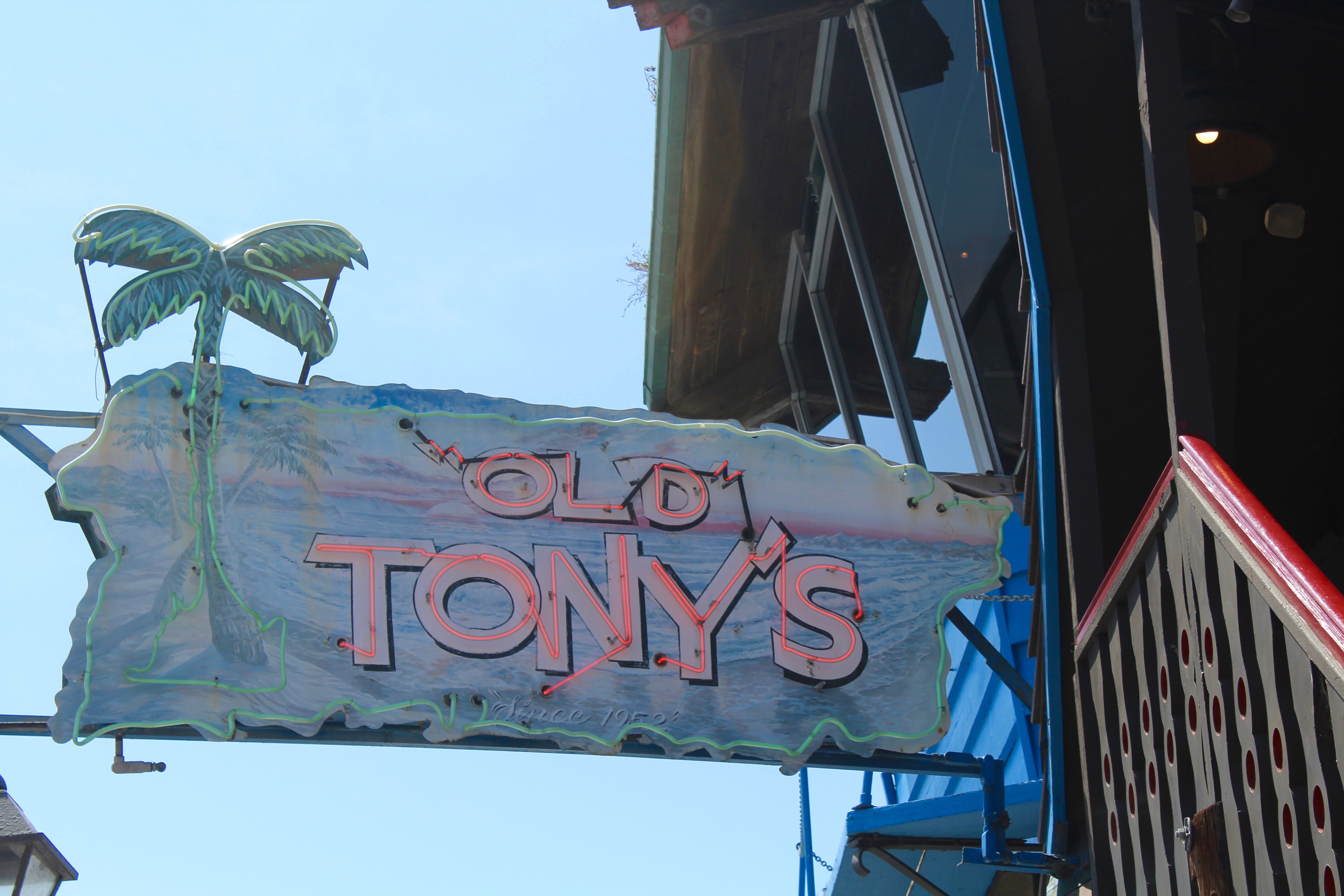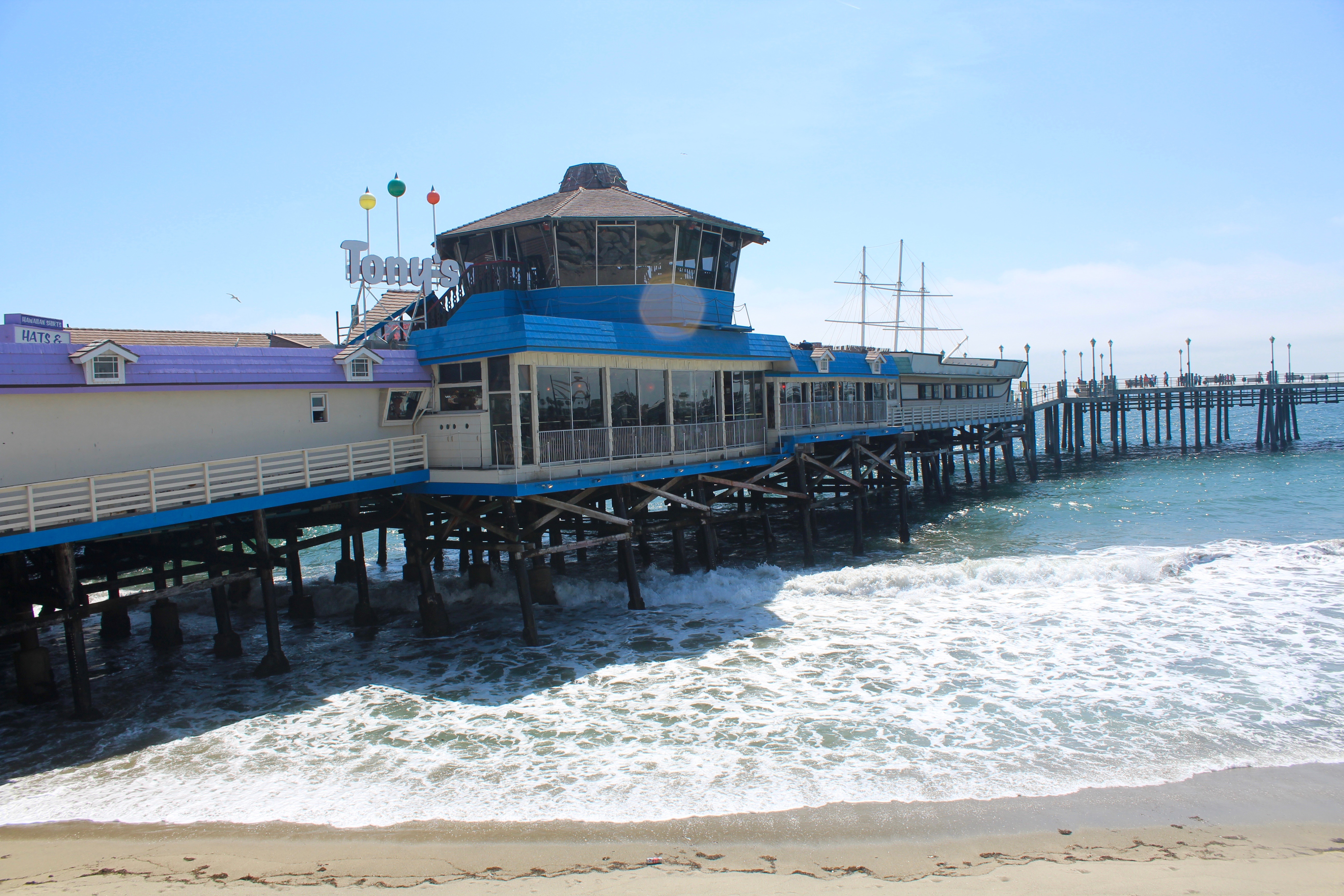 Tony's Restaurant
If you like ethnic food you might try Gambrinus, a Russian restaurant on the International Boardwalk. They have a number of interesting dishes including belashi, a Russian-style hamburger (actually a meat-filled fried bread), a tasty beet salad, herring, hard boiled eggs, etc., and their specialty, "trout the Russian way."
Not too far away is Naja's, another interesting place (with reportedly the largest selections of beer in southern California). It's basically a bar but also has good food and has received mostly good reviews, all except for one where the person wrote "Yeah sure, Naja's is great if you like too loud cover bands jarring your sensibilities, and stupid toothless pier rats hitting on your lady every time you go for a pee." Now that's an interesting observation but come on, stupid and toothless? I may be stupid but I've still got my teeth.
Did You Know? Every pier deserves to have its own brew — right? Here it is the "Redondo Beach Pier Pale Ale" brewed by the Redondo Beach Brewing Company. Unfortunately, on-line beer connoisseurs only seem to give it about a 3 out of 5 rating, not bad but also not that great.
Did You Know? The Redondo Beach Pier was used as a primary filming location for the TV series, The O.C., as a location for the TV series, Riptide from 1984–1986, as a location in Big Momma's House 2, and as a location in the remake of the show 90210 with Trevor Donovan.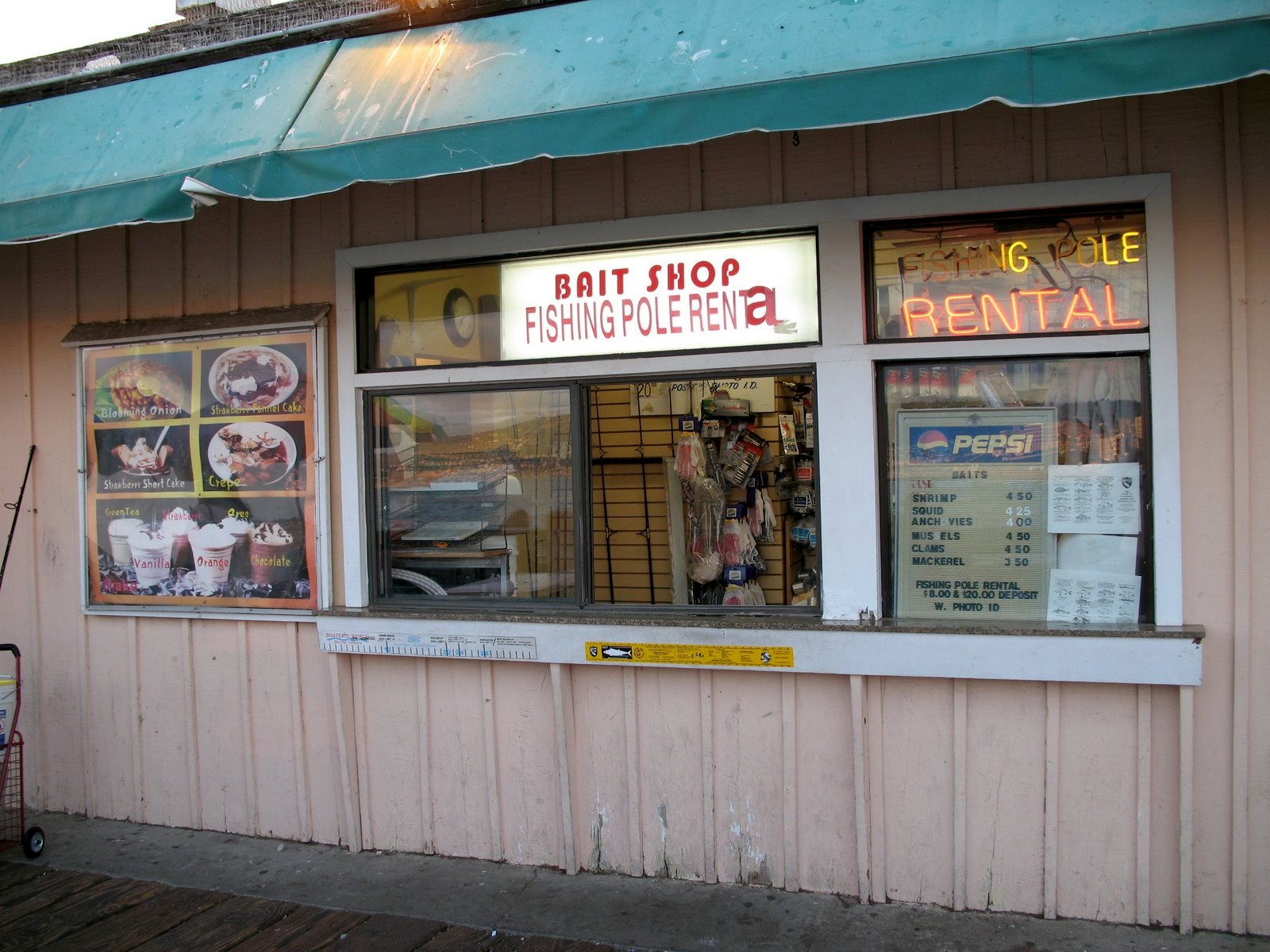 Redondo Beach Municipal Pier Facts
 Hours: Open 24 hours.
Facilities: Lights, benches, restrooms, fish cleaning station, snack bars, and a bait and tackle shop are all located on the pier. There is a huge parking lot with rates of $.50 an hour with a $2 maximum. At last count 32 different concessions were located on the pier.