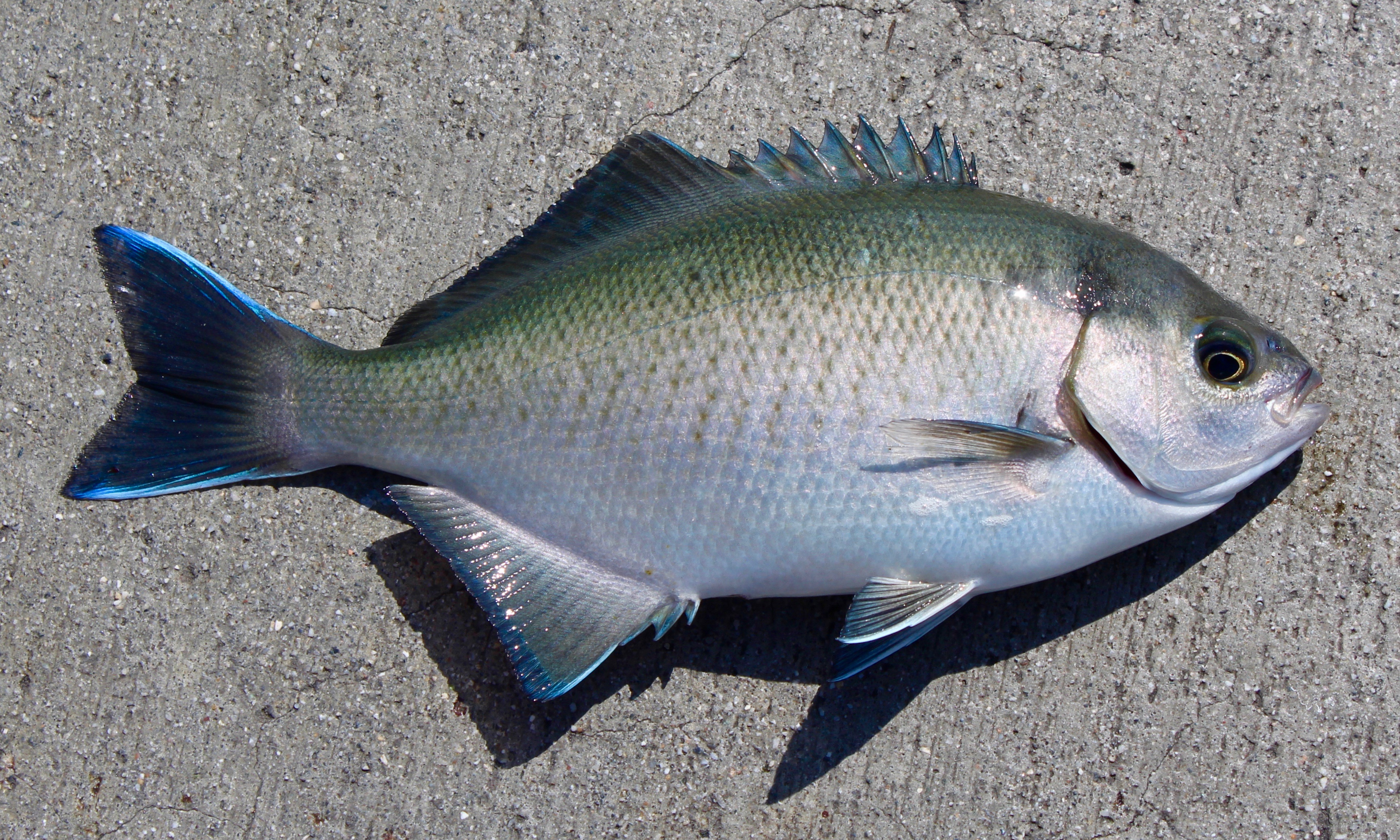 A halfmoon I caught one day casting "under" the Monstad section
Perch, flatfish and miscellaneous species. Although perch are a major component in the catch at most SoCal piers, they represent a fairly small number at Redondo. The exception is small shinerperch, which can seem to saturate the waters at times. Few barred surfperch seem to be caught inshore and the larger perch that like to hang around pilings—blackperch (buttermouth perch), rubberlip perch, and pileperch, are rarely seen. White seaperch are sometimes caught on the bottom, and walleye surfperch mid-depth, but both are rarely taken in the numbers seen at some piers. Worms, fresh mussels and small pieces of shrimp work best for most of the perch while a Sabiki can be all that is needed for the walleyes.
Perch-like sargo are a possibility and there are a few opaleye and halfmoon down by the pilings but few people seem to target them. If interested use a high/low rigging with size 6 hooks and baits like worms, fresh mussel, pieces of market shrimp or ghost shrimp; fish a foot or so off the bottom.
An interesting and good eating fish found on the bottom, one especially common at night and during the winter months, is the misnamed sculpin (California scorpionfish and actually a rockfish, not a member of the sculpin family). Most are taken using a high/low rigging with a piece of shrimp or strip of squid for bait.
I've seen relatively few kelp and sand bass taken at the pier. However, kelp bass in particular are present and their numbers may be rising. They will take almost any bait and a high/low fished on the bottom under the pier by the pilings is often most productive.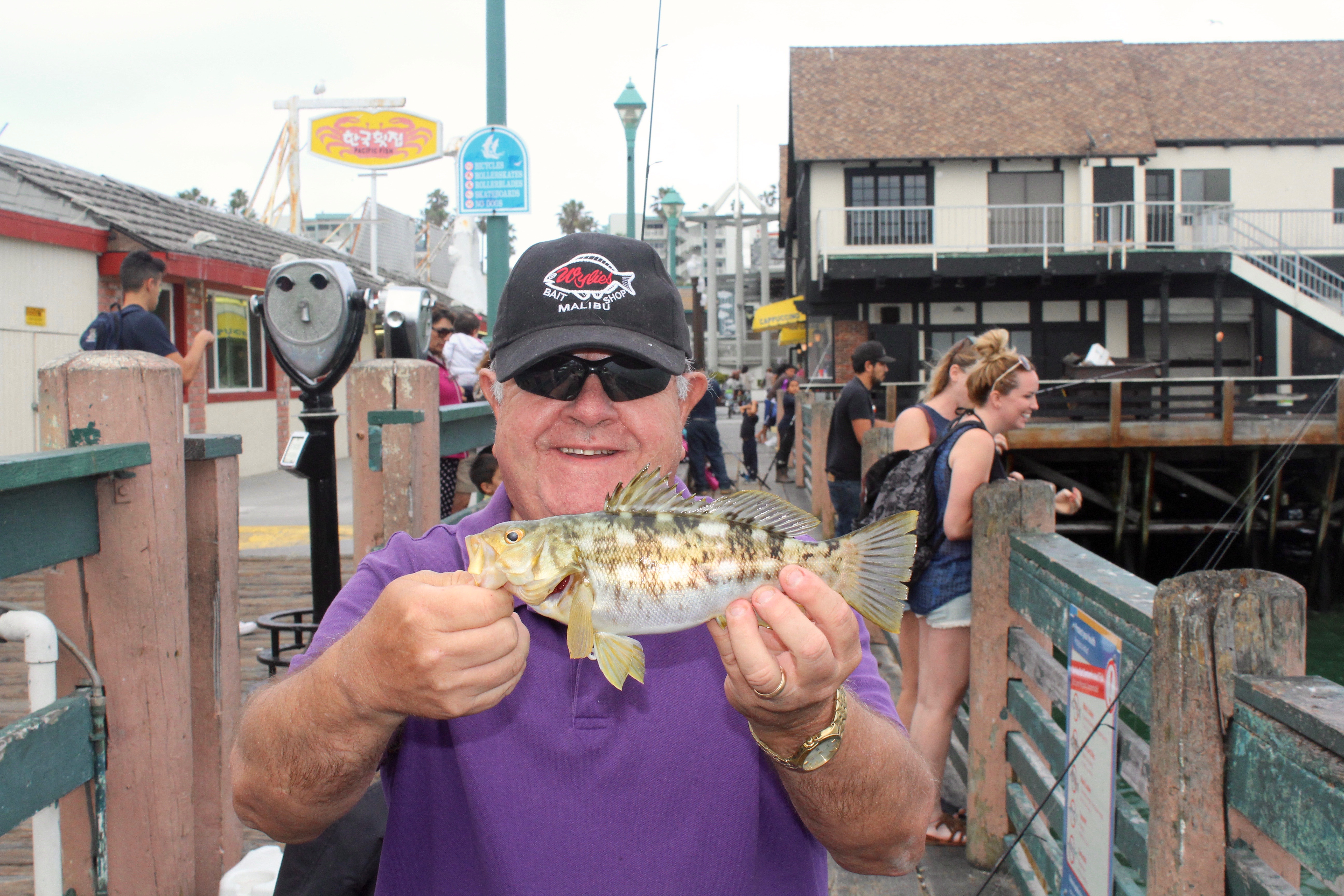 A kelp bass I took one day while fishing in the Monstad section
I've been told that an occasional ocean whitefish can be caught from the deep-water corner of the Monstad section. A long cast using a long rod and heavy sinker can reach a pretty good depth of water and apparently that's where the whitefish show up when they are around. Although occasionally plentiful on the Catalina piers, they are uncommon at mainland piers.
As for smaller flatfish, sanddab, sole and turbot may show up. I've seen both Pacific and longfin sanddab taken from the pier, C-O sole, and Diamond turbot. The best rigging for all is a high/low rigging with size 6 hooks and a piece of saltwater worm covering the hook. They all have fairly small mouths and the bait needs to be fairly small. Cut anchovies or mackerel, pieces of shrimp, and small strips of squid may take a few flatfish but keep the bait small.
One fish that is somewhat detested is lizardfish but the number of lizardfish has shown an amazing increase along the coast and it's the same here. Sometimes they will seem to cover the bottom and may show up on every hook of a Sabiki sent out in search of mackerel—if the angler is careless and lets the Sabiki sit on the bottom. Some people like to eat them—some don't. They are considered good live bait for halibut.
Big 'uns. One question that occasionally is asked is if there are still big fish at the pier. The answer of course is yes, especially during the warm water years when yellowtail visit the pier. A post on the BloodyDecks website in 2009 gave evidence:
Posted by joser85, Date: October 8, 2009
"Last week Thursday me and some buddies were fishing off the Redondo Beach pier. The bonito has been coming in so perfect time to have some fun with light tackle. Any ways, this guy next to us [was] catching mackerel like crazy when out of nowhere his rod just gets bent HARD. Since he was fishing for mackerel with Sabiki hooks we think SEAL. So, we pay no attention to him. After a few minutes of him fighting what we thought was the seal we start to double think of what can be at the end of the line????? Maybe black sea bass? Finally after about 20 min we see color. NO…way, it's what I think is a YELLOWTAIL. And not just any yellowtail. A BIG… yellowtail. This guy had like 20-lb test, but what made him actually land the fish was that the Sabiki got wrapped around the fish causing the yellow to hardly put up a fight. One of my buddies runs over and grabs his pier gaff. Right when he drops it guess who shows up!!!!!!!!!!!!!!!! A fishermen's worst enemy, MR SEAL & not just a regular seal this boy had to be about 1000-lbs. He took 3 bites at the fish and on the last one he popped the line. After a few seconds we see the seal come back up and leave. Automatically we think he ate the whole… fish. But for some reason this guy starts dragging the bottom with a treble hook and after about an hour or so we see he's snagged on the bottom. He starts to reel in slowly and what comes up… the yellowtail. We help him get it on the pier and holly…. it's even bigger that what it looked like. The fish measured 54" long and estimated at 40lbs. What a…day." [Edited]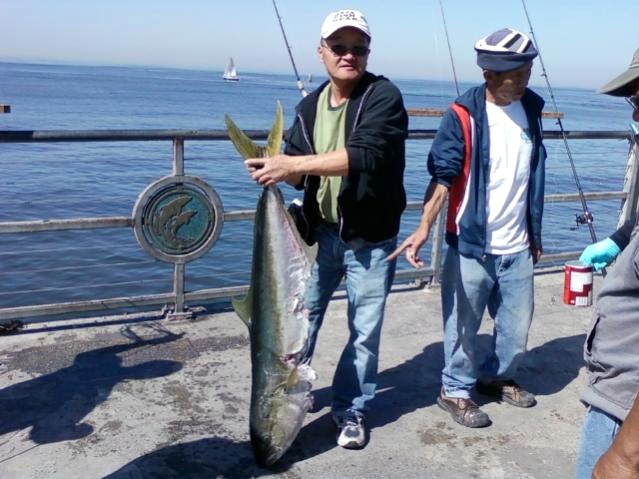 Picture of the yellowtail (courtesy of Bloody Decks)
The other big 'uns are undoubtedly the large sharks and rays, especially big bat rays that are sometimes taken but usually at night when fewer people are around to "ooh and aah" at them.
Crustaceans — Lobsters and Crabs.Spiny lobsters are found at the pier but unfortunately the constant poaching over the years has made it difficult to catch a legal-size "bug" during the lobster season. People catch and keep them on their fishing lines (illegal). People catch shorts and do not return them to the water (illegal). People catch them out of season and keep them (illegal). I have friends who were once regulars at the pier at night using hoop nets for lobsters. Most have now given up on the pier due to frustration: the dual frustration of watching people break the rules and nothing being done about it, and the frustration caused by those actions—a lack of lobsters. If you do want to try for the bugs use a hoop net follow the rules!
A couple of newspaper stories from nearly a hundred years ago gives evidence that the problem isn't new but at least in one case the angler tried to do the right thing.
Curious Lobster Causes Trouble — Fisherman Explains To His Honor How Catch Occurred
Redondo Beach, Sept. 29.—The curiosity f a lobster which led it to sample bait intended for a halibut landed the lobster, the angler, and a number of interested spectators, in Judge W. M. Browning's court here, this morning.
From the evidence it appeared that J. Hanson was peacefully fishing from pier No. 3 yesterday afternoon when he pulled in a clawed creature of monstrous size. Leaving his prize on the wharf the man, it was stated, went to find out about the game laws and see if he could enjoy a lobster salad, hand picked.
But in the meantime Game Warden C. F. Maddex of Los Angeles had been notified that lobsters were being captured at Redondo Beach. The season does not open for some fifteen days yet so the official came down to investigate. The first thing he found was the biggest lobster he had ever seen, which, when weighed, balanced at twelve and a half pounds.
The lobster was attached and the luckless fisherman cited to appear to answer the charge of violating the game laws. As it was not proven that the lobster was caught intentionally, nor that the man intended to keep it, the case was dismissed. Constable J.V. Henry carefully deposited the lobster back in the ocean after it was introduced as evidence in court. It was rare the worse, apparently, for its night out.
—Los Angeles Times, September 30, 1919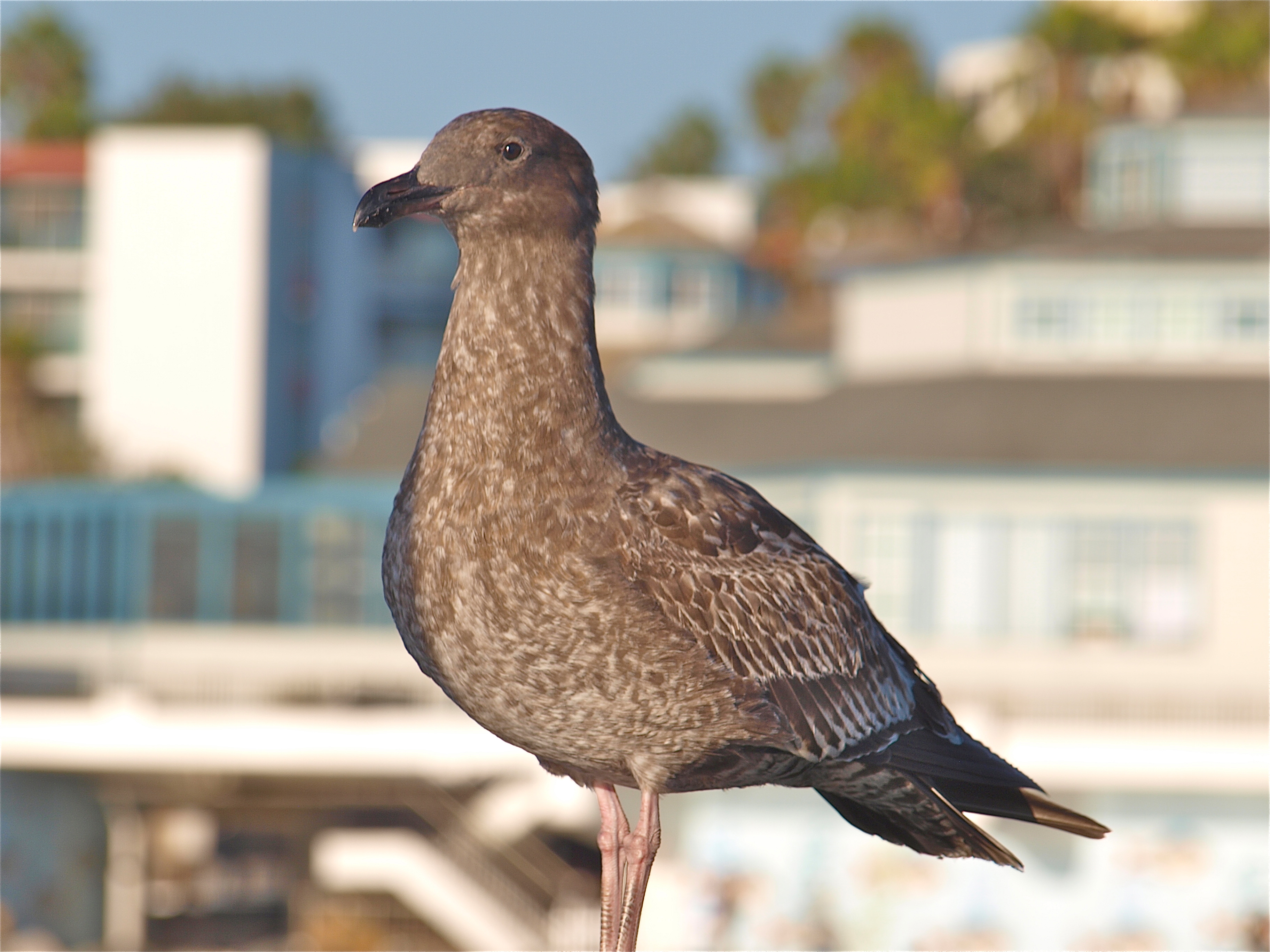 Conduct Drive Against Anglers As Deep Sea Limit Is Exceeded
Los Angeles, Sept. 13.—Payment of a fine of $100 by M. A. Peterson, and nominal assessments in four other cases resulted from a drive made recently on the fishermen and fish markets at Redondo Beach by deputies of the commercial fisheries bureau of the division of fish and game, who have been putting in many an hour both day and night in an attempt to clean up violations of the laws in that district.
Peterson and four other fishermen were apprehended by Deputies Ross Markley and Tats Miller as they drove off the pier at Redondo. Peterson had 69 lobsters which it is illegal to take at this season of the year, and an examination of the lobsters disclosed the fact that most of them were also undersized.
—San Bernardino County Sun, September 14, 1929
The pier can also be a pretty good one for crabs although most of the crabs are the gnarly old spider (sheep) crabs). They reach a good size and can be pretty good to eat although cleaning them can be a fairly big chore. A few yellow crabs are also taken but here they seem secondary in nature to the spider crabs.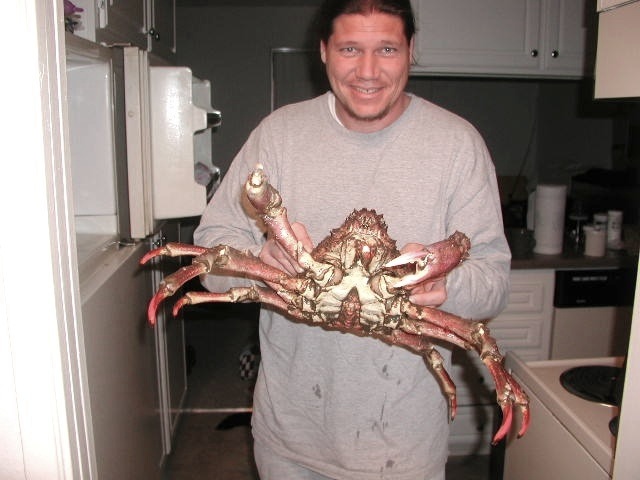 A large spider (sheep) crab caught by SanClementeEric
 Cephalopods. Given the nature of the nearby deep-water canyon (where squid spawn) and the attention it receives from the "squid" boats, one might think Redondo would be a good pier for market squid and the larger Humboldt squid (when they show up). Alas, that doesn't seem to be the case although it's true there are nights when the smaller squid do show up. It's not a reliable fishery and has not, to my knowledge, ever been a major player in the story of the pier.
While runs of giant Humboldt squid have made the news concerning several piers (especially Newport and Balboa) it hasn't seemed to happen here—and I do not know why.
Do Not Eat Contaminated Fish!
A final note concerns eating fish in the area. Large signs on the pier proclaim—"Protect your health—Do Not Eat Contaminated Fish!" Although different species have been included in such signs over the years, the current signs say to not eat white croaker, barred sand bass, black croaker, topsmelt, or barracuda.
The cause of the warnings is a variety of toxins found primarily in the local mud and sand on the bottom that contains DDT and PCB. The toxins are absorbed by the worms and other creatures living in the mud and those smaller creatures are eaten by the larger species including fish. The inclusion of barracuda is a little surprising although the fact that young barracuda spend much of their lives in bays, and bays are often the most polluted areas for various toxins, may explain why they are included.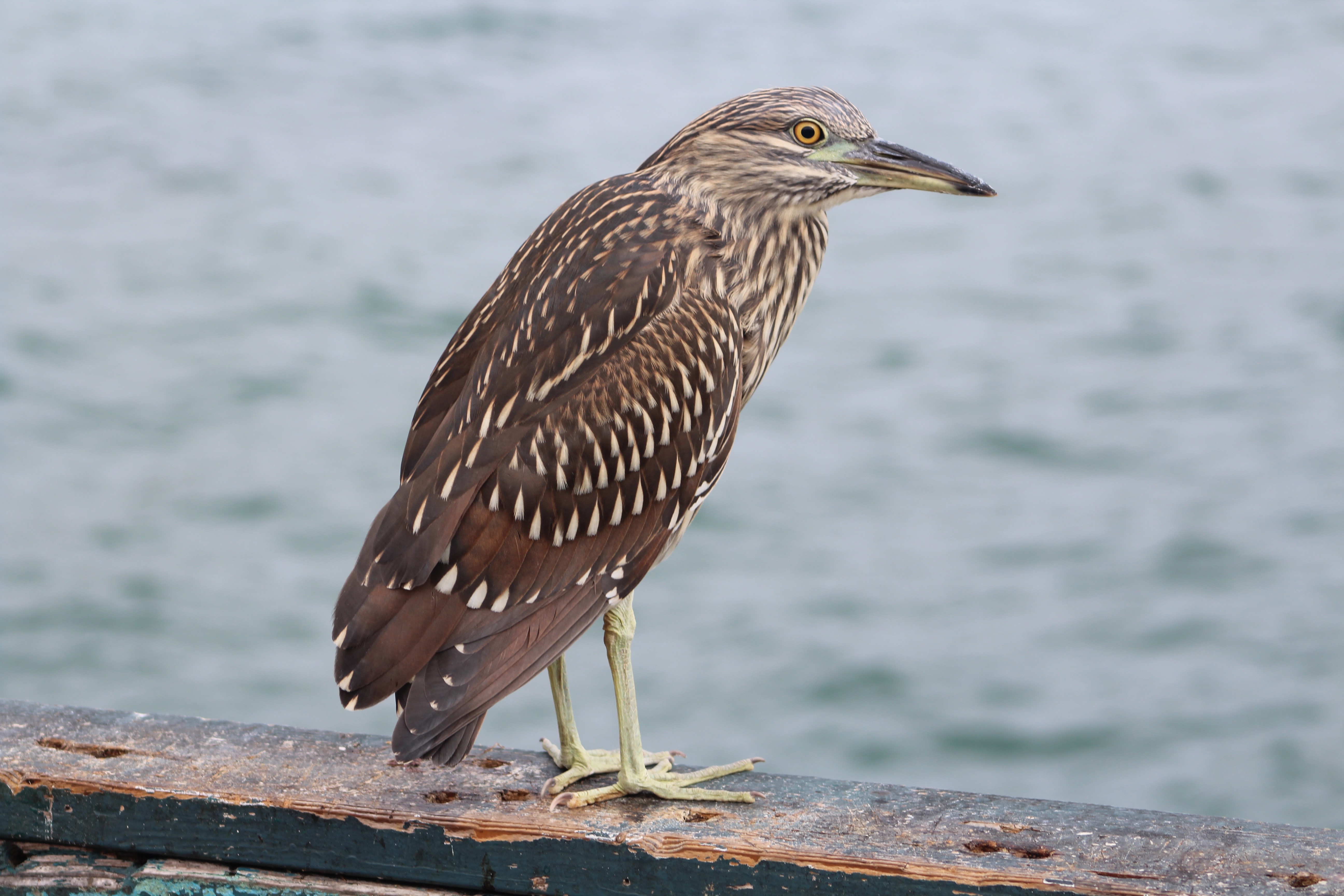 Potpourri —More than you may want to know about the Redondo Pier

<*}}}}}}}}}>< —  By the 1920's, Sportfishing boats had begun to operate from the pier, both live bait boats and barges. The barges would perhaps gain the most fame since the number at Redondo were the greatest of any port and they would operate the longest—from 1922 to 1998.
The first was the Margaret (1922-23), perhaps California's first fishing barge. It began operation in 1922 and was followed chronologically by Bill's Barge (1920s), Challenger (1923), Challenger II (1923), William Bowden (1925-26), Lahaina (1925-33), Fullerton (1925-27), Jane L. Stanford (1926), Georgina (1927-35), Thomas P. Emigh (1927-31), Point Loma (1927-30), Bonnie K. (?), Kohala (1928), Aileen (1930s), Melrose (1932), Emperor (1938), Oceania Vance (1935-36), Irene (1936-37) and Sea Witch (1939). All of these ceased operation during World War II. Following the war a new number of new barges emerged—the Manana (1940s), Buccaneer (1950s), Retriever (1950s), Sacramento (1950s), California (1957-1981), and the last barge, the Isle of Redondo (1981-1998). In addition, the Aurora may have been at Redondo a short time in the mid-'30s.
During the 1920s and '30s the barges were filled with anglers. At a cost of $1, cut to .50 during a price war, anglers could catch a taxi to the barge and fish all day—or night (in some cases). Mackerel were usually the main fish caught although big numbers of barracuda and halibut were frequently seen (and some of the halibut exceeded 50 pounds in weight). Yellowtail were seasonally common as well as white sea bass. Giant sea bass, originally called Jewfish or black sea bass, were common fish on the barges and fish up to and exceeding 400 pounds were caught. Some anglers specifically fished for the giant bass. Kelp bass, sand bass, rockfish, croaker and other miscellaneous bottom fish made up the remainder of the catch.