Parsons said that pier structures are expensive to maintain. In an average year, it costs about $150,000 to maintain the two Redondo Beach piers, not counting extra expenses like the $300,000 the city spent for a 10-inch fire main.
Because the water in the harbor has gotten cleaner, a termite, which cannot survive in dirty water is thriving, attacking pilings, each of which costs $5,000 to replace. "The fishermen want us to leave the pier alone but if we do, it will be condemned," Parsons said. The nearby Bounty restaurant structure has already been condemned.
Amys expects to have 5,000 signatures by the time the Coastal Commission hearing takes place. Pollack explains that the master lease agreements include provisions that 50% of the retail space remain open for fishing.
Mel Carpenter, executive director for the South Coast California Coastal Commission, indicates that the Coastal Commission staff is willing to recommend a modified version of the proposed plans but points out that doesn't mean that any members of the Coastal Commission will approve it or deny it.
—Diana Sherman, Los Angeles Times, May 20, 1979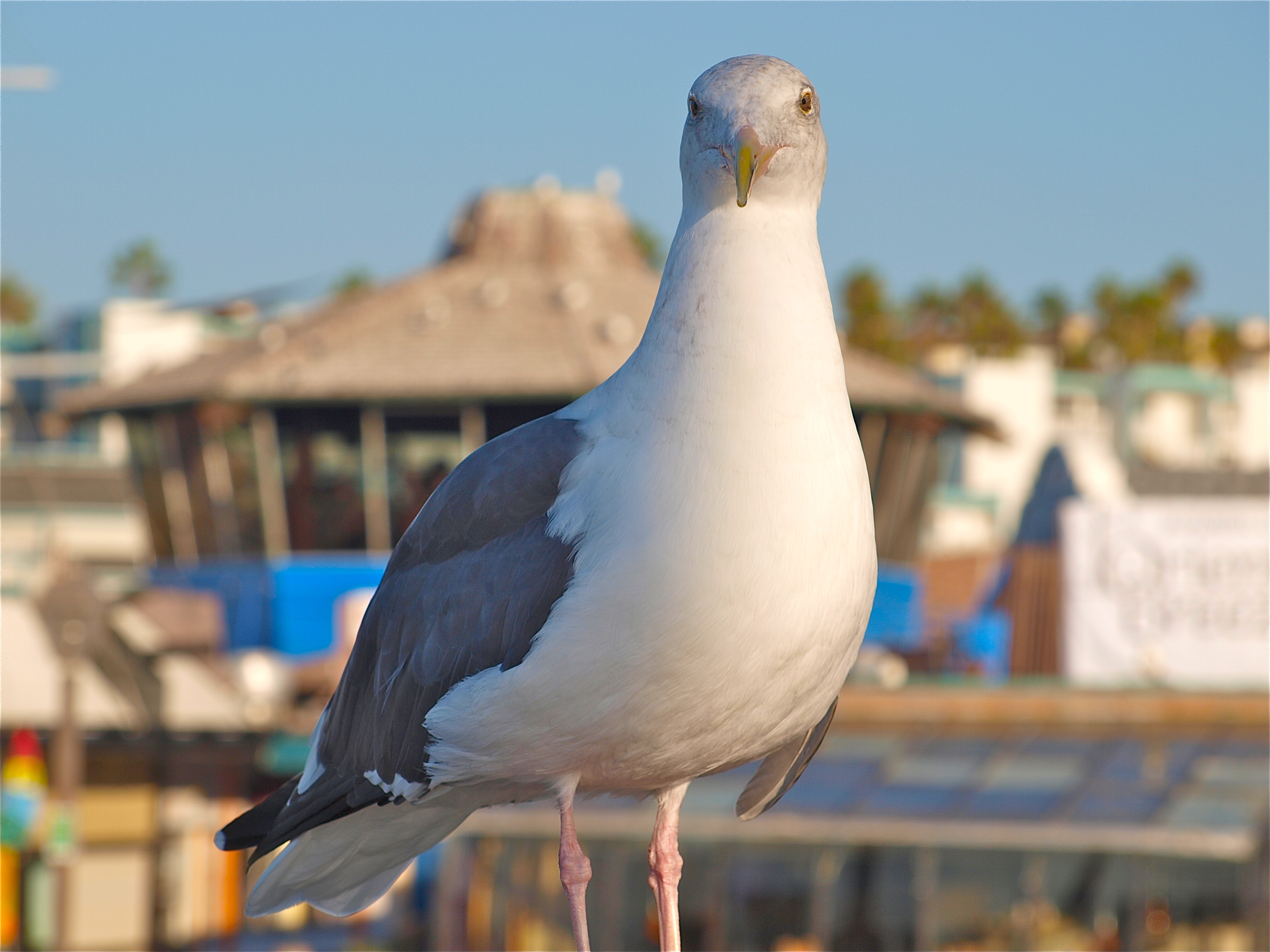 I assume the anglers won that round since Tony's Restaurant still sits on a wing of the horseshoe pier. But their victory would be short lived. Winter storms in 1983 destroyed much of the end of the pier (less than four years after the fight and article). Five years later, in 1988, winter storms in January and February combined with a disastrous fire in May, devastated the entire pier. A new pier would rise like a Phoenix from the ashes but it would not open until 1995, seven years later. And today, even though the Monstad section is still available, live bait isn't — and the number of halibut are far down.
Nevertheless, the following articles give further evidence that halibut have long been the prize fish at the pier. However, the first article, from 1975, is not accurate as far as the fish being a record (at that time). A 62 ¼ lb. halibut was caught at the Los Angeles Long Wharf in August 1917, a 54-pound fish at the Huntington Beach Pier in 1939, and a 45 ¾ lb. halibut was caught from the Balboa Pier in May of 1927. It does show though that some big "barndoor" halibut were found at Redondo. The next two articles show that halibut were often the derby winners (although sharks and rays were generally excluded from the derbies).
Woman Catches 45 ½ L.B. Halibut
A Los Angeles County woman landed a 45 ½-pound California halibut at Redondo Beach pier June 24, to narrowly miss the state hook and line record by a little more than a pound.
Nevertheless, it was the largest halibut ever taken from a pier, and Virginia Lively of Carson has entered her "barn door" in the Fish and Game Commission's annual trophy awards program.
The state record is a 46-pound 8-ounce halibut taken off Santa Cruz Island on March 31, 1974 by Ron Buhr of Santa Ana.
Mrs. Lively, a veteran angler, used a No. 1 hook on a 10 pound test line to land her catch at about 9:45 a.m. It took her about 10 minutes to get the fish up on the pier. She used a live anchovy. The halibut measured 45 ½ inches in length, and marine biologists estimated its age at between 13 and 17 years old. The largest California halibut ever verified by the DFG was a 51.375 pounder taken by a South Gate spear-fisherman in the late 1950s.
—Joe Mears, Great Outdoors, Long Beach Independent, July 2, 1975
Redondo Angler Wins
Redondo Beach resident Robert McLaughlin won the first Redondo Beach Pier Fishing Championship, landing a 17-pound halibut to top 74 entries. The contest began June 1. The top 10 finishers will receive prizes in a ceremony at 6 p.m. today on the pier.
—Los Angeles Times, September 11, 1986
Halibut Take the Hook in Randy Martin Awards Tourney
The Sgt. Randy Martin Awards ceremony was held Thursday on the Redondo Monstead pier and, with the end of the tournament, halibut in particular may have felt that the 126 entrants in the third annual event had declared a cease-fire.
First place went to Hasid Homas of Redondo Beach for his 16-pound, 6-ounce halibut caught on the first day, which rewarded him with a trophy, a complete fishing outfit and a jacket.
Second-place winner was Jerry Dunamac of Wilmington for his 16-pound, 3-ounce halibut. Dunamac received a trophy and tackle.
Third-place finisher Leroy Nelson of West Los Angeles caught a 16-pound, 3-ounce halibut. He received a trophy and fishing gear.
Charlie Middleton, 91, of Redondo Beach was the oldest fisherman and received a rod and reel. Middleton said he fishes 300 days a year and he is concerned about the crowded condition on the pier since the front section that was destroyed by fire has not been replaced.
The youngest participant was 6-year-old Redondo pier angler Chancie Rabotsan, who received a junior award.
—Dan Stanton, Los Angeles Times, September 15, 1988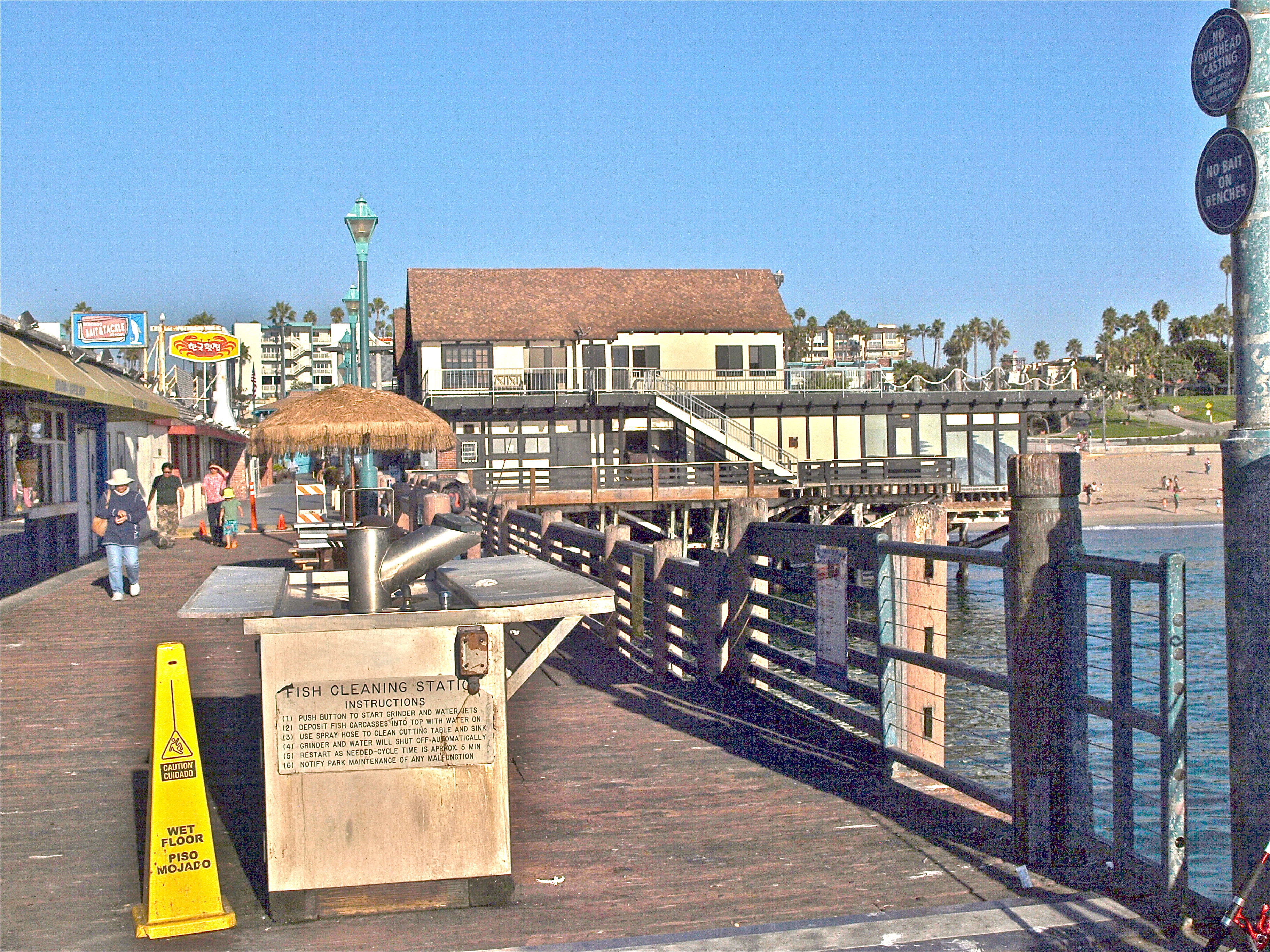 A large fish cleaning sink sits in the Monstad section
Inshore fish. Of course there are other fish than mackerel and halibut at the pier. Anglers casting back toward the shoreline from the end section, or better yet, fishing on the diagonal legs of the municipal pier, can fish the shallower, inshore water. Yellowfin croaker are often available and a few spotfin croaker and corbina might show up. If fishing at night, you might see an occasional black (China) croaker. Young white seabass (sea trout) may show up in the spring but their numbers are rarely high.
All of the croaker will hit on high/low riggings baited with seaworms (bloodworms or lugworms), fresh mussels, ghost shrimp (if you can find them), or small pieces of market shrimp.
The large schools of the smaller croakers—queenfish (herring) and white croaker (tomcod) do not seem to be present here as at the more surf-oriented piers. Nevertheless some may be taken.
The white croaker will hit a piece of bloodworm or lugworm fished on the bottom on a high/low rigging with size 6-4 hooks. The queenfish can hit on the same rigging but are more commonly taken on small-hook bait rigs jigged mid-depth in a simple up and down motion. For the queenfish, drop to the bottom and if no bites are happening bring it up a foot. Repeat until you find the schools (and usually they are halfway to the bottom).
You may also see schools of salema which prefer the same water depth as the queenfish, like the same baits and, like queenfish, are often far more ready to hit at night than during the day.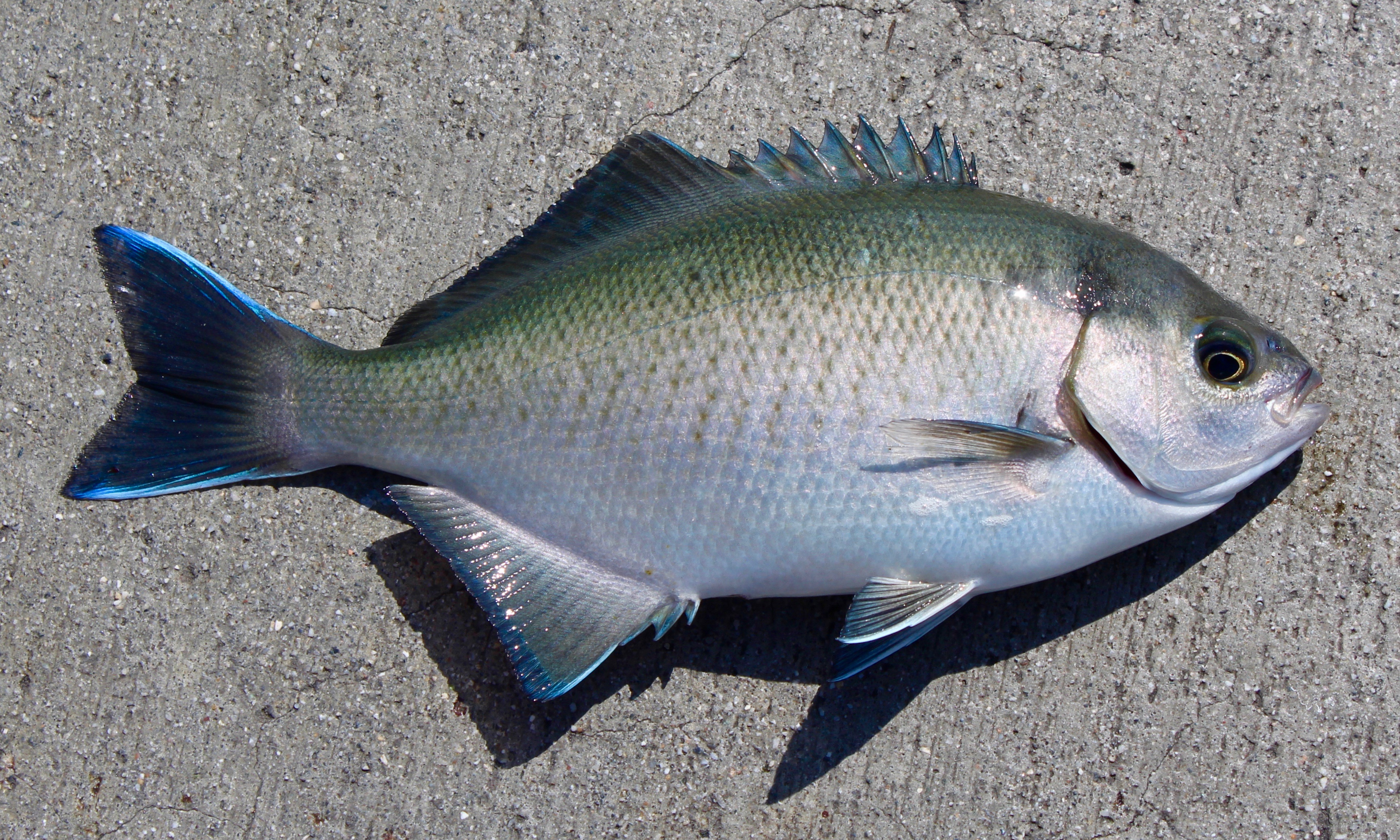 A halfmoon I caught one day casting "under" the Monstad section
Perch, flatfish and miscellaneous species. Although perch are a major component in the catch at most SoCal piers, they represent a fairly small number at Redondo. The exception is small shinerperch, which can seem to saturate the waters at times. Few barred surfperch seem to be caught inshore and the larger perch that like to hang around pilings—blackperch (buttermouth perch), rubberlip perch, and pileperch, are rarely seen. White seaperch are sometimes caught on the bottom, and walleye surfperch mid-depth, but both are rarely taken in the numbers seen at some piers. Worms, fresh mussels and small pieces of shrimp work best for most of the perch while a Sabiki can be all that is needed for the walleyes.
Perch-like sargo are a possibility and there are a few opaleye and halfmoon down by the pilings but few people seem to target them. If interested use a high/low rigging with size 6 hooks and baits like worms, fresh mussel, pieces of market shrimp or ghost shrimp; fish a foot or so off the bottom.
An interesting and good eating fish found on the bottom, one especially common at night and during the winter months, is the misnamed sculpin (California scorpionfish and actually a rockfish, not a member of the sculpin family). Most are taken using a high/low rigging with a piece of shrimp or strip of squid for bait.
I've seen relatively few kelp and sand bass taken at the pier. However, kelp bass in particular are present and their numbers may be rising. They will take almost any bait and a high/low fished on the bottom under the pier by the pilings is often most productive.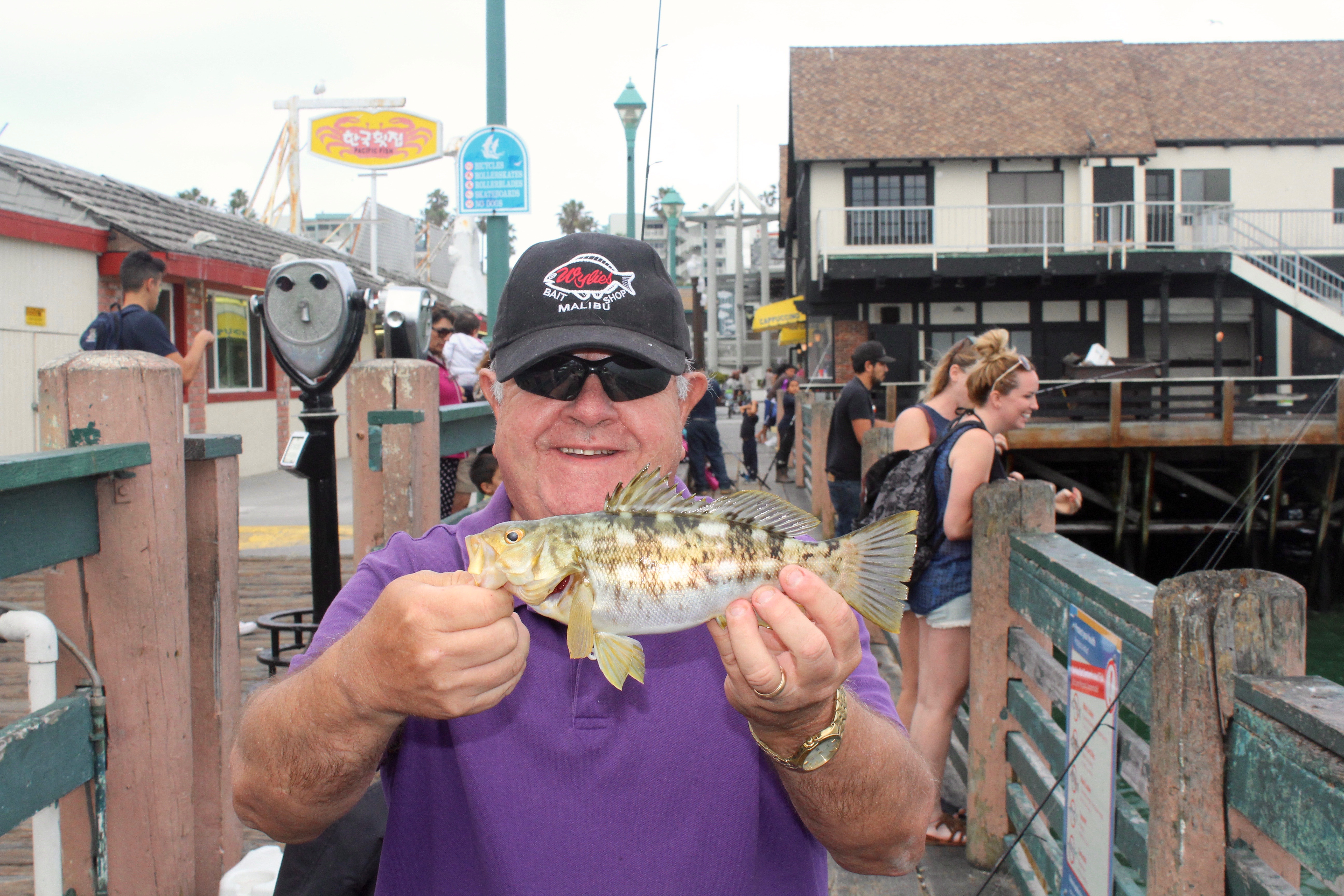 A kelp bass I took one day while fishing in the Monstad section
I've been told that an occasional ocean whitefish can be caught from the deep-water corner of the Monstad section. A long cast using a long rod and heavy sinker can reach a pretty good depth of water and apparently that's where the whitefish show up when they are around. Although occasionally plentiful on the Catalina piers, they are uncommon at mainland piers.
As for smaller flatfish, sanddab, sole and turbot may show up. I've seen both Pacific and longfin sanddab taken from the pier, C-O sole, and Diamond turbot. The best rigging for all is a high/low rigging with size 6 hooks and a piece of saltwater worm covering the hook. They all have fairly small mouths and the bait needs to be fairly small. Cut anchovies or mackerel, pieces of shrimp, and small strips of squid may take a few flatfish but keep the bait small.
One fish that is somewhat detested is lizardfish but the number of lizardfish has shown an amazing increase along the coast and it's the same here. Sometimes they will seem to cover the bottom and may show up on every hook of a Sabiki sent out in search of mackerel—if the angler is careless and lets the Sabiki sit on the bottom. Some people like to eat them—some don't. They are considered good live bait for halibut.
Big 'uns. One question that occasionally is asked is if there are still big fish at the pier. The answer of course is yes, especially during the warm water years when yellowtail visit the pier. A post on the BloodyDecks website in 2009 gave evidence:
Posted by joser85, Date: October 8, 2009
"Last week Thursday me and some buddies were fishing off the Redondo Beach pier. The bonito has been coming in so perfect time to have some fun with light tackle. Any ways, this guy next to us [was] catching mackerel like crazy when out of nowhere his rod just gets bent HARD. Since he was fishing for mackerel with Sabiki hooks we think SEAL. So, we pay no attention to him. After a few minutes of him fighting what we thought was the seal we start to double think of what can be at the end of the line????? Maybe black sea bass? Finally after about 20 min we see color. NO…way, it's what I think is a YELLOWTAIL. And not just any yellowtail. A BIG… yellowtail. This guy had like 20-lb test, but what made him actually land the fish was that the Sabiki got wrapped around the fish causing the yellow to hardly put up a fight. One of my buddies runs over and grabs his pier gaff. Right when he drops it guess who shows up!!!!!!!!!!!!!!!! A fishermen's worst enemy, MR SEAL & not just a regular seal this boy had to be about 1000-lbs. He took 3 bites at the fish and on the last one he popped the line. After a few seconds we see the seal come back up and leave. Automatically we think he ate the whole… fish. But for some reason this guy starts dragging the bottom with a treble hook and after about an hour or so we see he's snagged on the bottom. He starts to reel in slowly and what comes up… the yellowtail. We help him get it on the pier and holly…. it's even bigger that what it looked like. The fish measured 54" long and estimated at 40lbs. What a…day." [Edited]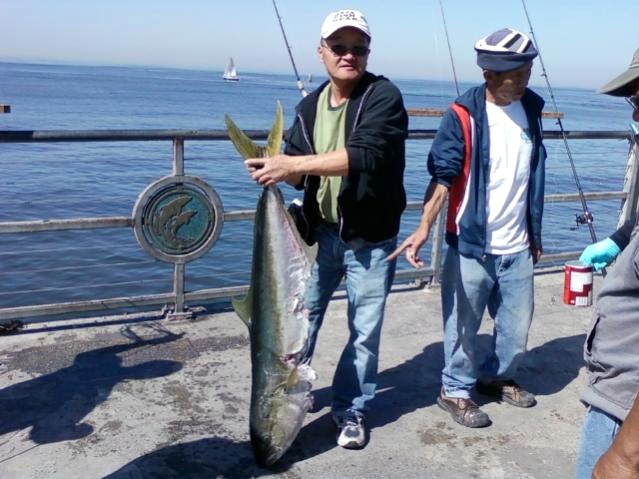 Picture of the yellowtail (courtesy of Bloody Decks)
The other big 'uns are undoubtedly the large sharks and rays, especially big bat rays that are sometimes taken but usually at night when fewer people are around to "ooh and aah" at them.
Crustaceans — Lobsters and Crabs.Spiny lobsters are found at the pier but unfortunately the constant poaching over the years has made it difficult to catch a legal-size "bug" during the lobster season. People catch and keep them on their fishing lines (illegal). People catch shorts and do not return them to the water (illegal). People catch them out of season and keep them (illegal). I have friends who were once regulars at the pier at night using hoop nets for lobsters. Most have now given up on the pier due to frustration: the dual frustration of watching people break the rules and nothing being done about it, and the frustration caused by those actions—a lack of lobsters. If you do want to try for the bugs use a hoop net follow the rules!
A couple of newspaper stories from nearly a hundred years ago gives evidence that the problem isn't new but at least in one case the angler tried to do the right thing.
Curious Lobster Causes Trouble — Fisherman Explains To His Honor How Catch Occurred
Redondo Beach, Sept. 29.—The curiosity f a lobster which led it to sample bait intended for a halibut landed the lobster, the angler, and a number of interested spectators, in Judge W. M. Browning's court here, this morning.
From the evidence it appeared that J. Hanson was peacefully fishing from pier No. 3 yesterday afternoon when he pulled in a clawed creature of monstrous size. Leaving his prize on the wharf the man, it was stated, went to find out about the game laws and see if he could enjoy a lobster salad, hand picked.
But in the meantime Game Warden C. F. Maddex of Los Angeles had been notified that lobsters were being captured at Redondo Beach. The season does not open for some fifteen days yet so the official came down to investigate. The first thing he found was the biggest lobster he had ever seen, which, when weighed, balanced at twelve and a half pounds.
The lobster was attached and the luckless fisherman cited to appear to answer the charge of violating the game laws. As it was not proven that the lobster was caught intentionally, nor that the man intended to keep it, the case was dismissed. Constable J.V. Henry carefully deposited the lobster back in the ocean after it was introduced as evidence in court. It was rare the worse, apparently, for its night out.
—Los Angeles Times, September 30, 1919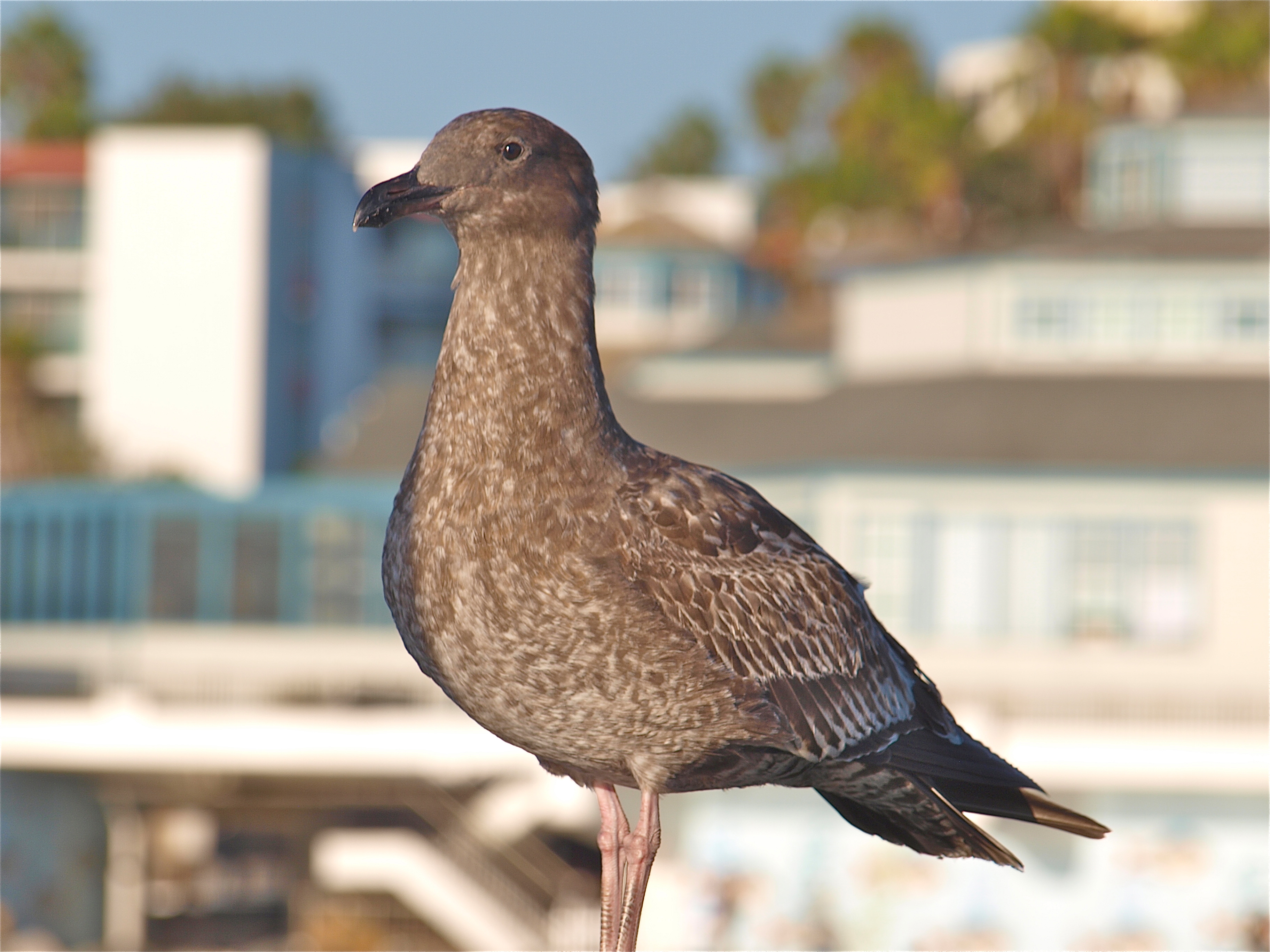 Conduct Drive Against Anglers As Deep Sea Limit Is Exceeded
Los Angeles, Sept. 13.—Payment of a fine of $100 by M. A. Peterson, and nominal assessments in four other cases resulted from a drive made recently on the fishermen and fish markets at Redondo Beach by deputies of the commercial fisheries bureau of the division of fish and game, who have been putting in many an hour both day and night in an attempt to clean up violations of the laws in that district.