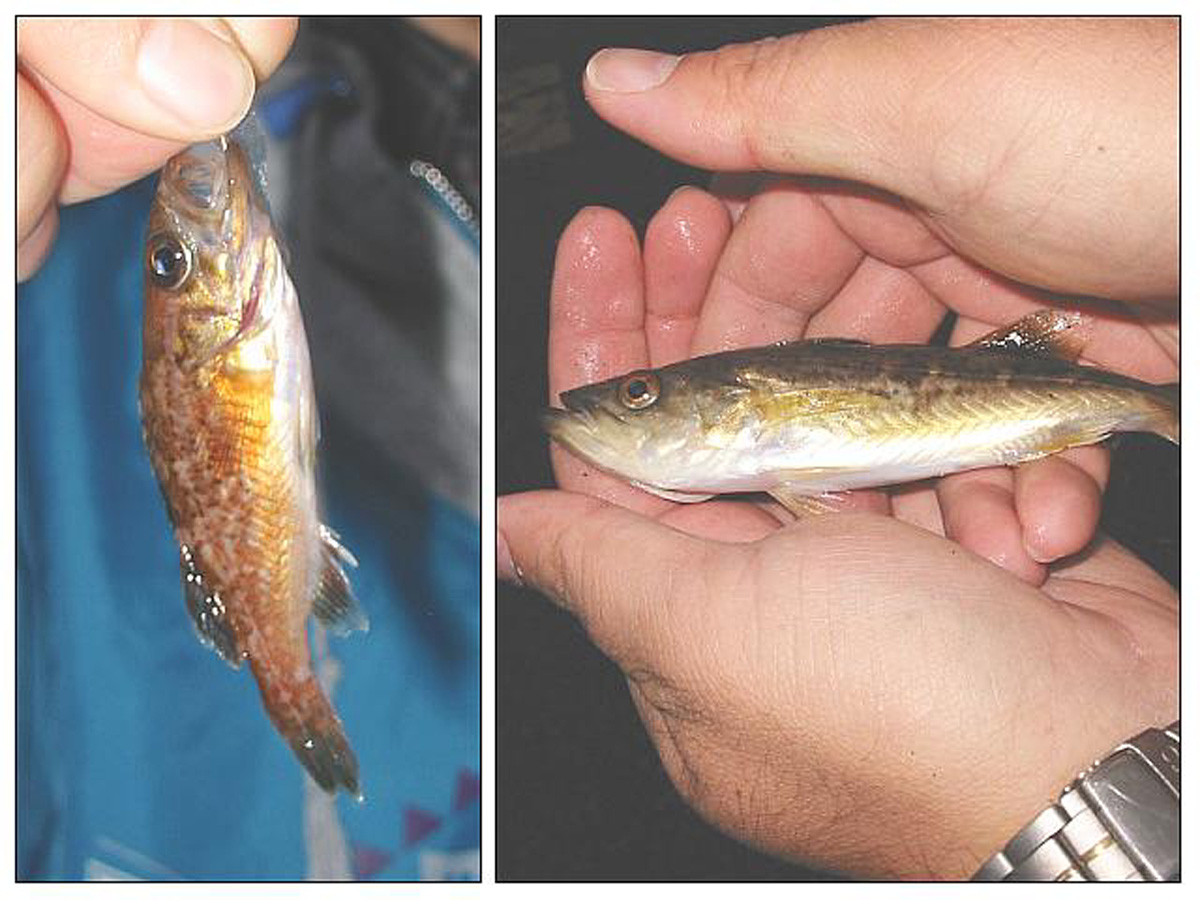 Baby bocaccio were once plentiful but today are illegal
Shark fishing at night is a time-honored tradition here. As long as the weather and tidal conditions are right, the shark "regulars" will visit the pier and often there will be quite a crowd. Anglers who want a little more solitude will move up to the Avila or Port San Luis piers. The most common sharks are dogfish, sand sharks (brown smoothhounds) and leopard sharks, but most anglers are seeking the larger bat rays and thresher sharks.  Mixed in will be quite a few big skates, a few California skates (Raja inornata), and sometimes thornback rays and shovelnose guitarfish, two species more commonly taken south of Point Conception.
Sevengill sharks, although uncommon to the pier, have been reported and some were big. One report to the PFIC Message Board said that a 200+pound sevengill shark was caught from the pier in 1999. That's a big fish if the report is accurate.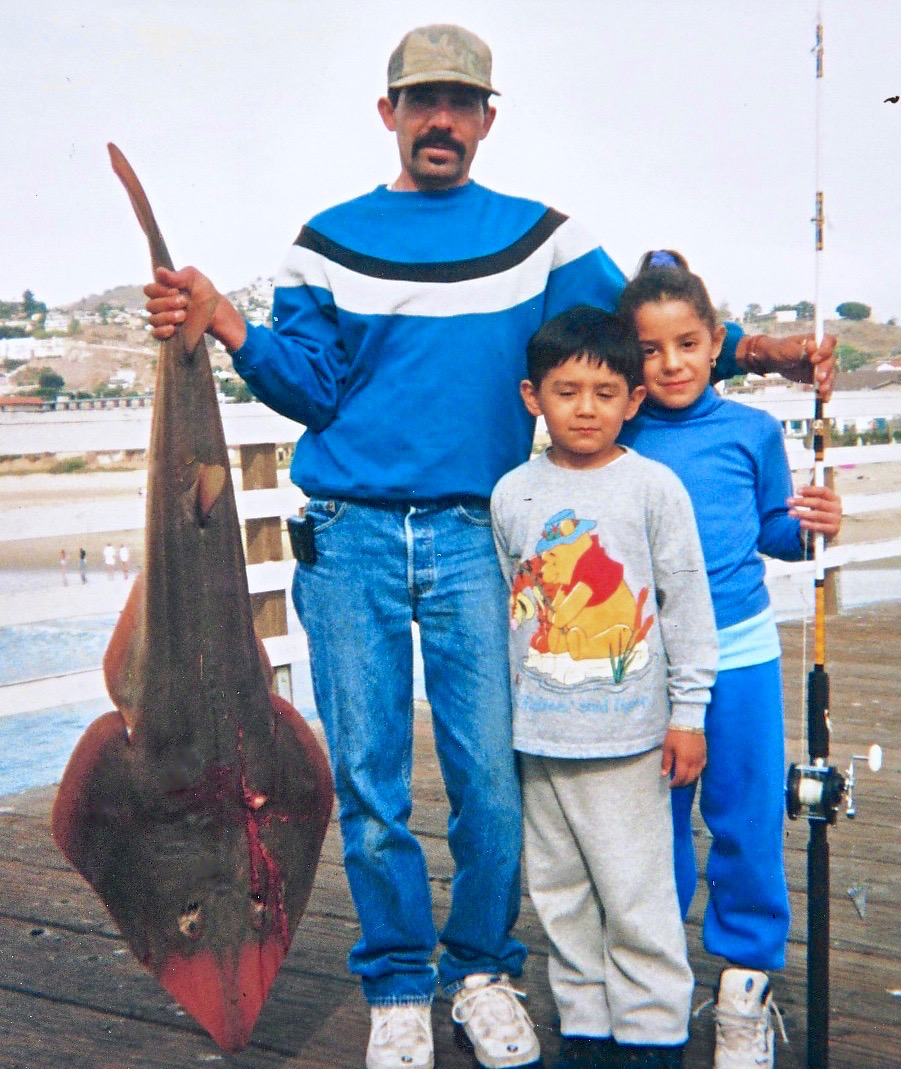 A Shovelnose Shark (Guitarfish) — Picture courtesy Sheldon's Clam Stand
More common than 7-gills are the thresher sharks. Of interest are the thoughts of Troy Sheldon, from Sheldon's Clam Stand on the pier. Troy, together with his father, ran the concession on the pier for over thirty years and was generally out on the pier five to six days a week. Troy felt that nighttime (the normal time for sharks) is not the best time for thresher sharks. He says that the best time for the threshers is in the late afternoon, especially when the wind has picked up and the water is a little choppy.
The Pier Rats Speak
Date: March 12, 1998: To: Ken Jones: From: Blaine B: Subject: H-o-l-y COW
 Kapt'n Ken, The perch seem to be back in full force at the Pismo Pier. I went down today on the way home from work and this guy had the biggest perch I ever saw. They say he took it to the concession stand and weighed it at 4 lbs. but I have caught a lot of 4-pound spotted and largemouth bass in my day and I swear that sucker looked a lot bigger than 4 pounds. Anyway, a lot of folks had some decent perch in their buckets. Catch an Oncorhynchus for me… Blaine "Wishin' I waz Fishin'"
Date: June 28, 2000; To: PFIC Message Board; From: cojoreef; Subject: (In reply to: Advice for Pismo Beach Pier
You might not believe me and that's O.K., but 2 weeks ago I was fishing and this guy next to me hooked up with a 5-foot blue shark using the head of a Jacksmelt at the very end of the pier. I was about to gaff him and he bit through the line. What excitement! I gave this guy a steel leader and he landed a 3.5′ dogfish shark 30 minutes later. I would try mackerel, jacksmelt, and squid as a third choice for Pismo. This all happened around 12 noon. I don't know what the nighttime scene is like, but these guys were saying they had caught a lot of sharks and their freezer was full for along time.
Date: December 22, 2000; To: PFIC Message Board; From: Got_Em; Subject: (In reply to: Seeking advice re Pismo Beach Pier
Cast out as far as you can at the end of the pier on the right side. I mean FAR. Chances are good for Dogfish Shark, Rays, Skates, and occasional Blue shark (lost one on the gaff). Smelt is most common live bait so be Sabiki ready. Chunks of Smelt, Mac, and squid produce well.
Date: May 20, 2002; To: PFIC Message Board; From: baitfish; Subject: Pismo Pier 5/18 5:30-7:30
Celebrating our 2-year anniversary we decided to head up to Pismo Beach and Hearst Castle for the weekend. We got in on Fri and walked around town for a bit, but when Rebecca saw me looking at the water like a forlorn puppy, she agreed that we could do some fishing WhhoooPeeee!!! 🙂
So we headed over to the pier in the late afternoon and the tide was just peaking out. We picked up some anchovies and clams at the bait shop on the pier and stopped off at the middle, to give it a shot. The wind was blowing reminding me of Berkley and I kept wondering, how do you nor cal folks put up with it??? Well the middle was not seeing much action so we headed over near the end and cast towards shore on a Sabiki rig tipped with small clam chunks.
I set that rod down and began setting up my larger rod when Rebecca is yelling at me that I have a hit. I set the hook ant in comes a gorilla Jacksmelt, the opposite of Joe's rat corbina. This thing was at least 2.5 pounds. Then Rebecca hooks up with 2 one the same size as mine, and one a little smaller…Show off:-)
Of course she kept getting doubles and I was with my singles, but the second usually fell of before it got up to the pier. Sorry hon, doesn't count unless you touch the leader or land it:-) hehehe  We got around 8 of these bad boys and then the fishing died. No hits on my high low anchovy rig and Rebecca was shivering, so it was definitely time to go in:-)
Date: June 13, 2002; To: PFIC Message Board; From: pismo; Subject: Pismo Beach Pier
Fished from 6:30 pm to 8 pm. Caught 4 bat rays, all on squid (high/low). Others were also catching lots of jacksmelt. Also, Sardines, some quite large, have been around the last week or two. The Thornback bite seems to have tapered off quite a bit. John.
Date: July 28, 2002; To: PFIC Message Board; From: pismo; Subject: Pismo Beach Pier
Went out from 9 to 10:30 pm. Saw three dog sharks caught (one was mine), and a pretty big bat ray lying on the pier. I caught my dog on squid (high/low with size 2/0 hooks) and at least one of the other two were caught on squid as well. All released. Dog sharks, bat rays and thornbacks continue to be around in good numbers. John.
Date: June 12, 2003; To: PFIC Message Board; From: thepubliceye; Subject: Pismo Pier
Hello all, this is my first posting and report so please work with me! Went fishing from Pismo Pier from 6pm until 9:30 pm tonight, the wind (10 mph sustained) died down around 7:30 and the sky was clear and the moon was beautiful. From the start jack-smelt and sardines were biting on jigs with no bait until dark. I switched from my jig too a two hook leader with a slice of sardine on both hooks. It wasn't 30 minutes later and I caught a halibut about 8 inches long. Just minutes after taking a picture it went back into the water. More to come Saturday night! Larry (thepubliceye)
—[Actually, the board decided it was a sand sole, not a halibut. KJ]
Date: September 12, 2003;  To: PFIC Message Board; From: EddieE; Subject: Pismo Beach Pier Yesterday 9/11/03
 Fished Pismo yesterday trying for a thresher but no luck there. I did manage to get 3 bat rays (2 ft or under), 1 leopard (lost in he pilings 5 to 6′), 1 dog shark 38", lots of sardines, a few perch, a couple of jacksmelt, and one 12" mackerel.
Bait: Used unbaited Sabiki for baitfish and the sardines I caught for everything else.
Date: October 13, 2003; To: PFIC Message Board; From: Dscoots1; Subject: Pismo Beach Pier 10/13/03
This morning I got up at around 5:30am and went to make my morning pot of coffee. It felt a bit warm out so I walked out on the patio and could not believe it was about 74 degrees this early in the morning, especially here in Santa Maria. I thought to myself what a great morning to go fishing! 15 minutes later Coffee was in the thermos and I was off to Pismo Pier. 15 minutes later I was parking at the pier and rigging up my poles. You know the summer tourist season is over when there are only 4-5 surfers in sight. Ahhh this is going to be a great morning. No overcast, crystal clear views but wait a minute, HUGE SURF! Seawater occasionally sprayed up thru the cracks in the pier. Well, at least there is going to be lots of food in the water. Had my Carolina rig ready with a 1 1/2 oz egg sinker and about 18″ of leader.
With my #6 hook and my Kalin's 1 1/2″ Perch Power lunker grubs ready, I threw out into the surf. Tangle after tangle I thought it was too rough. So, I moved out farther on the pier to 2 benches past the fish cleaning station. This is where the waves were breaking. And those waves were big. You could really feel the pier shake with each breaker. I sent out my lunker grub and before it even hit the bottom I had a bite. I landed a nice 1 1/2lb Barred Perch. I was getting bit on every cast and bringing in lots of the typical smaller barred perch. I just kept sending them back and hoping when they get bigger they will forget how untasty a Kalin's grub really is.
Then like some-one turn off a switch the bites just stopped. The surf was calming down and I wasn't getting a bite. I moved to the end next to the cleaning counter and sent my grub flying. While reeling in my pole bent and the drag started going out. I thought it was a big jacksmelt on how hard it had hit. It was fighting a good fight and I kept bring it in. Then I saw it flash. I nice big juicy Barred Perch! About 3 lbs! I had to handline it up. Ahhh dinner is served! Pulled in one more keeper about 5 casts later and called it a day. Gosh, I love fishing!
Date: November 23, 2004; To: PFIC Message Board; From: FakeFisherman; Subject: Pismo Beach Pier 11/22
So while making the drive down to SoCal from the bay area for Thanksgiving this week, I had to hit up at least one pier on the way down. Decided to visit the Pismo Beach Pier since I had passed it so many times and never fished it.
Got there around 5:30pm (just missed the sunset!). Threw out 2 poles between my friend and I using hi/lo's with bloodworms and the first 15 casts or so resulted in one to two barred surfperch every cast…all released. They were no bigger than 7″ but still a lot of fun. Another guy there had what looked like his limit of nice-sized ones using shrimp and mussels—I think he got them right before sunset. Some other fishermen grubbing, but didn't see them catch anything.
Potpourri — More Than You May Want To Know About The Pismo Beach Pier
<*}}}}}}}}}>< — In April of 1991, I took a fishing trip along the California coast. Conditions were wrong but it was the only time I could take the trip. Tides were poor, the weather was iffy (as in cold and overcast), and the water was very dirty with plumes of sediment poking out into the ocean all along the coast (because of torrential March rains which had followed several months of drought conditions). I had fished at 11 different piers between Imperial Beach and Gaviota and the fishing was poor, in fact, not just poor, but terrible. It was sort of a bad hair day times five, every day seeing failure on a different set of piers. On my way home I almost decided to skip the Pismo Beach-Morro Bay area piers, an area where I normally would stop to fish. But I still had some bait left ncluding some ghost shrimp I had purchased in San Diego. Why not give it a shot? I stopped at Pismo Beach and headed out to the end of the pier. Huge waves were breaking out toward the end of the pier, shaking the pier. Evidently the waves had convinced most anglers to call it a day since not too many people were fishing. Soon I was fishing and once again repeating my lack of success. Nothing would bite on anchovy or mussel. Finally, I tied on a whole ghost shrimp and immediately started to get bites but no fish. Wondering if the bait was too big, I cut a ghost shrimp into three pieces. Now I began to catch fish, one or two on every cast on my hi/lo rigging. The fish were fat little barred surfperch and very good-sized walleye surfperch. Unfortunately I only had four ghost shrimp left but I caught 12 fish on those shrimp.  No other baits worked but those shrimp saved that trip to the pier for me.