"Sorry to lie to you. We get a lot of questions and most of the folks down here just know it's best not to talk about it," he says. "We just come down to take enough home with us and move along. This isn't something many of us are proud of. I don't need a hand-out. What's that about 'give a man a fish?' Well, I know how to fish."
He wants to get on. He won't give his name and I feel bad for asking. His brother is looking increasingly wary of me and moves off down the pier to tend to another rod. I pepper him with questions, sensing a closing window of opportunity: The man tells me he eats fish from the Bay up to five times a week, taking a handful or two home with him at a time in a plastic bag filled with half-melted ice bags, and gutting them quickly in a plastic tub when he gets home. He'll eat whatever he catches, from striped bass to shad or mackerel, and most of what he catches keeps long enough to last the week and save him and his brother a bunch of money on groceries.
An unemployed veteran who has served some jail time—he gets familiar reasonably quickly after the initial disclosure about the fish—he knows the heavy metals in the water aren't particularly good for him, but at the same time, he has bigger fish to fry, health-wise, if I'll excuse the expression. And financially, the need to eat trumps other priorities.
"I'm on disability, and I smoke cigarettes," he says. "I'd be surprised if the fish is gonna kill me before they do."
"Most people down here are tourists," he says. "They don't think they're brushing shoulders with the likes of me and my brother, but we're out here surviving. And we do our best. It's not like we're homeless or anything. We're surviving. We're doing okay. Tell them we'd appreciate it if the fish were cleaner, but that's it. We're golden. No reason we should be made to feel ashamed of what we do."
—Matt Davis, Clean Water Blog, April 20, 2016
<*}}}}}}}}}>< — In 2005 when we were finishing up the 2nd Edition of Pier Fishing In California, one question was which picture and color to use for the cover and book. We narrowed it down to four with the one on the bottom left — a blue cover with a picture from Pier 7 — being the one we chose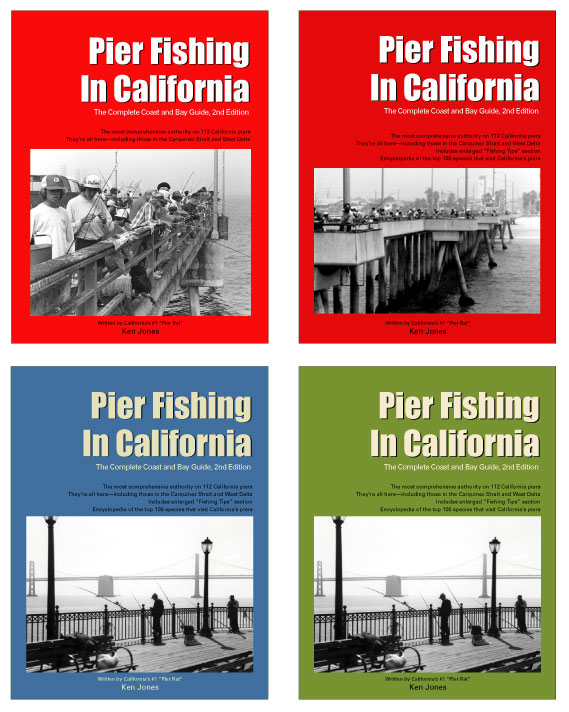 Some pictures when the pier was new!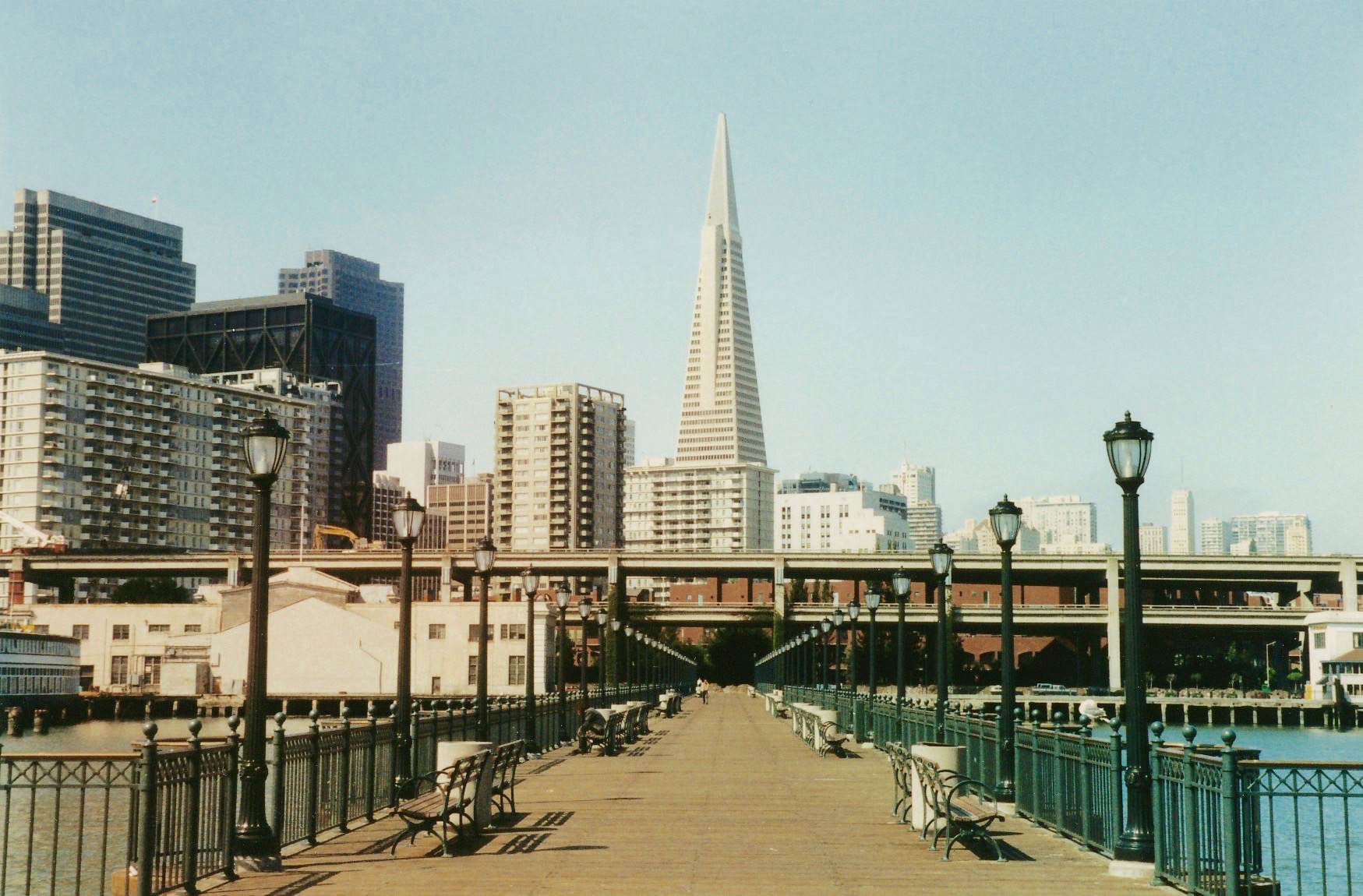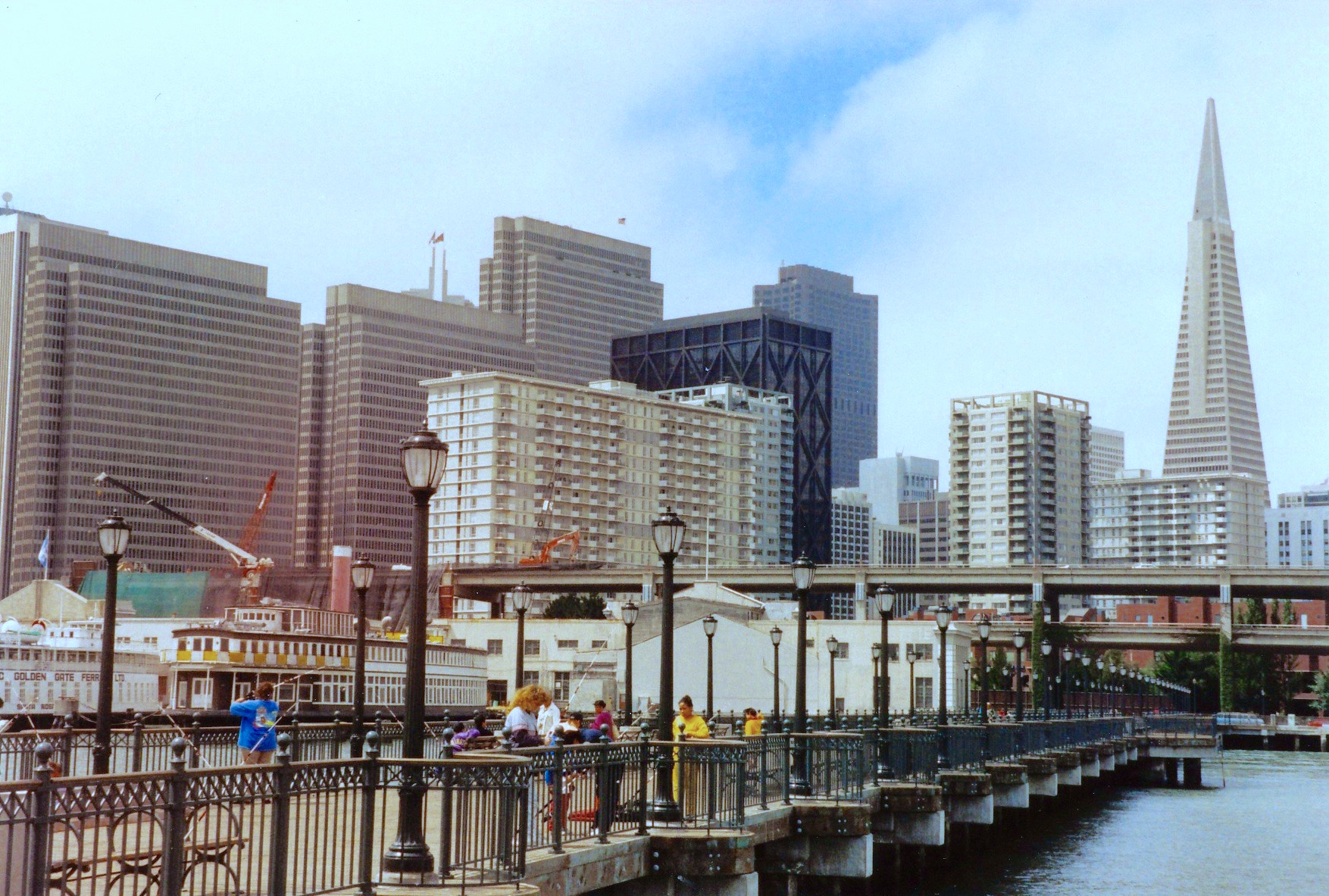 A newly opened pier in 1991 — note the double deck freeway that ran adjacent to the Embarcadero
History. An interesting ship docked just to the east of the pier is the ferryboat Santa Rosa. It proudly proclaims, in large letters on its side, Southern Pacific Golden Gate Ferries Ltd. It displays a charm and feeling much missing in many of today's high tech ferries. The Santa Rosa was built in 1927 and began service as a member of the Northwestern Pacific Ferry fleet. In 1929 she was transferred to the Southern Pacific-Golden Gate Ferries. In 1937, after the opening of the Golden Gate Bridge, the ferry was sold to the Black Ball Line which operated in Puget Sound in Washington. The ship, now renamed the Enetai operated in those cooler waters for many years. After retirement, she was returned to San Francisco. Today she serves as a home for offices, conferences and parties. She is open to the public Monday through Saturday.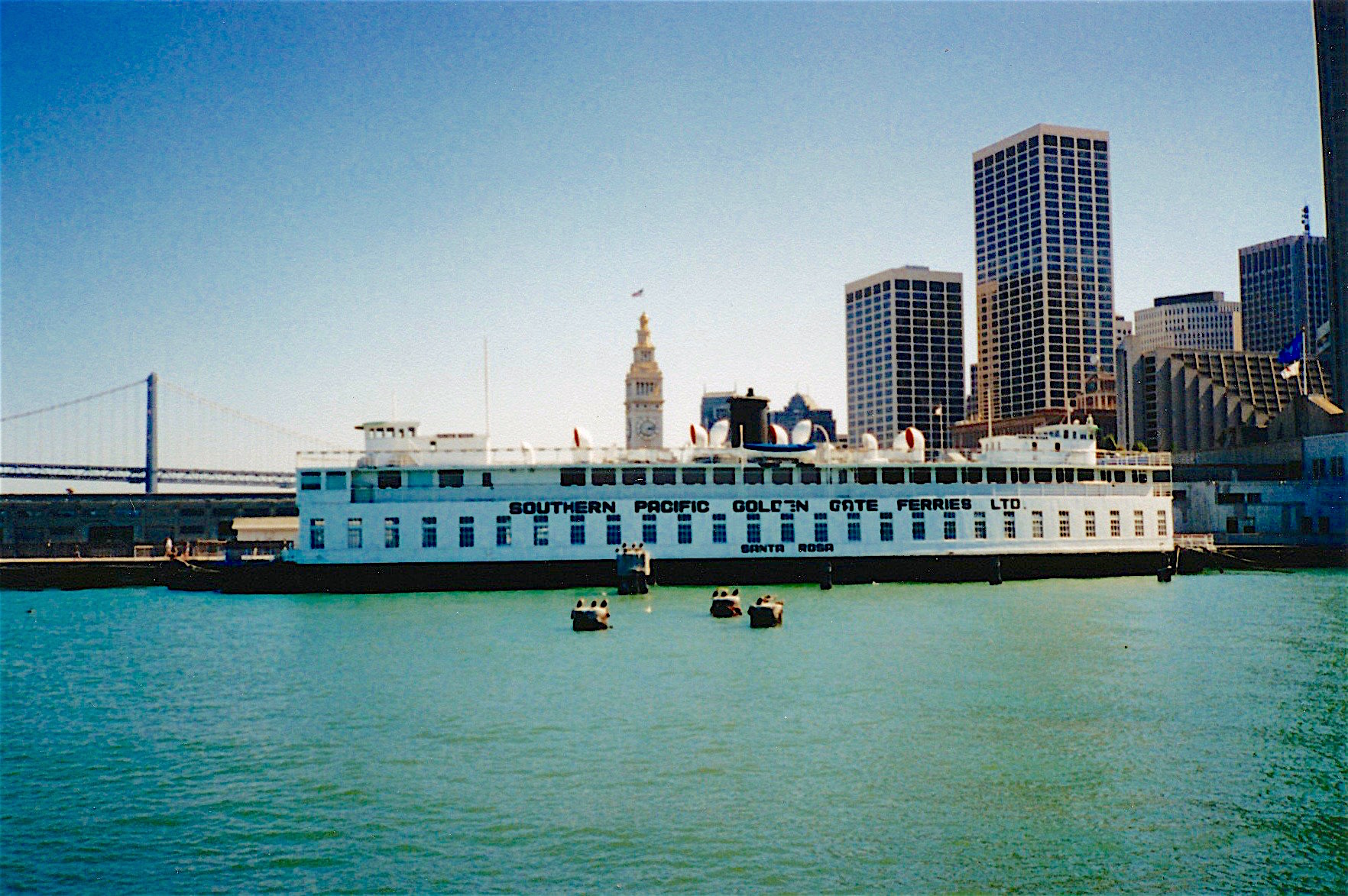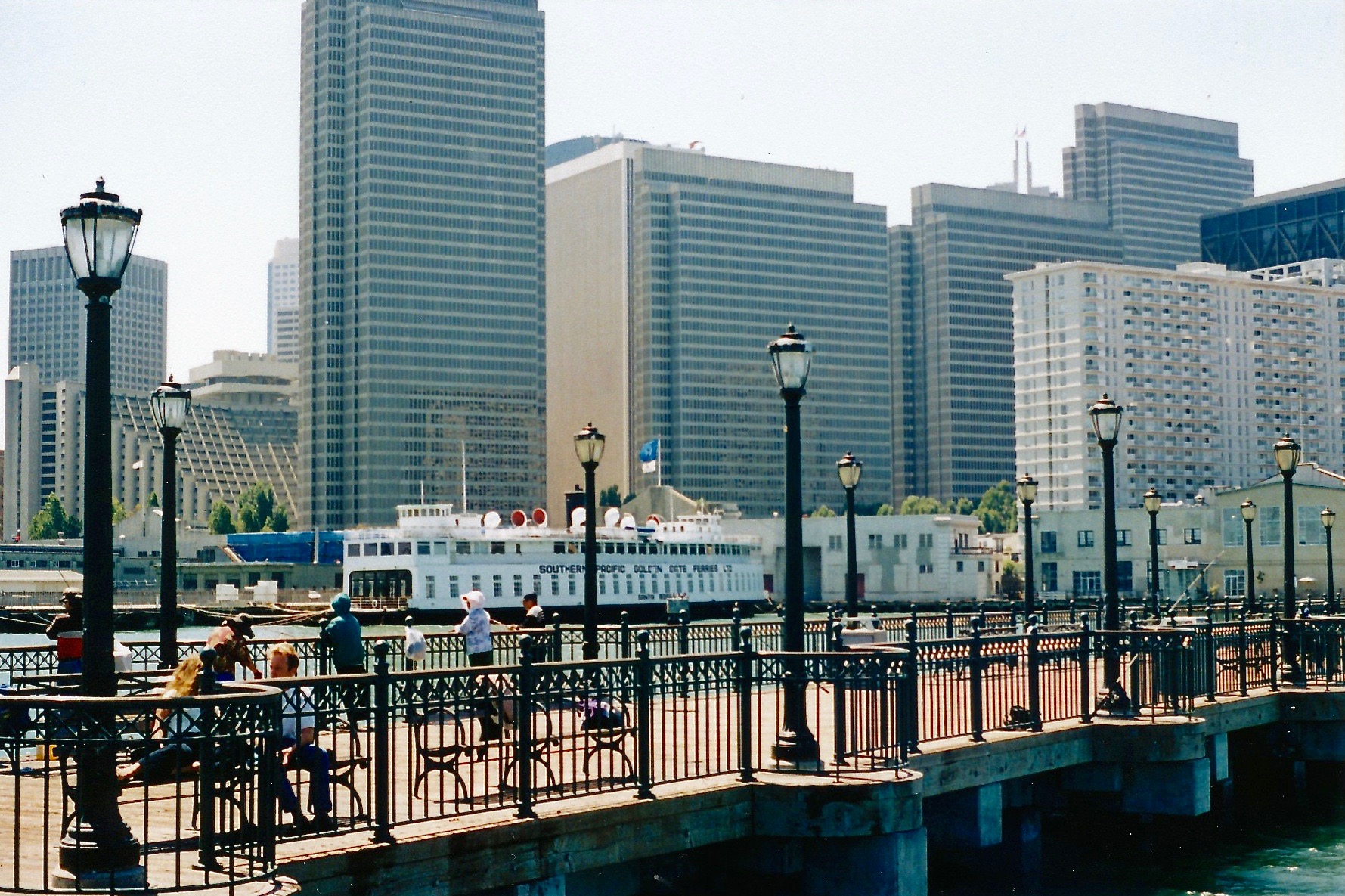 Today in front of the ferry is the San Francisco Belle which provides a dinner on the bay for those so inclined.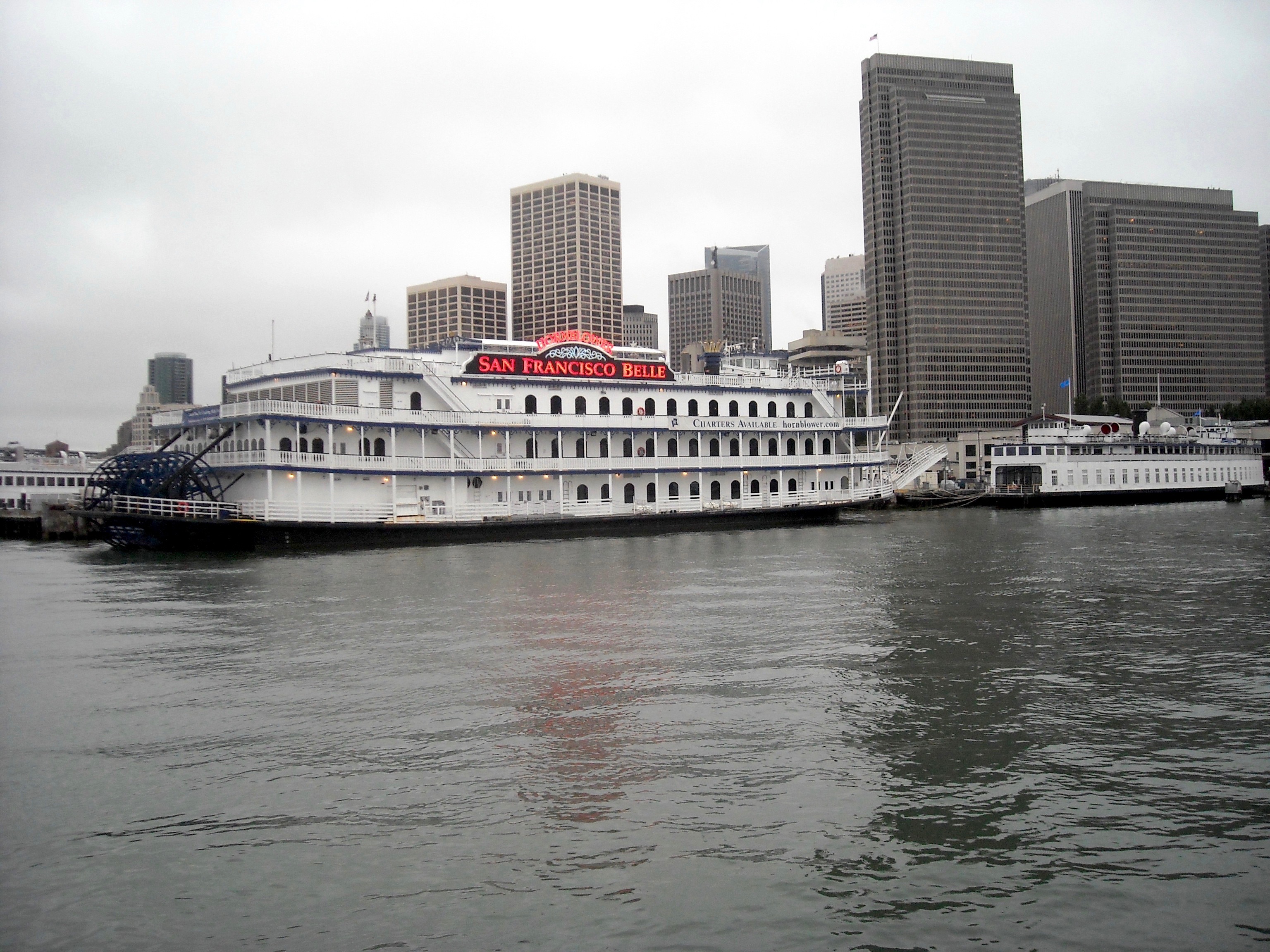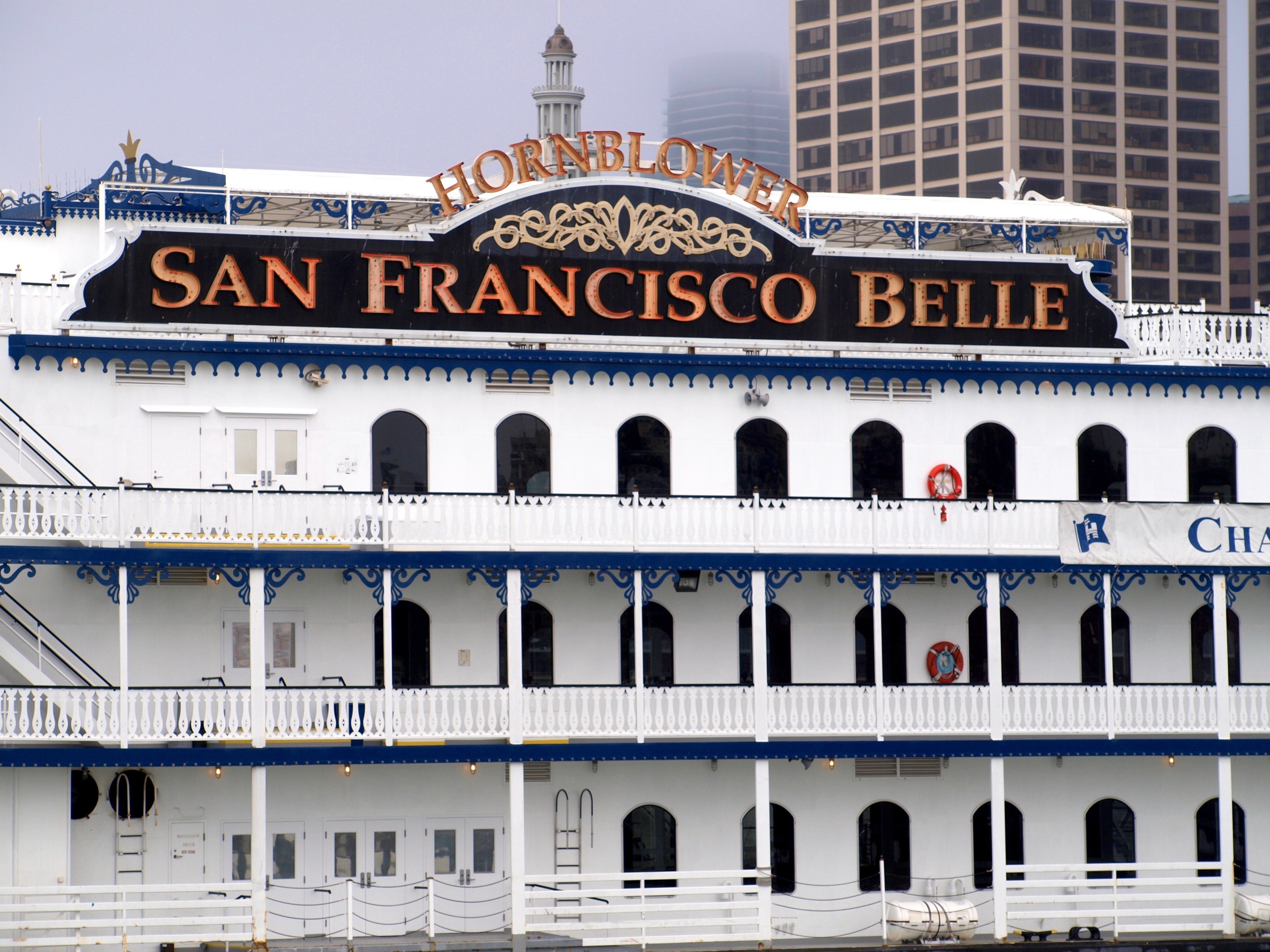 <*}}}}}}}}}>< — Special Bay Area Regulations:
A perch closure exits in San Francisco and San Pablo Bay from April 1 to July 31. No perch may be kept other than shinerperch (20).
In San Francisco and San Pablo Bay a fishing line may not contain more than three hooks.
Sturgeon Regulations:
A sturgeon report card and tags are required for anyone fishing for or taking sturgeon. (a) The card must be in the angler's possession; (b) a tag must be used for any sturgeon retained by the angler; (c) the angler must record information on the Sturgeon Report Card immediately after catching and   keeping or releasing the sturgeon.
White sturgeon can only be kept from 40-60 inches; larger and smaller sturgeon must be released.
Green sturgeon may not be taken or possessed.
Pier 7 Facts
Hours: Open 24 hours a day.
Facilities: Benches, lights, fish cleaning stations and water faucets (but the water doesn't work). Food can be found at the Pier 1 Deli about half a block up the Embarcadero to the east. Bait and tackle is unavailable. Parking is available at a couple of all-day parking lots across the Embarcadero; one lot charges $10 a day and one $15. However, the more expensive lot, the one down by the light near Pier 3, is free on the weekends. Also, Pier 5 is now open to the public Monday through Saturday 9 a.m.-6 p.m. and provides some free parking out on the pier. A public telephone is located at the foot of the pier.
Handicapped Facilities: None; the surface is wood planks with a metal railing 42 inches high. Planks are very close together and seem very safe for wheelchairs.
How To Get There: From the Bay Bridge follow the First Street exit and follow to The Embarcadero, then left past the Ferry Building to the pier. From the Golden Gate, take Lombard to Van Ness, turn left and go to Bay, turn right and follow to The Embarcadero, turn right and follow to the pier. From the south and Highway 101 take Van Ness and follow as listed above.
Management: Port of San Francisco.