Marking the 70th anniversary of the attack, officials with the Pearl Harbor Survivors Association pointed out that the organization was always intended to be a single-generation group. Although "sons and daughters" chapters will live on, as of 2012, there will no longer be a formal organization of survivors.
In Oceanside, Walsh said he was just thankful for the years he's been given with his fellow survivors. "Any time you've got four military guys together, it's friendly," he said. "Two of them will make a party."
Did he think he'd live to see the 70th anniversary? "Hell, no," said Walsh. "I didn't even think I'd last where I went. I headed toward Wake (Island) on Christmas Day, right after Pearl."
Clarence Heidemann, a former Oceanside resident, made the trip from San Marcos, Texas, to be with his chapter during its final hour. "I hate to see it end, but we knew it was going to happen sooner or later," he said. "I think there'll probably be a few of them getting together sometimes, even if it's not official."
Besides Heidemann and Walsh, the four other Pearl Harbor survivors present Wednesday were Bill Greenhouse, Bob Sandwick, Bjorn Christensen and John Quier.
—Tom Pfingsten, North County Times, December 7, 2011
<*}}}}}}}}}>< — Birds co-exist with anglers on every pier and though some can be a nuisance at times (such as when a sea gull grabs your bait), anglers should always strive to see that our avian friends are protected, The following shows an example of anglers doing the right thing.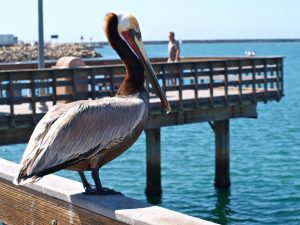 Fishermen take injured pelican under their wing
 Things are looking up for Geraldo the pelican, an injured bird at the Oceanside Harbor, thanks to some local fishermen and SeaWorld officials.
The bird was in a bad way when Ron "Captain Ron" Worsena of Encinitas found him lying on the rocks in Oceanside Harbor near the Oceanside Fishing Pier a few weeks back. "I thought he was dead," said Worsena, a retired sport fishing boat skipper. "I went over to him, moved his head a little bit. I thought, 'Oh man, he's dying.'"
By chance, Worsena had been fishing when he found the bird, so he cut up some of his catch and stuck it in Geraldo's beak. Nothing. Worsena figured the bird was a goner. He walked away. A few minutes later, Geraldo got up, climbed over the rocks and strutted toward Worsena. "He walked up to me and opened his mouth," Worsena said.
Since then, Worsena and retired cosmetologist Dino Salvani of San Marcos have taken the pelican under their wings, but they were worried about what will happen to the bird because it's got a broken wing and can't fly.
"I just don't like to see any animal suffer," Salvani. "His wing is probably healing up, but in the wrong position. He'll never be able to fly again."
"If the bird isn't able to have his wing fixed, maybe someone can take care of him for the rest of his life," Salvani said. Salvani and Worsena said they tried for more than a week to find someone who would come get Geraldo and take care of him, but had little luck until SeaWorld responded. Park spokesman David Koontz said Friday that the park was dispatching a SeaWorld avian rescue team to the harbor to pick up Geraldo.
The bird's not alone in its plight. "We've had about 250 pelicans come in this year. Some of them, they're not even alive when they get here," Koontz said. Often, the birds have swallowed fishing hooks or gotten tangled in fishing line.
Salvani and Worsena said they've seen plenty of that in Oceanside Harbor, too. With some of the other regulars who spend time at the fishing pier, they've formed an informal bird rescue team of sorts. "We take the hooks out, cut the lines off and clean them up," Salvani said. "I think, 'What about me? What if I was lying in the street and nobody did anything?' It's the same with animals."
Added Worsena: "It makes you feel good when you do something like that."
—Bill Wechter, North Country Times, November 10, 2012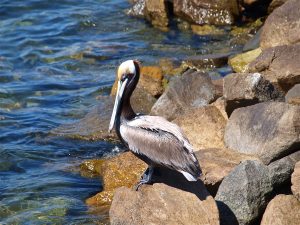 <*}}}}}}}}}>< —There are so many problems with this story (not counting the misspellings, i.e., muscle instead of mussel) that I hesitated to enclose the article. But it can teach a few lessons: (1) I'm sure it was a bat ray instead of a stingray (they've been called that for years); (2) It wasn't a monster-sized fish! Bat rays reach a size close to 200 pounds with the state record fish, one caught at the Huntington Beach Pier being 180 pounds; (3) Bat rays are good to eat although they are somewhat of a pain to clean; most people simply release them; (4) Never gaff any fish unless you intend to use it for food. If you intend to release it simply net it and then return it to the water in the net. If you do not have a net then simply cut the line. (5) Do not kill a fish simply for the sake of killing it. All fish serve a role in the ecosystem and bat rays are no exception; (6) Almost all stings from "stingrays" in California are from the small round stingrays that populate the shallow water surf areas. The few stings from bat rays are from careless anglers who do not know how to handle them; (6) Bat rays can be a lot of fun. For years Pier Fishing In California had a yearly "Mud Marlin" Derby at the Berkeley Pier for bat rays. A good fighting fish and all were released unharmed to fight again another day.
City Fireman Snags Monster Stingray
The inner waters of Oceanside Harbor are pretty peaceful on the surface. Down below, particularly on the bottom, it is another story.
Take the word of Bob Weber, San Bernardino city fireman… Fishing from a pier midway in the harbor the other day, Weber was trying to hook a halibut.
What he hooked was something else—a stingray that weighed between 60 and 70 pounds. Among stingrays, that's almost in the monster class. They don't get much bigger on the California coast.
Weber said the stingray was about five foot long, had a four-foot wing spread and his tail, equipped with a three-inch barb-like stinger, was three feet long.
There's a lot of danger in a stingray that size. The little ones are bad enough if they happen to nick you, but a 60 or 80-pounder could inflict a nasty and poisonous wound. Some people, in fact, have died from stingray wounds.
Weber's fishing ideas were pointed strictly to halibut. He had a light rod and 20-pound monofilament line equipped with two smack freshwater hooks. One hook was baited with a chunk of muscle and the other with a dead anchovy. He was fishing on the bottom of the harbor.
The stingray first grabbed the bait on one hook and the hook promptly broke. In the turmoil of the strike, Weber snagged the stingray in its wing with the other hook.
"I had no idea what was on the line," Weber said. "I once caught a 40-pound halibut and It thought this might be another big halibut."
He knew it was a big stingray only after he was able to bring it to the water's surface. And then he didn't know how to bring it the rest of the way because he didn't have a net or a gaff.
A nearby fisherman had a small net and tried to help out, but it wasn't nearly big enough. So another chap ran to the Oceanside boat landing, borrowed a gaff and got back in time to bring it on to the pier.
As a memento of his big stingray, Weber cut off the three-foot tail and froze it.
"I have no idea what I will do with it," he said.
As far as the rest of the stingray was concerned, Weber did exactly what all fishermen who catch stingrays are advised to do. He killed it and dumped it back in the water.
The wings of rays are eaten in some parts of the world, but not California. Along our coast they are regarded as a menace, particularly to surf bathers who may accidentally step on them and should be destroyed.
—Bob Walton, With The Sportsmen, San Bernardino County Sun, July 25, 1968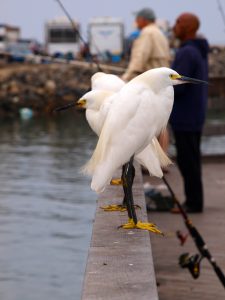 <*}}}}}}}}}>< — Although lacking the formal training to call myself an ichthyologist, I think I've become a pretty good expert on fish to be found in California, especially the inshore pier-frequenting species. I've personally caught 127 different species from its piers and have a library of books on saltwater species. Nevertheless, I was surprised when I first heard about an unusual catch at this pier in July of 2009.
The fish were hagfish (presumed to be Pacific hagfish, Eptatretus stoutii) and it was not one but six fish that were taken over a three week period. All were caught at night, all were caught on anchovies, and all were caught by Hank, one of the pier's regulars. Perhaps other hagfish have been caught from piers but these, as far as I know, represent the only recorded catch of hagfish from a California pier.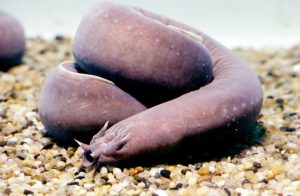 Hagfish are, of course, considered one of the slimiest of all fish, and are, to put it bluntly, one of the least favored fish of anyone who has encountered them. Milton Love in his great book Probably More Than You Want To Know About The Fishes Of The Pacific Coast gives a pretty uncompromising portrait of hagfish:
"Hey, let's face it, hagfish are the most disgusting creatures on earth… these are blind, eel-shaped fish… they have no jaws; a rasp-like structure is thrust out of their permanently open mouths… Probably the best way to tell if your fish is a hagfish is to look at the hand holding the fish. If it is completely covered with thick, ropy slime, that's all the proof you need… They are not called slime eels for nothing. Hagfish produce truly gargantuan amounts of slime…Your average hagfish can take a bucket full of water and almost solidify it with slime in a few minutes." Enough said!
Hagfish are also considered a fish of the deep seas, typically found on the ocean floor from a depth of about 30 feet down to 2,600 feet. Thus to be found in the harbor at a fairly shallow depth is very unusual.
Hank said, "when I caught the first hagfish I thought I had somehow hooked a jellyfish or something. When it got to the deck it was a balled up mass of slime that was unrecognizable until it uncurled itself. Turned out to be a nasty little hagfish that left enough slime on the pier to fill a bucket." Hank reported the catch of two more of the slimy fish, both 20 inches long, in October 2010.
Yes indeed, a VERY STRANGE fish from a pier! According to the Monterey Bay Aquarium, "known as slime eels, hagfish are primitive fishes. They have five hearts, no jaws, no true eyes and no stomach. They have poor vision but a very good sense of smell and touch… They prey on small invertebrates living in the mud, as well as scavenging dead and dying fish. They are noted for their unusual way of feeding—they slither into dead or dying fishes and eat them from the inside out, using their "rasping tongue" to carry food into their funnel-shaped mouth. What these poor innocent hagfish were doing attacking Hank's anchovies is anyone's guess.
Do these hagfish have a redeeming value, a saving grace to make up for all that slime? Expensive eelskin wallets are already made from "hagfish leather" and some scientists predict that strong, eco-friendly fabrics may one day be made from their goo. I'm pretty sure if that happens, marketeers will affix a eelskin fabric label instead of using the distasteful hagfish label.
<*}}}}}}}}}>< — Another very unusual species showed up in the following story.
Another Rare Oarfish Washes Up in Southern California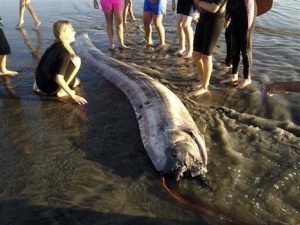 Another rare oarfish, a serpent-like sea creature, was discovered in Southern California for the second time this week, this time along the coast of San Diego County. A crowd of 50 to 75 beachgoers gathered around the carcass of a silver-bodied oarfish that washed ashore in Oceanside Harbor on Friday afternoon. The NOAA arrived to retrieve the nearly 14-foot-long fish… Police said the oarfish was cut into pieces and hauled away in coolers. Officers said they had never witnessed anything like it, but they recognized the mysterious, deep-water fish after it made national headlines earlier this week.
"The only reason we knew what it was, was because we saw the news reports from Catalina," Oceanside Police Officer Jon Hoover said.
It took more than 15 people last weekend to drag an oarfish from the waters off Catalina Island. A marine science instructor was snorkeling when she spotted the 18-foot carcass with eyes the size of half dollars.
The oarfish can grow to more than 50 feet, making it the longest bony fish in the world, according to the Catalina Island Marine Institute. Because oarfish dive more than 3,000 feet deep, sightings of the creatures are rare. They are likely responsible for sea serpent legends throughout history.
The second oarfish marks the third ocean rarity to surface in Southern California in a single week. A rare beaked whale washed ashore in Venice and, pending further tests, may be even more unique than experts originally thought.
—William Avila, NBCLA, October 19, 2013
<*}}}}}}}}}>< —  I think this is one of the best piers for anglers using wheelchairs. There is adequate parking, the pathway to the pier is paved, and the pier's size and surface seem well suited for anglers using wheelchairs (or walkers). Not all piers are as good!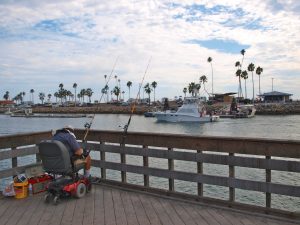 History. Although many had called for a harbor in Oceanside for years it wasn't until the late 1950s that significant progress was made. In part this was due to the desired area for the harbor, an area that at least in part was located on the Camp Pendleton Marine Base. Eventually the Marines offered no objection and in late 1958 a meeting was held in Washington D.C. between officials of Oceanside and representatives from the U.S. Marine Corps, the Bureau of Yards & Docks, and the Secretary of the Navy. Agreement was reached in 1959 for the lease of 68 acres from the government.
However, additional land was needed, land that was owned by the Beachlake Trailer Park, a park that had provided and camping and recreation for several decades. Eventually a swap of land was made between the owners of the trailer park and Oceanside and the city acquired 32.6 acres to be used for the harbor.
The next year, 1960, saw voters agree to the formation of a Harbor District and soon after, February 6, 1961, saw the groundbreaking ceremonies —"A Day of Hope and Promise."