Public Pier — No Fishing License Required
Talk about a contrast. The Oceanside Pier is huge and can handle several hundred anglers at a time; this small pier can maybe handle a dozen or so anglers but it would feel crowded. The bigger Oceanside Pier has many different environments in regard to the fish; this pier basically has three. The Oceanside Pier is hardly a place to relax while here relaxation is the name of the game. They're not yin and yang (since both piers are good); perhaps yin and jin (gold and silver in Chinese)—but which is the golden pier?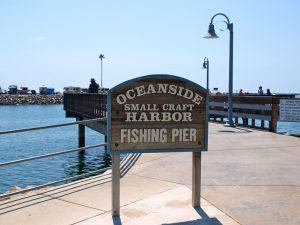 Environment. Since being built in 1963, the Oceanside Small Craft Harbor Fishing Pier has become the favorite of many who used to fish the longer Oceanside Pier. It's located just a short distance up-shore (about 1.5 miles) and presents a very different feel than the larger, busier pier.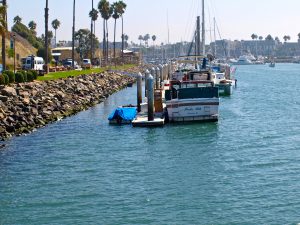 The pier is like many piers found in bays; it's small and close to the water and sits over fairly shallow water with a mud and eelgrass bottom. The pier is near to and almost directly fronts the channel entering the harbor and sits just down and across the harbor from the live bait receiver (which typically attract fish).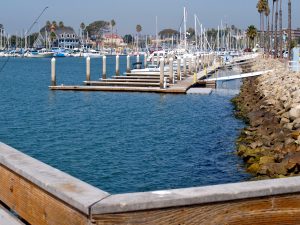 It also only pokes out fifty or so feet into the water so anglers are permitted three main areas to fish. The first is the narrow waterway between the shoreline and pier. The second is to cast parallel to the shoreline in either direction away from the pier. The third is to toss a bait straight out into the bay. Each area can present somewhat of a different environment and different species.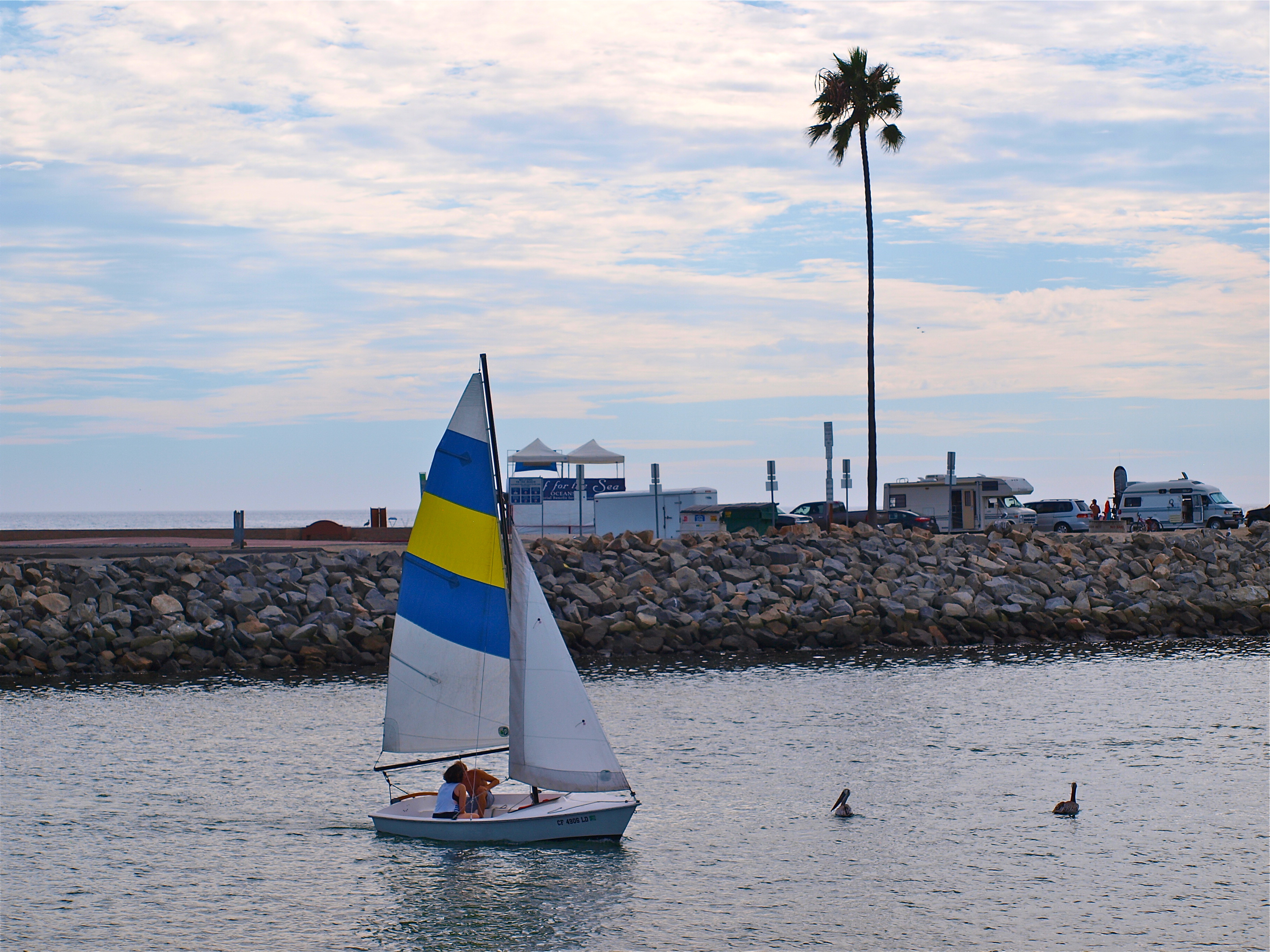 Fish. The environment yields a mix of fish that are (1) common to muddy bottom bays and rocky shorelines combined with (2) pelagic, top-water species that may have taken a wrong turn into the harbor channel.
As to species, Fish and Wildlife surveys list jacksmelt and topsmelt as the numeric leaders at the pier (although they are only second in my records).
My records (from 25+ years) show bass as number one although unfortunately most are under the legal 14" size. Kelp (calico) bass lead the hit parade but sand bass and spotted bay bass will also show up. Generally most of the spotted bay bass show up at night
Croakers and perch would tie for third if there were a ranking. I've caught yellowfin, spotfin, white, and black croaker together with the croaker-like sargo. DF&W records also show queenfish in the mix. Another croaker occasionally taken is small, illegal-size white seabass (usually called seatrout). Surprisingly I've never seen a corbina caught at the pier although they should be available.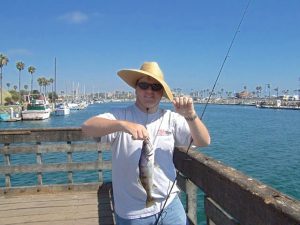 Small white seabass (seatrout) caught by Baitfish (Adam Cassidy)
Perch are numerous but too often it's the small shinerperch, which, at times, can be difficult to keep off the small hooks you're using for the larger perch. Luckily black seaperch, white seaperch, rubberlip seaperch, and barred surfperch are also available—and some are fairly good size. Several perch-like species also are common including opaleye, halfmoon, blacksmith and the golden-colored garibaldi (illegal so don't keep them).
Pelagics will often make an appearance with mackerel leading the hit parade but bonito show up in warm water years and barracuda are a fairly common nighttime visitor.
Flatfish on the bottom primarily will be California halibut although an occasional turbot or sole may also show up.
As for the sharays, the most common sharks are gray smoothhounds but shovelnose sharks (guitarfish), round stingrays, thornback rays, butterfly rays, and bat rays (including a huge bat ray estimated to weigh 150 pounds in August '09).
If fishing the inshore rocks for perch, you also might encounter kelpfish and blennies. I've caught four species of kelpfish here—giant kelpfish, crevice kelpfish, spotted kelpfish, and striped kelpfish, along with a rockpool blenny. All were fairly small but interesting looking species.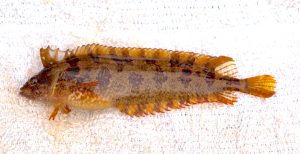 Uncommon fish that have shown up at the pier include bonefish, snake eels and slime eels. A yellow snake eel was taken in January of 2010, a fish once considered rare in California but increasingly seen (at several piers) over the past decade. Six hagfish, also known as slime eels, were reported in July 2009 while two more were reported in October 2010. The fish, presumably Pacific Hagfish, Eptatretus stoutii, are normally found in deep waters and are known for the amount of slime they secrete. All of the hagfish were caught from the right hand corner of the pier with a cast out toward the deeper water of the harbor's entrance channel.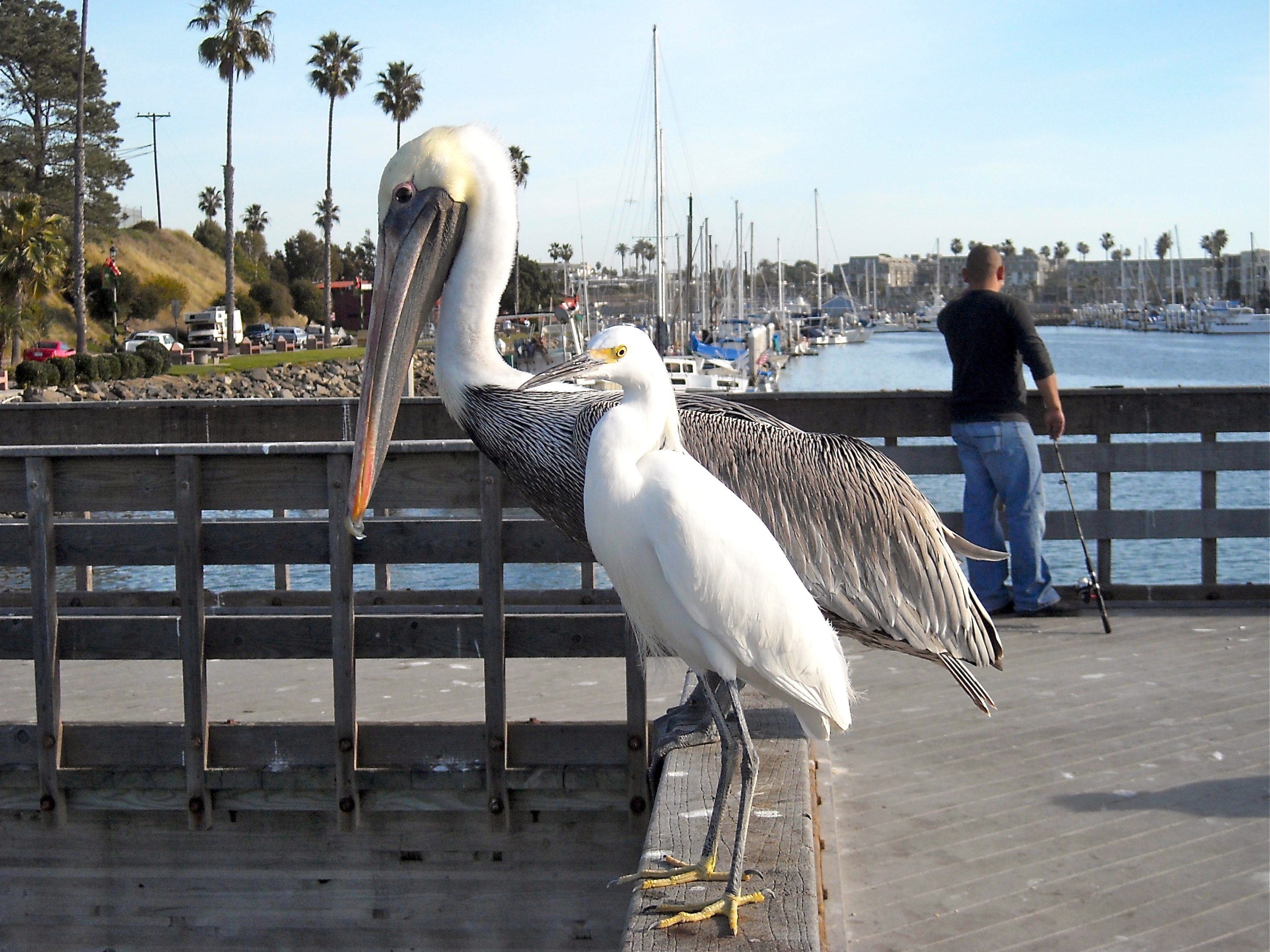 Fishing Tips. This is a small pier that really doesn't seem to have any special spots, although some regulars claim the left corner is best. I'm not sure I agree (I've caught most of my fish off of the right corner), but who knows? The main channel of water is the place to fish for the largest species. Nevertheless there are several different approaches anglers can try, both as to the area to fish, depth, and time.
The end zone and by this I mean fishing from the left to right corners of the pier with diagonal or straight casts. The water is a little deeper and you may have a little better chance at certain species.
On the top you can try for mackerel and an occasional bonito or barracuda. The mackerel prefer a small strip of squid or a piece of mackerel on a size 2 or 4 hook with a split shot sinker a couple of feet up the line. If a real "mac attack" is on you can also use a multi-hook, Sabiki-type bait leader (although I simply prefer tying two-three hooks on a line much like a high/low leader). Unless you're planning on filling a bucket with mackerel to take home, I can't see a need to catch them 4-5 at a time (and inevitably seeing a $3-4 dollar leader tangled up by squirming mackerel)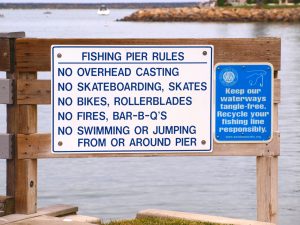 If bonito show up, usually in a warm-water year or following the same, most seem to prefer a feather behind a splasher (cast-a-bubble or wooden ball). However, a variety of spoons will also work with Megabaits being among the most popular.
Small, "pencil" barracuda often show up at night. When the "pencils" are around, a shiny spoon usually is the best offering. A majority of anglers seem to prefer gold or silver Kastmaster and Krocodile spoons although newer spoons, i.e., Megabaits will also work. The main problem is that most of these fish are undersized and illegal; they must be returned to the water. Given that most of the spoons have a treble hook, and that it can be difficult removing the hook from a wiggling barracuda equipped with very sharp teeth, too many of the fish may be injured and not survive the ordeal. Perhaps it's best just to ignore the barracuda unless accidently hooked on live bait intended for a bass or other fish?
California needlefish, which are often mistaken for barracuda, are also common to the pier and also tend to stay near the top of the water. You will sometimes see the 24-30 inch "needles" attacking the schools of smelt that hang around the pier. Not too surprising, the best luck I've had is using a live smelt fished about 18 inches under a bobber. You may occasionally see a needlefish hooked with a spoon, but most are taken on live bait.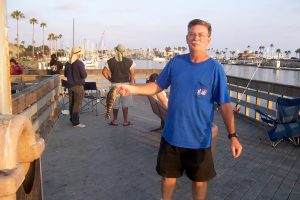 Small spotted bay bass
Fishing on the bottom yields different species. This is a good area for small kelp bass, barred sand bass, and bay bass (spotted sand bass). Most of these will be taken on anchovies fished on the bottom but bloodworms are better. Here, because the pier is close to the water, you can also effectively use artificial lures. Message Board reports suggest that grunion-colored Fish Traps, golden-brown bait Fish Traps (3-inch size), anchovy-colored Worm Kings, and lime-green grubs (with a fluorescent green or yellow leadhead), Scampis, and Scampi-type plastics are all good producers for the bass.
For halibut, net up some small smelt (they always seem to be around) and use them on the bottom with a live bait Carolina-type leader. If the pier isn't crowded you might also try artificial lures for halibut with soft bait, Big Hammer-type lures seemingly the favorites. For the smaller flatfish, especially diamond turbot, try live anchovies, baby smelt, bloodworms or small strips of anchovy on a high/low rigging.
Spotfin croaker, yellowfin croaker, sargo and black croaker prefer ghost shrimp, bloodworms, mussels or clams, and are especially prevalent at night during the summer months; especially off the left hand corner.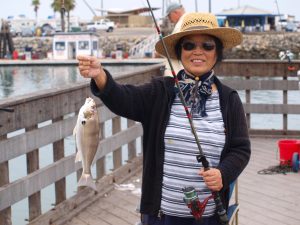 Spotfin croaker
For guitarfish, sharks (mainly gray smoothhounds) and rays (mostly thornback rays and bat rays but also a few butterfly rays), try squid, cut mackerel, anchovy or a live smelt on a Carolina rig.
At night, you may also encounter a few sculpin (scorpionfish). They're good eating but check and make sure they are legal-sized fish and be careful when handling them.
All of this advice can be used when fishing to the sides of the pier since similar techniques and bait will yield similar fish. However, the somewhat shallower waters seem to yield more bass, croakers, and perch than the waters straight out from the end. Usually bait will yield the best results but artificial lures used at night for the spotted bay bass can also be productive.
A lot of fish, mostly small but some large, can be found in the shallow waters between the pier and the rocky shoreline. For blackperch, rubberlip seaperch, and opaleye, try using fresh mussels, bloodworms or lugworms on a size 6 hook. Large jacksmelt will hit number 8 hooks baited with small pieces of bloodworm fished with a float (adjust the hooks so they are 2-3 feet under the surface of the water); small jacksmelt and topsmelt can often be caught on multi-hook bait rigs with size 8-12 hooks.
A seemingly unending number of small specimens can be caught next to the rocky shoreline. Simply tie a couple of size 8 hooks to your line and bait up with small pieces of bloodworms, lugworms or mussels. You never know what you will catch, it might be sargo, opaleye, small kelp bass, exotic looking kelpfish or even weirder looking blennies; I've even heard mention of a moray eel or two. Do realize that fishing this area also means you will probably lose a few riggings. I often cast as close to the rocks as possible so occasionally seeing a sinker or hook snag on a rock is almost inevitable. At the same time there also seem to be some rocks or other items in the water mid-channel that also like to grab a hook or sinker. For me, the risk of catching fish makes the risk oflosing a sinker or two worthwhile.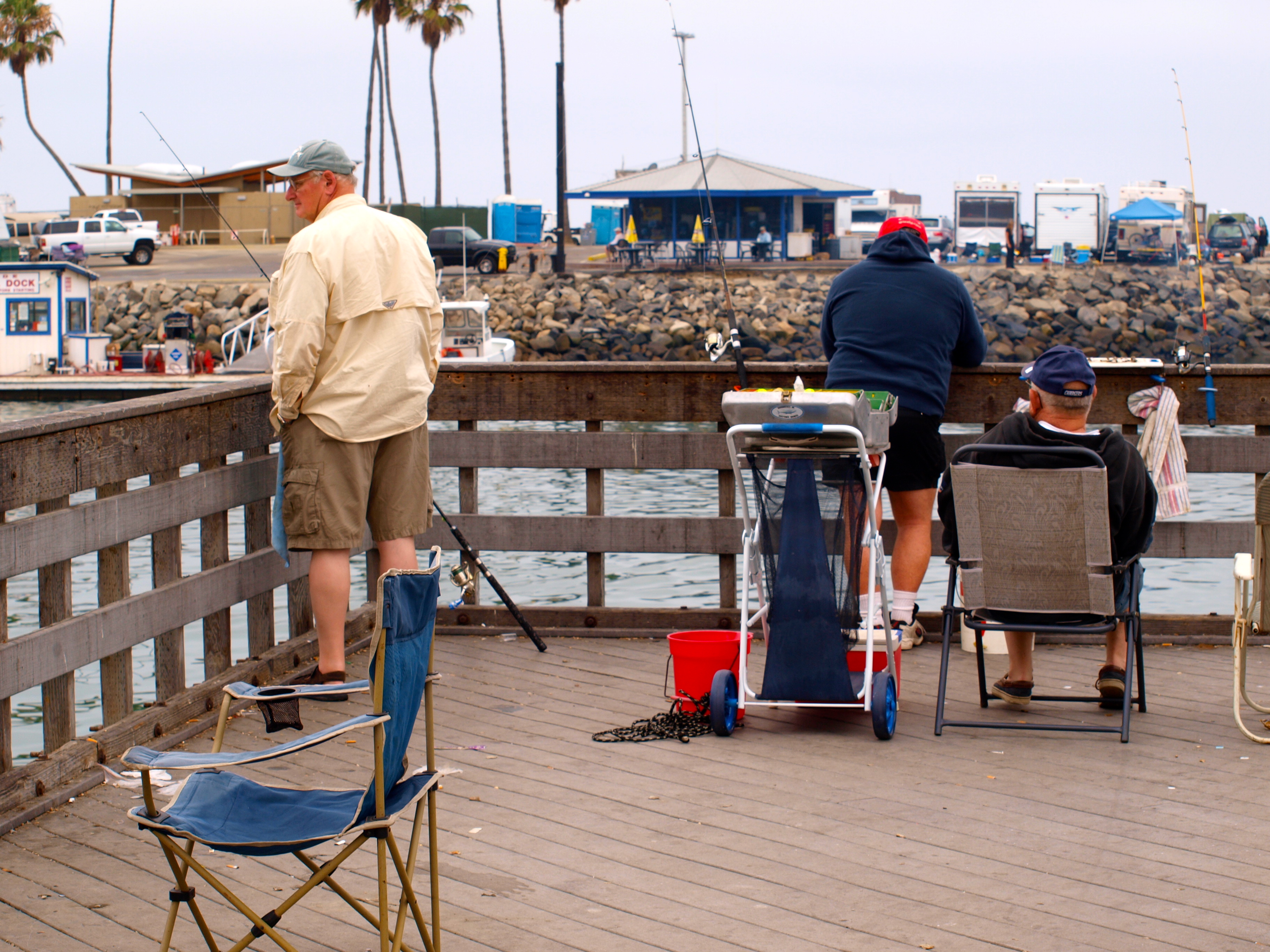 My fishing buddy of many years, Mike Granat, checking out the action
Lastly, remember to bring a net or treble-hook gaff when fishing for the larger species, you never know when a two hundred pound mud marlin (bat ray) is going to grab hold of your bait (and a huge bat ray, estimated to weigh 150-pounds, was taken in August of 2009). However, never use a gaff unless you really intend to keep and use the fish.
The Pier Rats Speak

Date: August 8, 1999; To: PFIC Message Board; From: joel "patient 1" selt; Subject: Oceanside Harbor pier
It's been very slow for the last couple of weeks. There's been some good bites, but nothing is taking. The bait of choice seems to be small sliced up anchovies and small pieces of squid. Gentlemen by the name of Tommy Diaz, caught a 12-pound white sea bass on the bank on the north side of the pier. Occasionally a couple of under-sized halibut would be caught and some calico bass. It's been a little windy in the harbor with some choppy water to go with it. I fish there on the average of two to three times a week. I've caught a variety of fish here: big and small, to skinny and huge. Best bet is to be patient and to bring two-rod set-ups with you, never know what could start to bite. Bait can be bought at the bait shop next to the "chart house' when you first enter the harbor, or if you have a bait net, you can use that off the pier since bait fish are abundant.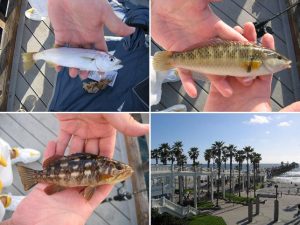 Date: May 8, 2004; To: PFIC Message Board; From: garth; Subject: Oceanside Harbor Pier
Well, today I got a great sunburn and had a nice time with my daughter. The day was bright and there was a light breeze keeping us cool. There were a few people out on the pier, and a lot of kids that Elise went and played with. We showed up with bloodworms, anchovies and squid, and ended up fishing most of the day with smelt. D'oh! I coulda saved the $7 at the bait shop. I had my first attempts at dip-netting my own bait today. The short answer? I stink. I can still catch smelt just fine with my Sabiki, though.
We started with cut anchovies and bloodworms on sliding eggs and hi/lo, respectively. I caught about the smallest calico bass mankind has hooked, a mighty 3" monster! After that, I spent approximately 4 hours without even a bite, shooting the breeze with fellow pier goers, saying hello, and admiring other folks' catch. There were some annoying people, and some noisy ones, and some overly gabby ones, but mostly nice. My friend Johnny was there, and another guy who, last weekend, lost three halibut because he didn't have a net…
A younger guy visiting from Arizona got a mighty hookup. I lent my pier net to the battle. Just the same they ended up gaffing a nice legal halibut, 24". The kids were spellbound.
There was a nice 24" or so wingspan stingray landed, but it didn't appear to have a tail…was it cut off? Are there rays with no tails?
Well, things started getting better for me, even though my camera batteries were dead and I can't show you what didn't come home with me. I had two live smelt out off the north corner of the pier and one just bent steadily over in a way that screamed "ray!" I spent the next five minutes with a completely bent in half pole as it steadfastly pulled away from the pier, and then made a mad dash at the pilings that I was able to fend off. Johnny manned the pier net and I had a fat 22-24" stingray (I think) exactly like the one the other fellow had landed earlier. It too had no tail. The same fish? You be the judge. My arms were a little worn out from that, so I kicked back for a while after tossing out a new smelt. In about a half hour, I heard one of my warning bells ring, once. Highly unusual. I examine the line, and its moving parallel to the pier… This is a cheaper rod and reel with no drag (long story), so I flipped open the bail and let whatever run with it while holding the line with my fingers…I felt a strong pull away from the pier, flipped the bail closed and BANG! I had a strong hookup. After a brief battle, I had a nice-looking halibut next to the pier. Johnny dropped the net down, and one of the lines holding the net slipped a knot! It was hanging by two supports…and the fish had gotten it's second breath… it trashed it's head after casting a beady eye at me, and snapped my swivel off! It darted for safety… directly into the net hanging at a cockeyed angle… Johnny hoisted the fellow up, and after a quick tape-measure, I had my first-ever legal halibut! I decided, this one time, to keep it.
We stayed for a while after that, then headed home. I got some taters and various bits and readied the wok for some deep-frying. Those were the best-tasting fish'n'chips I've had in a long, long time. I don't plan on keeping any more halibut unless it's a special occasion, or a super-trophy. I took some pictures.
I also caught a Dr. Pepper can. Not so unusual, except that it contained an octopus that had run into the can with my smelt! We got him outta there and the kids lost their minds a bit before sending him home. Great day! Garth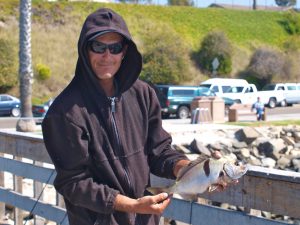 Sargo
Date: June 1, 2004; To: PFIC Message Board; From: garth; Subject: Oceanside Harbor Pier
Been fishing through April and May on the Little Pier and the action is picking up. We fish Hi/lo #6 or #4 hooks with 1-1 1/2 oz pyramids and 10-15-lb test mainly, and sliders with 1-2 oz. weights & #2 or #1 hooks. There is a line of weeds that follows the shoreline, north and south, inside of which can be treacherous due to rocks, but outside of the weeds its relatively snag free.
Halibut, shorts as well as legals, are biting, on just about anything you throw out there. It seems like you simply need to hit 'em on the nose. I've caught them on live smelt, whole frozen anchovies, and my daughter got one on razor clams! Live smelt or anchovies from the bait dock across the harbor seem to be the number one bait. Biggest spotted was an almost 30" by a visiting 'Zoner. I either use a slider rig or a hali rig (á la Snookie's rig).
Sand bass, croaker, opaleye and sargo are biting regularly. The largest barred sand bass (this is a tenuous ID, but they match the pics I've seen here and elsewhere very well) was hooked by my girlfriend… sadly a pier net in the trunk of my car, and not on the pier, resulted in the fish kicking off as I tried to hand-line it up. It looked to be in the 16-18" range, and very fat. The bass are eating cut and whole 'chovies, mussels, bloodworms and squid on hi/lo's, in addition to live smelt on sliders and hali rigs.
Spotfin croaker are biting the same bait, and really nailing mussels and bloodworms. I have only witnessed one yellowfin croaker. There's an open boat dock north of the pier that holds a lot of mussels, though it is getting a bit depleted. Sargo and opaleye on bloodworms and mussels. Last weekend the opaleye were out in force, with one kid catching at least a dozen, in addition to about four garibaldi.
Smoothounds, horn shark, and butterfly ray are making appearances. I've witnessed and been told about several larger smoothounds, two of which I netted for lucky anglers. The biggest, caught by a nice guy named Tonio, was 43" and 13-lbs. I netted a 41" smoothie that we didn't weigh as well. I believe they're "grey" smoothounds, and the most common bait is squid. The bat rays haven't been around, but butterfly rays are coming up regularly. My pal Joey picked up a butterfly about 26" across last weekend, which I netted and dropped on my camera. D'oh! We also saw a horn shark (my daughter), and a shovelnosed guitarfish come out of the Harbor, both on squid, hi/lo.
Other species seen: white sea bass, short; perch (shiner, walleye, and a red one I couldn't ID), some yellowish colored eel, from 14" to 36"; kelpfish to 8"; large and small smelt to 16"; one fellow showed me a fish and ID'd it as a bonefish, I can't tell you if he was right. There's a fellow who's there regularly and drops crab nets for large sea snails. He tells me they're delicious; I'll take his word for it. Occasionally, people catch lobsters on a line. All the ones I've seen landed were thrown back, though I did see a shell floating by recently.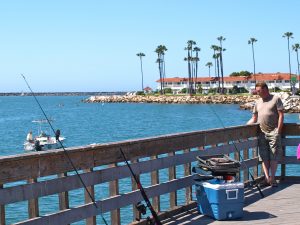 Date: 1/24/09; To: PFIC Message Board; From: tunafshr93; Subject: Oceanside Harbor Pier 1/23/09
Late report. I fished the pier from 7:00 to 12:00. Water extremely dirty, visibility was about 8 inches. Big jacksmelt were there for the taking. I caught a total of 6 fish: 4 jacksmelt, walleye surfperch, and some sort of eel. My biggest jacksmelt that I landed was about 14 inches, smallest being 11 inches. Bloodworms were the key bait. I caught the biggest on squid but I caught more on the bloodworms and the perch. Pelicans at the pier were aggressive. As soon as I brought the fish up they were trying to eat off the hook, and when I grabbed the fish they still went for it; ended up getting bit by one. A pelican stole my biggest smelt before I got it out of the water. The picture is of the eel, I don't know what type it is. I don't think its a moray. Caught on a piece of mackerel fished on the bottom. Does someone have an idea of what it is.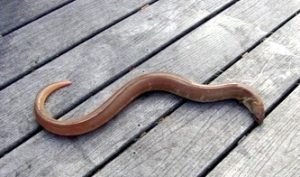 Yellow Snake Eel
Posted by minnow magnet
It's a yellow snake eel.
Posted by Cjmedina
Nice eel! Those birds are real annoying and aggressive. The last time I went the gulls keep trying to steal my macks and squid.
Date: 2/7/10; To: PFIC Message Board; From: tunafshr93; Subject: Oceanside Harbor Pier 2/6/10
Arrived at the pier around 7:00 and left at 11:00. It was really windy. Caught two walleye surf perch in the first hour. Around 9:00 the wind died a little bit and decided to fish on the bottom. Ended up catching 4 calicos in the 9-11 inch range. The whole pier total was: 11 calicos 9-12 inch range, a lot of perch, 2 Jacksmelt 13-15 inches, 1 sculpin, and 1 kelpfish. Good fishing but a pelican got hooked on my line and pulled my pole in the water. Pelican unhooked itself before I could snag my pole so I lost the pole, but on the good side it gives me an excuse to buy a new pole.
Date: February 14, 2010; To: PFIC Message Board; From: tunafshr93; Subject: Oceanside Harbor Pier 2/13/10
I fished the Oceanside Harbor pier yesterday from 7:00 to 1:00. Picked up some live sardines from the bait barge. Got a run on the sardine but missed the hookset. Ended up getting two walleye surfperch about 8 inches, and a 16-inch jacksmelt. Pier count was: a lot of small perch, 4 jacksmelt, and a lizardfish.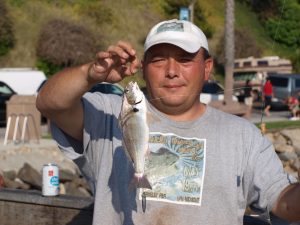 Illcatchanything (Brian) with a small spotfin croaker
Potpourri — Perhaps More Than You May Want To Know About The Oceanside Harbor Pier

<*}}}}}}}}}>< — The only record of a dorado (aka mahi mahi and dolphinfish) being caught from a California pier was one caught at this pier on August 28, 2018. The dorado was small, approximately 30 inches in length and 5 pounds in weight, but was apparently a first (at least as far as I have been able to find). The catch was reported to me by Peter Phu, owner of the Angler's Tackle, up the hill from the harbor, and the catch was witnessed by employee Ben Howard. Why the dorado was in the harbor is a mystery but the angler making the catch didn't seem to mind if the fish was off course.
<*}}}}}}}}}>< — Some do it right, some don't. This is a place where families often congregate and at times it is interesting to watch the families in action. In particular, I remember one evening when two granddads brought their grandkids down to the pier for a little fishing. One grandpa was constantly yelling at the kids: they weren't baiting the hook properly, casting properly, or watching their lines close enough. If they wandered off the pier there was hell to pay. Granddaddy grinch appeared to be suffering from the W.C. Fields disease of misopedia. The other "gramps" was patient, never cross, and as nurturing as you could hope. Guess which one got the better attention? Of course it was the nurturing one.
Another angler, a young mensch no more than sixteen himself, was showing a small lad of five or six years age how to fish. Slowly he showed his padawan how to tie a knot and where to place the hook. He explained what bait might work best and where they should put the line. He made the first cast but carefully showed how he had cast, and then made sure the young angler held the pole himself. He had brought a Coleman lantern so they had plenty of light, he had brought a small cooler with cold drinks, and he had brought sandwiches, cookies and chips for food. A small radio allowed both to listen to a ballgame. The munchkin took it all in and was, I bet, hooked on fishing for life.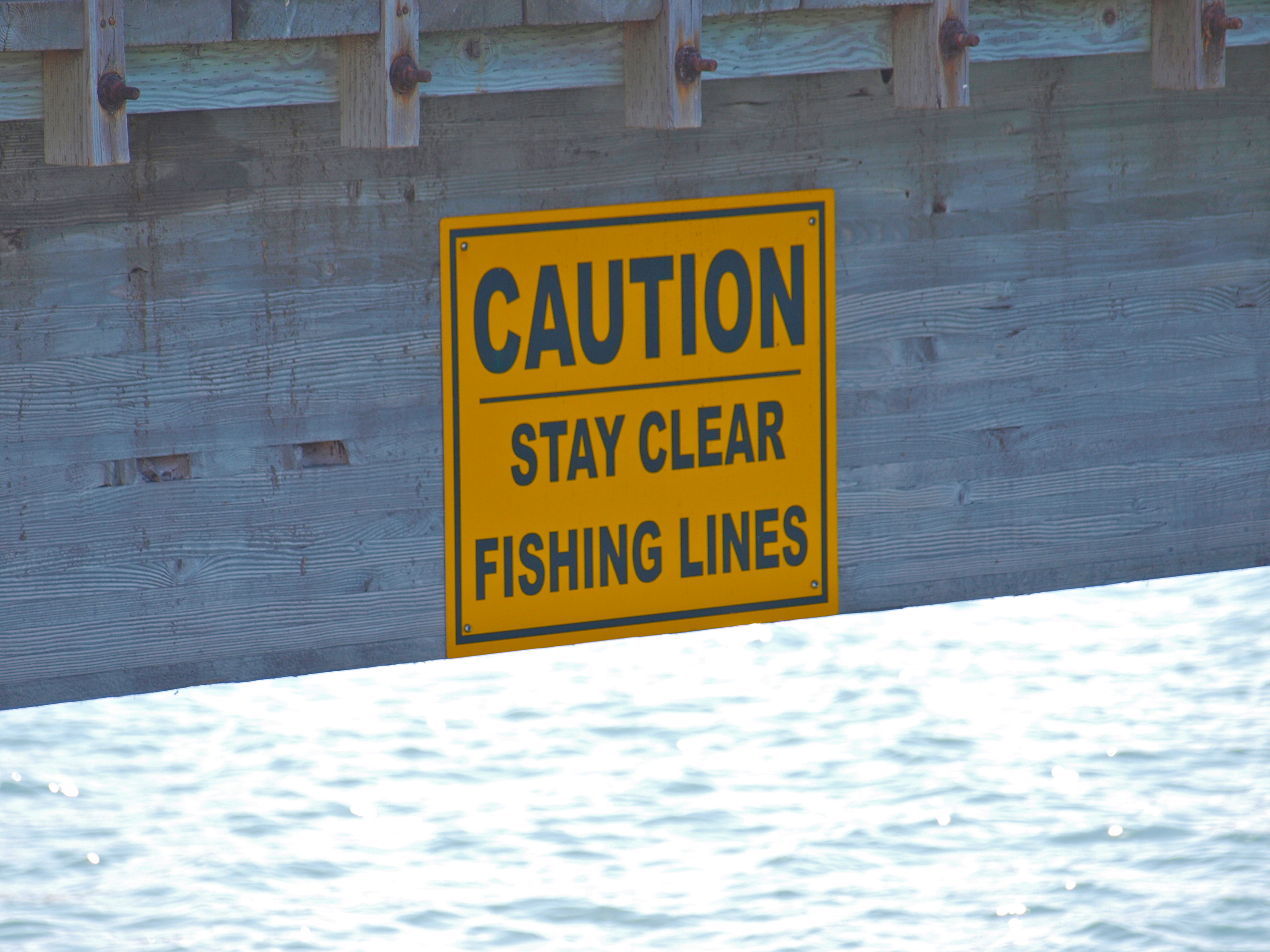 A note for kayakers that shouldn't be necessary — don't go under the pier
<*}}}}}}}}}>< — I believe it was Art Linkletter who became famous from his observation that "kids say the darnedest things." One warm summer night in 2007 I was reminded of that saying when a youngster of probably eight years of age approached me here after I had caught several fish—including two black croaker, two sargo, and surprisingly, two bonito. He asked me what I was using for bait and I replied that worms seemed to be working. "Are you using those blood sucking worms?" In reply I showed him the lugworms I was using and told him that sometimes I used bloodworms but that they do not suck your blood. He seemed relieved as he returned to his family and that's when I thought of Mr. Linkletter. Bloodworms can give you a prickly little nip if you're not careful but they're not exactly vampires. There are some parasitic blood-sucking leeches but I've never heard of them being used for bait. But who knows, maybe they'd be great?
<*}}}}}}}}}>< — Unfortunately the fish surveys done by the Department of Fish and Game between 2004 and 2009 give only a partial glimpse (in my opinion) of the fish found at the pier. Their list (numerically) of 14 species — jacksmelt, shiner perch, topsmelt, spotfin croaker, barred surfperch, white seaperch, queenfish, Pacific bonito, spotted sand bass, blacksmith, white croaker, California corbina, yellowfin croaker and black perch. In particular, I do not think the survey shows any fish that are caught in the evening hours, fish such as sharks and rays.
<*}}}}}}}}}>< — One of the good things about the pier is that even when the fishing is slow you're in an interesting environment and often there is something to see. There are always birds, birds of many type, and the bay itself is usually filled with boats coming and going. Off to the side of the pier (some years) is a platform, which sea lions seem to like and sometimes the kayakers like to check them out. But sometimes they get a little too close which is what happened to the young lady pictured. The bull sea lion let her know she wasn't welcome.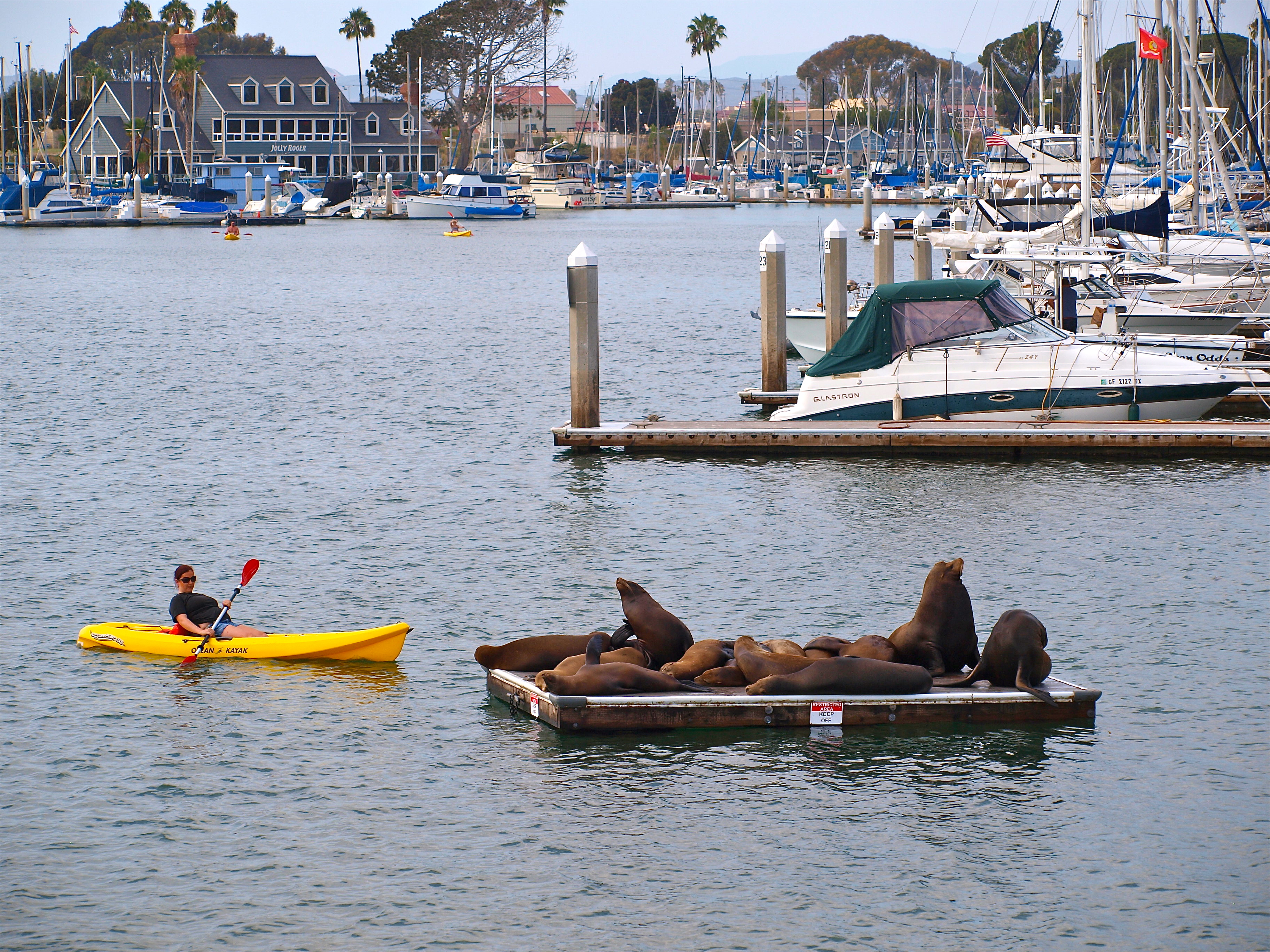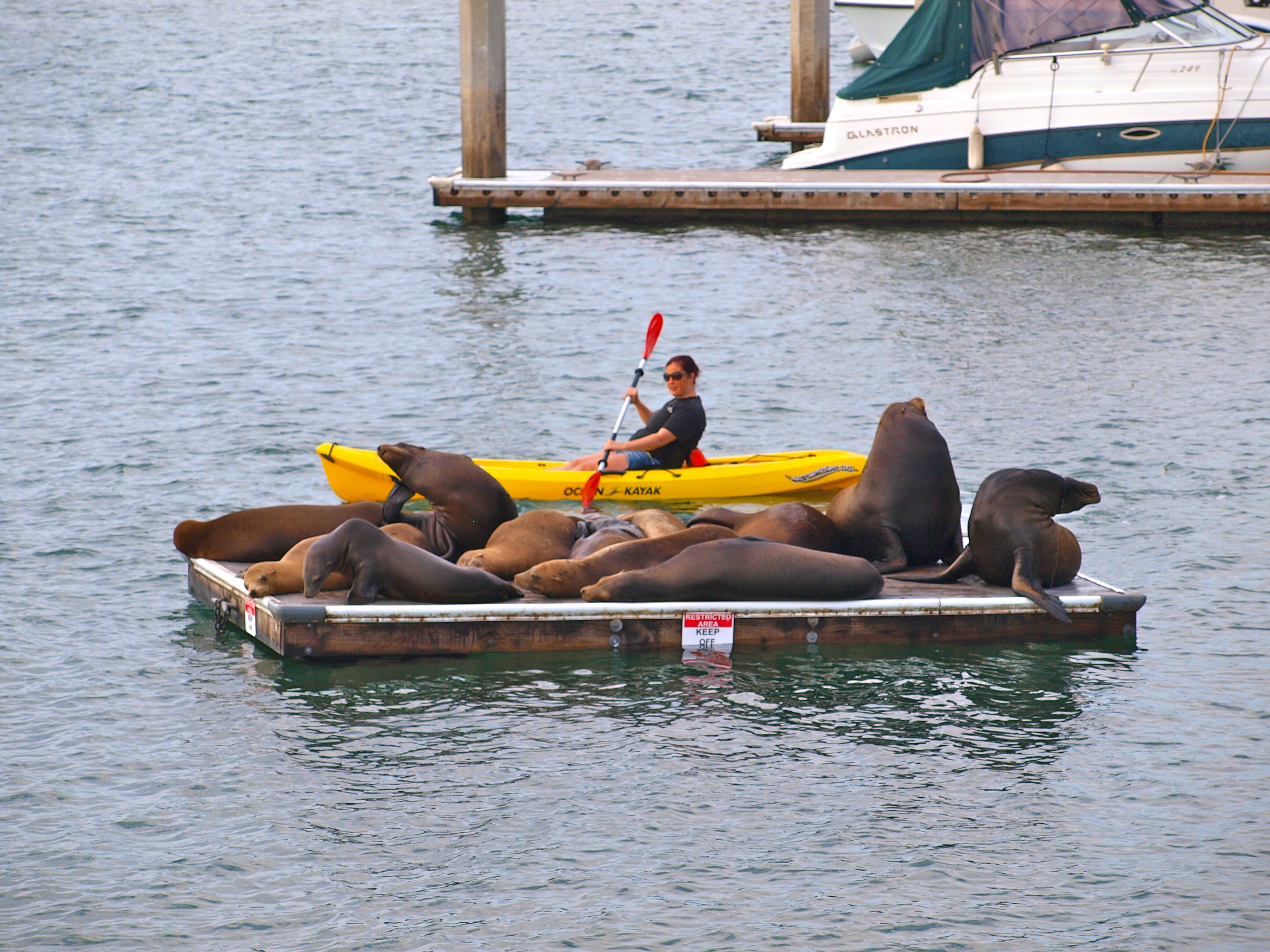 <*}}}}}}}}}>< — This is one of those piers where an angler can often "chum up" some fish. In particular, pieces of bread will often attract schools of opaleye when they are tossed into the inshore water near the rocky shoreline.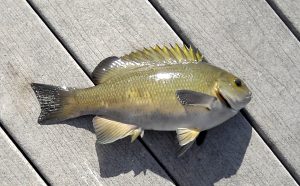 Opaleye
Once the opaleye are present, and excited, fish with sea worms, frozen peas, fresh mussels, or dough-ball bait. Chum made from cut up bait—anchovy/mackerel/squid, and tossed down by the pier pilings will often stir up mixed schools of jacksmelt, kelp bass, perch and sometimes mackerel. When fishing in this manner it is often best to simply tie a small hook onto the end of your line and fly line it into the area of your chum, keeping it near the top of the water or down two to three feet. Some anglers prefer to use a small bobber or float to help maintain the proper depth for the bait but it really isn't necessary.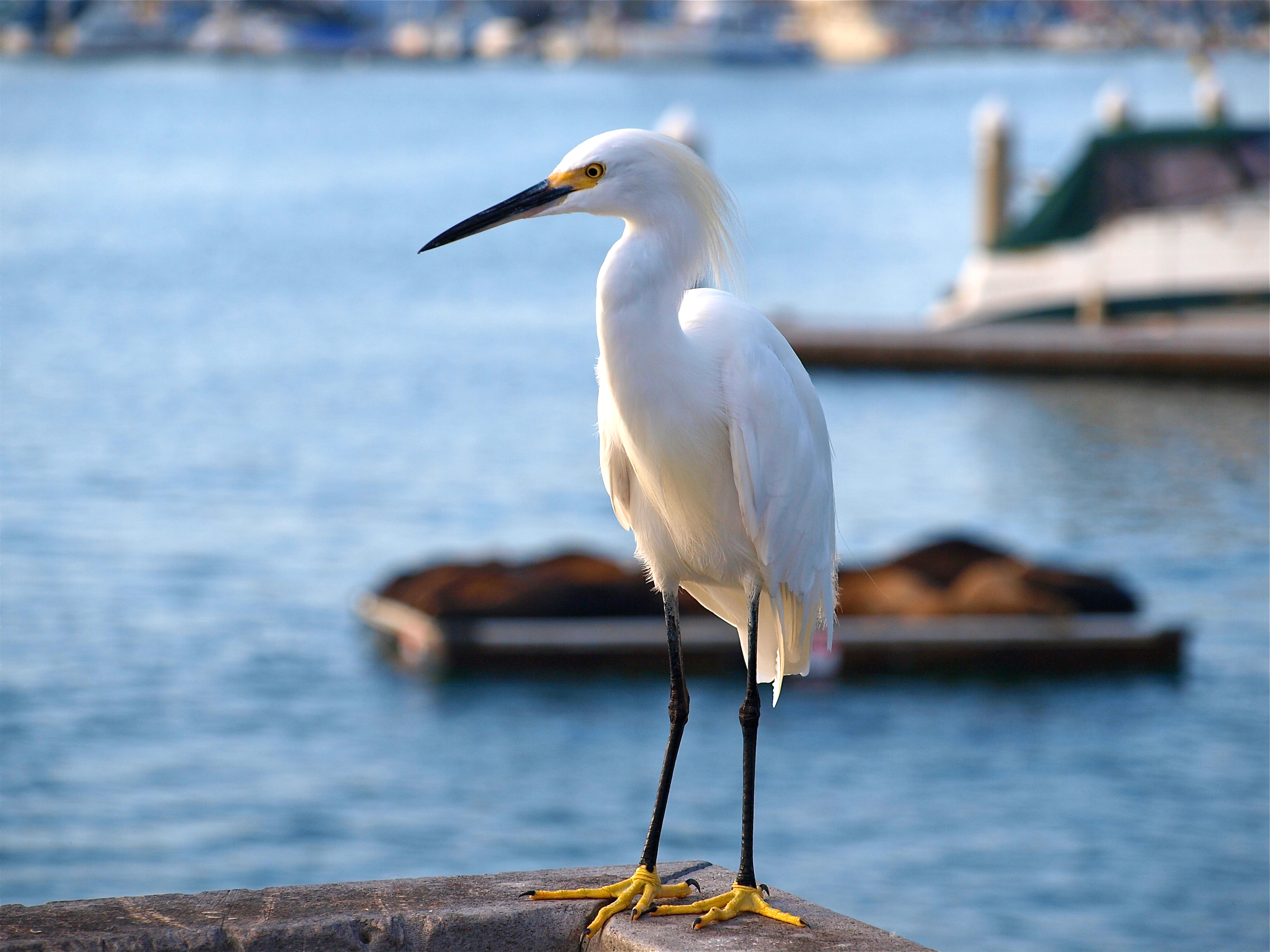 <*}}}}}}}}}>< — For a number of years this little pier was the meeting place for a declining number of veterans, survivors of the attack on Pearl Harbor that launched the United Sates into World War II. Each year the group met on December 7, had a bell ceremony, and scattered flowers into the bay commemorating comrades lost in the attack. But people age and as the years passed fewer and fewer of the veterans lived to see the ceremony. As a result, 2011 saw the last reunion at the pier by the veterans. Tis sad!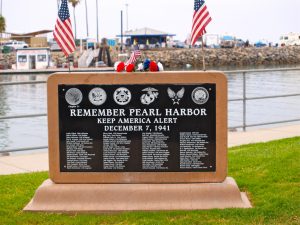 OCEANSIDE: Veterans gather for group's final Pearl Harbor remembrance
Gathering for the final time Wednesday morning on the banks of Oceanside Harbor to remember their fallen shipmates and comrades, the members of North County's Pearl Harbor Survivors Association marked the 70th anniversary of the attack by the Japanese.
Leaders of the national survivors association announced recently that the group, made up of America's most highly regarded veterans, will disband Dec. 31, making Wednesday the last time the association would hold official remembrances in Hawaii and throughout the U.S.
"People have forgotten what Pearl Harbor did. It woke us up," said Fallbrook resident Joe Walsh, who is the president and the last remaining original member of North County's Chapter 31. "We weren't prepared."
On a cold but sunny morning Wednesday, around 100 people crowded onto the small fishing pier off North Harbor Drive to shake hands with the six Pearl Harbor veterans, toss handfuls of rose petals onto the glassy water and listen as a young Marine Corps corporal played taps. Walsh said the North County chapter originally started with 30 members, swelling to 87 during the 1970s or '80s. Today, seven members remain.
Guests who attended Wednesday's ceremony included City Council members, former mayors and six survivors, all wearing the trademark blue windbreakers that stand out in a crowd. Former Oceanside councilman Rocky Chavez spoke briefly during the ceremony, wishing the veterans "fair winds and following seas." "It's sad to see that this is going to go away, but as long as we're here, we'll always remember about December 7 and what it means—that freedom is not free," said Chavez, a retired Marine Corps colonel.
"All of you blue-jacket guys look younger and younger every year," said retired Navy rear admiral and former Oceanside Mayor Richard Lyon.
"On that day, 2,403 perished, and the reason that the Pearl Harbor survivors (are here), and the reason that we're all today with them, is to memorialize those 2,403 shipmates and friends who died," Lyon added.
Across the country—and especially in Hawaii, where the solemn Pearl Harbor memorial floats above the sunken USS Arizona—Wednesday morning marked a profound moment in the history of the "Greatest Generation." the surprise attack, hundreds of Japanese fighter planes bombed the U.S. Navy base at Pearl Harbor, sinking 12 U.S. vessels that were in the harbor that morning, damaging several others and thrusting the nation into World War II.
Marking the 70th anniversary of the attack, officials with the Pearl Harbor Survivors Association pointed out that the organization was always intended to be a single-generation group. Although "sons and daughters" chapters will live on, as of 2012, there will no longer be a formal organization of survivors.
In Oceanside, Walsh said he was just thankful for the years he's been given with his fellow survivors. "Any time you've got four military guys together, it's friendly," he said. "Two of them will make a party."
Did he think he'd live to see the 70th anniversary? "Hell, no," said Walsh. "I didn't even think I'd last where I went. I headed toward Wake (Island) on Christmas Day, right after Pearl."
Clarence Heidemann, a former Oceanside resident, made the trip from San Marcos, Texas, to be with his chapter during its final hour. "I hate to see it end, but we knew it was going to happen sooner or later," he said. "I think there'll probably be a few of them getting together sometimes, even if it's not official."
Besides Heidemann and Walsh, the four other Pearl Harbor survivors present Wednesday were Bill Greenhouse, Bob Sandwick, Bjorn Christensen and John Quier.
—Tom Pfingsten, North County Times, December 7, 2011
<*}}}}}}}}}>< — Birds co-exist with anglers on every pier and though some can be a nuisance at times (such as when a sea gull grabs your bait), anglers should always strive to see that our avian friends are protected, The following shows an example of anglers doing the right thing.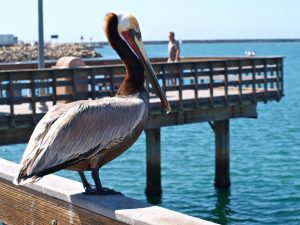 Fishermen take injured pelican under their wing
Things are looking up for Geraldo the pelican, an injured bird at the Oceanside Harbor, thanks to some local fishermen and SeaWorld officials.
The bird was in a bad way when Ron "Captain Ron" Worsena of Encinitas found him lying on the rocks in Oceanside Harbor near the Oceanside Fishing Pier a few weeks back. "I thought he was dead," said Worsena, a retired sport fishing boat skipper. "I went over to him, moved his head a little bit. I thought, 'Oh man, he's dying.'"
By chance, Worsena had been fishing when he found the bird, so he cut up some of his catch and stuck it in Geraldo's beak. Nothing. Worsena figured the bird was a goner. He walked away. A few minutes later, Geraldo got up, climbed over the rocks and strutted toward Worsena. "He walked up to me and opened his mouth," Worsena said.
Since then, Worsena and retired cosmetologist Dino Salvani of San Marcos have taken the pelican under their wings, but they were worried about what will happen to the bird because it's got a broken wing and can't fly.
"I just don't like to see any animal suffer," Salvani. "His wing is probably healing up, but in the wrong position. He'll never be able to fly again."
"If the bird isn't able to have his wing fixed, maybe someone can take care of him for the rest of his life," Salvani said. Salvani and Worsena said they tried for more than a week to find someone who would come get Geraldo and take care of him, but had little luck until SeaWorld responded. Park spokesman David Koontz said Friday that the park was dispatching a SeaWorld avian rescue team to the harbor to pick up Geraldo.
The bird's not alone in its plight. "We've had about 250 pelicans come in this year. Some of them, they're not even alive when they get here," Koontz said. Often, the birds have swallowed fishing hooks or gotten tangled in fishing line.
Salvani and Worsena said they've seen plenty of that in Oceanside Harbor, too. With some of the other regulars who spend time at the fishing pier, they've formed an informal bird rescue team of sorts. "We take the hooks out, cut the lines off and clean them up," Salvani said. "I think, 'What about me? What if I was lying in the street and nobody did anything?' It's the same with animals."
Added Worsena: "It makes you feel good when you do something like that."
—Bill Wechter, North Country Times, November 10, 2012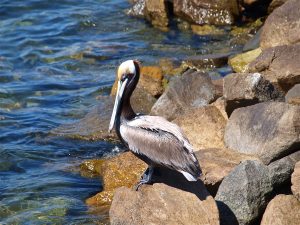 <*}}}}}}}}}>< —There are so many problems with this story (not counting the misspellings, i.e., muscle instead of mussel) that I hesitated to enclose the article. But it can teach a few lessons: (1) I'm sure it was a bat ray instead of a stingray (they've been called that for years); (2) It wasn't a monster-sized fish! Bat rays reach a size close to 200 pounds with the state record fish, one caught at the Huntington Beach Pier being 180 pounds; (3) Bat rays are good to eat although they are somewhat of a pain to clean; most people simply release them; (4) Never gaff any fish unless you intend to use it for food. If you intend to release it simply net it and then return it to the water in the net. If you do not have a net then simply cut the line. (5) Do not kill a fish simply for the sake of killing it. All fish serve a role in the ecosystem and bat rays are no exception; (6) Almost all stings from "stingrays" in California are from the small round stingrays that populate the shallow water surf areas. The few stings from bat rays are from careless anglers who do not know how to handle them; (6) Bat rays can be a lot of fun. For years Pier Fishing In California had a yearly "Mud Marlin" Derby at the Berkeley Pier for bat rays. A good fighting fish and all were released unharmed to fight again another day.
City Fireman Snags Monster Stingray
The inner waters of Oceanside Harbor are pretty peaceful on the surface. Down below, particularly on the bottom, it is another story.
Take the word of Bob Weber, San Bernardino city fireman… Fishing from a pier midway in the harbor the other day, Weber was trying to hook a halibut.
What he hooked was something else—a stingray that weighed between 60 and 70 pounds. Among stingrays, that's almost in the monster class. They don't get much bigger on the California coast.
Weber said the stingray was about five foot long, had a four-foot wing spread and his tail, equipped with a three-inch barb-like stinger, was three feet long.
There's a lot of danger in a stingray that size. The little ones are bad enough if they happen to nick you, but a 60 or 80-pounder could inflict a nasty and poisonous wound. Some people, in fact, have died from stingray wounds.
Weber's fishing ideas were pointed strictly to halibut. He had a light rod and 20-pound monofilament line equipped with two smack freshwater hooks. One hook was baited with a chunk of muscle and the other with a dead anchovy. He was fishing on the bottom of the harbor.
The stingray first grabbed the bait on one hook and the hook promptly broke. In the turmoil of the strike, Weber snagged the stingray in its wing with the other hook.
"I had no idea what was on the line," Weber said. "I once caught a 40-pound halibut and It thought this might be another big halibut."
He knew it was a big stingray only after he was able to bring it to the water's surface. And then he didn't know how to bring it the rest of the way because he didn't have a net or a gaff.
A nearby fisherman had a small net and tried to help out, but it wasn't nearly big enough. So another chap ran to the Oceanside boat landing, borrowed a gaff and got back in time to bring it on to the pier.
As a memento of his big stingray, Weber cut off the three-foot tail and froze it.
"I have no idea what I will do with it," he said.
As far as the rest of the stingray was concerned, Weber did exactly what all fishermen who catch stingrays are advised to do. He killed it and dumped it back in the water.
The wings of rays are eaten in some parts of the world, but not California. Along our coast they are regarded as a menace, particularly to surf bathers who may accidentally step on them and should be destroyed.
—Bob Walton, With The Sportsmen, San Bernardino County Sun, July 25, 1968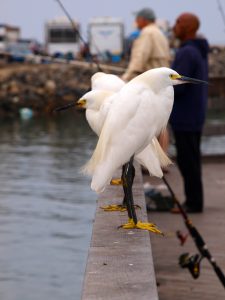 <*}}}}}}}}}>< — Although lacking the formal training to call myself an ichthyologist, I think I've become a pretty good expert on fish to be found in California, especially the inshore pier-frequenting species. I've personally caught 127 different species from its piers and have a library of books on saltwater species. Nevertheless, I was surprised when I first heard about an unusual catch at this pier in July of 2009.
The fish were hagfish (presumed to be Pacific hagfish, Eptatretus stoutii) and it was not one but six fish that were taken over a three week period. All were caught at night, all were caught on anchovies, and all were caught by Hank, one of the pier's regulars. Perhaps other hagfish have been caught from piers but these, as far as I know, represent the only recorded catch of hagfish from a California pier.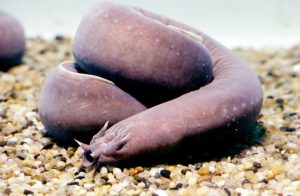 Hagfish are, of course, considered one of the slimiest of all fish, and are, to put it bluntly, one of the least favored fish of anyone who has encountered them. Milton Love in his great book Probably More Than You Want To Know About The Fishes Of The Pacific Coast gives a pretty uncompromising portrait of hagfish:
"Hey, let's face it, hagfish are the most disgusting creatures on earth… these are blind, eel-shaped fish… they have no jaws; a rasp-like structure is thrust out of their permanently open mouths… Probably the best way to tell if your fish is a hagfish is to look at the hand holding the fish. If it is completely covered with thick, ropy slime, that's all the proof you need… They are not called slime eels for nothing. Hagfish produce truly gargantuan amounts of slime…Your average hagfish can take a bucket full of water and almost solidify it with slime in a few minutes." Enough said!
Hagfish are also considered a fish of the deep seas, typically found on the ocean floor from a depth of about 30 feet down to 2,600 feet. Thus to be found in the harbor at a fairly shallow depth is very unusual.
Hank said, "when I caught the first hagfish I thought I had somehow hooked a jellyfish or something. When it got to the deck it was a balled up mass of slime that was unrecognizable until it uncurled itself. Turned out to be a nasty little hagfish that left enough slime on the pier to fill a bucket." Hank reported the catch of two more of the slimy fish, both 20 inches long, in October 2010.
Yes indeed, a VERY STRANGE fish from a pier! According to the Monterey Bay Aquarium, "known as slime eels, hagfish are primitive fishes. They have five hearts, no jaws, no true eyes and no stomach. They have poor vision but a very good sense of smell and touch… They prey on small invertebrates living in the mud, as well as scavenging dead and dying fish. They are noted for their unusual way of feeding—they slither into dead or dying fishes and eat them from the inside out, using their "rasping tongue" to carry food into their funnel-shaped mouth. What these poor innocent hagfish were doing attacking Hank's anchovies is anyone's guess.
Do these hagfish have a redeeming value, a saving grace to make up for all that slime? Expensive eelskin wallets are already made from "hagfish leather" and some scientists predict that strong, eco-friendly fabrics may one day be made from their goo. I'm pretty sure if that happens, marketeers will affix a eelskin fabric label instead of using the distasteful hagfish label.
<*}}}}}}}}}>< — Another very unusual species showed up in the following story.
Another Rare Oarfish Washes Up in Southern California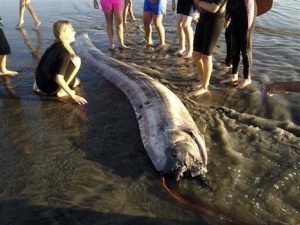 Another rare oarfish, a serpent-like sea creature, was discovered in Southern California for the second time this week, this time along the coast of San Diego County. A crowd of 50 to 75 beachgoers gathered around the carcass of a silver-bodied oarfish that washed ashore in Oceanside Harbor on Friday afternoon. The NOAA arrived to retrieve the nearly 14-foot-long fish… Police said the oarfish was cut into pieces and hauled away in coolers. Officers said they had never witnessed anything like it, but they recognized the mysterious, deep-water fish after it made national headlines earlier this week.
"The only reason we knew what it was, was because we saw the news reports from Catalina," Oceanside Police Officer Jon Hoover said.
It took more than 15 people last weekend to drag an oarfish from the waters off Catalina Island. A marine science instructor was snorkeling when she spotted the 18-foot carcass with eyes the size of half dollars.
The oarfish can grow to more than 50 feet, making it the longest bony fish in the world, according to the Catalina Island Marine Institute. Because oarfish dive more than 3,000 feet deep, sightings of the creatures are rare. They are likely responsible for sea serpent legends throughout history.
The second oarfish marks the third ocean rarity to surface in Southern California in a single week. A rare beaked whale washed ashore in Venice and, pending further tests, may be even more unique than experts originally thought.
—William Avila, NBCLA, October 19, 2013
<*}}}}}}}}}>< — I think this is one of the best piers for anglers using wheelchairs. There is adequate parking, the pathway to the pier is paved, and the pier's size and surface seem well suited for anglers using wheelchairs (or walkers). Not all piers are as good!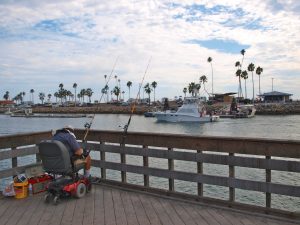 History. Although many had called for a harbor in Oceanside for years it wasn't until the late 1950s that significant progress was made. In part this was due to the desired area for the harbor, an area that at least in part was located on the Camp Pendleton Marine Base. Eventually the Marines offered no objection and in late 1958 a meeting was held in Washington D.C. between officials of Oceanside and representatives from the U.S. Marine Corps, the Bureau of Yards & Docks, and the Secretary of the Navy. Agreement was reached in 1959 for the lease of 68 acres from the government.
However, additional land was needed, land that was owned by the Beachlake Trailer Park, a park that had provided and camping and recreation for several decades. Eventually a swap of land was made between the owners of the trailer park and Oceanside and the city acquired 32.6 acres to be used for the harbor.
The next year, 1960, saw voters agree to the formation of a Harbor District and soon after, February 6, 1961, saw the groundbreaking ceremonies —"A Day of Hope and Promise."
The Oceanside Harbor was officially dedicated and opened in June of 1963. Cost had been approximately $7 million and the city now had slips for 520 boats. The next year saw the development of a shopping center with what seemed at the time an almost mandatory "Cape Cod" fishing village motif (one of several along the coast).
For fishermen, one of the biggest changes was the relocation of the McCullah Brothers and their fleet of Sportfishing boats from the Oceanside Pier to the harbor. Although missed by some on the pier, all agreed that the loading of anglers onto boats was now a much easier and safer operation. In time, that operation was taken over by Helgren's Sportfishing which began operation in 1979. There have been ongoing negotiations between the city and Helgren's whether their lease will be renewed.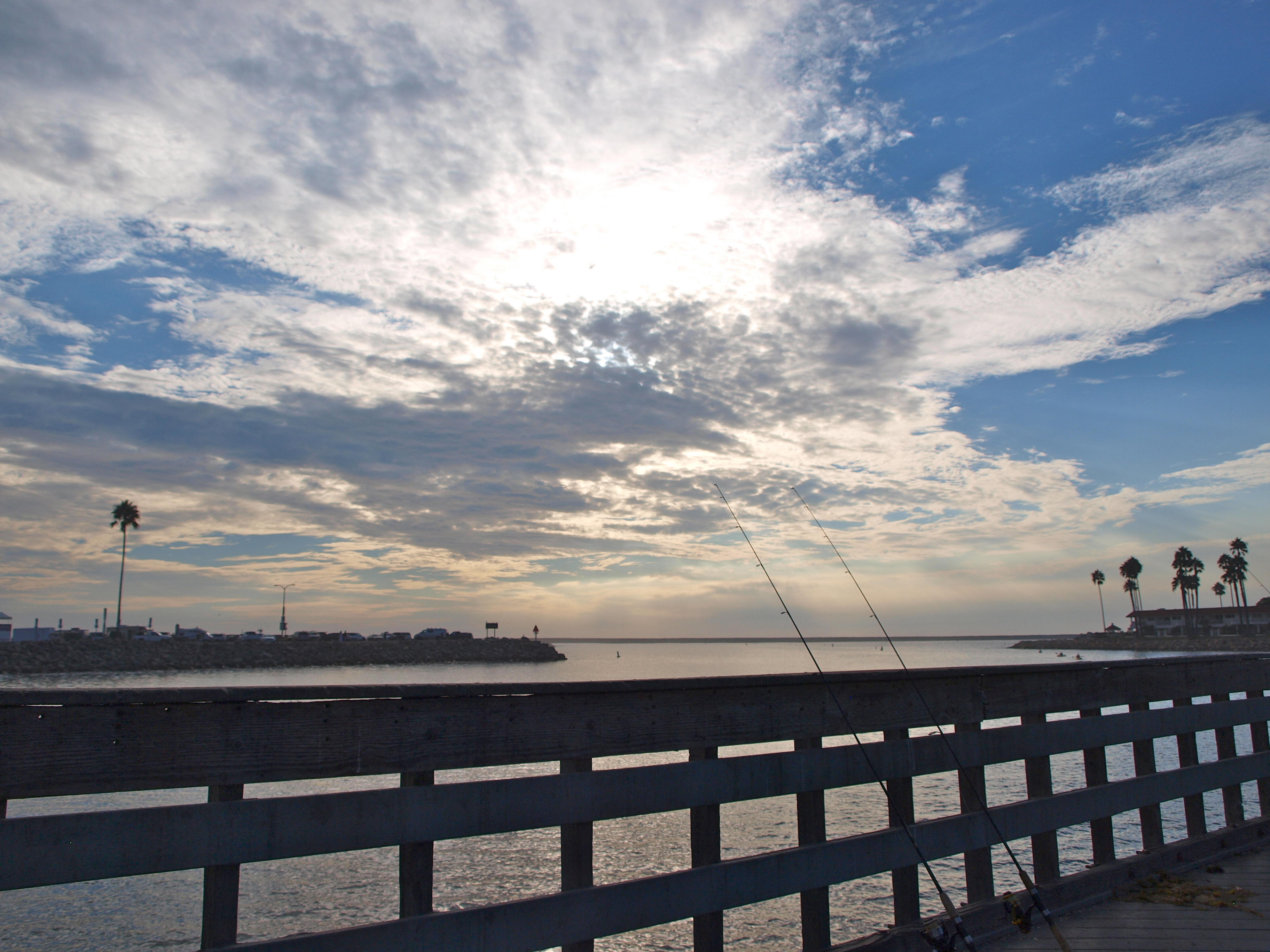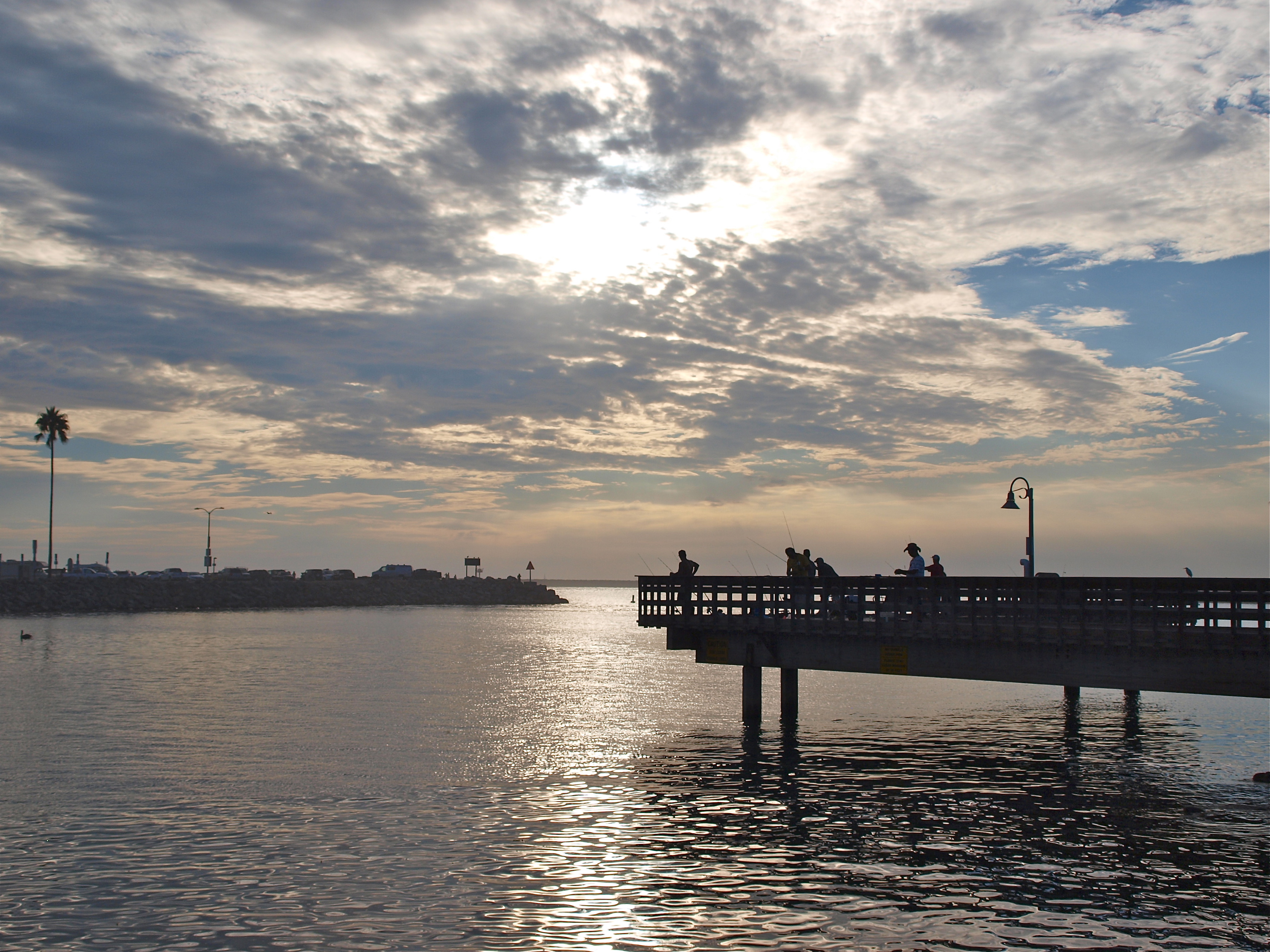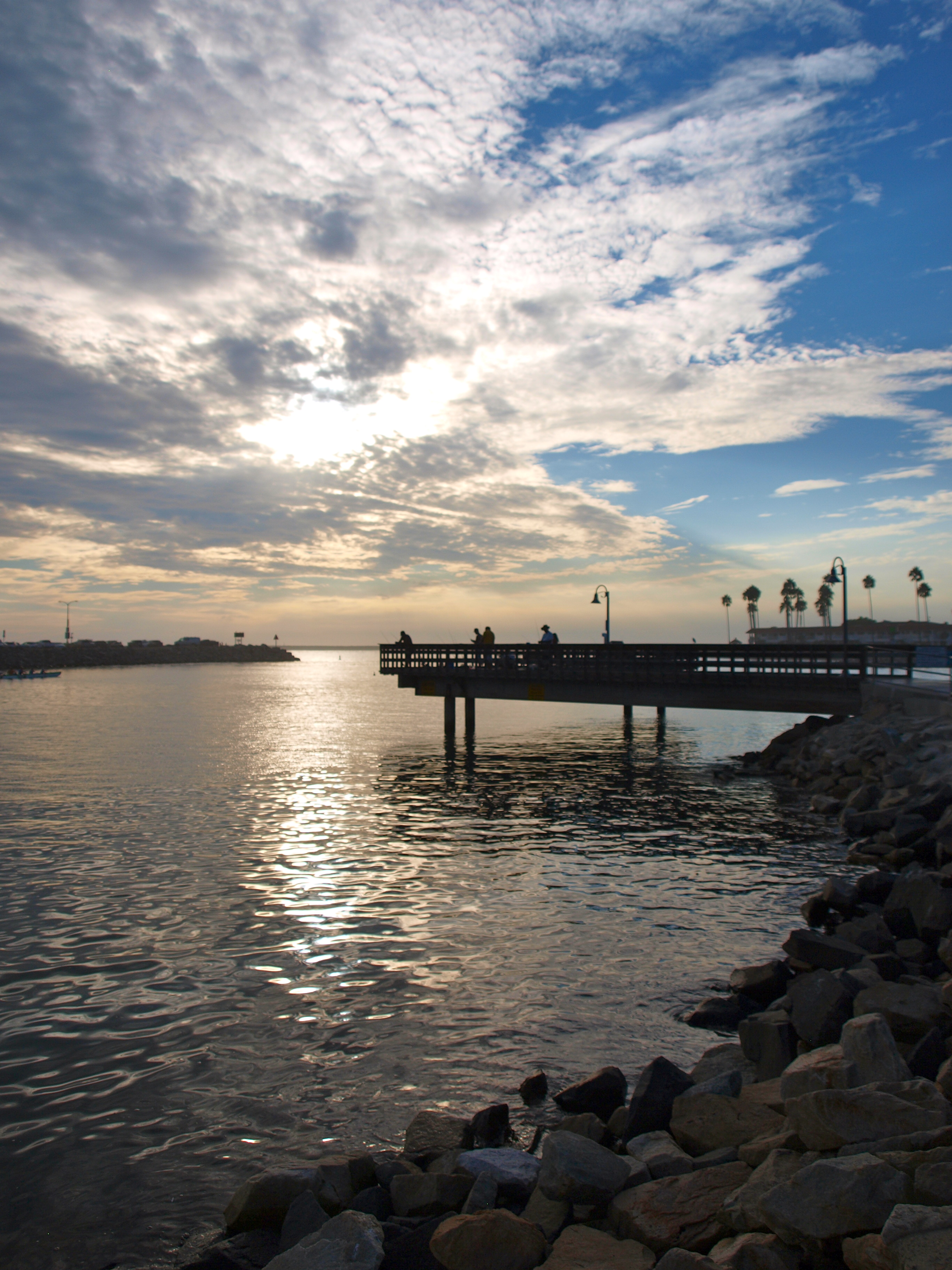 Oceanside Small Craft Harbor Fishing Pier Facts
Hours: Open 24 hours a day.
Facilities: Free parking is available on the adjacent North Harbor Drive and restrooms are across the street from the pier. There are no bait and tackle shops, no snack bars and no fish cleaning stations. There are several benches on the pier and an attractive lawn area and pay telephone nearby (which I was glad to see one day when I broke my car key in half while attempting to straighten it out). Limited frozen bait is to be found at the opposite end of the harbor at Helgren's Sportfishing while just up the hill from the harbor, and a short distance away on the frontage road (1413 North Coast Hwy) is Angler's Tackle, a full service tackle and bait shop.
Handicapped Facilities: Although there is handicapped parking, restrooms are not designed for the handicapped. The pier surface is wood planking and the rail height is 44 inches. Posted for handicapped.
Location: 33.2078136 N. Latitude, 117.3950394 W. Longitude
How To Get There: From I-5 take the Harbor Dr. exit off the freeway, follow it and it will wind down to the harbor; where the road splits stay to the right on North Harbor Dr., and follow it to the pier.