Public Pier — No Fishing License Required
Talk about a contrast. The Oceanside Pier is huge and can handle several hundred anglers at a time; this small pier can maybe handle twenty or so anglers but it would feel crowded. The bigger Oceanside Pier has many different environments in regard to the fish; this pier basically has three. The Oceanside Pier is hardly a place to relax while here relaxation is the name of the game. They're not yin and yang (since both piers are good); perhaps yin and jin (gold and silver in Chinese)—but which is the golden pier?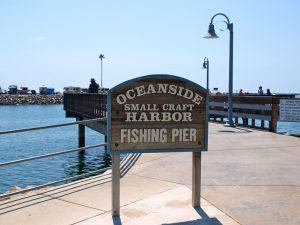 Environment. Since being built in 1963, the Oceanside Small Craft Harbor Fishing Pier has become the favorite of many who used to fish the longer Oceanside Pier. It's located just a short distance up-shore (about 1.5 miles) and presents a very different feel than the larger, busier pier.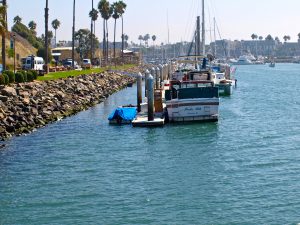 The pier is like many piers found in bays; it's small and close to the water and sits over fairly shallow water with a mud and eelgrass bottom. The pier is near to and almost directly fronts the channel entering the harbor and sits just down and across the harbor from the live bait receiver (which typically attract fish).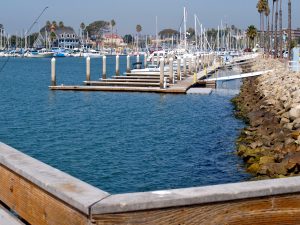 It also only pokes out fifty or so feet into the water so anglers are permitted three main areas to fish. The first is the narrow waterway between the shoreline and pier. The second is to cast parallel to the shoreline in either direction away from the pier. The third is to toss a bait straight out into the bay. Each area can present somewhat of a different environment and different species.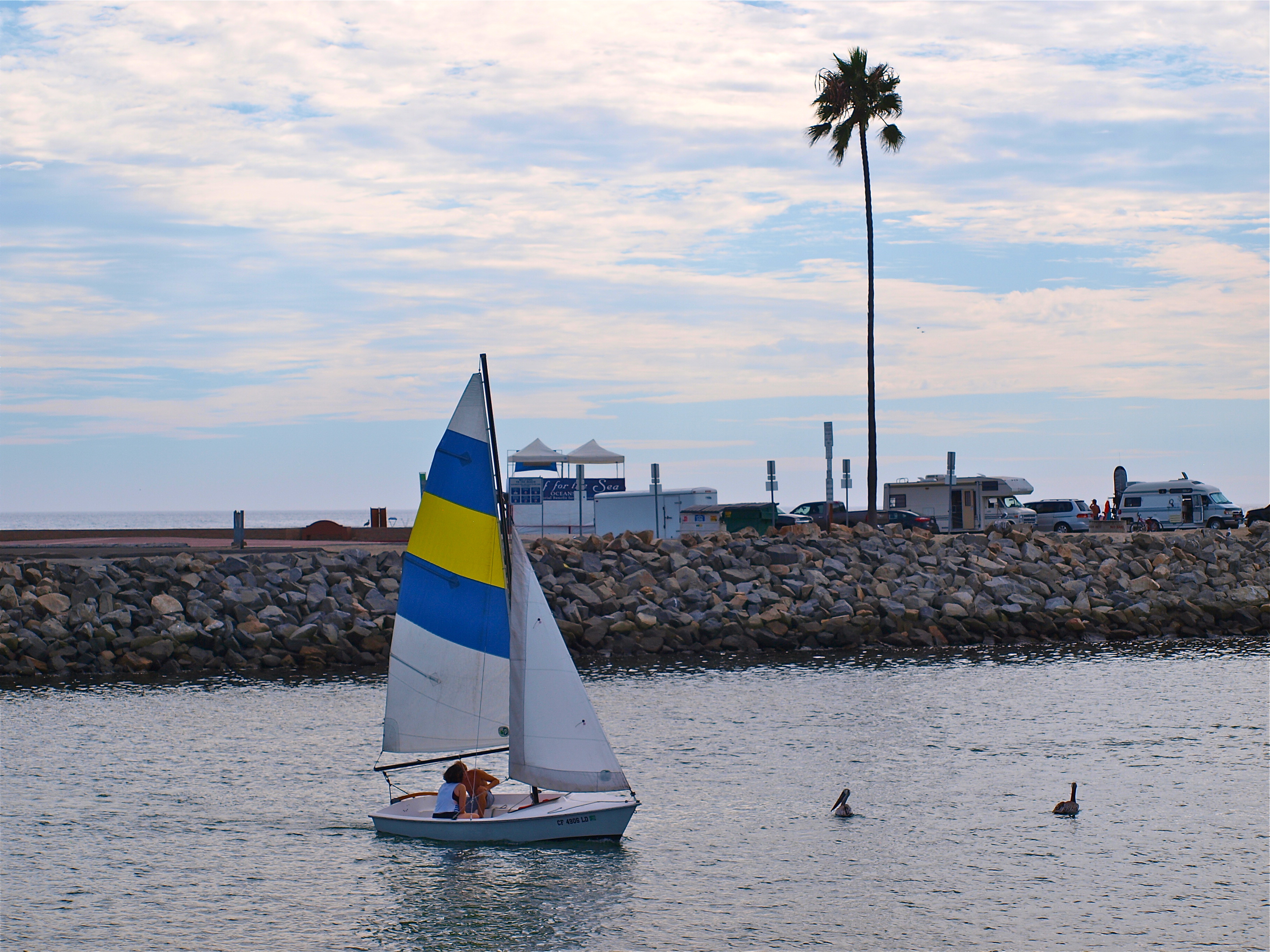 Fish. The environment yields a mix of fish that are (1) common to muddy bottom bays and rocky shorelines combined with (2) pelagic, top-water species that may have taken a wrong turn into the harbor channel.
As to species, Fish and Wildlife surveys list jacksmelt and topsmelt as the numeric leaders at the pier (although they are only second in my records).
My records (from 25+ years) show bass as number one although unfortunately most are under the legal 14" size. Kelp (calico) bass lead the hit parade but sand bass and spotted bay bass will also show up. Generally most of the spotted bay bass show up at night
Croakers and perch would tie for third if there were a ranking. I've caught yellowfin, spotfin, white, and black croaker together with the croaker-like sargo. DF&W records also show queenfish in the mix. Another croaker occasionally taken is small, illegal-size white seabass (usually called seatrout). Surprisingly I've never seen a corbina caught at the pier although they should be available.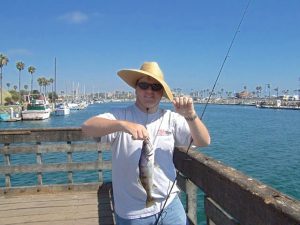 Small white seabass (seatrout) caught by Baitfish (Adam Cassidy)
Perch are numerous but too often it's the small shinerperch, which, at times, can be difficult to keep off the small hooks you're using for the larger perch. Luckily black seaperch, white seaperch, rubberlip seaperch, and barred surfperch are also available—and some are fairly good size. Several perch-like species also are common including opaleye, halfmoon, blacksmith and the golden-colored garibaldi (illegal so don't keep them).
Pelagics will often make an appearance with mackerel leading the hit parade but bonito show up in warm water years and barracuda are a fairly common nighttime visitor.
Flatfish on the bottom primarily will be California halibut although an occasional turbot or sole may also show up.
As for the sharays, the most common sharks are gray smoothhounds but shovelnose sharks (guitarfish), round stingrays, thornback rays, butterfly rays, and bat rays (including a huge bat ray estimated to weigh 150 pounds in August '09).
If fishing the inshore rocks for perch, you also might encounter kelpfish and blennies. I've caught four species of kelpfish here—giant kelpfish, crevice kelpfish, spotted kelpfish, and striped kelpfish, along with a rockpool blenny. All were fairly small but interesting looking species.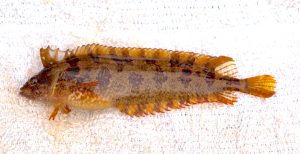 Uncommon fish that have shown up at the pier include bonefish, snake eels and slime eels. A yellow snake eel was taken in January of 2010, a fish once considered rare in California but increasingly seen (at several piers) over the past decade. Six hagfish, also known as slime eels, were reported in July 2009 while two more were reported in October 2010. The fish, presumably Pacific Hagfish, Eptatretus stoutii, are normally found in deep waters and are known for the amount of slime they secrete. All of the hagfish were caught from the right hand corner of the pier with a cast out toward the deeper water of the harbor's entrance channel.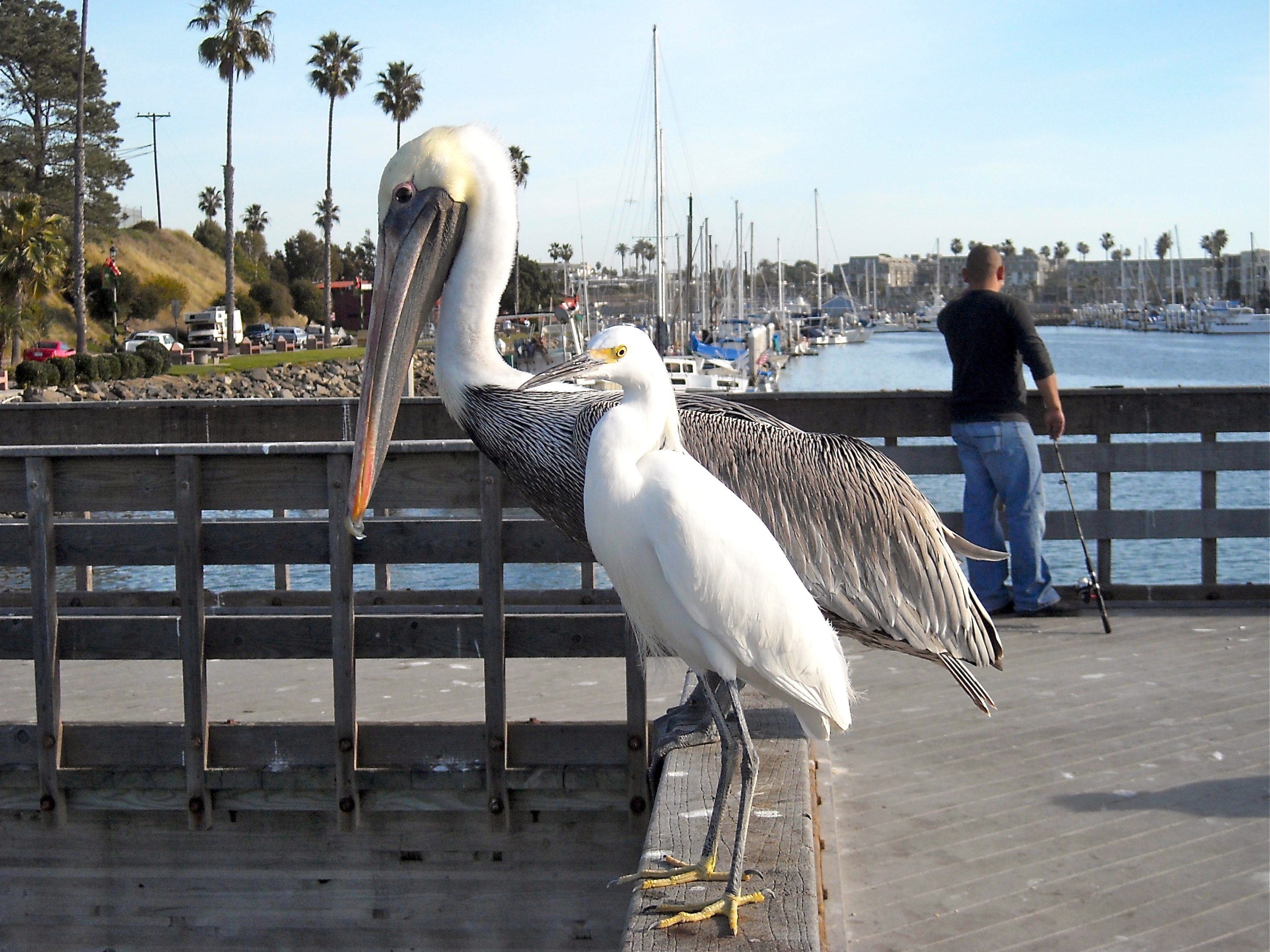 Fishing Tips. This is a small pier that really doesn't seem to have any special spots, although some regulars claim the left corner is best. I'm not sure I agree (I've caught most of my fish off of the right corner), but who knows? The main channel of water is the place to fish for the largest species. Nevertheless there are several different approaches anglers can try, both as to the area to fish, depth, and time.
The end zone and by this I mean fishing from the left to right corners of the pier with diagonal or straight casts. The water is a little deeper and you may have a little better chance at certain species.
On the top you can try for mackerel and an occasional bonito or barracuda. The mackerel prefer a small strip of squid or a piece of mackerel on a size 2 or 4 hook with a split shot sinker a couple of feet up the line. If a real "mac attack" is on you can also use a multi-hook, Sabiki-type bait leader (although I simply prefer tying two-three hooks on a line much like a high/low leader). Unless you're planning on filling a bucket with mackerel to take home, I can't see a need to catch them 4-5 at a time (and inevitably seeing a $3-4 dollar leader tangled up by squirming mackerel)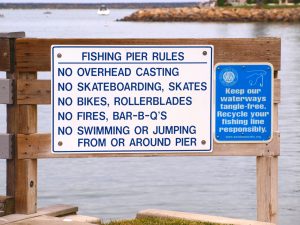 If bonito show up, usually in a warm-water year or following the same, most seem to prefer a feather behind a splasher (cast-a-bubble or wooden ball). However, a variety of spoons will also work with Megabaits being among the most popular.
Small, "pencil" barracuda often show up at night. When the "pencils" are around, a shiny spoon usually is the best offering. A majority of anglers seem to prefer gold or silver Kastmaster and Krocodile spoons although newer spoons, i.e., Megabaits will also work. The main problem is that most of these fish are undersized and illegal; they must be returned to the water. Given that most of the spoons have a treble hook, and that it can be difficult removing the hook from a wiggling barracuda equipped with very sharp teeth, too many of the fish may be injured and not survive the ordeal. Perhaps it's best just to ignore the barracuda unless accidently hooked on live bait intended for a bass or other fish?
California needlefish, which are often mistaken for barracuda, are also common to the pier and also tend to stay near the top of the water. You will sometimes see the 24-30 inch "needles" attacking the schools of smelt that hang around the pier. Not too surprising, the best luck I've had is using a live smelt fished about 18 inches under a bobber. You may occasionally see a needlefish hooked with a spoon, but most are taken on live bait.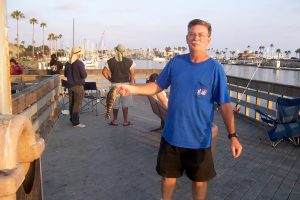 Small spotted bay bass
Fishing on the bottom yields different species. This is a good area for small kelp bass, barred sand bass, and bay bass (spotted sand bass). Most of these will be taken on anchovies fished on the bottom but bloodworms are better. Here, because the pier is close to the water, you can also effectively use artificial lures. Message Board reports suggest that grunion-colored Fish Traps, golden-brown bait Fish Traps (3-inch size), anchovy-colored Worm Kings, and lime-green grubs (with a fluorescent green or yellow leadhead), Scampis, and Scampi-type plastics are all good producers for the bass.
For halibut, net up some small smelt (they always seem to be around) and use them on the bottom with a live bait Carolina-type leader. If the pier isn't crowded you might also try artificial lures for halibut with soft bait, Big Hammer-type lures seemingly the favorites. For the smaller flatfish, especially diamond turbot, try live anchovies, baby smelt, bloodworms or small strips of anchovy on a high/low rigging.
Spotfin croaker, yellowfin croaker, sargo and black croaker prefer ghost shrimp, bloodworms, mussels or clams, and are especially prevalent at night during the summer months; especially off the left hand corner.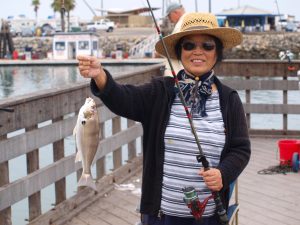 Spotfin croaker
For guitarfish, sharks (mainly gray smoothhounds) and rays (mostly thornback rays and bat rays but also a few butterfly rays), try squid, cut mackerel, anchovy or a live smelt on a Carolina rig.
At night, you may also encounter a few sculpin (scorpionfish). They're good eating but check and make sure they are legal-sized fish and be careful when handling them.
All of this advice can be used when fishing to the sides of the pier since similar techniques and bait will yield similar fish. However, the somewhat shallower waters seem to yield more bass, croakers, and perch than the waters straight out from the end. Usually bait will yield the best results but artificial lures used at night for the spotted bay bass can also be productive.
A lot of fish, mostly small but some large, can be found in the shallow waters between the pier and the rocky shoreline. For blackperch, rubberlip seaperch, and opaleye, try using fresh mussels, bloodworms or lugworms on a size 6 hook. Large jacksmelt will hit number 8 hooks baited with small pieces of bloodworm fished with a float (adjust the hooks so they are 2-3 feet under the surface of the water); small jacksmelt and topsmelt can often be caught on multi-hook bait rigs with size 8-12 hooks.
A seemingly unending number of small specimens can be caught next to the rocky shoreline. Simply tie a couple of size 8 hooks to your line and bait up with small pieces of bloodworms, lugworms or mussels. You never know what you will catch, it might be sargo, opaleye, small kelp bass, exotic looking kelpfish or even weirder looking blennies; I've even heard mention of a moray eel or two. Do realize that fishing this area also means you will probably lose a few riggings. I often cast as close to the rocks as possible so occasionally seeing a sinker or hook snag on a rock is almost inevitable. At the same time there also seem to be some rocks or other items in the water mid-channel that also like to grab a hook or sinker. For me, the risk of catching fish makes the risk oflosing a sinker or two worthwhile.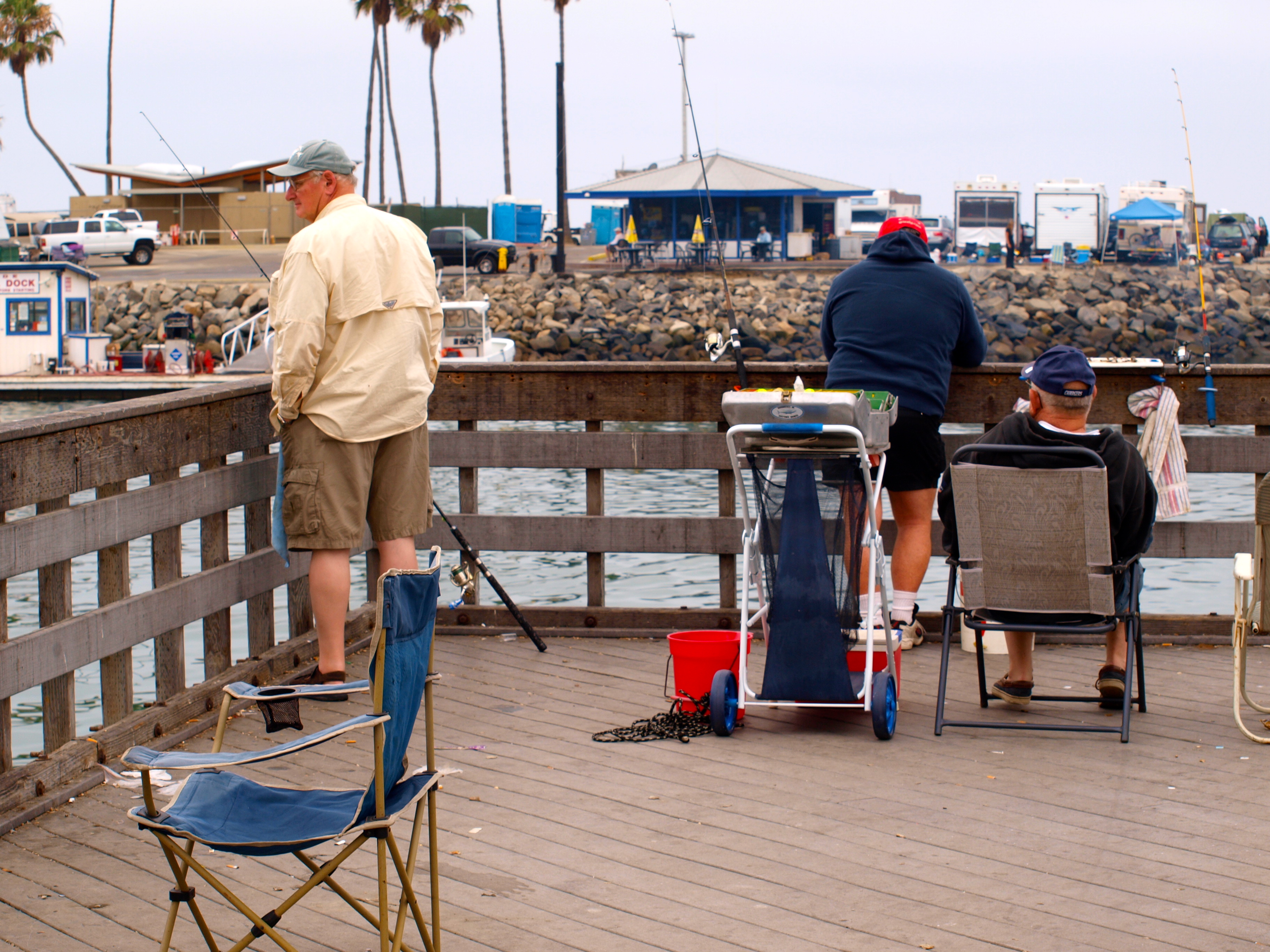 My fishing buddy of many years, Mike Granat, checking out the action
Lastly, remember to bring a net or treble-hook gaff when fishing for the larger species, you never know when a two hundred pound mud marlin (bat ray) is going to grab hold of your bait (and a huge bat ray, estimated to weigh 150-pounds, was taken in August of 2009). However, never use a gaff unless you really intend to keep and use the fish.
The Pier Rats Speak

Date: August 8, 1999; To: PFIC Message Board; From: joel "patient 1" selt; Subject: Oceanside Harbor pier
It's been very slow for the last couple of weeks. There's been some good bites, but nothing is taking. The bait of choice seems to be small sliced up anchovies and small pieces of squid. Gentlemen by the name of Tommy Diaz, caught a 12-pound white sea bass on the bank on the north side of the pier. Occasionally a couple of under-sized halibut would be caught and some calico bass. It's been a little windy in the harbor with some choppy water to go with it. I fish there on the average of two to three times a week. I've caught a variety of fish here: big and small, to skinny and huge. Best bet is to be patient and to bring two-rod set-ups with you, never know what could start to bite. Bait can be bought at the bait shop next to the "chart house' when you first enter the harbor, or if you have a bait net, you can use that off the pier since bait fish are abundant.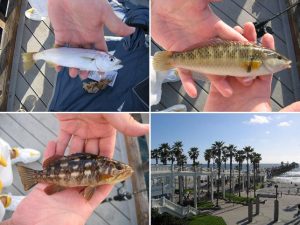 Date: May 8, 2004; To: PFIC Message Board; From: garth; Subject: Oceanside Harbor Pier
Well, today I got a great sunburn and had a nice time with my daughter. The day was bright and there was a light breeze keeping us cool. There were a few people out on the pier, and a lot of kids that Elise went and played with. We showed up with bloodworms, anchovies and squid, and ended up fishing most of the day with smelt. D'oh! I coulda saved the $7 at the bait shop. I had my first attempts at dip-netting my own bait today. The short answer? I stink. I can still catch smelt just fine with my Sabiki, though.
We started with cut anchovies and bloodworms on sliding eggs and hi/lo, respectively. I caught about the smallest calico bass mankind has hooked, a mighty 3" monster! After that, I spent approximately 4 hours without even a bite, shooting the breeze with fellow pier goers, saying hello, and admiring other folks' catch. There were some annoying people, and some noisy ones, and some overly gabby ones, but mostly nice. My friend Johnny was there, and another guy who, last weekend, lost three halibut because he didn't have a net…
A younger guy visiting from Arizona got a mighty hookup. I lent my pier net to the battle. Just the same they ended up gaffing a nice legal halibut, 24". The kids were spellbound.
There was a nice 24" or so wingspan stingray landed, but it didn't appear to have a tail…was it cut off? Are there rays with no tails?
Well, things started getting better for me, even though my camera batteries were dead and I can't show you what didn't come home with me. I had two live smelt out off the north corner of the pier and one just bent steadily over in a way that screamed "ray!" I spent the next five minutes with a completely bent in half pole as it steadfastly pulled away from the pier, and then made a mad dash at the pilings that I was able to fend off. Johnny manned the pier net and I had a fat 22-24" stingray (I think) exactly like the one the other fellow had landed earlier. It too had no tail. The same fish? You be the judge.       My arms were a little worn out from that, so I kicked back for a while after tossing out a new smelt. In about a half hour, I heard one of my warning bells ring, once. Highly unusual. I examine the line, and its moving parallel to the pier… This is a cheaper rod and reel with no drag (long story), so I flipped open the bail and let whatever run with it while holding the line with my fingers…I felt a strong pull away from the pier, flipped the bail closed and BANG! I had a strong hookup. After a brief battle, I had a nice-looking halibut next to the pier. Johnny dropped the net down, and one of the lines holding the net slipped a knot! It was hanging by two supports…and the fish had gotten it's second breath… it trashed it's head after casting a beady eye at me, and snapped my swivel off! It darted for safety… directly into the net hanging at a cockeyed angle… Johnny hoisted the fellow up, and after a quick tape-measure, I had my first-ever legal halibut! I decided, this one time, to keep it.