We stayed for a while after that, then headed home. I got some taters and various bits and readied the wok for some deep-frying. Those were the best-tasting fish'n'chips I've had in a long, long time. I don't plan on keeping any more halibut unless it's a special occasion, or a super-trophy. I took some pictures.
I also caught a Dr. Pepper can. Not so unusual, except that it contained an octopus that had run into the can with my smelt! We got him outta there and the kids lost their minds a bit before sending him home. Great day! Garth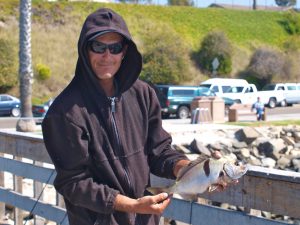 Sargo
Date: June 1, 2004; To: PFIC Message Board; From: garth; Subject: Oceanside Harbor Pier
Been fishing through April and May on the Little Pier and the action is picking up. We fish Hi/lo #6 or #4 hooks with 1-1 1/2 oz pyramids and 10-15-lb test mainly, and sliders with 1-2 oz. weights & #2 or #1 hooks. There is a line of weeds that follows the shoreline, north and south, inside of which can be treacherous due to rocks, but outside of the weeds its relatively snag free.
Halibut, shorts as well as legals, are biting, on just about anything you throw out there. It seems like you simply need to hit 'em on the nose. I've caught them on live smelt, whole frozen anchovies, and my daughter got one on razor clams! Live smelt or anchovies from the bait dock across the harbor seem to be the number one bait. Biggest spotted was an almost 30" by a visiting 'Zoner. I either use a slider rig or a hali rig (á la Snookie's rig).
Sand bass, croaker, opaleye and sargo are biting regularly. The largest barred sand bass (this is a tenuous ID, but they match the pics I've seen here and elsewhere very well) was hooked by my girlfriend… sadly a pier net in the trunk of my car, and not on the pier, resulted in the fish kicking off as I tried to hand-line it up. It looked to be in the 16-18" range, and very fat. The bass are eating cut and whole 'chovies, mussels, bloodworms and squid on hi/lo's, in addition to live smelt on sliders and hali rigs.
Spotfin croaker are biting the same bait, and really nailing mussels and bloodworms. I have only witnessed one yellowfin croaker. There's an open boat dock north of the pier that holds a lot of mussels, though it is getting a bit depleted. Sargo and opaleye on bloodworms and mussels. Last weekend the opaleye were out in force, with one kid catching at least a dozen, in addition to about four garibaldi.
Smoothounds, horn shark, and butterfly ray are making appearances. I've witnessed and been told about several larger smoothounds, two of which I netted for lucky anglers. The biggest, caught by a nice guy named Tonio, was 43" and 13-lbs. I netted a 41" smoothie that we didn't weigh as well. I believe they're "grey" smoothounds, and the most common bait is squid. The bat rays haven't been around, but butterfly rays are coming up regularly. My pal Joey picked up a butterfly about 26" across last weekend, which I netted and dropped on my camera. D'oh! We also saw a horn shark (my daughter), and a shovelnosed guitarfish come out of the Harbor, both on squid, hi/lo.
Other species seen: white sea bass, short; perch (shiner, walleye, and a red one I couldn't ID), some yellowish colored eel, from 14" to 36"; kelpfish to 8"; large and small smelt to 16"; one fellow showed me a fish and ID'd it as a bonefish, I can't tell you if he was right. There's a fellow who's there regularly and drops crab nets for large sea snails. He tells me they're delicious; I'll take his word for it. Occasionally, people catch lobsters on a line. All the ones I've seen landed were thrown back, though I did see a shell floating by recently.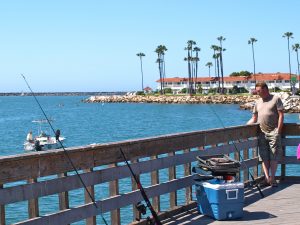 Date: 1/24/09; To: PFIC Message Board; From: tunafshr93; Subject: Oceanside Harbor Pier 1/23/09
Late report. I fished the pier from 7:00 to 12:00. Water extremely dirty, visibility was about 8 inches. Big jacksmelt were there for the taking. I caught a total of 6 fish: 4 jacksmelt, walleye surfperch, and some sort of eel. My biggest jacksmelt that I landed was about 14 inches, smallest being 11 inches. Bloodworms were the key bait. I caught the biggest on squid but I caught more on the bloodworms and the perch. Pelicans at the pier were aggressive. As soon as I brought the fish up they were trying to eat off the hook, and when I grabbed the fish they still went for it; ended up getting bit by one. A pelican stole my biggest smelt before I got it out of the water. The picture is of the eel, I don't know what type it is. I don't think its a moray. Caught on a piece of mackerel fished on the bottom. Does someone have an idea of what it is.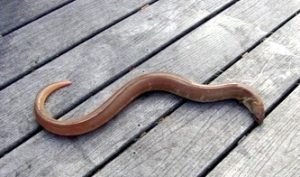 Yellow Snake Eel
Posted by minnow magnet
It's a yellow snake eel.
Posted by Cjmedina
Nice eel! Those birds are real annoying and aggressive. The last time I went the gulls keep trying to steal my macks and squid.
Date: 2/7/10; To: PFIC Message Board; From: tunafshr93; Subject: Oceanside Harbor Pier 2/6/10
Arrived at the pier around 7:00 and left at 11:00. It was really windy. Caught two walleye surf perch in the first hour. Around 9:00 the wind died a little bit and decided to fish on the bottom. Ended up catching 4 calicos in the 9-11 inch range. The whole pier total was: 11 calicos 9-12 inch range, a lot of perch, 2 Jacksmelt 13-15 inches, 1 sculpin, and 1 kelpfish. Good fishing but a pelican got hooked on my line and pulled my pole in the water. Pelican unhooked itself before I could snag my pole so I lost the pole, but on the good side it gives me an excuse to buy a new pole.
Date: February 14, 2010; To: PFIC Message Board; From: tunafshr93; Subject: Oceanside Harbor Pier 2/13/10
I fished the Oceanside Harbor pier yesterday from 7:00 to 1:00. Picked up some live sardines from the bait barge. Got a run on the sardine but missed the hookset. Ended up getting two walleye surfperch about 8 inches, and a 16-inch jacksmelt. Pier count was: a lot of small perch, 4 jacksmelt, and a lizardfish.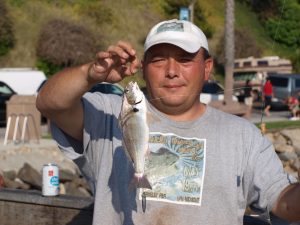 Illcatchanything (Brian) with a small spotfin croaker
Potpourri — Perhaps More Than You May Want To Know About The Oceanside Harbor Pier

<*}}}}}}}}}>< — The only record of a dorado (aka mahi mahi and dolphinfish) being caught from a California pier was one caught at this pier on August 28, 2018. The dorado was small, approximately 30 inches in length and 5 pounds in weight, but was apparently a first (at least as far as I have been able to find).  The catch was reported to me by Peter Phu, owner of the Angler's Tackle, up the hill from the harbor, and the catch was witnessed by employee Ben Howard. Why the dorado was in the harbor is a mystery but the angler making the catch didn't seem to mind if the fish was off course.
<*}}}}}}}}}>< — Some do it right, some don't. This is a place where families often congregate and at times it is interesting to watch the families in action. In particular, I remember one evening when two granddads brought their grandkids down to the pier for a little fishing. One grandpa was constantly yelling at the kids: they weren't baiting the hook properly, casting properly, or watching their lines close enough. If they wandered off the pier there was hell to pay. Granddaddy grinch appeared to be suffering from the W.C. Fields disease of misopedia. The other "gramps" was patient, never cross, and as nurturing as you could hope. Guess which one got the better attention? Of course it was the nurturing one.
Another angler, a young mensch no more than sixteen himself, was showing a small lad of five or six years age how to fish. Slowly he showed his padawan how to tie a knot and where to place the hook. He explained what bait might work best and where they should put the line. He made the first cast but carefully showed how he had cast, and then made sure the young angler held the pole himself. He had brought a Coleman lantern so they had plenty of light, he had brought a small cooler with cold drinks, and he had brought sandwiches, cookies and chips for food. A small radio allowed both to listen to a ballgame. The munchkin took it all in and was, I bet, hooked on fishing for life.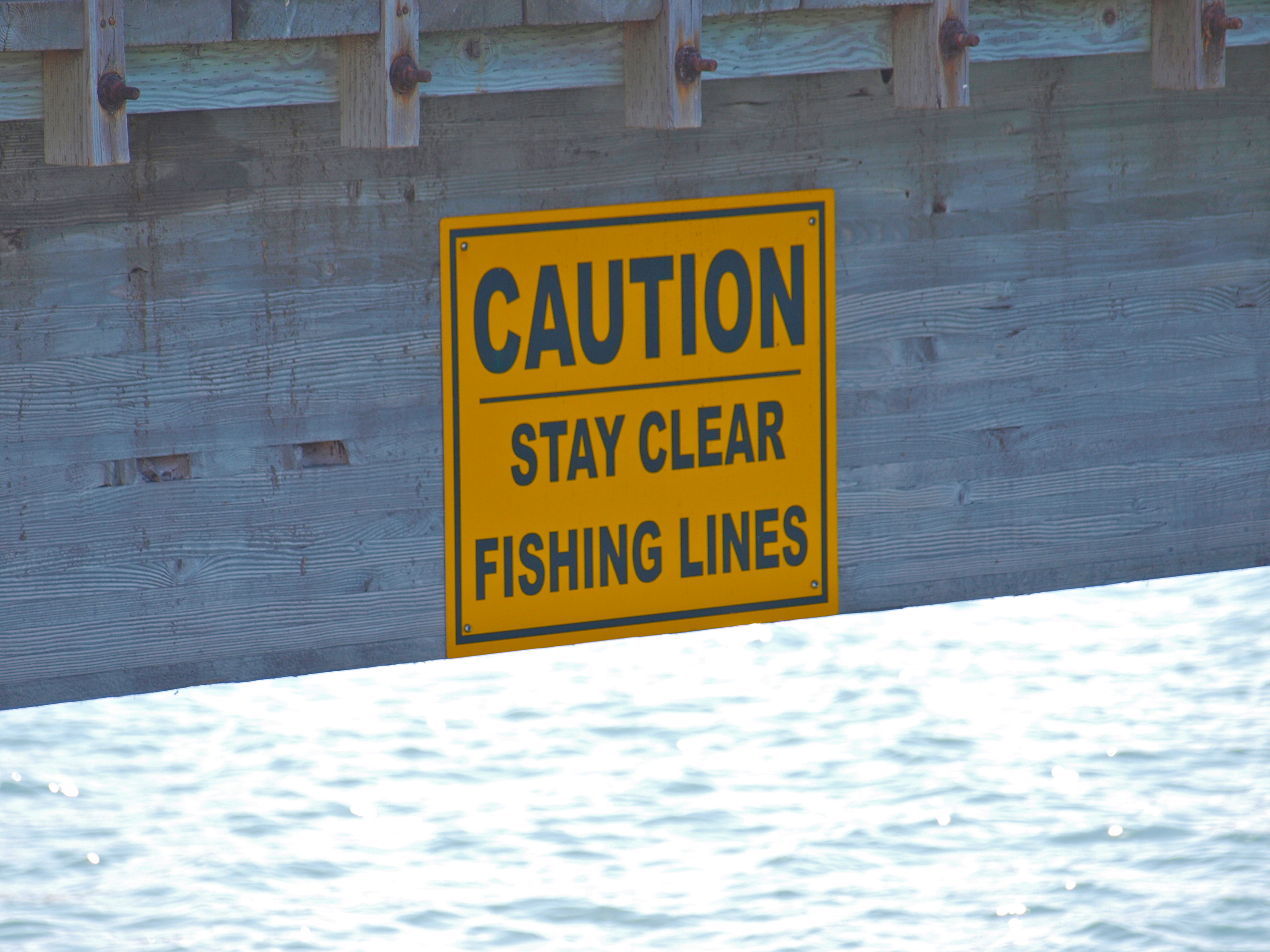 A note for kayakers that shouldn't be necessary — don't go under the pier
<*}}}}}}}}}>< — I believe it was Art Linkletter who became famous from his observation that "kids say the darnedest things." One warm summer night in 2007 I was reminded of that saying when a youngster of probably eight years of age approached me here after I had caught several fish—including two black croaker, two sargo, and surprisingly, two bonito. He asked me what I was using for bait and I replied that worms seemed to be working. "Are you using those blood sucking worms?" In reply I showed him the lugworms I was using and told him that sometimes I used bloodworms but that they do not suck your blood. He seemed relieved as he returned to his family and that's when I thought of Mr. Linkletter. Bloodworms can give you a prickly little nip if you're not careful but they're not exactly vampires. There are some parasitic blood-sucking leeches but I've never heard of them being used for bait. But who knows, maybe they'd be great?
<*}}}}}}}}}><  — Unfortunately the fish surveys done by the Department of Fish and Game between 2004 and 2009 give only a partial glimpse (in my opinion) of the fish found at the pier. Their list (numerically) of 14 species — jacksmelt, shiner perch, topsmelt, spotfin croaker, barred surfperch, white seaperch, queenfish, Pacific bonito, spotted sand bass, blacksmith, white croaker, California corbina, yellowfin croaker and black perch. In particular, I do not think the survey shows any fish that are caught in the evening hours, fish such as sharks and rays.
<*}}}}}}}}}>< — One of the good things about the pier is that even when the fishing is slow you're in an interesting environment and often there is something to see. There are always birds, birds of many type, and the bay itself is usually filled with boats coming and going. Off to the side of the pier (some years) is a platform, which sea lions seem to like and sometimes the kayakers like to check them out. But sometimes they get a little too close which is what happened to the young lady pictured. The bull sea lion let her know she wasn't welcome.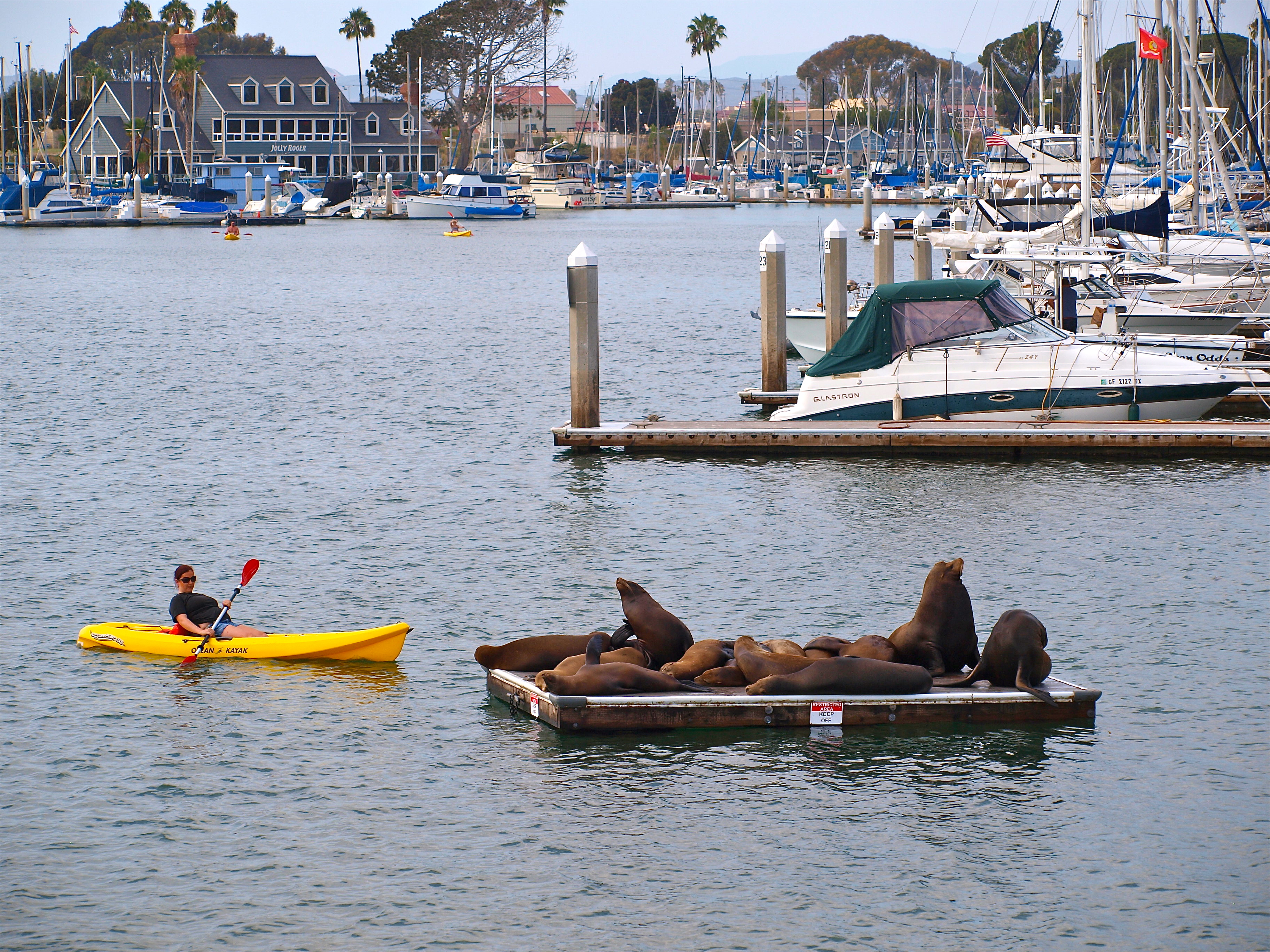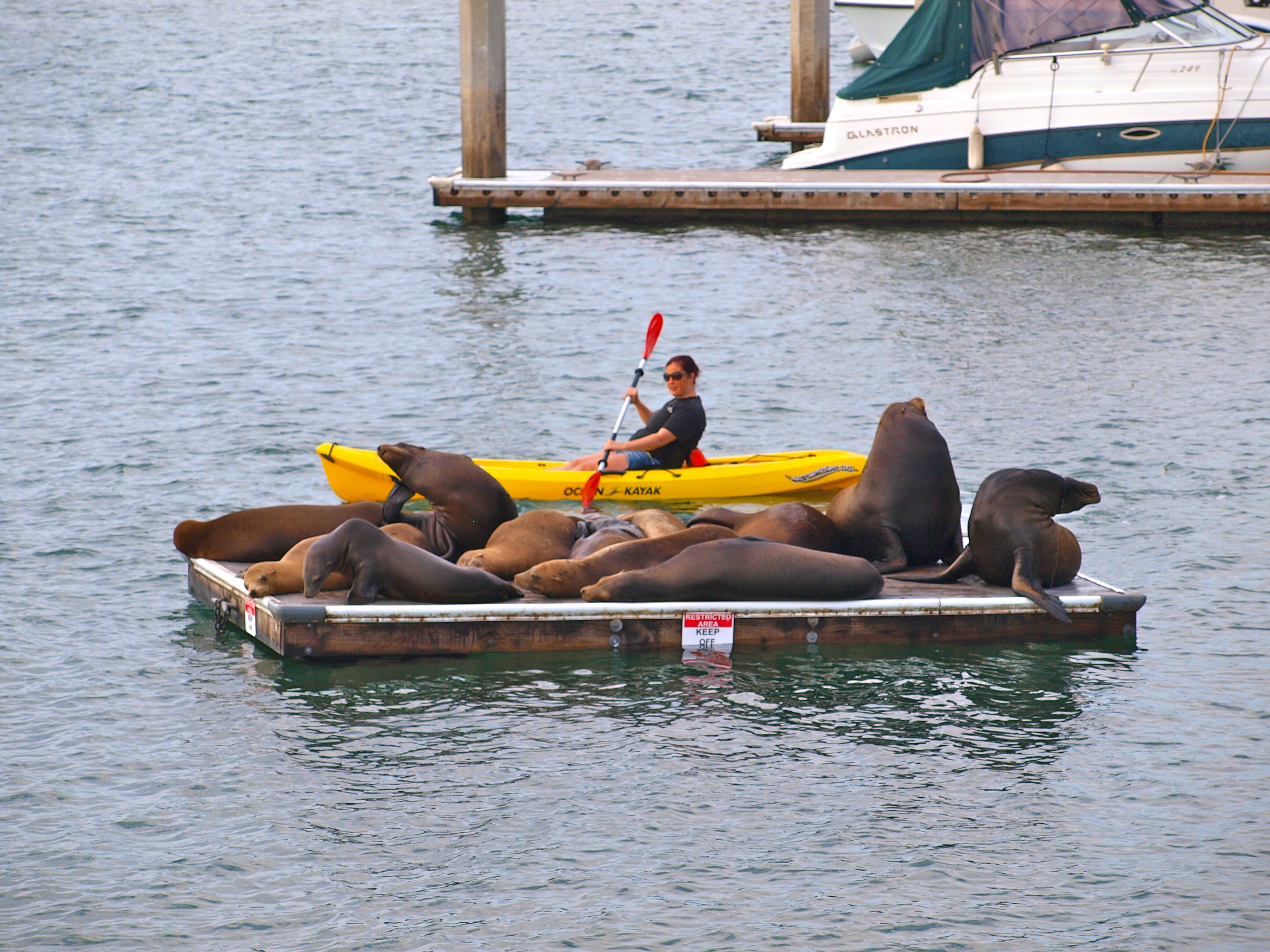 <*}}}}}}}}}>< — This is one of those piers where an angler can often "chum up" some fish. In particular, pieces of bread will often attract schools of opaleye when they are tossed into the inshore water near the rocky shoreline.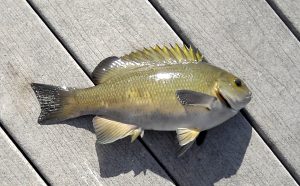 Opaleye
Once the opaleye are present, and excited, fish with sea worms, frozen peas, fresh mussels, or dough-ball bait. Chum made from cut up bait—anchovy/mackerel/squid, and tossed down by the pier pilings will often stir up mixed schools of jacksmelt, kelp bass, perch and sometimes mackerel. When fishing in this manner it is often best to simply tie a small hook onto the end of your line and fly line it into the area of your chum, keeping it near the top of the water or down two to three feet. Some anglers prefer to use a small bobber or float to help maintain the proper depth for the bait but it really isn't necessary.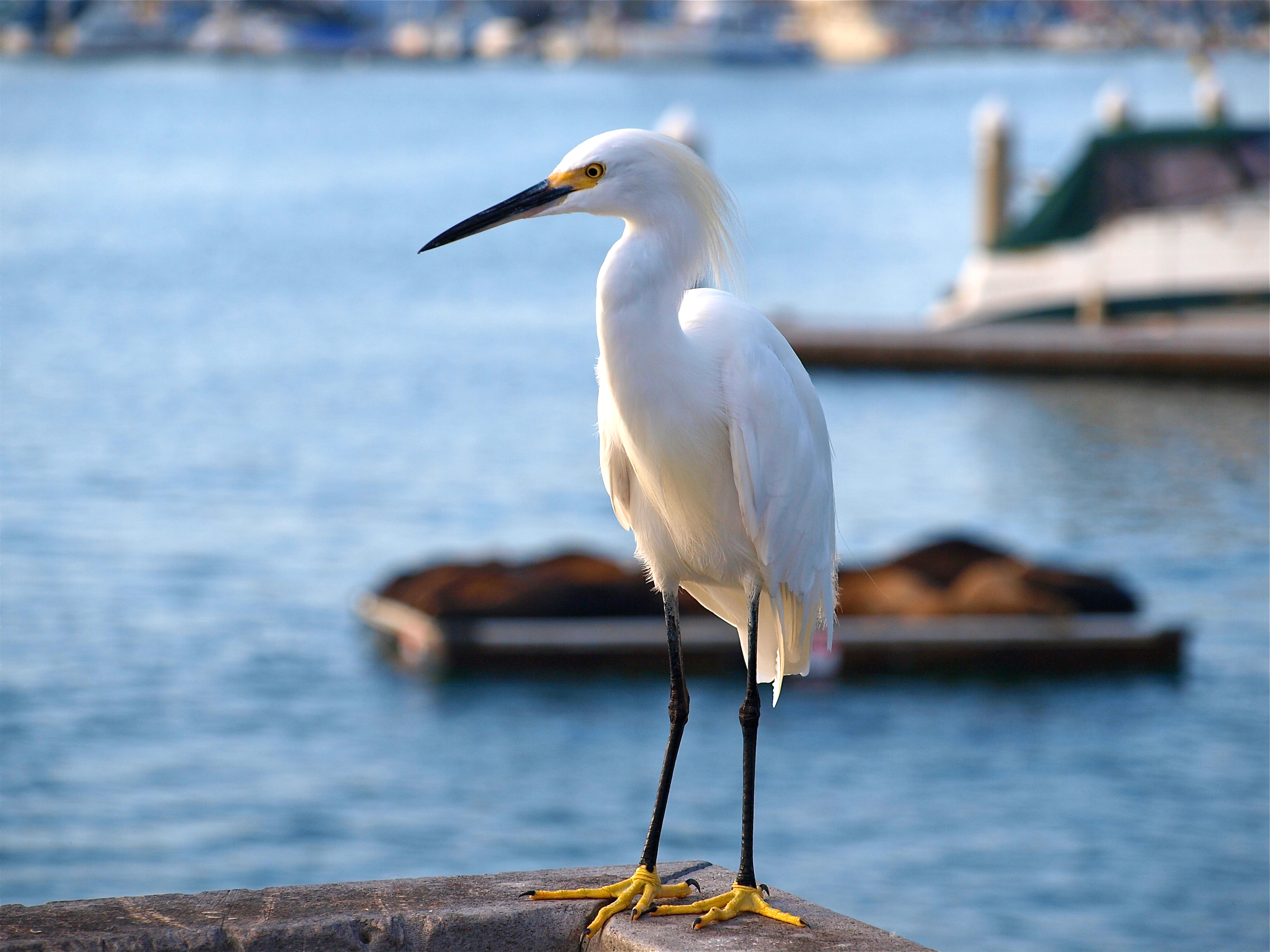 <*}}}}}}}}}>< — For a number of years this little pier was the meeting place for a declining number of veterans, survivors of the attack on Pearl Harbor that launched the United Sates into World War II. Each year the group met on December 7, had a bell ceremony, and scattered flowers into the bay commemorating comrades lost in the attack. But people age and as the years passed fewer and fewer of the veterans lived to see the ceremony. As a result, 2011 saw the last reunion at the pier by the veterans. Tis sad!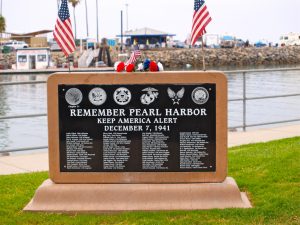 OCEANSIDE: Veterans gather for group's final Pearl Harbor remembrance
Gathering for the final time Wednesday morning on the banks of Oceanside Harbor to remember their fallen shipmates and comrades, the members of North County's Pearl Harbor Survivors Association marked the 70th anniversary of the attack by the Japanese.
Leaders of the national survivors association announced recently that the group, made up of America's most highly regarded veterans, will disband Dec. 31, making Wednesday the last time the association would hold official remembrances in Hawaii and throughout the U.S.
"People have forgotten what Pearl Harbor did. It woke us up," said Fallbrook resident Joe Walsh, who is the president and the last remaining original member of North County's Chapter 31. "We weren't prepared."
On a cold but sunny morning Wednesday, around 100 people crowded onto the small fishing pier off North Harbor Drive to shake hands with the six Pearl Harbor veterans, toss handfuls of rose petals onto the glassy water and listen as a young Marine Corps corporal played taps. Walsh said the North County chapter originally started with 30 members, swelling to 87 during the 1970s or '80s. Today, seven members remain.
Guests who attended Wednesday's ceremony included City Council members, former mayors and six survivors, all wearing the trademark blue windbreakers that stand out in a crowd. Former Oceanside councilman Rocky Chavez spoke briefly during the ceremony, wishing the veterans "fair winds and following seas." "It's sad to see that this is going to go away, but as long as we're here, we'll always remember about December 7 and what it means—that freedom is not free," said Chavez, a retired Marine Corps colonel.
"All of you blue-jacket guys look younger and younger every year," said retired Navy rear admiral and former Oceanside Mayor Richard Lyon.
"On that day, 2,403 perished, and the reason that the Pearl Harbor survivors (are here), and the reason that we're all today with them, is to memorialize those 2,403 shipmates and friends who died," Lyon added.
Across the country—and especially in Hawaii, where the solemn Pearl Harbor memorial floats above the sunken USS Arizona—Wednesday morning marked a profound moment in the history of the "Greatest Generation." the surprise attack, hundreds of Japanese fighter planes bombed the U.S. Navy base at Pearl Harbor, sinking 12 U.S. vessels that were in the harbor that morning, damaging several others and thrusting the nation into World War II.