Secondly, buy some bait for the hooks even though depending on the fish and the bite you may find bare hook often out fish baited hooks; be flexible.
Third is when you get to the pier look for the area where anglers are fishing. That tends to be the area where the schools of fish where will be found. Although you do not want to ever crowd into the space of an existing angler or fishing group, you can still fish close by. And, never be afraid to ask questions. Many, many experienced anglers (but not all) enjoy sharing their expertise with newbies. The key to this sharing of information is how you approach the people. Don't barge in and try to grab a spot or start casting over lines, be humble and willing to listen to advice.
Read the techniques mentioned for Pacific mackerel, queenfish, sardines, jacksmelt, topsmelt and walleye surfperch and concentrate on those fish.
Once the techniques of using a bait rig is understood, the catches should increase and other techniques can be learned.
• Special Recommendation — Since it is a long way out to the end of the pier, most regulars have constructed or bought pier carts that can hold their rods and reels, tackle box, bait bucket (be sure to bring one here) and any other miscellaneous materials they need.
• Special, Special Recommendation — Live bait, especially live anchovies are the best bait by far for most species and at one time live anchovies were available at bait shops on the pier. That's no longer the case, you will need to catch and keep your bait alive. Luckily there are often anchovies, sardines, or small smelt in the water and here there are often small queenfish or white croaker that can also make excellent bait for fish like halibut and sharays. Use bait rigs with small hooks to catch the bait; use a bucket equipped with an aerator to keep the bait alive.
Pier Etiquette
Be careful not to cross other lines when casting; it's one of the first rules learned by pier anglers. If it does happen by mistake apologize and try again. If you just can't seem to avoid crossing lines don't be afraid to ask for advice/help. Most (not all) anglers are willing to offer up some advice. (2) Do not touch anyone's fish or equipment without permission. (3) Watch your language. Swearing may be part of your normal language but it can offend many, especially those with youngsters. (4) If using a radio keep the volume down and choose non-offensive songs. You may prefer rap but many of the songs contain age-inappropriate language. The goal is to be a welcomed member of the "Pier Rat" fraternity so why not do whatever you can to be a good member in their eyes? (5) Try to keep the pier environment and waters around the pier as clean as possible. Dispose of trash in trash containers, make sure there are no lines or discarded tackle on the pier, clean up bait from the surface of piers as well as the railings, and don't throw pollutants (of any type) into the waters adjacent to the pier. Always try to leave the pier as clean or cleaner than when you arrived.
Pier Rules
Follow all state and local laws/regulations pertaining to fishing! Important state laws include size and number limitations for fish, species that are illegal to keep, and using only two rods at a time on public piers. Greater in depth information can be found at the CA Dept. Fish and Wildlife website:
https://wildlife.ca.gov/Fishing/Ocean/Regulations/Sport-Fishing. In particular, look at section 27.60 and sections 27.85-28.62. Local regulations are often posted on the piers.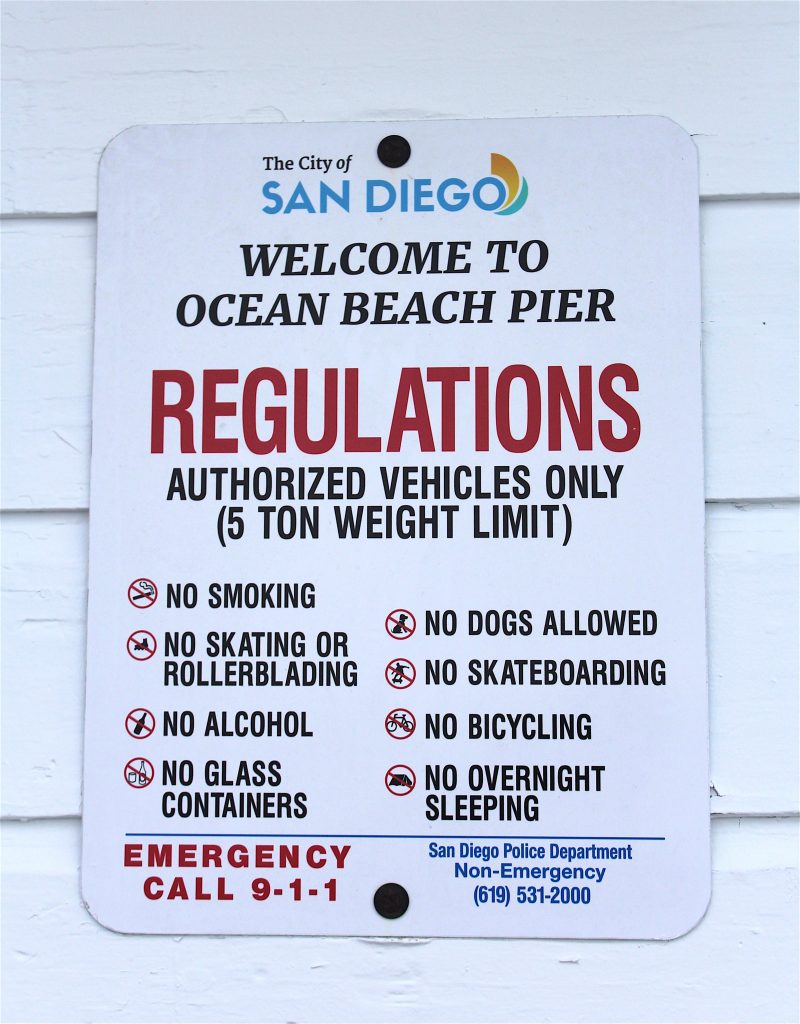 The Human Environment
Ocean Beach, or OB as the locals call it, has long had a reputation as the bohemian side of San Diego. In the '50s Ocean Beach was a typical SoCal beach town; by the '60s surfing became an important feature of the OB cultural life; by the '70s it had attracted its share of hippies and was called the "Haight-Ashbury" of San Diego; by the '80s it seemed to start a slow but steady decline. For a period of time the area, including the pier, had quite a bit of crime and some felt a night visit to the pier was unsafe unless in a large group. Today most feel the pier is safe to visit day or night (but be cautious). OB still seems an amalgamation of all those diverse influences and marches to a slightly different drummer than most of the other areas in San Diego. OB reflects, to a degree, a synthesis of NorCal hippie populism mixed with SoCal flip-flop casual and it's an interesting mix.
Ocean Beach Pier Facts
Hours: Open 24 hours a day.
Facilities: Restrooms, bait and tackle shop, fish cleaning stations, benches and lights. There is free 24-hour parking in a small parking lot near the foot of the pier. The Walking on Water Café (you might want to try the mango pancakes or the lobster tacos) sits out toward the end while next door is Fisher's Landing Bait, Snacks & Gifts.
Handicapped Facilities: Access to the pier is from the public parking lot and then up a number of stairs (which are steep) or by a block-long public ramp at the end of N. Niagara Ave. There is posted handicapped parking and restrooms. The surface is concrete and the railing is 42 inches high.
Location: 32.74861 N. Latitude, 117.25528 W. Longitude
How To Get There: From the north take I-5 to the Sea World Dr. exit and follow it until it turns off to Sunset Cliffs Blvd. From the south take I- 5 to the Nimitz Blvd. exit, then follow that road to Sunset Cliffs Blvd. Follow Sunset Cliffs Blvd. to Newport Ave., turn right and follow the road to the pier parking lot.
Management: City of San Diego, Parks and Recreation Department.