Needlefishes: Family Belonidae
Species: Strongylura exilis (Girard, 1854); from strongylura (meaning round tail) and exilis (meaning slender).
Alternate Names: Garfish, pike needlefish, billfish. Called agujón bravo de California or agujón Californiano in Mexico.
Identification: Jaws form a long, pointed needle-like beak with many sharp teeth; body very slender and rounded; dorsal and anal fins situated far back on the body. Greenish-blue above, silver on sides and belly, bluish band along side; teeth green.
Size: Length to 36 inches.
Range: Northern Chile, Gulf of California, Cabo San Lucas, southern Baja California, north along the Pacific coast to San Francisco, central California. Rarely seen north of Marina del Rey, southern California.
Habitat: Shallow waters to 328 feet; generally found near the surface. Common to San Diego Bay and Newport Harbor as well as the Long Beach-San Pedro Harbor.
Piers: Coronado Ferry Landing Pier, Pep Pepper Park Pier, Embarcadero Marina Pier, Oceanside Harbor Pier, Dana Harbor Pier, Seal Beach Pier, and Belmont Veteran's Memorial Pier.
Shoreline: Often seen by southern California shore fishermen, especially those fishing in bays.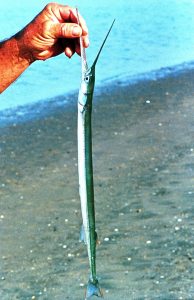 Boats: Rarely seen by boaters unless fishing in SoCal bays.
Bait and Tackle: Very difficult to hook. Usually landed when either using a live (small) smelt under a float or on lures like Krocodiles or Kastmasters. The same bobber/float rig baited with a strip of mackerel or squid will also sometimes attract them. They are often hooked on bait rigs like Sabikis but will often jump and roll on the leader resulting in an impossibly tangled up and generally no longer usable bait rig.
Food Value: Good, mild-flavored meat that is somewhat small flaked and soft in texture. The light blue or green colored flesh will turn white upon cooking. The fat content is low. Can be cooked with almost any method.
Comments: A good fighting little fish that will often jump when hooked. Often mistaken for barracuda when seen from a pier.
In Baja California needlefish are quite common but also one of the most disliked fish. One day I was fishing with the Pirate fleet out La Paz, we were fishing the famous Isla Espiritu Santos, and catching an interesting variety of fish—dorado, roosterfish, jack crevalle, weird-looking trumphetfish, and various varieties of cabrilla. We also caught needlefish, BIG needlefish, and almost invariably when the needlefish would show up the skipper would move.
Two days later we were fishing the East Cape area on a boat out of the Rancho Buena Vista Resort. We were concentrating on roosterfish, slowly trolling the inshore waters, and every so often would pick up a roosterfish or two. However, often when we would stop at a spot for the roosterfish we would see schools of needlefish headed toward the boat and the sardina bait. Hopefully a roosterfish would hit the bait before the needlefish but sometimes not and then the hated needlefish would be pulled aboard as quickly as possible (or simply jerked off the hook). They actually put up an interesting fight (including sometimes jumping out of the water) but their habit of twisting the line and their needle-sharp teeth were hated by the boatmen who were looking for larger game fish.