Surfperches/Seaperches: Family Embiotocidae
Species: Amphistichus koelzi (Hubbs, 1933); from the Greek words amphi (double) and stoichos (series, referring to the two rows of teeth in each jaw) and Walter Koelz, a U.S. ichthyologist. Family Embiotocidae, subfamily Amphistichinae.
Alternate Names: Surf perch, humpback perch, porgie (or porgee). Called majarra angaripola or perca in Mexico.
Identification: Their coloring is silvery, with olive-green mottling and bars on sides (bars usually broken and disconnected); most fins are reddish colored; caudal fin (tail) pinkish to deep red. Longest dorsal fin spines about equal to or slightly longer than longest dorsal soft-ray; pronounced notch between dorsal fin hard rays and soft rays. Lower edge of eye is below the upper lip. More disc-like shaped than in redtail surfperch.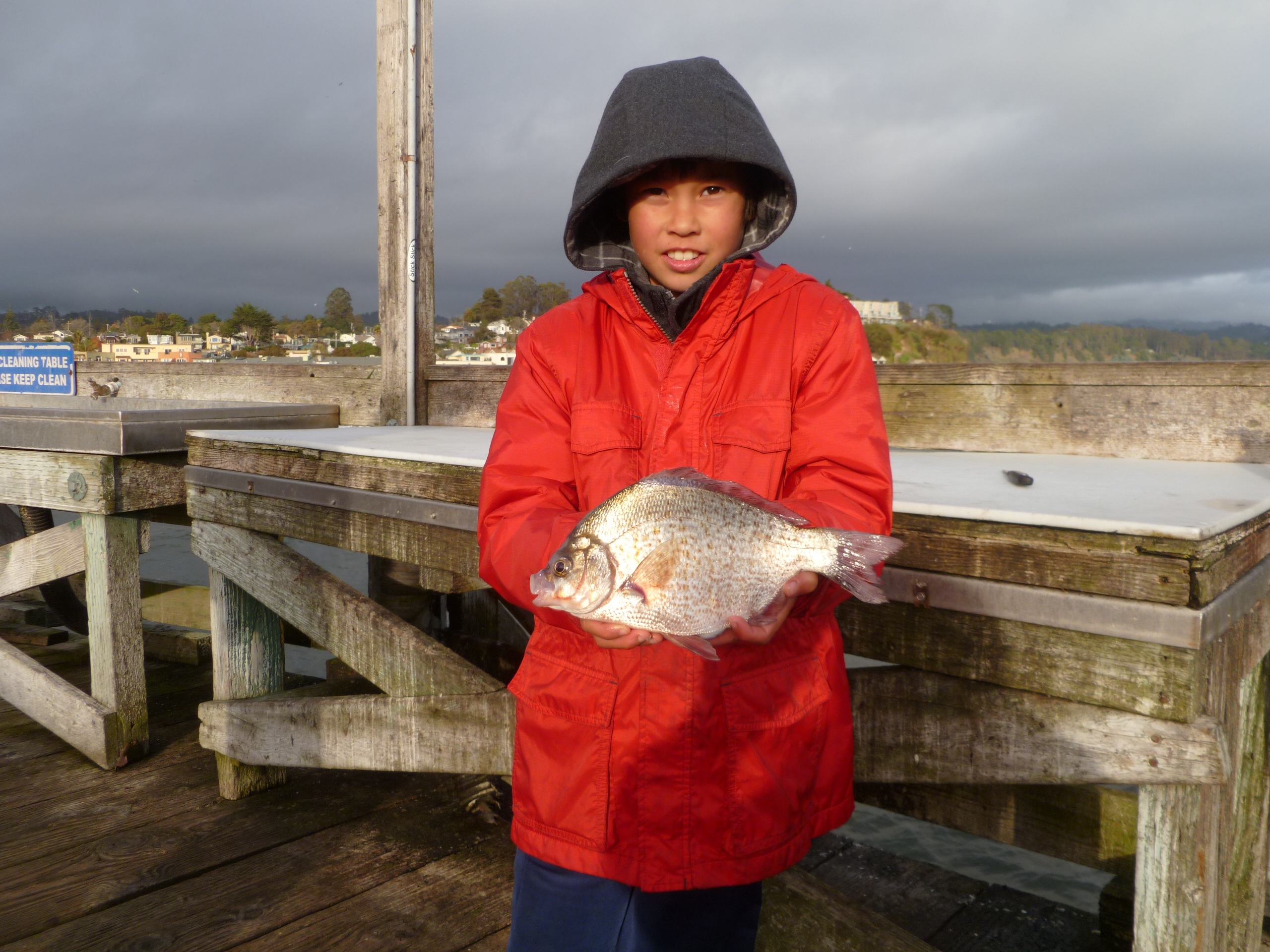 Size: To 12.8 inches; most caught from piers are 9-11 inches. The California record fish weighed 2 Lbs 0 oz and was taken at Marina Beach, Monterey Co. in 2019.
Range: Los Ojitos, central Baja California, Arroyo San Isidro, northern Baja California, to Shi Shi Beach, Cape Flattery, Washington. Common from northern Baja California, to about southern Oregon.
Habitat: Typically in surf zone, shallow-water, sandy-shore areas; recorded to a depth of 30 feet.
Piers: Calico surfperch are the number one surf area fish caught on central California piers north of Cayucos. In the Pismo Beach-Cayucos region, large numbers of both barred surfperch and calico surfperch are caught; more barred surfperch are landed but the calico surfperch will be slightly larger in size. Best bets: Avila Pier, Cayucos Pier, San Simeon Pier, Seacliff State Beach Pier, Capitola Wharf, Santa Cruz Wharf, Pacifica Pier and (surprisingly) Point Arena Pier.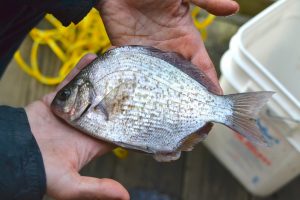 Shoreline: One of the main fish for sandy shore anglers in central California anglers.
Boats: An inshore species rarely taken by boaters.
Bait and Tackle: Bait and tackle is the same for all three of the large surfperch. Best bait is live sand crabs followed by live sea worms (pile worms or bloodworms); next would be fresh mussels, shrimp or clams. Tackle should be heavy enough to hold bottom in the surf area, and hooks should be size 6 to size 2 baited on a high/low leader.
Food Value: Mild-flavored flesh with small flakes and a soft texture. The flesh is white colored and low in fat content. Can be cooked in any manner but most commonly fried.
Comments: Calico surfperch will often school right around the inshore pilings; at times, fishing right under the pier, as close to these pilings as possible, will yield the largest fish. Calicos are sometimes mistaken for redtail surfperch.