Posted by garth
The IGFA guys are mostly big-fish boat guys. Most of the people I was talking with had…difficulties…tying a hi/lo rig! I did a lot of untangling, knot tying, bait cutting and casting instruction, as did the other fellas from UPSAC/PFIC.
Posted by garth
It was weird, after getting lost, driving around for a while, finding it, and getting into the flow of helping out, it was pretty much like a normal day at the pier, as in helping all the kids. I normally do that anyways, so it was cool. Elise had a good time, even though Rod put a little pressure on her, saying "My money's on you!" They gave out prizes by age group, and Elise, being in the 11 year old group, had a good shot, but could only come up with a smallish stingray. Lots of those guys came up. Elise wasted some time targeting what Rich figured was a mullet cruising the shore. We also spotted what might have been a corvina? It looked like a longish croaker, but had a forked tail. Rich thought it was a bonefish, based on my description.
I gotta hand it to the IFGA, the Yacht Club, and everyone else who organized it, that was some good stuff gathered together. Though next time they should back off and let UPSAC ID the fish! That's what we do, ya know. They had some truly good hot dogs (rare!) and some nice prizes for the raffle and age-group winners. Elise won a Maxima hat in the raffle, she was very pleased with that.
Bayside Park Pier extends out into the harbor across an inlet to a spot where a bunch of boats are moored, and has a big concrete wall on one side to keep any wave action away from the boats. The other side is open. It's about 150′ long or so and you can cover most of the area, all the way to the other side, off of it. There is some eel grass around it, but not too bad. The pier is a little hard to cast off of because the railings are set back from the edge of the pier, leaving some concrete to negotiate on one side, and big wooden beams on the boat side. There was tons of bait in the water (and one Baitfish on the pier). I asked Elise why she didn't Sabiki up some smelt, and she said "I thought it would be cheating, because no one else knew how to do it…" She's sweet. Well, all in all, I'd definitely do it again. I'm thinking we should get something together like this up in Oceanside. That's a big ol' pier. Hmmmm…
Date: September 3, 2003; To: PFIC Message Board; From: SDBrian; Subject: Bayside Park Pier
Fished from 11am till 4pm. Rigs using were Hi/Low with a squid strips and 1/2 'chovies. On the slider I was using mussels. Not much action going on. I caught one YFC on the 'chovie, and a small ray on the squid. But one of my friends caught a mullet on a half 'chovie. I have never seen that. I have only seen people catch mullet by sagging them. Weird.
Date: October 21, 2013; To: Ken Jones; From: mav; Subject: Tips on fishing Chula Vista Marina (J Street) Pier
 I feel bad that you didn't get anything there the last time… That pier is the closest to me so I do a lot of "fun" fishing there.. For a pier it's rather high on the difficulty level to fish but when you know what's there, structure wise, it improves your odds…
I usually fish plastics on this pier but if you have ghost shrimp you have a small chance at catching bone fish… With ghost shrimp, you want to fish the shallow sand flats facing west from the time frame from early morning till after noon.. During the fternoon it gets WAY too windy to fish… It's next to impossible to feel any bites..
The two artificial lures that I fish on this pier are plastics and a chrome 5/8 krocodile… I try to fish on an incoming or outgoing high tide. I only use the Krocodile in late spring when there are still a lot of baitfish in the water… For plastics, I use mainly motor oil or white grubs and swim baits resembling smelt or lizardfish… First spot facing east… You want to throw your bait behind that last boat closest to shore… There's a steep drop off there where predators like to hang out… I've caught Spotted Bay Bass, Halibut, and Corvina behind there… That's the honey hole.. Next you want to continue to walk up a little and throw parallel to the pier close to the ladder on the west side (along the wall)… I've CnRd some nice sized spotties there. When you reach the ladder cast out west in a fan pattern because there are rocks out there where spotties hold. Then switch sides and cast out east in a fan pattern behind the boats and work your way up to the last boat.. I usually get fish (spotties/ short halibut) next to the last boat… Next you can fish the main channel at the end.. I've heard of large halibut taken there with live bait but I've never caught anything, not even once… Again, work your way down on the west side casting parallel to the pier again… Again, large spotties here… Finally, when you get back to the sand flats on the west side near shore, throw a white grub or kroc… I've CnRd corvina on these flats and it's worth a try… That's my Chula Vista pier routine but it can vary a little.. During years when there are a lot of eel grass on the west side in low light conditions, you can "burn" a swim bait over the grass and get hit by medium small spotties… Mostly short but still fun…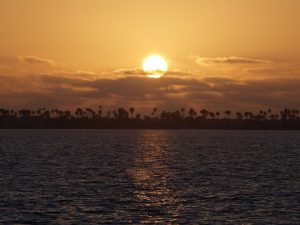 History Note. The name Chula Vista comes from chula, a Mexican word meaning 'pretty' or 'attractive,' and the Spanish word for 'view.' The town was laid out and named by the San Diego Land and Town Company in 1888.
The six-acre Bayside Park itself was dedicated on November 19, 1982. An expansion adding three additional acres of parkland and beach was completed in 1987.
Bayside Park Pier Facts
 Hours: The park is open from 6:30 A.M. till 10:30 P.M.
Facilities: The park features picnic areas, game tables, open space for play and biking and walking paths. Restrooms are near the entrance to the pier. Free parking is adjacent in the landscaped park parking lot. The Chula Vista RV Park is east of the park behind the fence that surrounds the park.
Handicapped Facilities: Handicapped parking (2 marked stalls) and restrooms. The pier surface is cement, the rail height is 43 inches and it is posted for handicapped.
 Location: X33.654959222951774 N. Latitude, 118.004150390625 W. Longitude
 How To Get There: From I-5 take the J Street off ramp and go west. Take J Street to Tidelands Ave., turn right. Take Tidelands to Sandpiper Way, turn right. Take Sandpiper to Bayside Parkway, turn left and follow the road to the park.
Management: City of Chula Vista.