Lefteye Flounders: Family Bothidae
Species: Citharichthys stigmaeus (Jordan & Gilbert); from the Greek word citharichthys (a fish that lies on its ribs or side) and the Latin word stigmaeus (speckled).
Alternate Names: Sanddab, soft flounder and Catalina sanddab. Called lenguado pecoso in Mexico.
Identification: Speckled sanddab are in the left-eye flounder family, have a distinct caudal fin, and scales covering the body. Their coloring is brown or tan with black spots throughout the pigmented side.
Size: To 7.6 inches; most caught from piers are 4-5 inches.
Range: Bahía Concepcion, Gulf of California, and along the Pacific Coast from Bahía Magdalena, southern Baja California, to Seward and Montague Island, northern Gulf of Alaska. Common from Gulf of California, and Southern Baja California, to Gulf of Alaska.
Habitat: Typically found in intertidal, shallow-water areas, primarily over sand or mud. Recorded to a depth of 1,200 feet.
Piers: Common at many California piers, primarily those north of Los Angeles; especially common at Central California piers. (I've taken them from 26 piers in California with Balboa being the southernmost pier and the Trinidad Pier north of Eureka being the most northern.) Best bets: Balboa Pier, Newport Pier, Redondo Beach Pier, Gaviota Pier, Avila Beach Pier, Port San Luis Pier, Cayucos Pier, San Simeon Pier, Monterey Wharf #2, Santa Cruz Wharf, Pacifica Pier, and the San Francisco Municipal Pier.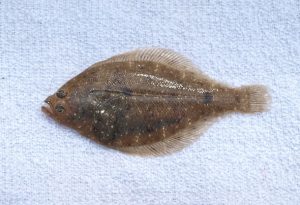 Shoreline: Rarely caught from shore.
Boats: Rarely taken from boats due to their small size.
Bait and Tackle: Very small hooks fished on the bottom with strips of squid, pieces of fish, or small pieces of worm will attract these fish.
Food Value: Generally too small to eat. Toss 'em back—gently.
Comments: As a rule, these are simply too small to try to catch. However, sometimes they seem to cover the bottom and are hard to keep off a small hook. One such occurrence happened to me on a visit to the Santa Cruz Wharf when both these fish and small octopus seemed to cover the bottom. Every cast yielded a sanddab or an octopus—or both. I finally had to move to another spot to try to catch more desirable species.
Apparently, speckled sanddabs were the most numerous of 104 different kinds of fish taken in a 5-year study of Santa Monica Bay. I'm not surprised! The first fish that shows up in my fishing records is a speckled sanddab taken from the Newport Pier in April of 1962. I have taken them from 26 California piers—from the Balboa Pier in the south to the Trinidad Pier in the far north. Included was every single oceanfront pier between Malibu and Pacifica. I've even taken them from the Mukilteo State Park Pier in northern Washington. It appears they only live to about 3 ½ years of age.
I enjoyed this quote regarding sanddabs at the Santa Cruz Wharf, which I am sure was in regard to speckled sanddab—"The wharf actors and adventures do not end with the pilings. Follow a piling down to its base and wait on the surface of the sandy bottom. In a moment you will see sea life appear in the form of flat discs of sand dabs. They will bump into each other like boardwalk bump cars and flutter into different directions."—SC Wharf Provides Good Diving Spot For Divers, Santa Cruz Sentinel, Dennis Johnson, December 15, 1971.