<*}}}}}}}}}>< — Publicity, but not necessarily the type of publicity the city desired was recorded in 2007 when the city announced plans to trap and kill the pigeons rooting on the pier.
City plans to kill pigeons as way of cleaning up ocean?
The July 19, 2007 online SignOnSanDiego.com ran an Associated Press report, with information from the Santa Maria Times, on the plans of the City of Pismo Beach to kill pigeons roosting on the Pismo Beach Pier.
It is stated that the pigeons will be trapped and killed by a pest-control firm, possibly as early as August, and then taken to Paso-Robles-based Zoo to You to be fed to the animals there. What means will be used to kill the pigeons is not specified.
Also not specified is what will be done with nestling pigeons, and whether or not any consideration is being given to preventing young fledgling pigeons who can fly, but who cannot feed themselves, from dying of starvation, if they are not all caught in the traps. The article generally makes light of the fate of the pigeons.
The stretch along this part of the beach has been closed due to high levels of bacteria. There appears to be no evidence linking high levels of bacteria in the water to the presence of pigeons, and there has been speculation that there may be a sewage leak, which is causing the problem. High concentrations of E Coli and other bacteria have been found in the water, causing health officials to post repeated warnings.
A new feeding ban ordinance was passed recently, and the plan was originally to wait until November to see whether or not the ban has led to the departure of the pigeons. The plan to hire the pest control firm for six months may cost $30,000.
—Sharon St. Joan, Best Friends Network, July 31, 2007
Pismo Beach Needs Hollywood Pill —The Birds Are Still Flocking To The Pier
The Pismo Beach Public Works Department hasn't seen any decrease in the plethora of pigeons frequenting Pismo Pier looking for free food since feeding birds at the pier became illegal last month. And on Tuesday, the City Council will again discuss the controversial option of hiring someone to trap and kill the birds, which are suspected of polluting ocean water near the pier.
Public Works Director Dennis Delzeit also said he and his crew of 30-plus employees haven't seen the individuals who are known to bring large bags of food, mostly bird seed, to the pier area to feed the birds.
City staff believes the "bulk feeders" are contributing to the huge pigeon population at the pier and in the pier parking lot at the end of Pomeroy Avenue as well as at the Cypress Street Bridge. "We've been on the lookout" for them, too, Delzeit said about the bulk feeders. "We don't know if they've stopped the feedings or if we're just not down there at the right time to see them."
Delzeit added the city has "no proof" that bulk feeders are contributing to an increase in the number of pigeons at the pier, but instead are basing the belief on expert opinions, like those of the People for the Ethical Treatment of Animals.
Representatives from the animal rights organization that's headquartered in Norfolk, Va., recently came to Pismo Beach to meet with Delzeit and the city manager after learning the City Council was considering a trap-and-kill program to deal with the pigeon problem. "PETA has confirmed that in other situations, pigeon populations will increase dramatically with just one bulk feeder," Delzeit said. "We think that's why we've seen such a huge increase in the number of pigeons at the pier (in the last few years)."
—April Charlton, Santa Maria Times, August 19, 2007
<*}}}}}}}}}>< —  My grandson Adam is a big fan of Sasquatch and gets a kick out of watching the search for the legendary creature on TV. Imagine my surprise to see that Sasquatch had been spotted surfing next to the Pismo Beach Pier. I told Adam we would have to head over to Pismo Beach if he wanted to spot Bigfoot. After reporting the sighting on PFIC one member wrote in "I have seen Santa surfing next to the Seal Beach Pier but never sasquatch. "The story was reported on About.com:
Surfing Sasquatch Takes Over My Fishing Spot
I've seen some funny stuff over the years, but when I went to fish off the Pismo Beach Pier in Calif. on Sunday and saw a surfing sasquatch, I had to share. Sure, it didn't have a whole lot to do with fishing, but it prevented me from doing much fishing on this day (which doesn't happen a whole heck of a lot, so I had to mention it). While attempting to haul in some surf perch on this Sunday, here's the scene that I ran into: This guy was catching waves like crazy, which not only was spooking my fish, but was raising all kinds of noise from the fans on the pier. In any case, it was fun to watch, and made me a believer in Satch thesurfing sasquatch.
—Brian Milne, About.com, September 30, 2013
http://www.sasquatchsurfshop.com/2013/09/29/bigfoot-surfing-in-pismo-beach/
<*}}}}}}}}}>< —  For the past two decades the number of great white sharks reported in waters from Pismo Beach to San Simeon has seemed to increase each year. Many are seen from the piers and a few have been hooked — and landed, even though such an act is illegal. It has put fear in the minds of some people and created various conflicts between surfers and fishermen.
Great white sharks seen in Pismo; surfers blast chumming online
Multiple sightings of great white sharks off the coast from Cayucos and Morro Bay to the Pismo Beach Pier have been reported this week, and some surfers say fishermen are creating a potential hazard in popular surf spots by chumming, or dumping fish remains off the pier to attract the sharks.
On Friday morning, fisherman Pete De la Torre of Santa Maria and his 12-year-old son, Eddie, who regularly fish off the Pismo Beach Pier, said they saw a 6-foot shark they believed to be a great white.
"It was dark and was kind of scoping out the area before it swam out to deeper waters," De la Torre said. "It was shocking to see one up close."
Grover Beach surfer Mike Schwartz, who regularly surfs in the area, said he was surfing off the north side of the Pismo Beach Pier on Tuesday evening when he saw a giant fish — about 6 to 7 feet — that appeared to be a shark.
When he got out, a girl visiting from Oklahoma showed him photos she had taken of the shark.
"I just spotted it swimming by," Schwartz said. "After looking at the photos, it wasn't a thresher, which have those elongated, pointy tails. It had the characteristics of a juvenile great white shark."
In online discussions, surfers recently have blamed fishermen for chummingto attract sharks off the Pismo Beach Pier.
Using the handle "inhabitoryresidue," Schwartz recently wrotein an online discussion: "I have witnessed fisherman discussing and rigging their rods expressly for catching 'the shark.' "
Schwartz continued, "Do you put a 2-inch circle hook through the middle of a 10-inch smelt to fish for halibut off the pier?? I think not. Whether these actions could lead to a surfer being attacked is debatable, but the fact that they are trying to catch 'the shark' is not."
An Instagram post by "dave.morgan_" added, "Maybe some police signage on jail time if anyone injured due to chumming. Could squeeze in something about hooking surfers as well."
In another Instagram post, Walt Cerny, who goes by "stillfrothy," urged the city of Pismo Beachto "please monitor that for all of our safety. Not cool!!!"
De la Torre, who fishes for perch, mackerel and smelt, said that he has witnessed some chumming taking place. But he said it was infrequent, and he hasn't heard of anyone fishing for great whites.
"I have seen people going for the threshers," De la Torre said. "Sometimes they use a big hook and rope and just haul the thing up."
Schwartz said that he heard of a catch that was likely a great white.
"I wasn't there, but I heard from a credible source — I won't give out any names — that some fishermen off the Pismo Beach Pier recently hauled in a shark that appeared to be a juvenile great white," Schwartz said. "They gaffed it and used a crab net to get it up on the pier."
Under state Department of Fish and Wildliferegulations, it's illegal to fish for great whites unless the catch was incidental; even then, fishermen are supposed to release them immediately.
"People aren't supposed to be targeting great whites for fishing," said Carrie Wilson, a Fish and Wildlife marine biologist.
Chumming is legal, Wilson said, but added that wardens do frequent the area to make sure illegal behavior isn't going on.
Wilson said people who see illegal fishing behavior are asked to report it to the department's Cal Tip line at 888-334-2258.
Despite the sightings and fears about the type of fishing taking place, some surfers say they won't be deterred from riding waves.
"There's so much food for sharks in the form of wildlife around here that some chumming probably won't make a difference to attracting sharks," said Tim Kelley, a Morro Bay resident who surfed by the Pismo Beach Pier on Friday. "I have noticed fewer surfers in the water of late, however, especially in Morro Bay, where the attack took place last year. I try to surf a little closer to other people."
—Nick Wilson, San Luis Obispo Tribune, July 8, 2016
After surfers and paragliders continued to report large shark sightings from Cayucos to Morro Bay, video evidence of a large shark swimming next to the Pismo Beach Pier surfaced on social media Saturday.
A video taken by Arroyo Grande teen Joel Bishop shows what appears to be a great white shark swimming just off the pier at the popular Pismo Beach.
Longtime local surfer Walt Cerny shared the video on his Instagram page. "More sightings in 3 last weeks than I can recall in the last 30 years," Cerny wrote.
Andy McKay, who owns Surfside Donuts in Pismo Beach with his wife Carin, shared another video taken Saturday that shows a similar sized shark that also appears to be a great white. McKay said he was walking with his wife shortly after 8 a.m. when they saw the shark a little more than three-quarters of the way out on the Pismo Beach Pier. He estimated the shark to be about 8 feet long.
A juvenile great white shark was caught and released early Saturday afternoon at the Pismo Beach Pier, according to Todd Tognazzini, patrol lieutenant at the California Department of Fish and Wildlife.
Fish and Wildlife received a call from the Pismo Beach Police Department at 12:50 p.m. Saturday with a report that a juvenile great white shark measuring about 4 1/2 feet long had been caught.
The shark had already been released by the time authorities from Fish and Wildlife arrived on scene, but they were able to review video footage of the capture to ensure that the shark had been properly released.
It is legal to catch great white sharks as long as the animal is both caught and released properly; the shark must be uninjured and released immediately, Tognazzini said.
This is the second reported incident of a great white shark being caught off the Pismo Beach Pier recently. Authorities are seeking information regarding a juvenile great white shark that was caught a couple weeks ago that may have been injured before being released, Tognazzini said.
According to information the department has received, the shark may have been caught using a gaff hook — a very large hook used to land fish. The hook can often harm fish, and it's illegal to use a gaff hook on fish that are illegal to catch.
It appears as though the great white shark was possibly gaffed and then brought onto the pier where photos were taken with it, Tognazzini said. It appears that the shark was not immediately released.
Authorities are offering a reward for information about the incident. Anyone with information is encouraged to call the anonymous CalTIPnumber at 888-334-2258.
—Travis Gibson and Danielle Ames, San Luis Obispo Tribune, July 10, 2016
Great white shark caught illegally on Pismo Beach Pier; Wardens seek man in photos
The California Department of Fish and Wildlife has released photos of a man they're seeking in connection with the illegal capture of a great white shark on the Pismo Beach Pier.
One of the photos shows the man posing with the juvenile shark while bending its snout upward for photos.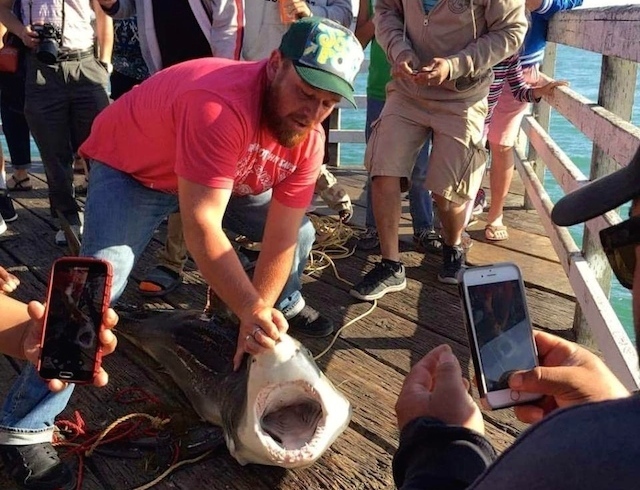 Great White Shark (Photo courtesy California Dept. Fish & Wildlife)
The shark, which was said to have been gaffed and hauled onto the pier, was caught June 22 at about 6 p.m. The DFW is asking for the public's help in identifying the man.
"You are not supposed to pose with the animals," DFW spokesman Todd Tognazzini told the San Luis Obispo Tribune.
Great white sharks have been protected in California waters since 1994. While it's not illegal to hook them, incidentally, anglers are supposed to release white sharks as soon as they've made an identification.
Anglers who are unsure whether they've hooked a white shark are supposed to cut the line. White sharks cannot be gaffed and landed.
The illegal capture of a white shark can result in a misdemeanor charge with a maximum fine of $1,000, or up to six months in jail.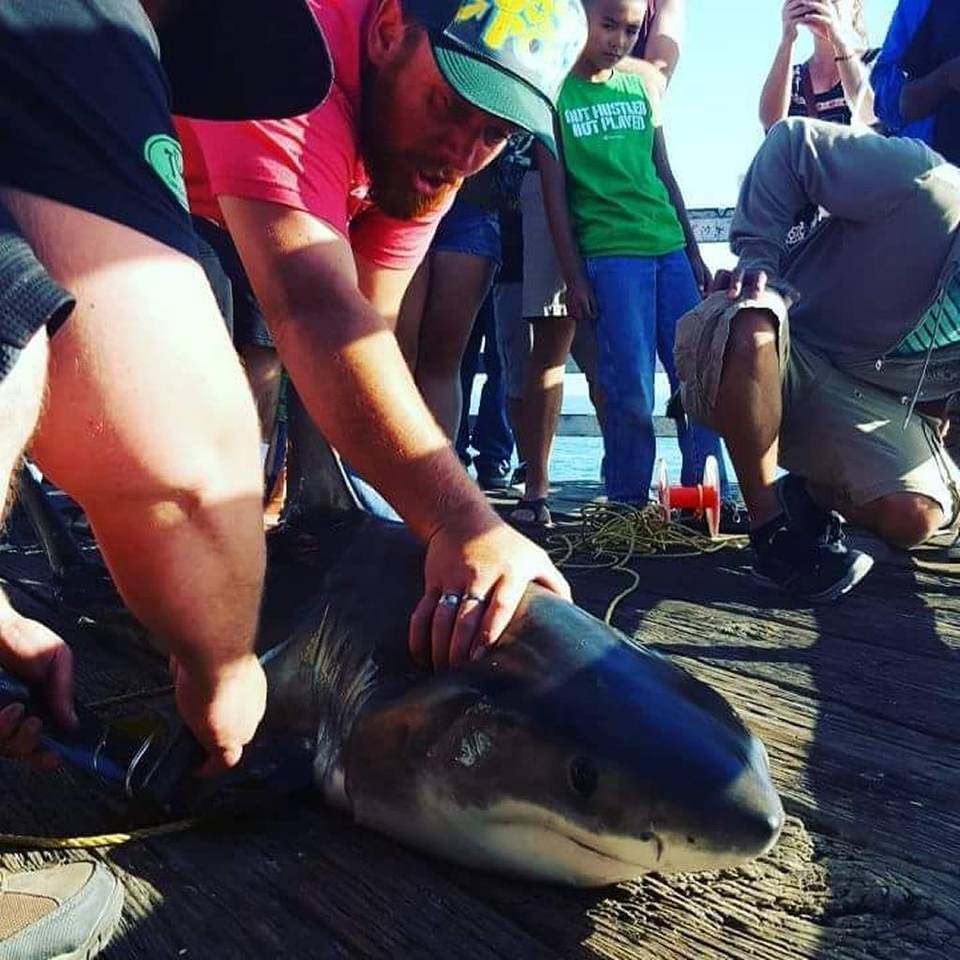 Great White Shark (Photo courtesy California Dept. Fish & Wildlife)
*Tuesday night update: The angler referred to in this story turned himself in after being identified by citizens who saw his photograph in the news.—Pete Thomas, Grind TV, July 12, 2016
History Note. The first local pier/wharf was built here in 1881. It was built by a group of San Francisco businessmen led by the Merherin brothers (from nearby Arroyo Grande). Their wharf was 1,600-foot-long, twenty-seven feet above the low water mark, and was primarily used as the shipping point for south county agriculture. The original cost was only $14,613 (compared to the more than one million dollars spent to restore the pier in the 1980s). Near the entrance to the wharf set two warehouses and a small, handcar track for moving cargo led out to the end of the wharf. In 1882 thirty-eight vessels loaded at the wharf and business would continue steady until the mid-1890s when the pier suffered damage.
Interestingly, it was not until ten years after the wharf was built, in 1891, that the town of Pismo officially came into existence (derived from the Chumash Indian word pismu, the naturally occurring asphaltum tar that seeps through fissures in the ground and sea floor). The town's character was changed forever when the Southern Pacific Railroad built a line from San Luis Obispo to Ellwood in Santa Barbara County. The railroad brought hoards of visitors to the beach and Pismo became a tourist destination. By 1895 hotels were flourishing and the "Tent City" with its $8.00 a week rates was built to handle the excess of tourists. Located where today's Boardwalk Plaza Mall sits, the "Tent City" would last until the late 1920s. 1895 also saw a dance pavilion built at the foot of the pier; it too would last until the 1920s. The influx of summer visitors caused the city fathers to change the town's name to Pismo Beach in 1904.