Manhattan Beach Pier — 11:30-12:30 — A few fish were being caught here, some mackerel and lizardfish. The snack shop worker said there had been an afternoon mackerel bite recently. Dumb divers were too close to the pier and I got into a long discussion with a local about why the city did not regulate the rules. Fish: two Pacific Mackerel, one Lizardfish, one Topsmelt, and one Speckled Sanddab
Posted by vmarquez
Were you to the right next to the sink wearing a Catalina shirt? That day we had a great white hit our bait at 11 a.m. and I fought it for 14 minutes.
Posted by csmerril
I wouldn't have posted that, if you knew it was a GW. It is the law to cut the line right away…
Posted by vmarquez
Its OK, it took 14 minutes to realize it was a great white plus we were with the biologist that works at Manhattan Beach and he wanted to make sure it was tagged before we released it. It wasn't but he cut the line anyways… plus by the way it's illegal to remove them from the water, not hook them. How are we supposed to stop them from eating our bait plus they fight like bat rays so you really can't tell till you get them close enough.
Posted by Ken Jones
I was by the sink and I think I did have the Catalina shirt on that day. I wound up arguing Manhattan Beach regulations with a regular for about 15 minutes. We began arguing about regulations to keep people away from the pier (based upon a diver who was diving by the pilings) and it evolved into an argument about surfers being by the pier and lifeguards asking anglers not to fish inshore when surfers were in that area. I'm going to try to find out if (1) there are regulations telling people to stay a certain distance from the pier and (2) if there are those regulations why the lifeguards do not enforce the rules. I was told by the guy that surfers rule, most lifeguards are also surfers, and the rules would never be enforced.
Posted by vmarquez
Yea, I heard you guys arguing; he's the biologist [from the Roundhouse Laboratory]. Manhattan is always full of swimmers. We been having good luck w/mackerel and thresher sharks and we get to see great whites swim by; they don't usually take the bait though.
Posted by Ken Jones
I don't think you did anything wrong. It often takes a while to figure out what you have on your line and in this case you did cut the line.
Posted by makairaa
There is a reef just off the end of the pier that used to hold bass, halibut, and occasionally yellowtail and [white] seabass. I just wouldn't dive there because of the number of great whites hooked there in the last two years.
Posted by Ken Jones
The divers and surfers don't seem too worried about the great whites.
Posted by makairaa
Most small white sharks are fish eaters, so the surfers don't have much to worry about, besides the fact we could spend hours debating the IQ of many surfers. Surfing next to a pier where you can see people fishing right where they are surfing does not sound too smart to me. The spearfisherman on the other hand are in the water with a bleeding fish where there are 6 to 8 foot dangerous sharks. It's their choice, but to me it looks like Darwin in action.
Posted by polishfromthedeep
I bring a gun occasionally when I dive for lobster, shoot fish all the time, and bleed them on my hip. I'm still here and enjoy a much more intimate experience with mother ocean than anybody ON the pier. You can call it Darwinism or whatever you want, but I call it totally worth it. Worth every bit of "danger."
Posted by makairaa
It's not the shooting of fish while diving that I have a problem with. Its doing it while diving at Manhattan Beach Pier where at least 8 great whites that I am aware of have been caught in the last two years. On a side note, be careful about taking lobsters while possessing a spear. Some wardens consider that a hooked object because of the barb and cite people for it.
This early PFIC thread, dating back to 2001, was started by one of the sites strongest members—Mola Joe.
Date: June 5, 2001; To: Pier Fishing in California Message Board; From: Mola Joe; Subject: White sharks from a pier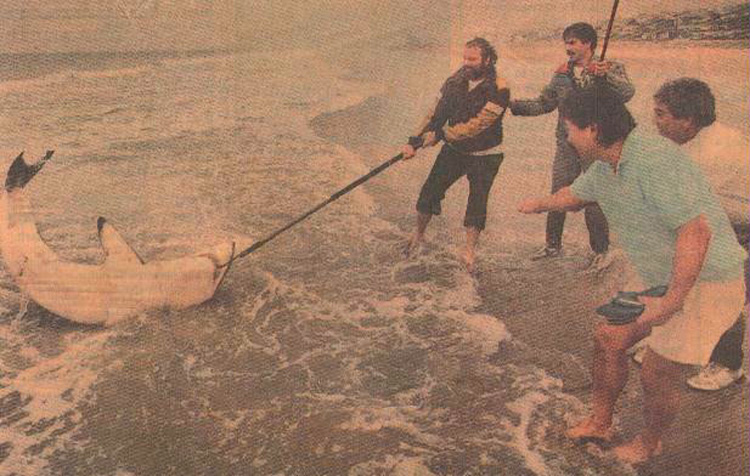 I ran across this photo from a few years back that ran on the front page of our local newspaper. If I remember right, two whites were landed out of several hookups over a two or three week period. The sharks were hooked off Manhattan Pier and then the angler moved to the beach to fight and land them. I believe both sharks were released alive. No official weight, but just babies by white shark standards, maybe 200 to 250 pounds. The following year I also remember seeing something about another landed from this pier also. I heard that after the first two, these guys started chumming for them but were told to stop by the local lifeguards. I kind of see their point. It would really hurt the local economy to have some yahoo from Kansas wading in the water and come out with only one leg. Anyway, things have now changed as white sharks are off limits to fishermen.
Posted by gotem
Our buddy the Great White Shark is still on the protected species list, and rightfully so, but don't let the status of them fool you, they ARE making a comeback. We will only see and hear of more 'accidental catches' and 'mistaken identity' attacks within this next generation. Count on it.
Posted by shorepounder
Hey MJ, I was there for one of the catches. I was riding my bike on the strand and decided to walk the Manhattan Pier. Well as I get close to the end there's this guy hooked up to something big. After I watched him for a while I thought he just had a big ray on and left the pier to continue my bike ride. As I was coming back around an hour or so later here's that guy still fighting his fish. So I decided to watch him fight it some more. After a while the fish starts heading towards the beach and goes to just behind the breakers. Then it surfaces and yikes it's a great white around 8 feet. The lifeguard started yelling at everyone to get out of the water and then everyone around started going nuts. Soon there were news crews, crowds, etc. The guy who caught it was a long time regular if I remember right and he looked familiar to me. Two total were landed and I heard the same thing about him being told not to chum anymore. The other thing is that I thought the second shark that was landed was tossed off the end of the pier… if so I doubt it lived after fighting that long, being beached, put into a lifeguard truck, and then dropped off a pier. I hope I'm wrong about it being dropped off the pier.

—Los Angeles Times, October 29, 1987
Posted by Snookie
I happened to save the article about the two great whites off Manhattan Beach Pier. It was Thursday, October 29, 1987. The names of the fishermen that caught them were: David Bird, who assembles telescopes part time and Mike Walker, an unemployed construction worker. One of the sharks was 6 feet, 10 inches and the other was 7 feet, 10 inches. The smaller one weighed about 150 pounds and the other weighed about 250 pounds. The fishermen were fishing for bonito and mackerel from the end of the pier to a point 350 yards offshore. The smaller shark took 90 minutes to land. The bigger shark took more than two hours and ended up a quarter mile down the beach. No, they did not release these two sharks. They sold them for $150 to a wholesale fish market in San Pedro after they cleaned both fish and found the stomachs empty. These two sharks were still just babies. Manhattan Beach seems to be an area of birthing for the great white as well as the tiger shark. Later there was a baby tiger shark caught in the surf by a surf fisherman. No, not a leopard shark—a TIGER Shark.
Posted by shorepounder
Hi Snookie, I guess this has happened a couple of times, because the one I saw caught and the other that I only heard about being caught later the same week occurred in the early 90's. I've always been told that whites use the Santa Monica Bay as a nursery… seems true. Snookie, do you have the dates of the article by any chance?
Posted by Snookie
Dear Shorepounder, The article was in the L.A. Times, October 29, 1987, part II, Page 12, titled, JAWS AND JAWS II PROVE BIG CATCH OF THE DAY AT MANHATTAN BEACH PIER by James Rainey, Times Staff Writer. I have collected shark info since the late 50's, but apparently I missed anything about the ones you know about. Ones the size of the ones mentioned are babies and still on a small fish diet. Their mamas are a different matter though.
Well, that meant I needed to search out the articles and found two from the Los Angeles Times, one from 1987 and one from 1992:
Hooking of 3 Great White Sharks Off Pier Stirs Debate — Some swimmers and lifeguards in Manhattan Beach are concerned that sportfishermen are luring creatures that might pose a threat to humans
The recent catch of three great white sharks off the Manhattan Beach Pier has hooked anglers and lifeguards in a debate about whether sportfishermen should be allowed to bait waters near popular swimming spots to attract the creatures.
Swimmers were unharmed in all three instances, and marine biologists say the sharks were probably too small to be considered a threat to humans. But some lifeguards and local swimmers believe that by dropping "chum," or cut-up fish, into the water to lure sharks to their hooks, fishermen may be endangering swimmers and surfers.
"We have never had a conflict between swimmers and sharks, but we don't want to create one," Los Angeles County Lifeguard Capt. Steve Saylors said Thursday.
The controversy was sparked on Aug. 31 when sportfisherman Mike Walker, a 39-year-old Manhattan Beach resident, hooked his first of two great white sharks in a week. Walker, who says he fishes shark for fun rather than for food, landed the shark on the sand just long enough to take its measurements—6 feet, 11 inches—before releasing the animal into the waves. "The lifeguard was fit to be tied," one of his fishing buddies, Richard Bird, 65, of Torrance, said Thursday. "He couldn't believe (Walker) turned him loose in the surf."
On Sept. 3, Walker landed his second great white shark—this one slightly more than seven feet long. This time, the lifeguard on duty prevented him from releasing it. Instead, he asked Walker to reel it onto the sand and load it onto the back of a lifeguard truck. The shark was then driven to the end of the pier and dumped into the ocean. It landed on its back and sank, prompting Walker and others to speculate that it had died.
Three days later, another fisherman caught a great white shark measuring 6 feet, 6 inches. The angler, whose identity was not known, killed the shark and cut it into filets, Manhattan Beach police said.
Los Angeles County lifeguards and some swimmers say they are particularly concerned because the fishermen use chum deliberately to attract sharks into the area.
"I think that's crazy in a public swimming area," said Catherine Yates, a 21-year-old swimmer. "It's just asking for trouble." Saylors said many lifeguards agree: "A lot of lifeguards would like to see it prevented for safety reasons, but we don't have any demonstrated problem we can deal with at this point."
After the first shark was captured, lifeguards asked Manhattan Beach police to check whether the city has any ordinances preventing fishermen from throwing chum near swimming areas. As it turns out, there is nothing in city or state law preventing the practice, according to law enforcement officials. "There's no law on the books saying you can't catch sharks," said Manhattan Beach Police Lt. John Hensley. "We can't do anything about it. It's not illegal."
Lifeguards have also sent police a memo asserting that they have some discretionary authority to regulate the activities of fishermen when it may endanger beach-goers. "On heavily crowded beach days, it is possible that a fish hooked off the pier will have to be landed on the pier or released (a safe distance from shore)," the memo said. "We feel this is in the best interest of marine life and the bathing public." Hensley said police plan to meet with lifeguards to discuss the matter.
Walker, meanwhile, remains puzzled by the controversy. The 39-year-old Manhattan Beach man said he's been fishing for shark off the pier for years, and that he doesn't understand why lifeguards are suddenly worried about it being a hazard. He insisted the sharks never go near the swimmers and denied throwing large amounts of bait into the water.
When he fishes for shark, he said, he usually cuts up one mackerel every hour, throwing the head and tail into the water and using a chunk of its meat as bait. "The sharks will be out here, but they're not going to go onshore," Walker said. Bird's 29-year-old son, David, agreed: "It's sportfishing and I don't think they should prevent us from fishing for them. What would solve this whole thing is if the lifeguards would study (sharks) and understand the ones we fish for are really harmless."
Marine biologists, who point out they know of no humans attacked by a great white shark in Santa Monica Bay, are more cautious in their assessment. Great whites under 10 feet in length eat bottom-feeding animals like small fish and crabs, they say. Only the adults, which can reach 21-feet in length and weigh 4,000 pounds, have been known to attack humans, they say. Most of the attacks have occurred in Northern California where seals and sea lions—the staple of adult great whites—breed.
"Small great whites) won't rush up to somebody and bite them and kill them," said Jeffrey Landesman, a marine biologist for Cabrillo Marine Museum in San Pedro. "But there is a chance that the small white shark might mistake a foot or something for a small fish. Although it has never happened before, you can't say it wouldn't happen."
Agreeing is David Ainley, a marine biologist at Point Reyes Bird Observatory in San Francisco who is organizing an international symposium on the animals to be held next March: "Baby white sharks don't pose a threat in that they feed on fish. Probably the people fishing are endangering white sharks more than they are (endangering) humans."