In fact, if the recent anti-pier fishing actions of the city are any indication it probably is too late (see Potpourri section).
<*}}}}}}}}}>< — I have never been able to verify the catch of a marlin from a California pier. However, at least one was hooked… for a few brief seconds.
Wicker Veen of Manhattan Beach got the thrill of a lifetime Thursday when he tied into a big marlin while fishing on the Manhattan Beach Pier. Veen was fishing for bonito with a live anchovy when the marlin grabbed his bait while chasing a school of mackerel. The marlin, feeling the hook, jumped into the air, snapped the line and the battle was over. —Salt Water Fishing, Los Angeles Times, October 29, 1965
<*}}}}}}}}}>< — Giant fish of another type were the giant (black) sea bass caught from the pier at one time. During the Roaring '20s (1920s) several of the BIG bass were taken from the pier. May 15, 1922 saw the capture of a 351-pound black (giant) sea bass at the pier by C.C. Campus. That pier-record fish was eclipsed the next year when an angler caught a 428-pound bass. It's also reported that a 600-pound bass was caught from the pier in 1929 but I haven't been able to get any more specifics.
<*}}}}}}}}}>< — 1959 has long been noted as one of the best years for pier fishing in Santa Monica Bay. Most piers saw some great action and the number of barracuda and big white sea bass that were caught was amazing. A few exotics also entered the picture as seen in the following.
 Pier Fishing Clan Gets In On Action
The Southland pier fishing clan is getting in on some of the hot action that has been enjoyed by the offshore fishermen the last several months. Santa Monica Bay piers report large takes of bonito and mackerel, with log barracuda beginning to get active. There has also been a few large white sea bass and several small yellowtail landed by lucky anglers.
But the real eye opening catch for the year was made by 14-year-old Bill Lapes of Manhattan Beach. Fishing his hometown pier, he caught a 6 Lb. 2 oz. skipjack. It's believed to be the first of the species taken in that area in more than 20 years. —Art Rogers, Los Angeles Times, May 15, 1959
<*}}}}}}}}}>< — Although not taken on the pier, a fish captured in the surf shows the strange species that occasionally show up in local waters. From the F&G—"A bigscale pomfret (Taractes longipinnis) was picked up in the surf at Manhattan Beach on October 25, 1958. Length was 25 ½ inches and weight was 24 pounds."
<*}}}}}}}}}>< — Sending sand to Hawaii? Manhattan Beach is built on sand and in the early day that meant troublesome sand dunes. To alleviate the problem much of the sand was loaded onto railroad cars and sent away. Some was used in the construction of the Los Angeles Memorial Coliseum but much more was sent to Waikiki Beach in Hawaii to replenish its beach. The sand would be transported to San Pedro by the Santa Fe trains and then loaded on barges before beginning their Pacific journey to that famous beach.
<*}}}}}}}}}>< — Home to the Beach Boys, surfing competitions, and year-round beach volleyball (courts line the sand), the beach area is almost always crowded, especially during summer days and any warm-weather weekend. Summer weekends, especially those seeing warm weather, are more than crowded. It's wall-to-wall cars and the parking for the pier goers disappears early in the day. Come early or late. When the world's oldest and most prestigious volleyball tournament—the Manhattan Beach Open—aka "The Wimbledon of Beach Volleyball" is in town in August, don't even bother with the early or late rule; just don't go.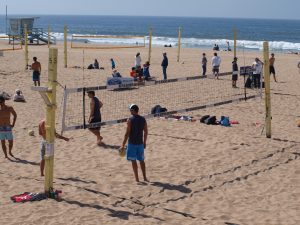 BTW, it should be noted that the pier itself apparently was a favorite fishing venue for Dennis Wilson and Mike Love of the Beach Boys when they were mere mortals living in nearby Hawthorne. It's just too bad that the surfing institutions today seem to be anti-fishing when it comes to piers.
<*}}}}}}}}}>< — The pier has often been seen on screen including the movie version of Starsky and Hutch (2204) and the TV series Veronica Mars and O.C. In the film Tequila Sunrise (1988), Mel Gibson's character lives on the beach near the pier. It's ironic that a film named after a drink would be filmed at the home of another famous drink—the "Harvey Wallbanger"—that was invented in Manhattan Beach in 1952.
<*}}}}}}}}}>< — In October of 2013 on one of my trips to Los Angeles I visited and fished the Manhattan Beach Pier. Soon after, I reported my visit on PFIC and was surprised that another PFIC angler had been at the pier and seen me that day. Amidst the post and reply (see below) it turned out that he had hooked a great white shark shortly before my arrival. It stimulated an interesting discussion and brought back memories of an earlier thread and articles about the great whites at Manhattan Beach.
Manhattan Beach and Great Whites.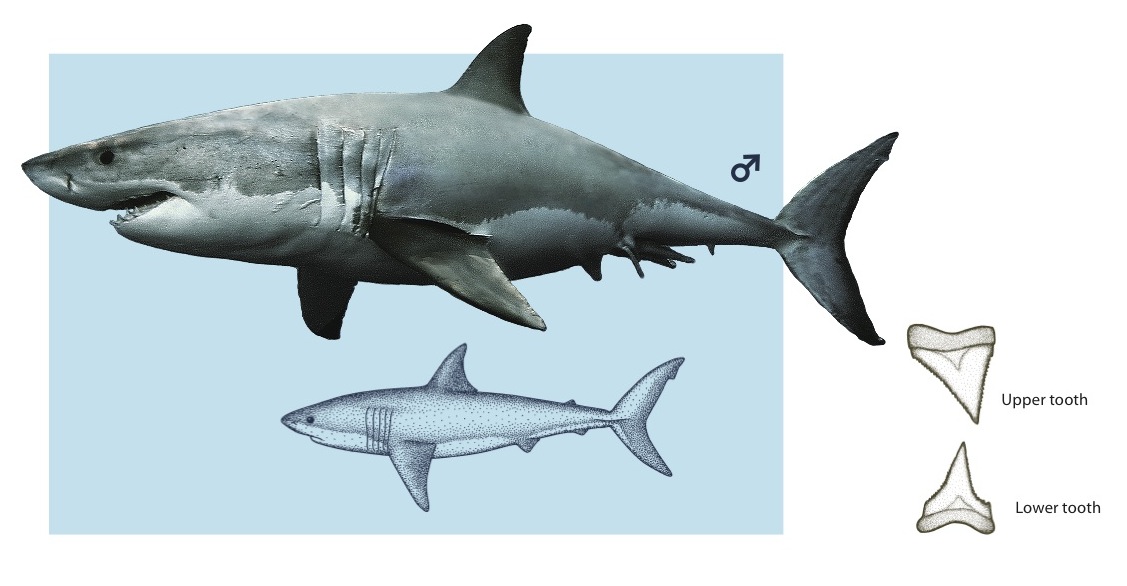 Date: October 21, 2013; To: Pier Fishing in California Message Board; From: Ken Jones; Subject: Manhattan Beach Pier Report — 10/16/2013
Manhattan Beach Pier — 11:30-12:30 — A few fish were being caught here, some mackerel and lizardfish. The snack shop worker said there had been an afternoon mackerel bite recently. Dumb divers were too close to the pier and I got into a long discussion with a local about why the city did not regulate the rules. Fish: two Pacific Mackerel, one Lizardfish, one Topsmelt, and one Speckled Sanddab
Posted by vmarquez
Were you to the right next to the sink wearing a Catalina shirt? That day we had a great white hit our bait at 11 a.m. and I fought it for 14 minutes.
Posted by csmerril
I wouldn't have posted that, if you knew it was a GW. It is the law to cut the line right away…
Posted by vmarquez
Its OK, it took 14 minutes to realize it was a great white plus we were with the biologist that works at Manhattan Beach and he wanted to make sure it was tagged before we released it. It wasn't but he cut the line anyways… plus by the way it's illegal to remove them from the water, not hook them. How are we supposed to stop them from eating our bait plus they fight like bat rays so you really can't tell till you get them close enough.
Posted by Ken Jones
I was by the sink and I think I did have the Catalina shirt on that day. I wound up arguing Manhattan Beach regulations with a regular for about 15 minutes. We began arguing about regulations to keep people away from the pier (based upon a diver who was diving by the pilings) and it evolved into an argument about surfers being by the pier and lifeguards asking anglers not to fish inshore when surfers were in that area. I'm going to try to find out if (1) there are regulations telling people to stay a certain distance from the pier and (2) if there are those regulations why the lifeguards do not enforce the rules. I was told by the guy that surfers rule, most lifeguards are also surfers, and the rules would never be enforced.
Posted by vmarquez
Yea, I heard you guys arguing; he's the biologist [from the Roundhouse Laboratory]. Manhattan is always full of swimmers. We been having good luck w/mackerel and thresher sharks and we get to see great whites swim by; they don't usually take the bait though.
Posted by Ken Jones
I don't think you did anything wrong. It often takes a while to figure out what you have on your line and in this case you did cut the line.
Posted by makairaa
There is a reef just off the end of the pier that used to hold bass, halibut, and occasionally yellowtail and [white] seabass. I just wouldn't dive there because of the number of great whites hooked there in the last two years.
Posted by Ken Jones
The divers and surfers don't seem too worried about the great whites.
Posted by makairaa
Most small white sharks are fish eaters, so the surfers don't have much to worry about, besides the fact we could spend hours debating the IQ of many surfers. Surfing next to a pier where you can see people fishing right where they are surfing does not sound too smart to me. The spearfisherman on the other hand are in the water with a bleeding fish where there are 6 to 8 foot dangerous sharks. It's their choice, but to me it looks like Darwin in action.
Posted by polishfromthedeep
I bring a gun occasionally when I dive for lobster, shoot fish all the time, and bleed them on my hip. I'm still here and enjoy a much more intimate experience with mother ocean than anybody ON the pier. You can call it Darwinism or whatever you want, but I call it totally worth it. Worth every bit of "danger."
Posted by makairaa
It's not the shooting of fish while diving that I have a problem with. Its doing it while diving at Manhattan Beach Pier where at least 8 great whites that I am aware of have been caught in the last two years. On a side note, be careful about taking lobsters while possessing a spear. Some wardens consider that a hooked object because of the barb and cite people for it.
This early PFIC thread, dating back to 2001, was started by one of the sites strongest members—Mola Joe.
Date: June 5, 2001; To: Pier Fishing in California Message Board; From: Mola Joe; Subject: White sharks from a pier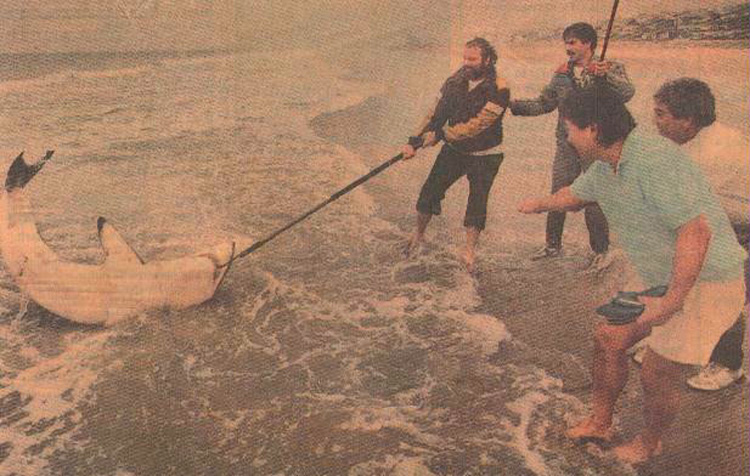 I ran across this photo from a few years back that ran on the front page of our local newspaper. If I remember right, two whites were landed out of several hookups over a two or three week period. The sharks were hooked off Manhattan Pier and then the angler moved to the beach to fight and land them. I believe both sharks were released alive. No official weight, but just babies by white shark standards, maybe 200 to 250 pounds. The following year I also remember seeing something about another landed from this pier also. I heard that after the first two, these guys started chumming for them but were told to stop by the local lifeguards. I kind of see their point. It would really hurt the local economy to have some yahoo from Kansas wading in the water and come out with only one leg. Anyway, things have now changed as white sharks are off limits to fishermen.
Posted by gotem
Our buddy the Great White Shark is still on the protected species list, and rightfully so, but don't let the status of them fool you, they ARE making a comeback. We will only see and hear of more 'accidental catches' and 'mistaken identity' attacks within this next generation. Count on it.
Posted by shorepounder
Hey MJ, I was there for one of the catches. I was riding my bike on the strand and decided to walk the Manhattan Pier. Well as I get close to the end there's this guy hooked up to something big. After I watched him for a while I thought he just had a big ray on and left the pier to continue my bike ride. As I was coming back around an hour or so later here's that guy still fighting his fish. So I decided to watch him fight it some more. After a while the fish starts heading towards the beach and goes to just behind the breakers. Then it surfaces and yikes it's a great white around 8 feet. The lifeguard started yelling at everyone to get out of the water and then everyone around started going nuts. Soon there were news crews, crowds, etc. The guy who caught it was a long time regular if I remember right and he looked familiar to me. Two total were landed and I heard the same thing about him being told not to chum anymore. The other thing is that I thought the second shark that was landed was tossed off the end of the pier… if so I doubt it lived after fighting that long, being beached, put into a lifeguard truck, and then dropped off a pier. I hope I'm wrong about it being dropped off the pier.