<*}}}}}}}}}>< — As an ex-teacher, it's always a pleasure to see students studying. Thus I was delighted to see a young lady sitting and studying while fishing during a visit to the pier in 2013. She obviously knew how to fish but also was studiously concentrating on her study. I finally asked what she was studying and it turned out she was a student at University of California San Diego, the same school where my son, daughter-in-law, and brother had graduated. She was studying for a biochemistry test while also trying to enjoy the warm October weather. Her name was Annika and when I asked where she had learned to fish she said she had accompanied her father on his trips to the Hermosa Beach Pier. She was a pleasant young lady and when I caught a nice-sized spotfin croaker, I asked her if she ate the fish she caught. She said she did and I offered her the fish for her dinner. I was just starting a ten-day trip to the southland and had no way to keep the fish fresh until returning home. I figured if she were like many college students she would appreciate something different for dinner, especially if it was free. She graciously accepted the fish and I offered her good luck on her exam.
<*}}}}}}}}}>< — Although this fish wasn't caught on the pier it was caught on Mission Beach which means it was very close.
Boy Catches Rare Fish, Experts Say
La Jolla, Marine experts say a 7-year-old boy from Santee caught a black barracudina, one of the world's rarest fish. The only other black barracudina was a smaller one caught in 1960 off the coast of San Clemente Island, according to Dr. Carl Hubbs of the Scripps Institution of Oceanography. "Look, Mom," Richard Baker said a month ago at Mission Beach. "I caught a fish with my hands." Hibbs said the wiggling relative of the barracuda has since been preserved in formaldehyde. He gave Richard a book about fish in return for the foot-long fish with a long snout and large teetch.
—Los Angeles Times, October 23, 1973
<*}}}}}}}}}>< — Some things have changed, some haven't.
Pacific Beach — Located on the coast four miles south of La Jolla and less than a mile north of Mission Bay. It was founded in 1887 as an educational center and home of the "San Diego College of Letters." There are no buyer sheds or other special facilities but it has been a receiving point for San Diego [fishery] buyers and pickup trucks. In the past 22 years, landings have been recorded for only four years—1942, 1948, 1949, and 1950. The peak was 1942 with 39,000 pounds. The average has been 10,000 pounds per year. Nearly all of the poundage has been clams. From April through July of 1942 the landings were yellowtail, barracuda, and shark. Sport fishing is chiefly from Crystal Pier.
—W.L. Scofield, California Fishing Ports, Fish Bulletin No. 96, State of California Department of Fish and Game, Marine Fisheries Branch, 1954
<*}}}}}}}}}>< — It's a totally different pier—and state, but the Crystal Pier in North Carolina is somewhat famous for yielding up that state's record blue shark. The huge fish weighed 478 lb. 0 oz. and was taken back in 1961 by Bobby Kentrolis. I'm not too sure if a blue shark has ever been taken from San Diego's Crystal Pier although they're certainly in the area and many California piers have seen the capture of blue sharks over the years.
<*}}}}}}}}}>< — It's always nice to hear about kid's fishing derbies.
Crystal Pier Kid's Classic a big success
Pier fishing is all about adventures and good fish stories, and that's exactly what the inaugural Crystal Pier Kid's Classic provided yesterday for about 300 young anglers.
"It's a beautiful day and a wonderful event for these kids," said organizer Ron Baker, captain of the Point Loma sportboat, who used a boatload of donations and a $5,000 grant from the San Diego County Fish and Wildlife Advisory Commission to put on the big day. He was assisted by his wife, Deena, captain Tim Green of the Premier and Larry Coffeen. The Lakeside Optimist Club loaned out more than 100 rods and reels.
Morgan Krueger, 5, won the grand prize with a 2-pound, 4-ounce spotfin croaker that she hooked on a Carolina-rigged mussel.
Chris Lee caught and released 11 fish, best total of the day. Ian Tinney took the 8-11 age division with an 11-ounce barred surfperch when a school of surfperch made a mid-morning run at the Uni Goop chum buckets dangling over the side of the pier and in the water. Last week, fishing on his father Ron's boat, Tinney landed a 23-pound, 7-ounce halibut that, if approved, will be an IGFA small fry world record.
Sam Kaye, 4, took the 7-and-under division with a barred surfperch.
Best fish story went to Ezekial Cruz, 12, whose rod and reel combo was pulled over the side of the pier by a huge bat ray as Cruz was tending to his other rod and trying to catch a barred surfperch. A boater passing by saw the bat ray pulling the rod and fetched the rod out of the water. The boater reeled in the bat ray, released it and then drove over to the pier and returned Cruz's rod to him by hooking it to a line that was reeled up to the top of the pier.
It was a day when San Diego's unique pier, with overnight cottages that feature bedrooms with surf breaking underneath the wood planks, was closed to the public. Owner Jim Bostian closed the pier to the public and those staying in the cottages. Including parents, there were more than 400 folks at the event.
Since the late 1990s, Baker successfully and graciously has hosted more than 35 of these kid's events, holding them on barges, lakes and piers. He said he'll return to the pier next year if he gets the same sponsorship and grant money.
"I'll apply again for the grant," he said. "The money went for all kinds of things like ice, groceries, prizes, lots of stuff. We had a lot of great donations. Randy Jones brought us 800 Padres items. And Luc Ofield at Angler's Choice sold me a lot of stuff at cost and saved me a lot of traveling."
—Ed Zieralski, San Diego Union-Tribune, August 17, 2008
<*}}}}}}}}}>< — Much to the chagrin of local anglers, the South La Jolla State Marine Reserve was established in 2012 just a short distance to the north of the pier. The reserve starts at Diamond Street and runs along the shoreline north to Palomar Avenue; it       extends three miles out into the Pacific. The reserve prohibits the "take of all living marine resources" which mean it effectively shuts down not only all fishing but also the capture of invertebrates such as sand crabs, mussels or ghost shrimp from the shore. The hope is that the reserve will produce an increase in the number fish (and other species). If it works and does increase the number of fish one group that might see a benefit would be the anglers on Crystal Pier.
<*}}}}}}}}}>< — One of the favorite places for locals to eat, and all you need on is a bathing suit, is Kono's that sits almost at the front door of the pier. If you're hungry for a BIG breakfast or lunch it's the place to go — but don't be surprised if there is a line of people in front of you.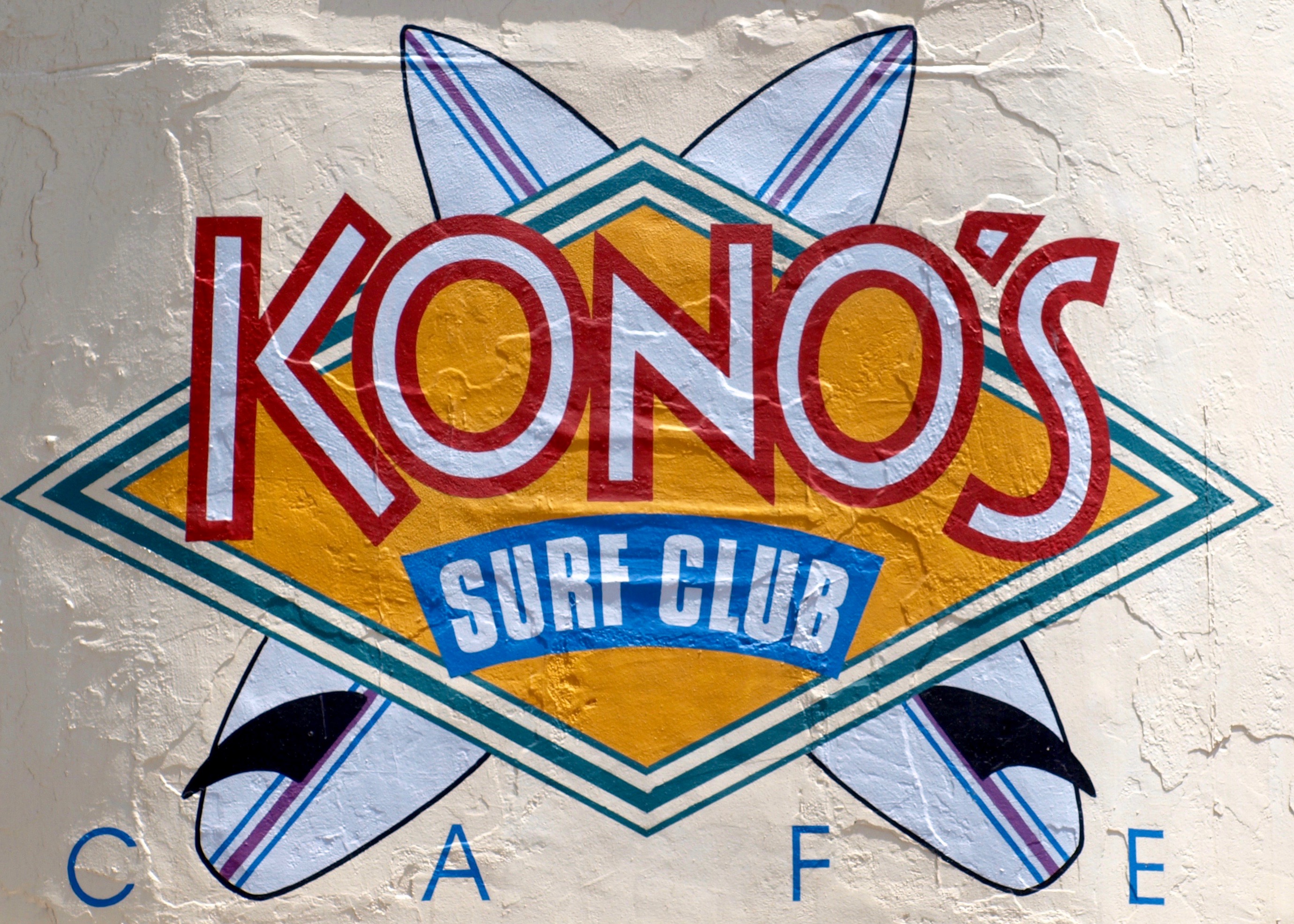 <*}}}}}}}}}>< — My son Mike used to live about six blocks from the pier. Herein a montage of pictures he has taken.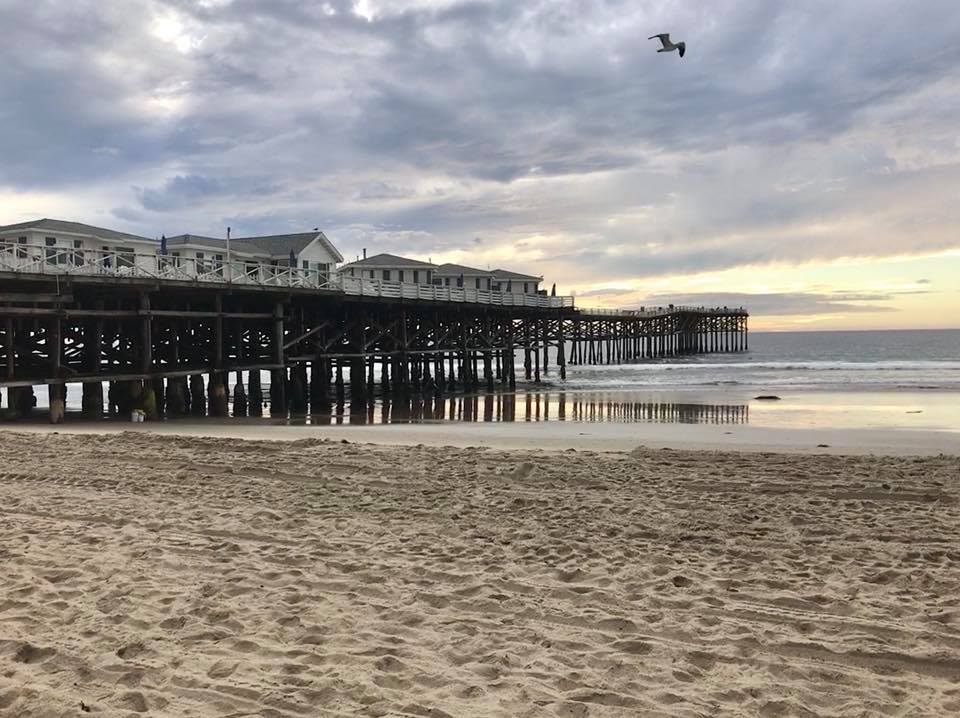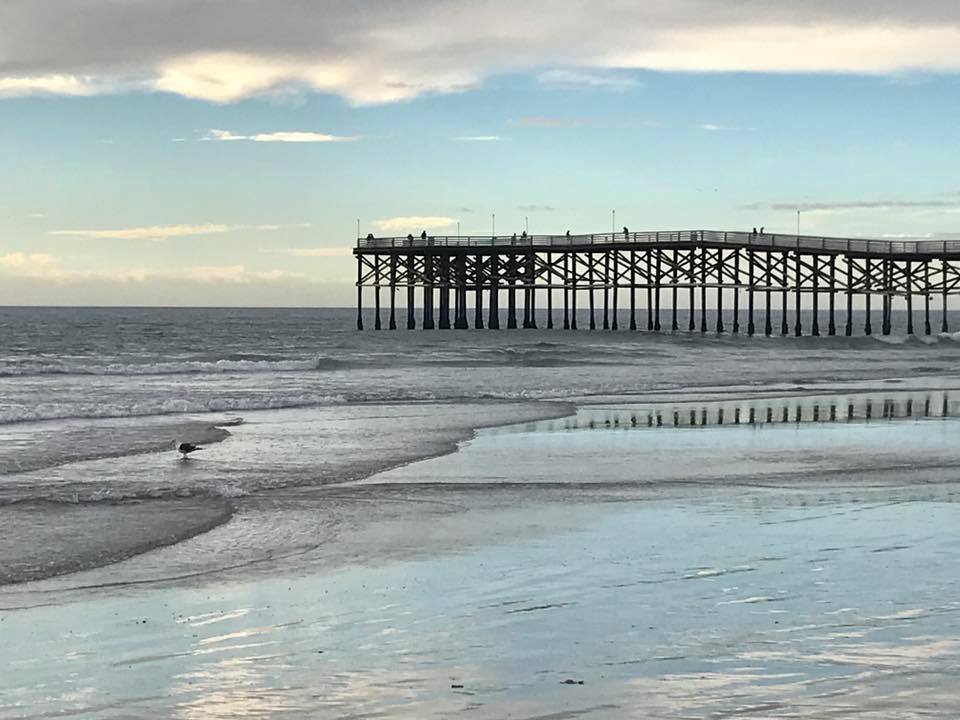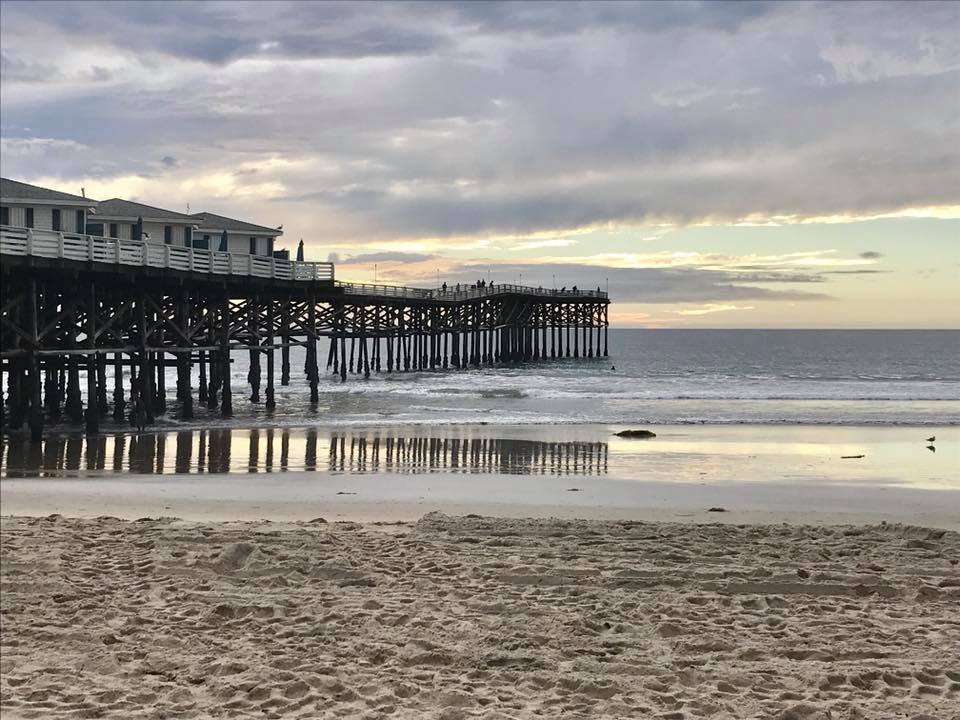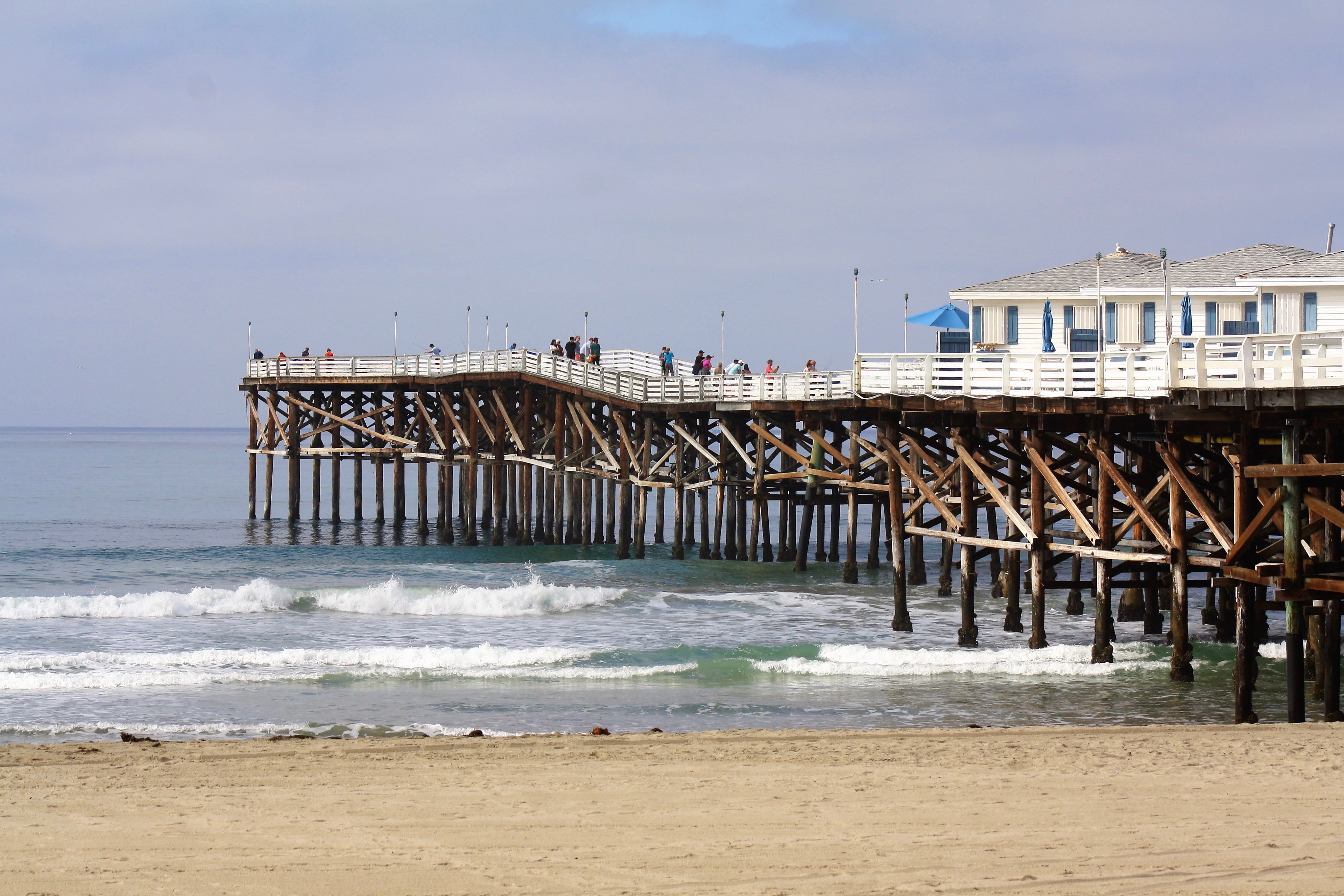 The Pier Rats Speak
Date: November 24, 1998; To: Pier Fishing In California Message Board; From: JW; Subject: Crystal Pier
In reply to "Could use some surf fishing info posted by Dave McDowell." Go down to Seaforth Boat rentals on Quivera Road and pick up some blood worms. Then fish off Crystal Pier. I have had good luck there recently fishing with my freshwater tackle. Use a small hook (I think I use #4, just make sure the curve of the hook doesn't exceed the size of your nail on your index finger). I rig with 6 lb. test with about a 14" to 18" leader and a 1/4 oz. sliding egg sinker. Cast right where the breakers crest and kind of let you line wash into the shore (but not all the way and make sure you don't tangle into the pier). Fish the south side of the pier, as there are way too many surfers on the other side. We were able to catch 1-2lb perch and I even caught a leopard shark with this set up. My outings were mid-afternoon, but I am sure that early mornings would be most productive. I have also heard that "grocery store shrimp" is supposed to be a hot bait for the surfperch.
Date: July 22, 2000; To: PFIC Message Board; From: reefisher; Subject: Crystal Pier Report
Fished 9am-1pm. Very slow fishing. Had some bites on sand crabs at the surf zone. Fished at the end with grunion, mussel, squid and plastics. Almost lost my big pole with the grunion to a big something. I was attending another pole when someone screamed, "there goes your pole" I managed to grab the pole before going over the side. I fought it for a while but it was just too big to get close to the pier. It fought like a bat ray. The only other thing I caught was a lobster. Fellow pier rats caught several white croaker, 1 sand bass (14 inches, I measured for the fellow) a mack and assorted cartilaginous fish, mostly small shovelnose. Fresh sardines seemed to be the best bait. reefisher.
Date: August 21, 2002; To: PFIC Message Board; From: 2pac; Subject: Crystal Pier
I got back last night from 3 nights at Crystal Pier and the fishing was great. The first night me and my dad used mackerel and caught 6 shovelnose sharks that were from 3 to 4 feet long, 2 thornback rays, 1 sting ray, and 1 small halibut. My mom went for a walk on the beach and saw some squid, so I went down to the beach and picked some up for bait. It ended up being the best bait ever. The next two nights my dad, brother, and his wife and I caught; 10 3-foot shovelnose sharks and one that was 4.5 feet, 2 smoothhound shark that were about 3 feet long, 2 thornback rays, 7 small sting rays, 5 bat rays, 1 croaker. The best fish of the trip was my brother's horn shark.
Date: August 27, 2002; To: PFIC Message Board; From: 2pac; Subject: Crystal Pier
Went to Crystal Pier today after I got out of school and fishing was great. When I got there the end of the pier was full of people so we fished about half way out using squid. First I caught a 2.5 foot shovelnose, next I hooked up with the biggest shovelnose I have ever seen, but right when it saw the pier it took off and broke my line, The same thing happened to two other shovelnose I had on and broke off. Finally I got one in but it was about 3.5 feet but still put up a very good fight. Some guy had on 40-pound test and a 10 ought hook with a giant mackerel on it and eventually hooked on to a 7-foot shark, which broke of on a very bad gaff job. Right when the guard was going to kick us off the pier I hooked on to a pretty big bat ray, got this one in and took a picture which I will get up as soon as I can. Overall a good day of fishing.
Posted by pesk21
Know what kind of shark the 7-foot shark was? -abe