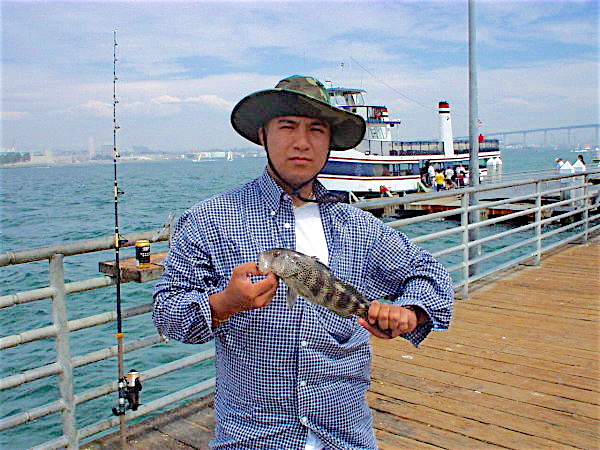 Spotted bass caught by Arvin/Pescador
Date: March 28, 2008; To: PFIC Message Board; From: woody; Subject: Ferry Landing Pier
I used to fish it back in the 90's. Empty then. I caught the biggest bat ray in my life, (140-lbs+!!!!), and biggest shovelnose, (53-lbs!!!). I used to catch…loads of them. Bay bass, corvina, butt's, calicos, croakers, macks, bonies, barries, needlefish, grunion, lobster, and even a few juvi white sea bass!!!! Don't know how it is now; live in the Bay Area.
Try for butt's at night on an incoming tide, on west end, cast live bait on slider, parallel to shore. Used to be about 1 legal to about 5 short, and FAST action!!!!
For the bats chuck squid on slider and 8/0 live bait hook as far as you can into the middle of the bay, (seems to be an oyster bed starting about 150 ft out), on an in or out tide to about an hour before or after, set your clicker and get ready, won't be long, and you'll catch a bunch!!!
Cast grubs near the dock, (ferry loading platform), bounce 'em and get ready for explosive calico and spotted or sand bass action, (1 out of 3 are 15 inches +!!!) Dive there during the lobster season and find HUGE bugs!! Late summer brings short barracuda with a few just at 28 inches; gotta cast far, off the northwest corner with Kocs or live smelt. Summer brings the bonies and macks, about half of them average, 1/4 of them tiny, the other 1/4 pretty damn big.
Fall full moons find the white seabass cruising by the pilings at high tide; drop a brown bait to them, and, WHAM!!!!! Measure closly, most of these are just short. When winter gets there, get some mussels, ghost shrimp, or sand crabs and fish corvina and croakers on light line, a slider, size 8 or 6 bait hook. Yellowfin, spots, and white croaker are all here. Be ready for perch to though. Used to love this place, a favorite for both fish and solitude.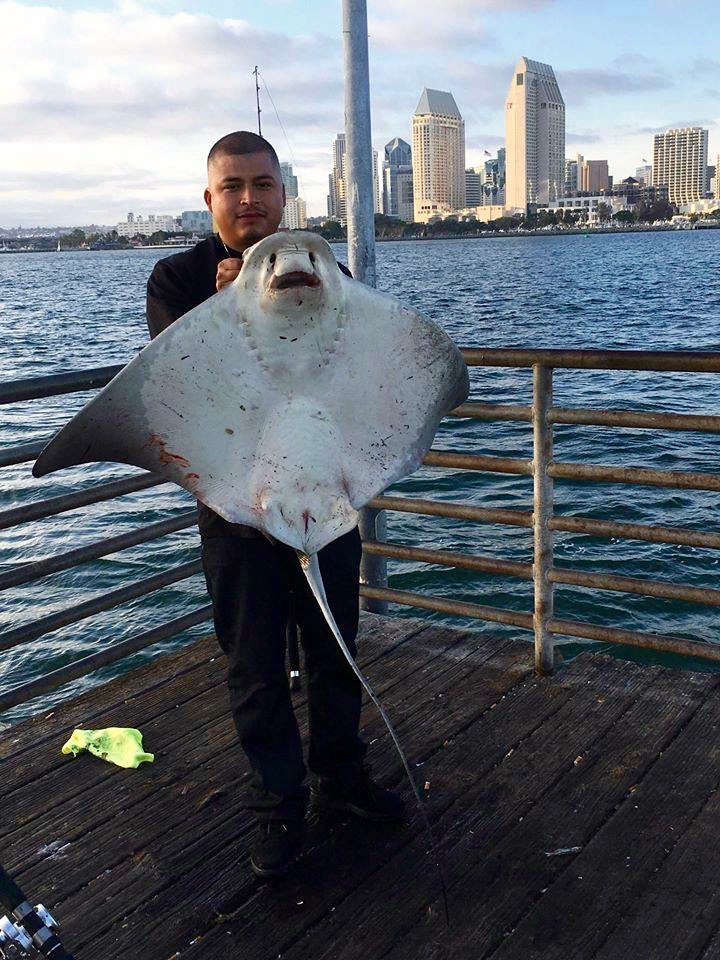 Bat ray caught by Alberto.Salgado
Date: April 9, 2008; To: PFIC Message Board; From: AaronL; Subject: Bonito
I don't know if the boneheads are still there, but the Coronado Ferry Landing in San Diego was kicking out good numbers of bonito (to at least 5-6 lbs) about a week and a half ago. All the ones I saw were caught on small green plastic grubs rigged behind a 1–ounce chrome torpedo sinker.
Date: May 19, 2008; To: PFIC Message Board; From: aaronL; Subject: Re: Anyone fish the Ferry Landing Pier lately/shortfin corvina?
I was talking to a very successful (2 halibut and 1 WSB) man there who said that if you fished live bait or a drop shot Fluke bass bait during a grunion run, you were "guaranteed to get corvina." I'm going to see when the next run is, and will try to fish the Coronado Pier this weekend.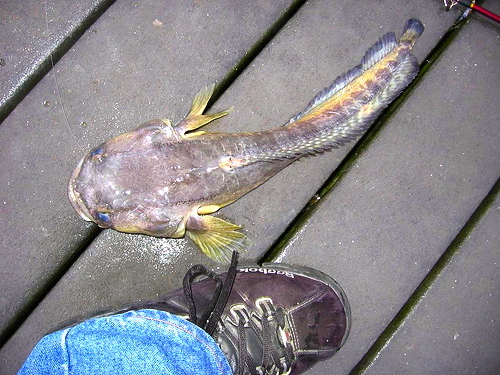 Speckled midshipman
Date: November 24, 2009; To: PFIC Message Board; From: tunafshr93; Subject: Ferry Landing Pier
Fished Ferry Landing today from 9:00 to 1:00. The macks were plentiful in the morning caught 5 in 30 minutes. One of the regulars caught 20 of them. Mackerel started being scarce after 10:00 and after that they came by about every hour. Ended up catching seven total. Water really clear could see mackerel hitting bait and swimming around. Baitfish showed up about noon. 3 stingrays caught. A Guy caught a 13" spotted bay bass and a 23" Halibut both on the live smelt which were around 4".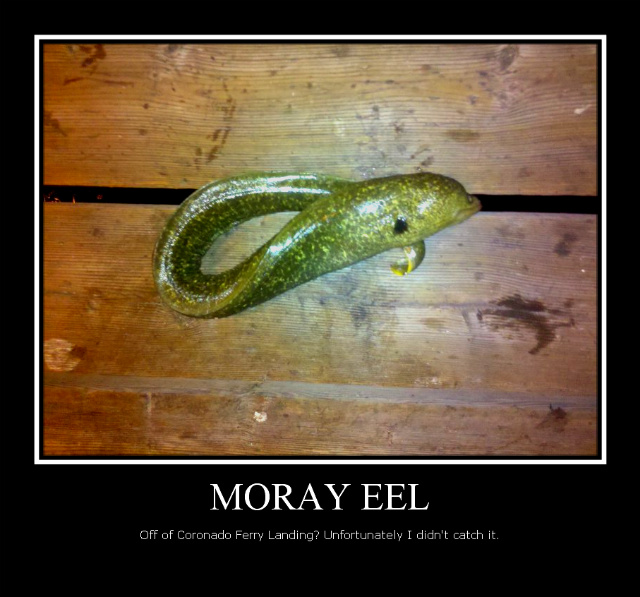 Moray eel — 2010
Potpourri — Perhaps more than you want to know about the Old Ferry Landing Pier
<*}}}}}}}}}>< —  A typical scene for many years was to see an energetic young lady sitting on the rail, helping the kids, providing bait or fish to those without, or rescuing pigeons that fell into the water. She was the person I dubbed the "mom" at the pier. Her name was Shari and most days she's would be out at the pier fishing. I watched her perform a variety of tasks during visits in 1998 and finally had to introduce myself and thank her for the help she provided the other anglers.
Fishing is only part of the pier experience, the interaction and good will between the pier rats gives value to the pier and creates a family. Every pier needs a "mom" and luckily many do indeed have people like Shari, although few are as quite as lively. She was a nice person whose behavior and actions at the pier should be emulated by others.
By the way, shortly after meeting Shari and dubbing her the "pier mom," she gave my card to a local reporter who soon called and then did a story on the pier—and Shari. Unfortunately she's now gone and I haven't been able to find out what happened to her.
Fishing Season Brings Anglers Of All Ages To The Pier
Shari Rose calls out "any minute now!" when the mackerel swoop by the Coronado pier. And sure enough, the poles start bending and the silver, big-eyed mackerel are hoisted one after another out of the water, delighting the 25 or so anglers every evening. The fishing flurry is soon over. But wait about an hour, and "any minute now," they'll hit once again.
It's fishing season on Coronado and anyone with a fishing pole, some squid, and a little time can catch a few. While mackerel are caught all year, they run best in the summer and have been thrilling anglers with big catches for the last two weeks…
Rose has been fishing off the Coronado pier almost every afternoon for nearly three years. In five days, Rose figures she caught 56 fish and has seen hundreds more reeled in by thrilled children, tourists, and pier regulars.
Part coach, part cheerleader, part game warden, Rose helps and encourages anyone who wants to catch a fish. She offers tips, cuts bait, unhooks fish, and measures any bass or halibut caught to make sure they're legal keepers (22 inches for halibut, 12 inches for bass). "It's wonderful to watch the kids. When they pull one in, it's more fun for me than anything else," says Rose.
Fishing on roller blades, teenager Luis Cruz caught 10 mackerel in two hours the day before. He comes on the weekends with his family to picnic at Tidelands Park and roller blades to the pier…
Ken Jones, author of Pier Fishing in California, rates the San Diego Bay as one of the best fishing spots in Southern California. The bay generally yields larger mackerel than the ocean piers in Imperial Beach and Ocean Beach. "Though it's not big, Coronado is an excellent fishing pier," according to Jones…
To Eat or Not Eat? While many of the fishermen on the pier say they don't eat what they catch, most of the fish caught in the bay pose no serious health risks, according to the San Diego County Environmental Health department.
Only people who eat the fish daily over a long period of time could have problems with toxins. Pregnant women, breast feeding women, and small children especially should eat any fish in moderation. Jones offers some pointers:
The bay is reasonably clean, although there are some polluted spots on the bottom. For this reason, don't eat croaker and other bottom feeders since they may eat in contaminated areas.
Mackerel, bass, and halibut are generally safe because they regularly swim in and out of the bay.
Clean fish thoroughly, making sure to completely remove the gut and thoroughly wash the fish.
Bake fish on a rack so that the fat breaks down and drips into the pan. Toxins are stored in the fat.
Eat fish from any waters in moderation.
Jones adds that "its always best to catch and release fish, since fish populations are so low. Enjoy the fresh air, and get closer to nature. That's how I like to fish," says Jones.
—Sean Caey, Coronado Eagle, August 5, 1998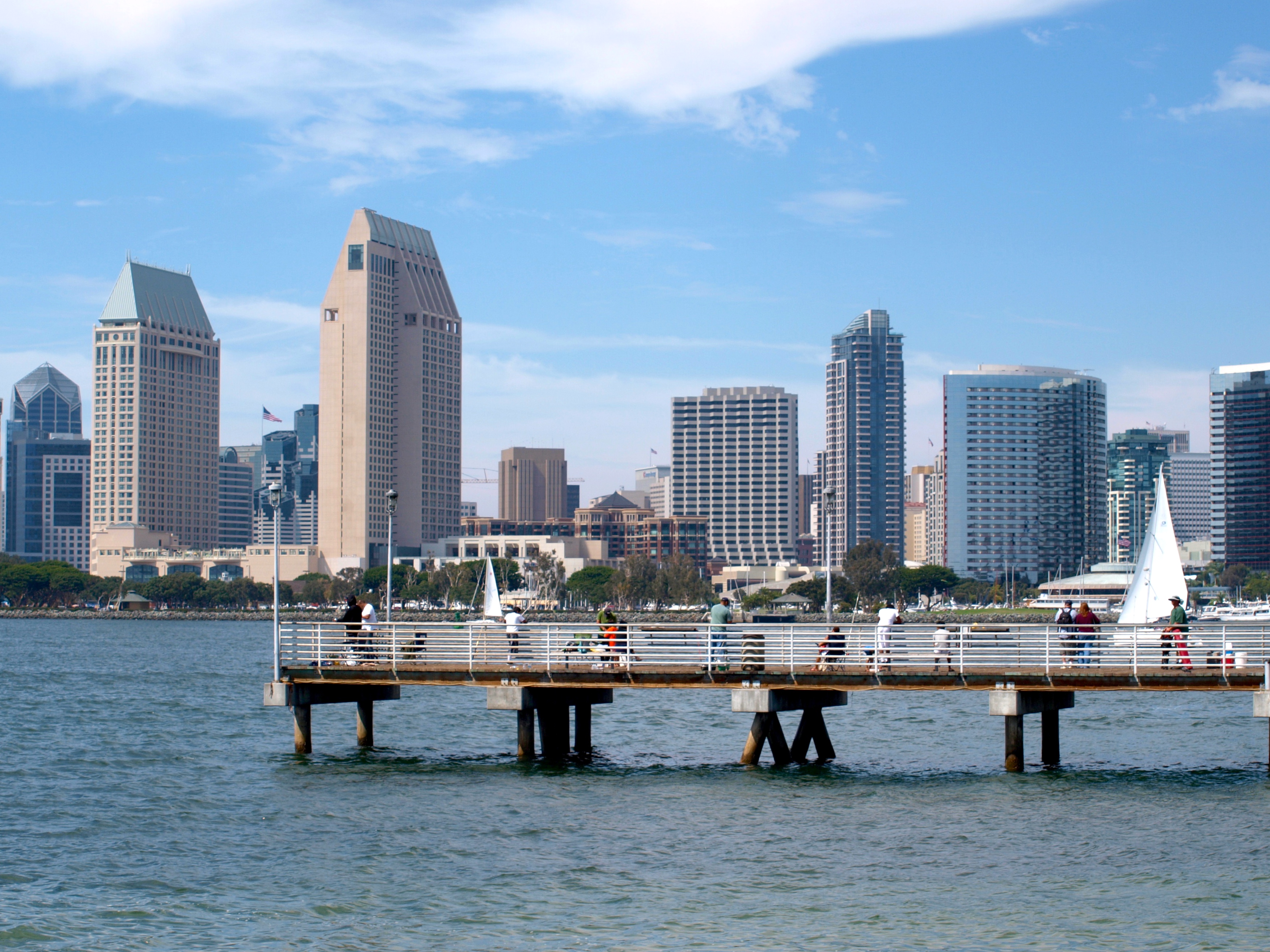 <*}}}}}}}}}>< —   Oh my, how times have changed. The following discussion details how ghost shrimp (crawfish) were caught in this area back in the 1880s.
"Crawfish-tramping" these days is a lost art. Crawfish were easily obtained by removing your shoes and tramping the mud for a space three or four feet in diameter, bringing them to the surface of the mud and thereby easily providing bait for two or three to fish all day. There were no tin cans or glass in the mud in those days. You would select a place in the mud where the crawfish blowholes abounded; the finest place was on the Coronado of the Bay, from the Coronado Ferry down to Spanish Bight, a long mud-flat beach. We could go over on the ferry and back for a dime, and get more crawfish in half an hour than at the foot of Broadway in two hours. Crawfish-tramping was probably learned from the large fish—large skate, shovel-nose sharks, stingrays, halibut and other flat fish—they would select a spot where there were crawfish and they would flip up and down and bring the crawfish up. At the really low tide you could frequently see the marks where they flipped. Young boys tramped for crawfish, and carried them in little cans covered with wet seaweed, to sell as bait. Crawfish were the best bait for large-mouth, grab-at-whole-bait kind…
—Don M. Stewart, 1966, Frontier Port: A Chapter in San Diego's History  — Discussing the fishing in San Diego Bay in the late 1800s