Yellowfin croaker are scarce and fall mainly to ghost shrimp, with a few taken on small smelt. Sand bass are abundant using live smelt or mackerel cuts. Fishing on the shore side of the pier seems to be the best area to catch them.
Good-size guitarfish are also seen being caught on this pier with squid and mackerel slabs being the bait. Other notable catches… needlenose fish (which seem to be more of an annoyance) and flounder.
Thanks! And keep up the great work with the website. Ritchie Reano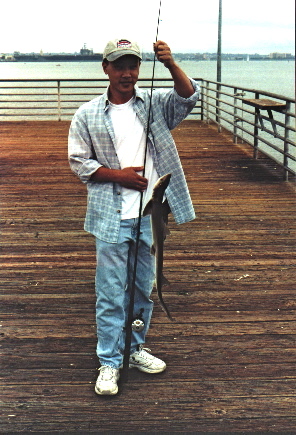 Rich Reano, "Webmaster" for Pier Fishing in California, and a small gray smoothhound shark 
Date: August 31, 1997; To: Ken Jones; From: Ritchie Reano; Subject: Ferry Landing update
Hi Ken, Just got back from fishing today from the Ferry Landing Pier… Mackerel are visiting the pier in numbers. I'm seeing bucketful's lately. Most anglers are using bait rigs sweetened with squid or mackerel. Best times seemed to be early morning or late afternoon. Smelt still cloud the waters with their abundance. Catching your own bait is a breeze.
Halibut are still hitting consistently. Most are caught on smelt. I landed a 23.5-inch halibut today using a 6-inch smelt on a sliding rig. I was also talking to a father and son team and they caught a 30″ halibut about two weeks ago using smelt. In fact, the halibut was so strong that it yanked his pole into the water. Fortunately, the pole floated and a treble gaff was on hand… Recently, a friend of mine hooked a 4-foot-wingspan ray but it came off while trying to net it. No sign of bonito. Thanks! Ritchie Reano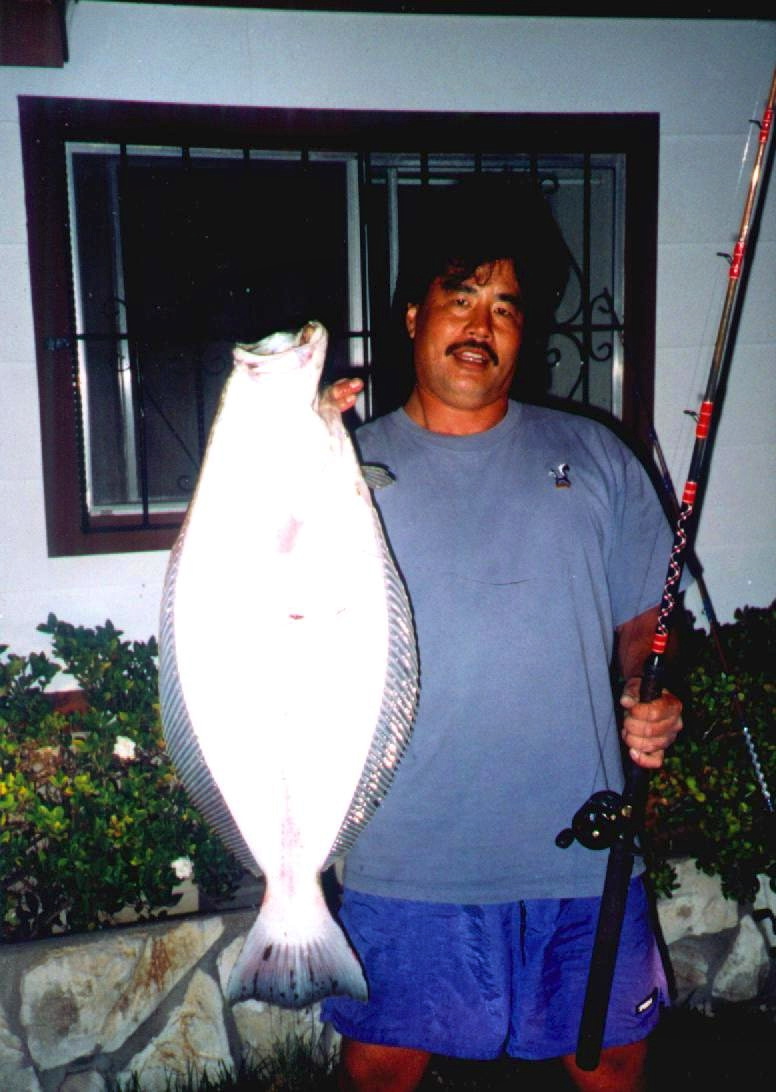 Some good-sized halibut are caught from the pier
Date: March 27, 1998; To: Ken Jones; From: Rich; Subject: Coronado
Hi Ken, I like the new website look. Have you ever considered getting a domain name? Like pierfishing.com?
Anyway, fishing is getting interesting at the Ferry Landing. During the recent grunion run, quite a few anglers were hooking up with some decent size rays. I only observed the catches during the day. The night fishing must have been even better. Another interesting catch was a nice sized barracuda, although a little short of legal. It was caught using a Salas iron jig fished on the surface. Live bait such as smelt are hard to come by at this time. Most of the smelt near the pier are much too big. Even if there's not a lot of catching going on, it's still a nice place to hang out on a weekend. There are shops and decent eateries only a short walk away. Take care! Sincerely, Rich Reano
To: Rich; From: Ken Jones; Subject: Domain Name
Hi Rich, In answer to your question regarding a domain name, no I don't know too much about it. What are the advantages? Best, Ken
Ken, Your website name will be easier to remember. pierfishing.com (which by the way is available) is easier to remember than www.pacific.net/~kjcapfsh/ and looks more professional. Also, you would probably get more visits to your site. I am sure someone has tried typing in pierfishing.com to see if a website like that existed. I know I have. Sincerely, Rich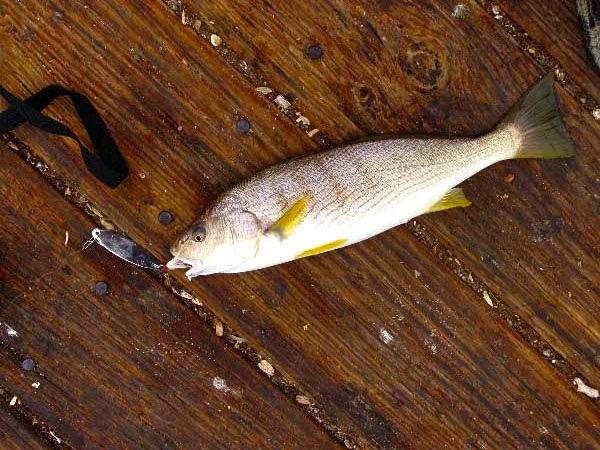 Yellowfin Croaker
Date: December 28, 1999; To: Pier Fishing In California  Message Board; From: Rey; Subject: Re: Now you have my attention!
I have caught some big Needlefish at Coronado Ferry Landing. You can see them cruising near the surface from this pier. I usually don't target them, but when I see them I use a cast and retrieve method using a long strip of squid on about 6-pound line. The faster I retrieve my bait, the better luck I get on strikes.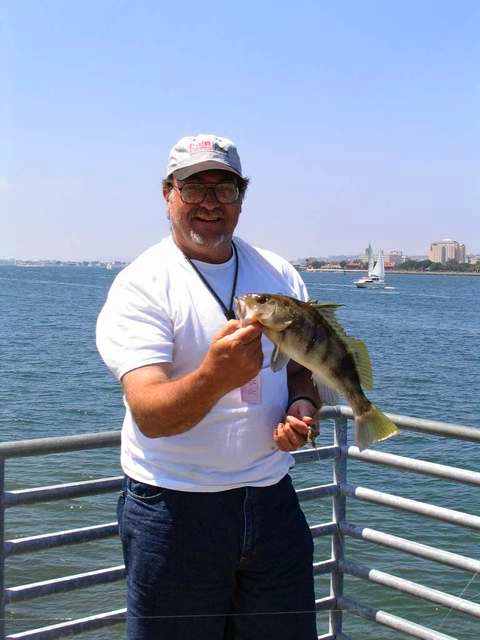 Sand bass caught by OBPierrat
Date: April 15, 2000; To: PFIC Message Board; From: Mark Taylor, LAc.; Subject: Coronado Ferry Landing report
Fished the landing this afternoon between about 4:30 – 8:00 pm, incoming tide. I'm kind of a beginner in these waters so I'm used to getting skunked, and today was no exception. Fished fresh sardines and frozen 'chovies off the bottom. One good strike, but I didn't set the hook in time. Tried some Fish Traps, plastic grubs and a Kroc for a while, but nothing.
There were about 10 of us on the pier and one guy fishing over near the floating ferry dock was pulling in bass after bass. Every time we looked over this dude was pulling another decent bass out of the water. I'm told he was using dines, live or dead I don't know. He didn't look real friendly so I didn't ask. Two guys near me caught a too short butt, a nice keeper sand bass and what I think was a spotted bass. Same bait/rig as me.
One of these guys next to me must have caught a dozen small foot-long stingrays (or the same one 12 times; you have to wonder, they were identical in size) in an hour, until he decided to stop squandering his ghost shrimp and switch over to dines/chovies.
The rest of us did our best, but…that's how it goes sometimes. I wonder if the place to fish on this particular pier is where that bass-o-matic guy was—over near the floating ferry dock, which forms a right angle with the fishing portion of the pier: Maybe the decent fish like to hang out in all that cover. Tight lines and good luck!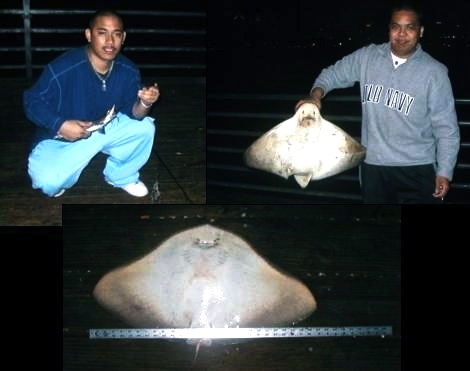 Occasionally joining in the fun with the round stingrays and diamond stingrays will be a few butterfly rays. 
Date: June 30, 2002; To: PFIC Message Board; From: Rich Reano; Subject: Coronado Ferry Landing
Fished the Coronado Ferry Landing Pier for an hour from 2:30pm ~ 3:30pm hoping to catch a corvina. There were quite a bit of baitfish around but large ones were nowhere to be seen. No corvina but I did manage this spotted sand bass on a watermelon red/flake zipper worm. Got him out of the water, snapped a picture and back into the water in less than 30 seconds.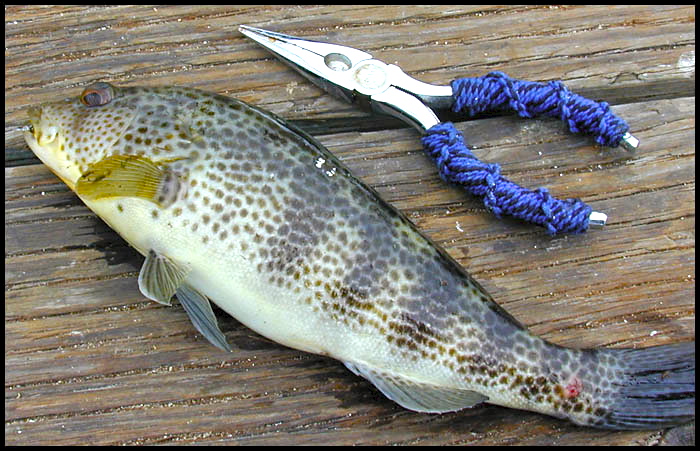 Spotted sand bass caught by Rich Reano
Date: August 13, 2002; To: PFIC Message Board; From: pEsCaDoR5312; Subject: In reply to strange people…raver fish…
I was at the pier with my brother one day (this is the Coronado Ferry Landing Pier which is probably visited by interested tourists and weirdos more often than other pier).
Well, one night the last stop of the ferry hits and two girls got off of it. I noticed they were ravers by the way they were dressed. They noticed that we were using light sticks (mackerel) and one girl asks me what we used the light sticks for. I told her they're for "raver fish, the light stick attracts them because they like to dance around it. That's why they call it a raver fish. Then when they see the bait they hit it." The girl looks at me in awe and says, "that's F***ing amazing!" So I say "yup" and they leave. My brother and I laughed about it the whole night.
*note* — raving is a style of dancing. A raver is one who likes to go to raves and dance to quasi-techno-style music. Many like to use light sticks in their hands while they are dancing to give a cool effect to their actions. I posted this story in no intentional offense toward any ravers on this board. Don't bother me… I'm fishin. <*)))>=<| pEsCaDoR5312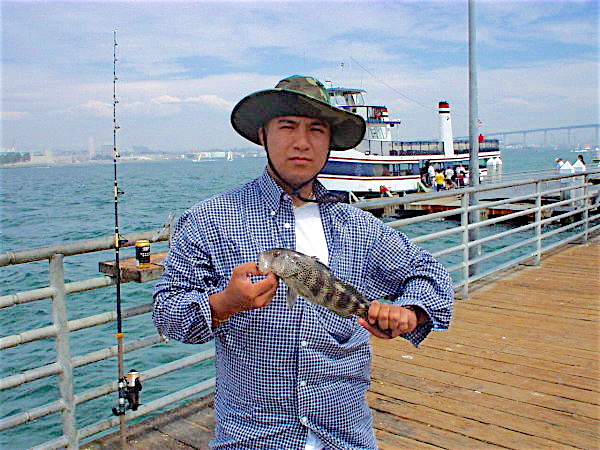 Spotted bass caught by Arvin/Pescador
Date: March 28, 2008; To: PFIC Message Board; From: woody; Subject: Ferry Landing Pier
I used to fish it back in the 90's. Empty then. I caught the biggest bat ray in my life, (140-lbs+!!!!), and biggest shovelnose, (53-lbs!!!). I used to catch…loads of them. Bay bass, corvina, butt's, calicos, croakers, macks, bonies, barries, needlefish, grunion, lobster, and even a few juvi white sea bass!!!! Don't know how it is now; live in the Bay Area.
Try for butt's at night on an incoming tide, on west end, cast live bait on slider, parallel to shore. Used to be about 1 legal to about 5 short, and FAST action!!!!
For the bats chuck squid on slider and 8/0 live bait hook as far as you can into the middle of the bay, (seems to be an oyster bed starting about 150 ft out), on an in or out tide to about an hour before or after, set your clicker and get ready, won't be long, and you'll catch a bunch!!!
Cast grubs near the dock, (ferry loading platform), bounce 'em and get ready for explosive calico and spotted or sand bass action, (1 out of 3 are 15 inches +!!!) Dive there during the lobster season and find HUGE bugs!! Late summer brings short barracuda with a few just at 28 inches; gotta cast far, off the northwest corner with Kocs or live smelt. Summer brings the bonies and macks, about half of them average, 1/4 of them tiny, the other 1/4 pretty damn big.
Fall full moons find the white seabass cruising by the pilings at high tide; drop a brown bait to them, and, WHAM!!!!! Measure closly, most of these are just short. When winter gets there, get some mussels, ghost shrimp, or sand crabs and fish corvina and croakers on light line, a slider, size 8 or 6 bait hook. Yellowfin, spots, and white croaker are all here. Be ready for perch to though. Used to love this place, a favorite for both fish and solitude.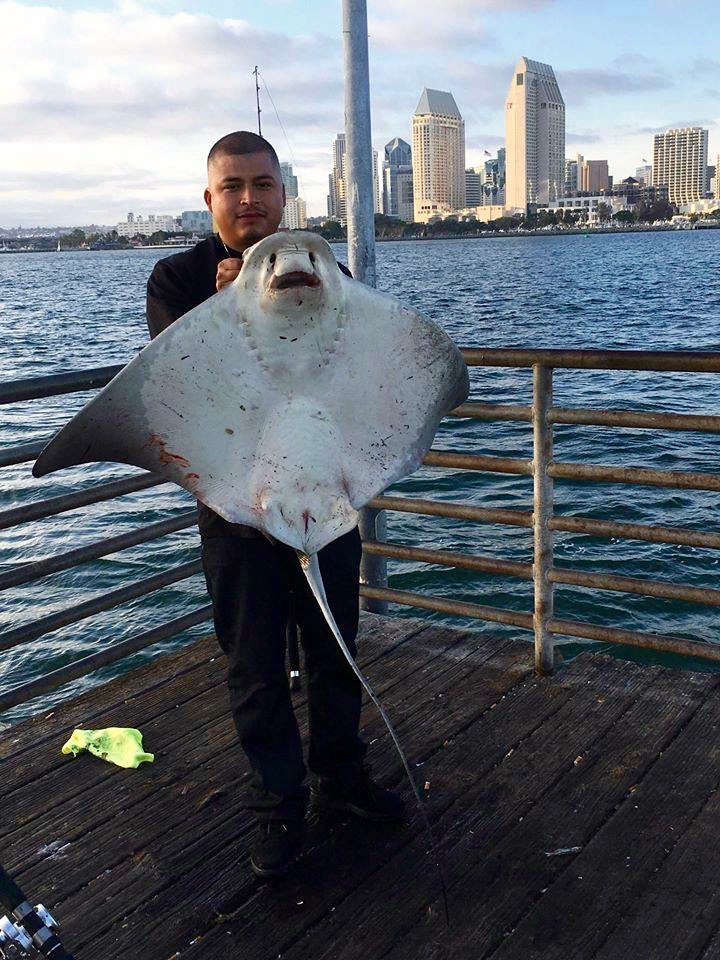 Bat ray caught by Alberto.Salgado
Date: April 9, 2008; To: PFIC Message Board; From: AaronL; Subject: Bonito
I don't know if the boneheads are still there, but the Coronado Ferry Landing in San Diego was kicking out good numbers of bonito (to at least 5-6 lbs) about a week and a half ago. All the ones I saw were caught on small green plastic grubs rigged behind a 1–ounce chrome torpedo sinker.
Date: May 19, 2008; To: PFIC Message Board; From: aaronL; Subject: Re: Anyone fish the Ferry Landing Pier lately/shortfin corvina?
I was talking to a very successful (2 halibut and 1 WSB) man there who said that if you fished live bait or a drop shot Fluke bass bait during a grunion run, you were "guaranteed to get corvina." I'm going to see when the next run is, and will try to fish the Coronado Pier this weekend.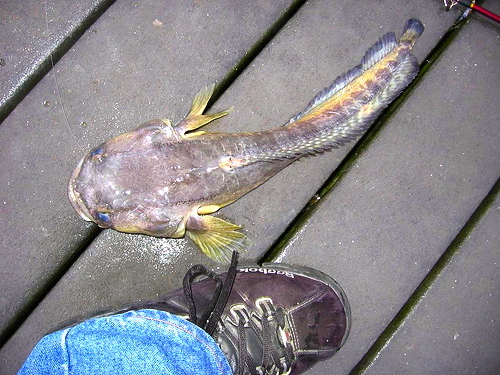 Speckled midshipman
Date: November 24, 2009; To: PFIC Message Board; From: tunafshr93; Subject: Ferry Landing Pier
Fished Ferry Landing today from 9:00 to 1:00. The macks were plentiful in the morning caught 5 in 30 minutes. One of the regulars caught 20 of them. Mackerel started being scarce after 10:00 and after that they came by about every hour. Ended up catching seven total. Water really clear could see mackerel hitting bait and swimming around. Baitfish showed up about noon. 3 stingrays caught. A Guy caught a 13" spotted bay bass and a 23" Halibut both on the live smelt which were around 4".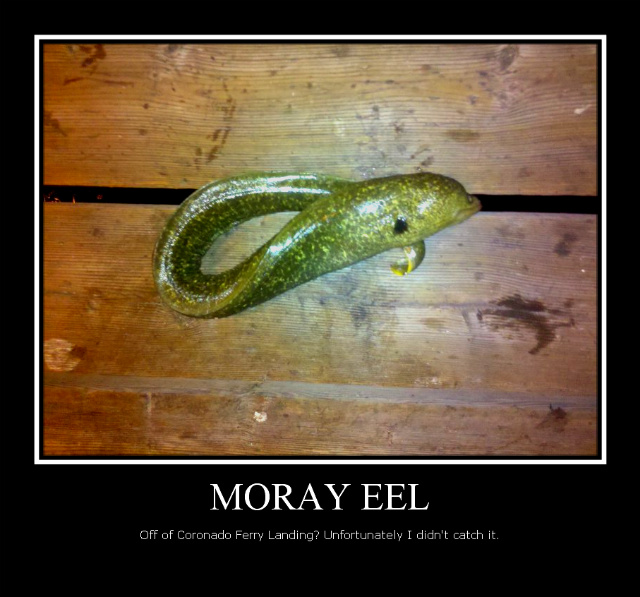 Moray eel — 2010
Potpourri — Perhaps more than you want to know about the Old Ferry Landing Pier
<*}}}}}}}}}>< —  A typical scene for many years was to see an energetic young lady sitting on the rail, helping the kids, providing bait or fish to those without, or rescuing pigeons that fell into the water. She was the person I dubbed the "mom" at the pier. Her name was Shari and most days she's would be out at the pier fishing. I watched her perform a variety of tasks during visits in 1998 and finally had to introduce myself and thank her for the help she provided the other anglers.
Fishing is only part of the pier experience, the interaction and good will between the pier rats gives value to the pier and creates a family. Every pier needs a "mom" and luckily many do indeed have people like Shari, although few are as quite as lively. She was a nice person whose behavior and actions at the pier should be emulated by others.