"I'm no lobbyist." I said. "Besides, why does the Belmont Pier Marlin Club need a flagpole?" "To fly a marlin flag, in case somebody catches a marlin." "I have checked this out with Riley Compton of the Belmont Bait & Tackle," I said. "You catch mostly small fish—perch, herring, corbina. Now and then you get a 10 or 12 pound halibut. Last year, a big white sea bass was landed. But in the history of living man, no one has caught a marlin off Belmont Pier."
Pop pulled a flask from his gear box. "How about a snort?" he said. I glanced disapprovingly at him and then at the sign that said, "Consumption of alcoholic beverages not permitted on pier." "Geritol," he said. "Somebody might catch a marlin. And it would bring an awful lot of fishermen to Long Beach if there was a marlin flagpole here and they thought we needed it.
"Mere tourists," I said. "The dropline trade. They'd crowd the regulars away from the railing." "That's happening now," Pop said. "The truant officers ought to tighten up on kids playing hookey. Us retired gaffers can't elbow on even terms against those kids."
He reached for the Geritol and kicked over the carton of ghost shrimp that was the bait of the teenager next to him. "Sorry," he said. The teenager gave him a hurt look, "That's the third time you've done that," the boy said. He picked up his gear and moved down the pier. Pop chuckled gleefully. "Whippersnapper," he said
—Bob Wells, Long Beach Independent, February 3, 1962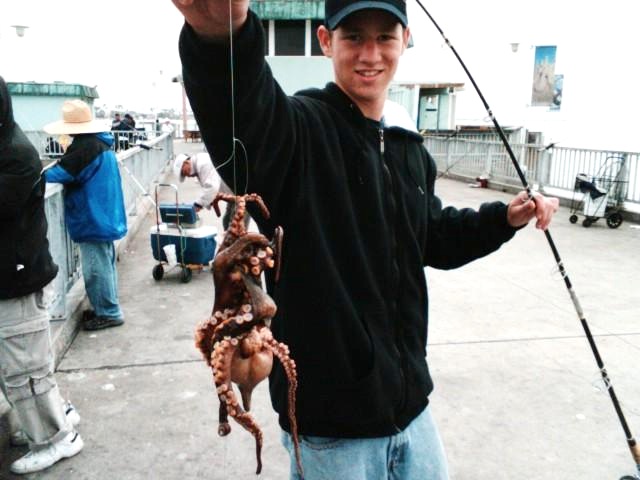 A gnarly little octopus
<*}}}}}}}}}>< — Halibut are one the favorite fish for SoCal anglers and though the pier is generally a fair to good producer of the flatties, few days match the following:
Belmont Halibut in Fantastic Run
Halibut were flopping on Belmont Pier Thursday and Friday almost as fast as fishermen could bait hooks with live anchovies and cast out practically in the breaker line. All of the fish were being caught in extremely shallow water.
More than 100 halibut were caught within three or four hours Wednesday afternoon and the pace was keeping up Thursday morning. Most of the flatties were in the small class, one or two pounds, but there were some larger. For instance, Al Koerner had one that weighed 11 pounds, 4 ounces. Wayne Harris had a 5-13 fish and Paul Kardell had one that tipped the scales at 5-10 ½.
There were losses, too, as fishermen tried to wind up the fish and toss them on the pier. Hooks came out of monofilament knots, lines broke and other fish just fell off when the hooks came out of their mouths. Along with the halibut came a run of small bonito and occasionally a barracuda.
Belmont Pier's smiling woman manager, June Ascoles, and her helpers were kept busy scooping live anchovies out of the tank for the customers, who stood almost shoulder to shoulder at times along the pier near the land end.
Sportfishing boats and private craft got into the act when it was learned that the fish were so close to shore. The G. W., out of Seal Beach Pier, has been harvesting a beautiful catch of halibut every day just outside the Long Beach breaker line.
—Donnell Culpepper, Long Beach Press-Telegram, May 24, 1968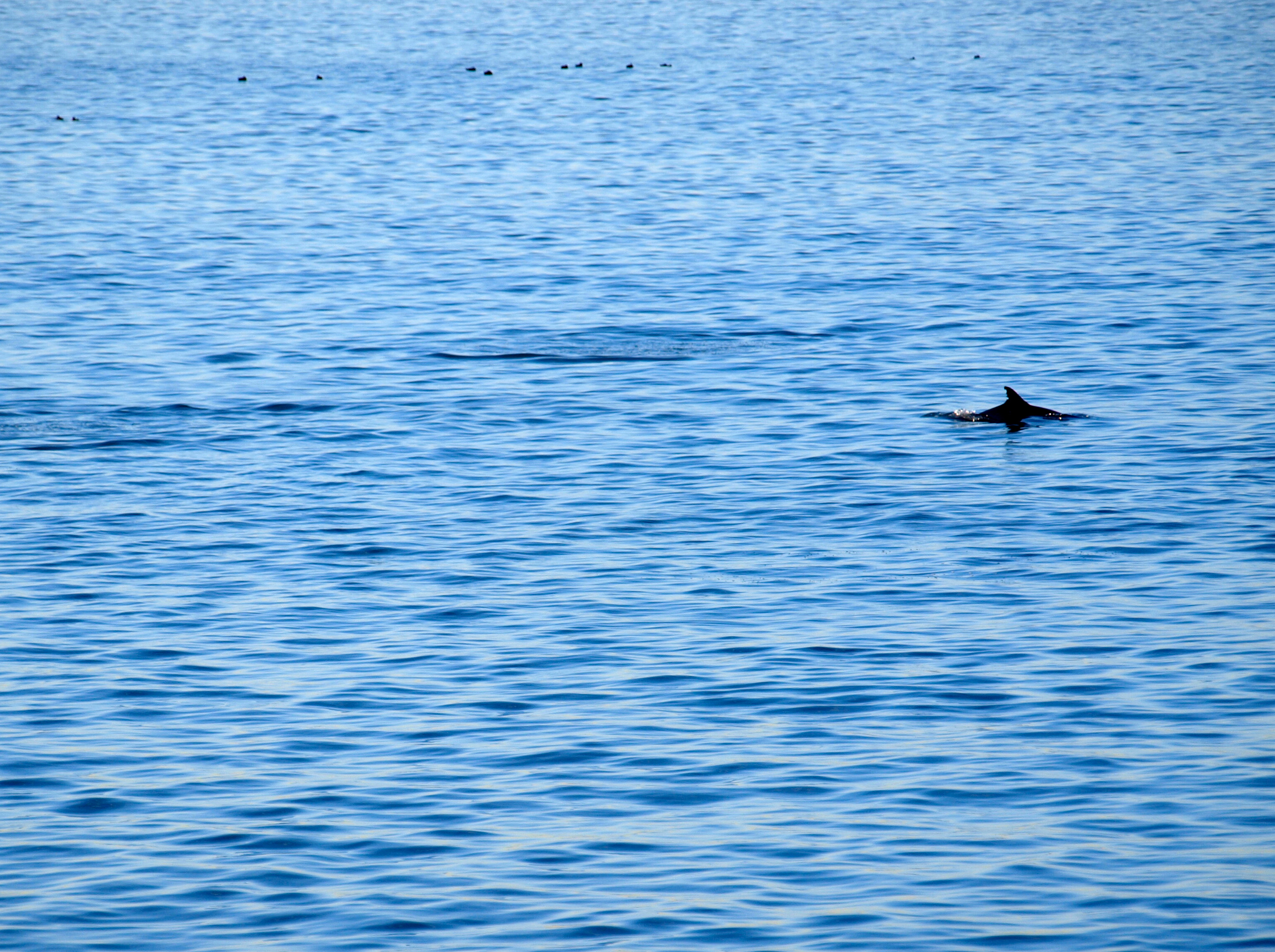 Dolphins are a common companion
<*}}}}}}}}}>< — Although halibut are one of the most sought after fish from piers, yellowtail rate as something special—and their catch from any pier is rare.
Halibut Boy Anglers Make Unusual Kill — Youths Take Yellowtail in Belmont Pier Battle
Two Jordan High School boys, an anchovy and a 17-pound yellowtail made local fishing history at Belmont Pier at an early hour yesterday morning.
Eugene Twombley, 16, of 5859 Gardenia Ave., and Tommy D'Amico, 15, of 1701 E. 60th St., started fishing at the pier Friday night about 7 o'clock. Eugene said they fished by the shelter house for a while and then all along the pier.
They rested at times but kept at it all night. They snagged several jack smelt, five sand sharks, one shovelnose shark and scads of herring and tomcod.
But, it was along about daybreak that Eugene baited up with the anchovy and made a mighty cast out into the ocean from the end of the pier.
"Wham!" Out went a hundred feet of line. The fight was on. Tommy said Eugene battled a while and then he took a turn. The yellowtail went to the bottom, it darted one direction and then another but gradually the boys worked it into the pier where a lone spectator stood ready with a net to help the lads.
Eugene was at the reel when the fish neared the pier. It darted under the pier and the boys just had enough strength left to pull the fish back from under the pier long enough for the stranger to lower the net and bring up the prize.
Mel Mclntyre, veteran fish tackle man at the pier, says there had not been a yellowtail caught at the pier for several years and that he doesn't remember one that large ever having been caught there before.
—Long Beach Press-Telegram, June 13, 1948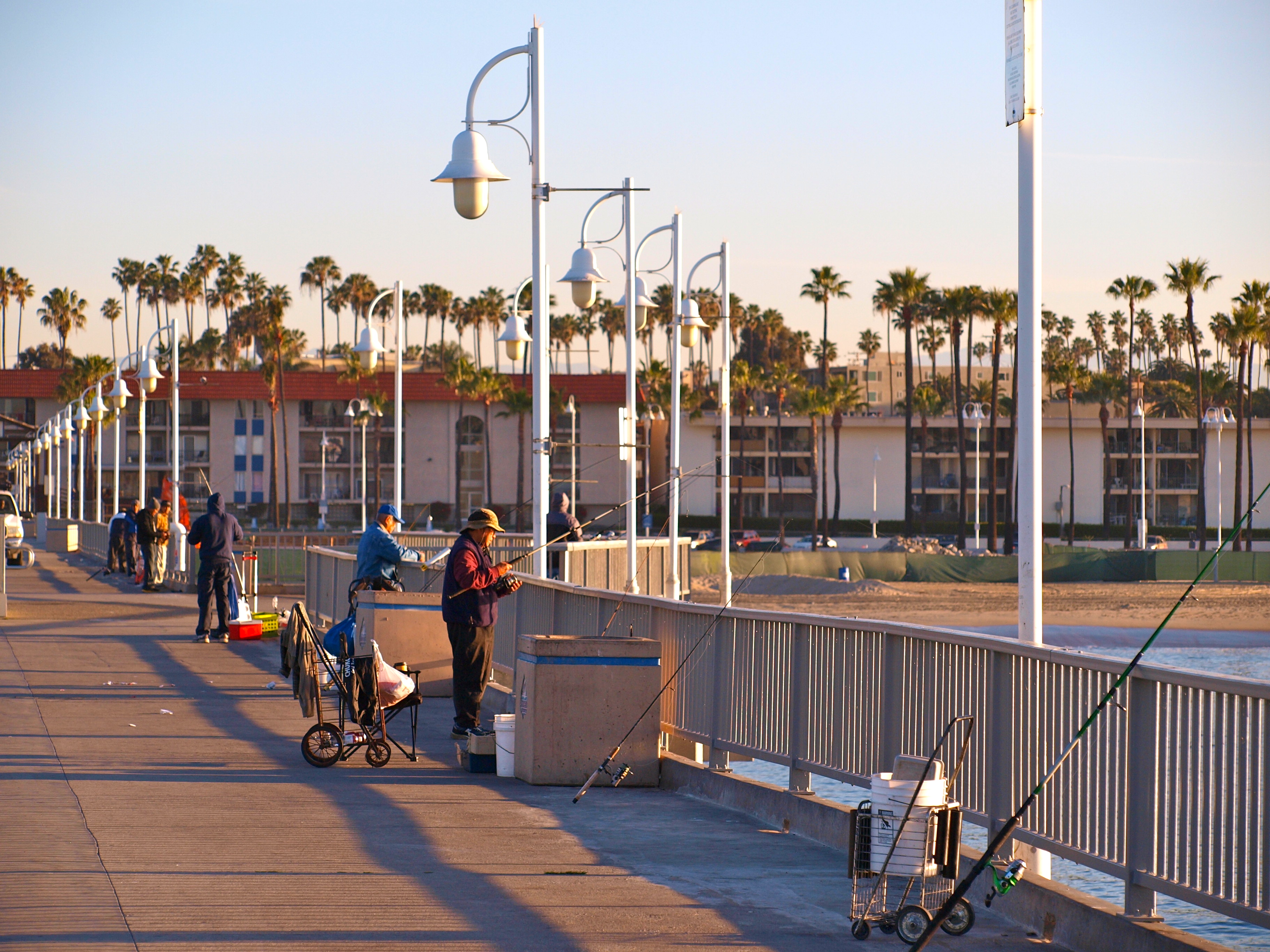 <*}}}}}}}}}>< —  Some reports have too much information, some reports too little. In my humble opinion this story falls into the latter category.
A BATTLE with a monster jewfish off Belmont Pier occupied Lester Bobb, jeweler, for more than an hour. The fish, which weighed 415 pounds, was caught with a cane rod, reel and silk-linen line
—Long Beach Press-Telegram, June 15, 1929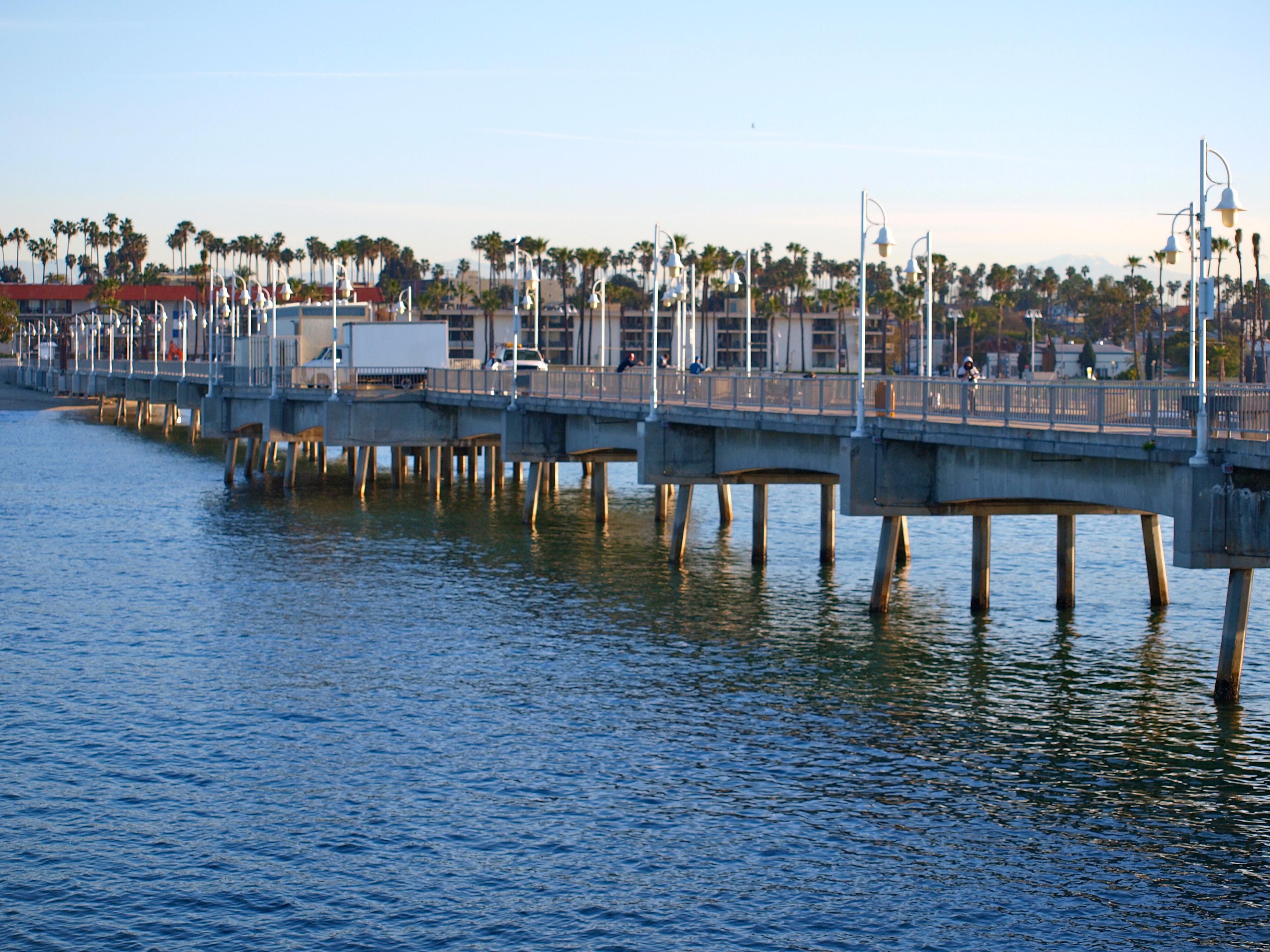 <*}}}}}}}}}>< — Bonito are one of the hardest fighting pier fish and a favorite on many pier rats. And sometimes they show up at the pier…
Bonito Greatest News for Piers
Schools are out and there is something worthwhile to cheer about in the fishing world: Pier fishing has never been better as a starter for the kids' summer. Belmont Pier, the only one which Long Beach can claim for its own, has had a run of bonito that is nothing short of fantastic.
I got mixed into the Belmont Pier run this week while visiting Art and June Ascolesi, holders of the master lease on the pier. Business was so brisk at the bait and tackle shop that I found myself helping sell jigs, bait, tickets, etc., for a few minutes while June worked the bait tank and Art took care of some mechanical problem in the pumping system.
The pay? Just the joy of seeing happy fishermen running around from one spot to another, tossing jigs and live bait. Some caught bonito every few minutes while others, as always, found the going slow, simply because they did not have the right outfits and the knack of knowing what to do.
One angler, certainly a neophyte at most any kind of fishing, returned to the stand for his seventh jig; he said that he already had lost six. The answer was simple: He was not using the right kind of a knot to tie his monofilament to the hook.
Monofilament is a strange material and one of the first things you should do when using it is to get a booklet, available at most sporting goods stores, that shows how to tie knots. Such pictures usually included with packaged monofilament.
The bonito run is occurring elsewhere too, with offshore fishing boats loading up with larger fish than those being caught on the piers. Mrs. Geraldine Poitz, of Seal Beach Sportfishing Pier, also reported that the run was continuing at that pier and on the barge. Belmont Pier's barge had similar reports.
Parents of youngsters who like the outdoors should be especially happy about pier fishing this year. There is absolutely nothing like a few flopping fish on the deck of a pier or of a barge to encourage more and more young fishermen to get into the act.
However, there is one factor in this month's fishing that disturbs me, and it's likely to annoy the Department of Fish and Game to the point of clamping down on anglers who are catching and sacking up dozens of pencil-size barracuda.
And when I say "pencil-size," I mean just that. The fish are plentiful around the piers, along with the legal size bonito, but if the fish are not fatally hooked, they should be returned to the ocean.
There is a definite size limit on barracuda and I don't care whether they are caught by anglers 5 years old or 95 years old, two undersized barracuda comprise the only small ones that can be taken in a full limit of 10 fish of that species.
—Donnell Culpepper, Long Beach Independent, June 21, 1968
Special Recommendation. Because of elevated levels of DDT and PCB, the Cal OEHHA recommends that no more than one meal of locally caught surfperch be consumed every two weeks.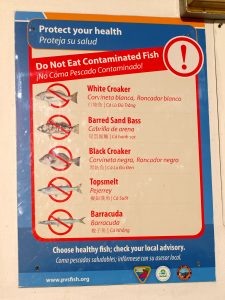 History Note. Belmont Pier was built in 1968 alongside the older Grand Avenue Pier, a pier that was also called the Belmont Heights Pier by some, and the Devil's Gate Pier by others (in reference to the geologic formation—a natural bridge, which in those days extended seaward from the low bluffs at 39th Place).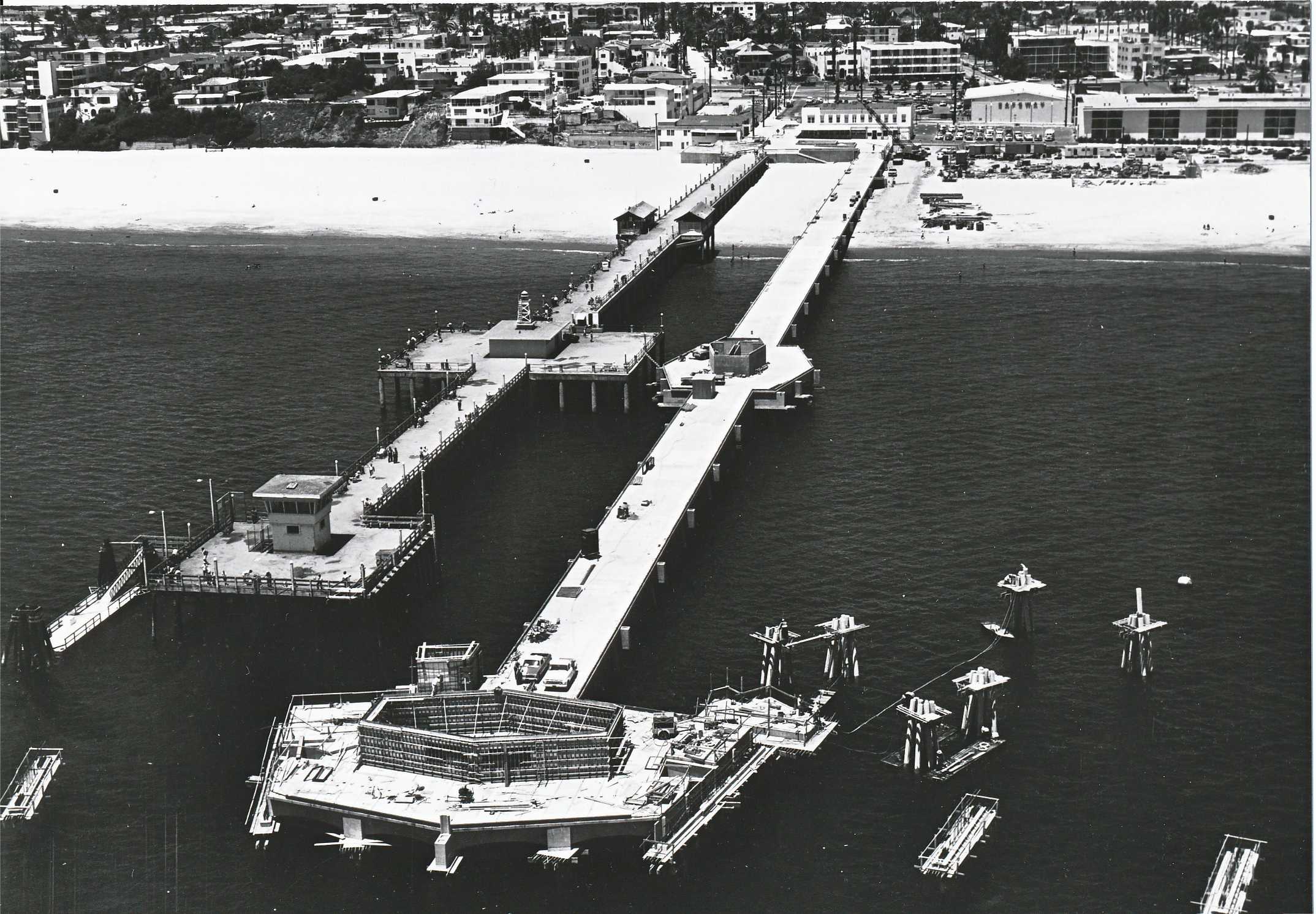 The Grand Avenue/Belmont Heights/Devil's Gate Pier opened on Christmas Eve 1915 and was seen as a payback gift from the Long Beach municipality to the residents of the Belmont Heights section of town (an area that was mainly tidal flat and far from the center of action). Locals had earlier asked the city to fund a pier but been refused. In response, the residents formed a new city—the City of Belmont Heights—which meant Long Beach would lose the local taxes from the area. Long Beach leaders had a change of heart, agreed to build the pier, and the area rejoined Ling Beach.
The pier was 975-foot-long and had a maximum width of 112 feet in the middle and a minimum width of twenty-five feet. Ornamental lights illuminated the pier and in the middle were two pergolas. Newspapers reported that 3,000 to 4,000 people visited the pier the first two days it was open and that 500 to 600 automobiles drove out to the end on the smooth concrete surface.
Barge fishing was available by the mid-'20s with the introduction of the James McKenna (1925 to postwar). The barge Rainbow (AKA Makaweli) joined the mix in 1935, and the Point Loma was operating from the pier in 1940. Several different sportfishing boats and barges operated from the pier over the years, although their use would be curtailed during World War II. Nevertheless, fishing barges returned soon after the war and by 1947 five operated from the pier: the Kilroy, New Rainbow, Fox, Hemlock and Bounty (AKA Martha Buehner). In 1951 the pier was renovated and given a 300-foot extension.
Long Beach…Barges, $1 per day, reached by boat from Belmont Pier at S. end of 39th Pl.; departures at 2-1/2 hr. intervals, 8-a.m.-3 p.m.; prices include bait and tackle. Surf and pier fishing.
—California, A Guide To the Golden State, Federal Writers Project, Works Progress Administration, 1939
1947 Newspaper Ads
DEEP SEA FISHING
Day Or Nite
On The Live Bait Barge
"FOX"
A 145 Footer with a 35 foot beam
A Good Spot To Spend An Enjoyable Day's Outing,
Plus Good Fishing
Staterooms       •         Comfortable Lounge
Good Galley Service       *       Tackle Store
Rental Tackle Available
Shore Boats Leave Daily From
BELMONT PIER
Foot of 39th Pl., Long Beach, Caif.
For Schedule Tune in "Fishing Facts" Over KFOX Each Mon. at 8 P.M.
And Thurs at 9 P.M. or Call Long Beach 860-21
Largest Fishing Barge On The Coast
Deep Sea Fishing Barge
"HEMLOCK"
BELMONT PIER       *       LONG BEACH
Foot of 39th Pl.
Excellent Accommodations     *     Galley     *     Day and Night Fishing
Regular Boat Service Daily Between Barge and Pier
Call Long Beach 875-95 for Information
The "BOUNTY"
One of the Outstanding Fishing Barges
Located in Ideal Fishing Grounds a short run from
Belmont Pier, Long Beach, Calif.
Excellent Accommodations     •     Capacity 200 Passengers     •         Good
Galley     •     Lounge Room     •     Sun Deck     •     6 Staterooms         •     Tackle Store        •     Rental Tackle     •     Flood Lights for Night Fishing
Live Bait Boats also on Daily Schedule
BELMONT SPORT FISHING CO.
Belmont Pier, Foot Of 39th. Pl. Long Beach
Hdq. Belmont Tackle Store
Free Parking               Ph. Long Beach 876-17 or 864-61
Fish and Game Bulletin i#96 dated 1953 makes note of the fact that "The city has had, throughout the years, several pleasure piers for anglers. At Belmont Shore there is now a modern pier. In 1952 there were 22 party boats and 64 charter boats out of Long Beach. Five fishing barges were anchored offshore."