—Donnell Culpepper, Long Beach Press-Telegram, November 21, 1975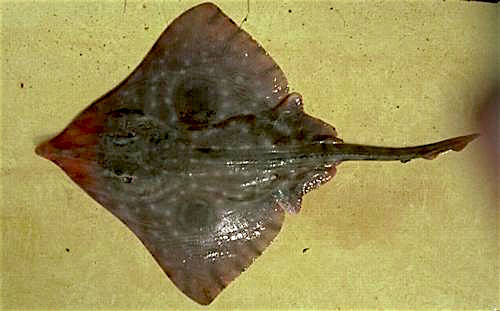 A not so big big skate
<*}}}}}}}}}>< — An interesting story comes from George Van Zant, a writer for Saltwater Sportsman Magazine who calls himself "Piscatorial Prevaricator II." He has a web site called George's Corner and one tidbit caught my eye: "Most of my elementary school years ['40s?] was spent on Belmont Pier where I raised money catching herring for the halibut fishermen. 5 cents each was the charge unless I swam the bait out, then it was 25 cents. I learned to swim in the Colorado Lagoon and more importantly I learned to catch smelt with a bent pin. I used them to catch 100 pound "rat-tail" sting rays off the lagoon floats." Sounds like catching herring (queenfish) and smelt for live bait has been a standard technique for quite some time.
<*}}}}}}}}}>< — The pier played the part of another pier (the Balboa Pier) in episode 13 of the television series The O.C. Usually the Redondo Beach Pier played that part but it's speculated that Belmont's shape was preferred for a scene where two of the characters—Sandy and Rebecca—scattered the ashes of Max. It sounds just a tad complicated to me and I never even knew Max.
<*}}}}}}}}}>< — The barge Annie B was accessible from the Belmont Pier for many years. It was where I spent one so-so night in 1988 with a group of marine biology students from Anderson Valley High School. We had traveled down the 500+ miles from Boonville in vans and planned to spend the entire night on the barge in part to save the cost of a motel.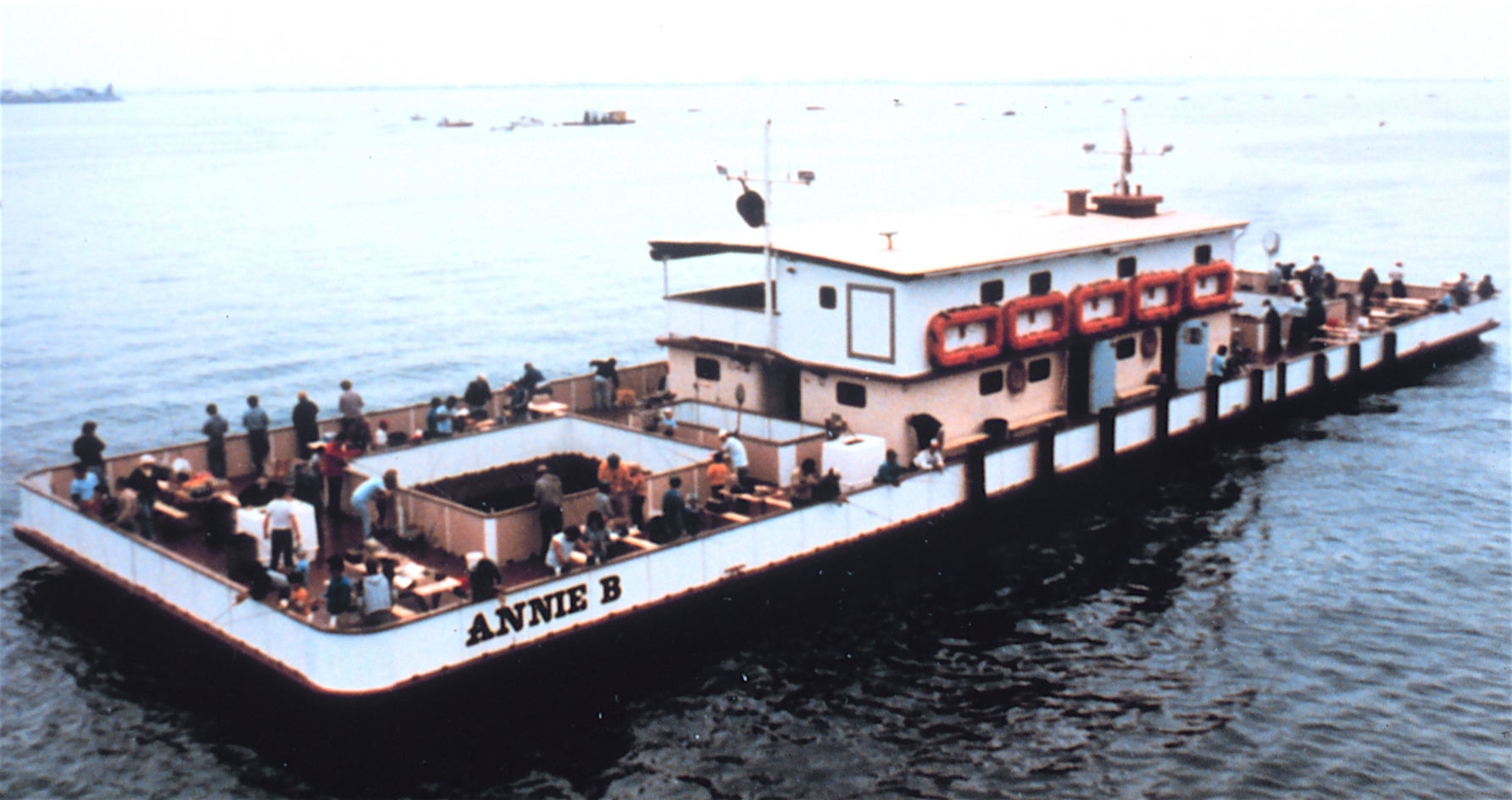 Unfortunately, the catch was mostly queenfish and white croakers with a few mackerel mixed in for variety. Not exactly big game and I grew tired of answering the question—"Mr. Jones, when are we gong to catch some big fish?" Luckily most of the students were asleep by 3 AM while I continued to fish. It probably wasn't the smartest decision since I had to drive a van to San Diego the next morning.
In San Diego we made sure to stay at the Crystal Pier where we were able to do some fishing in between back-of-the aquarium tours at Sea World and the Birch Aquarium at Scripps. We did seek out the bigger fish (yellowtail) on the Mascot VI out of H&M Sportfishing but unfortunately most of the students were seasick for much of the trip. Once again, that's why it's called fishing not catching.
<*}}}}}}}}}>< — I think this rates as one of my top ten favorite pier articles:
 Eye Opener—Belmont Pier Marlin Club
Thursday wasn't exactly a good day to have lunch with the Belmont Pier Marlin Club, but it was the best offer I had. I mean 1 don't want to be a prophet of gloom and doom and I'm not going to mention that nasty word that ends in "cession," but don't you think luncheon invitations are getting scarcer?
It was a bad day for the Belmont Pier Marlin Club because the wind was blowing, which is bad for fishing, but, anyway, I made my way to the pier and found Pop Shoat, the club's executive vice president, leaning over the railing and gazing placidly at the spot where his line slanted into the blue water.
"Hiya, son." he said, waggling his white beard-stubble in greeting. He unwrapped a piece of newspaper from around a package of sandwiches. "Have a sandwich. That's your column they're wrapped in." "Gee, thanks." I said, overwhelmed by this expression of esteem. "I read Hollingworth. too," he explained, "but I save him to wrap the fish I catch."
"It's fresher material." I agreed. There is not an ounce of professional jealousy in me. "Do they pay Hollingworth, or is that just a hobby?" "Dr. Honk Hollingworth." 1 said, "is on the payroll as director of our department of vicarious physical education."
A three-wheel electric auto came dashing down the pier blandly ignoring the sign that said, "No motor vehicles beyond this point." There were more vehicles beyond that point than on the legal side of it. Some Long Beach electric auto salesman has been making a killing by telling his customers they are driven by rubber bands, maybe.
"What I wanted to talk to you about," Pop said as he rebaited his hook, "is getting the city to put up a flagpole on the pier for the Marlin Club. Stand back while I cast." He gracefully snapped an overhand cast that carried his hook far out from the pier and watched his sinker splash into the water. I watched the sign that said. "No overhead casting."
"I'm no lobbyist." I said. "Besides, why does the Belmont Pier Marlin Club need a flagpole?" "To fly a marlin flag, in case somebody catches a marlin." "I have checked this out with Riley Compton of the Belmont Bait & Tackle," I said. "You catch mostly small fish—perch, herring, corbina. Now and then you get a 10 or 12 pound halibut. Last year, a big white sea bass was landed. But in the history of living man, no one has caught a marlin off Belmont Pier."
Pop pulled a flask from his gear box. "How about a snort?" he said. I glanced disapprovingly at him and then at the sign that said, "Consumption of alcoholic beverages not permitted on pier." "Geritol," he said. "Somebody might catch a marlin. And it would bring an awful lot of fishermen to Long Beach if there was a marlin flagpole here and they thought we needed it.
"Mere tourists," I said. "The dropline trade. They'd crowd the regulars away from the railing." "That's happening now," Pop said. "The truant officers ought to tighten up on kids playing hookey. Us retired gaffers can't elbow on even terms against those kids."
He reached for the Geritol and kicked over the carton of ghost shrimp that was the bait of the teenager next to him. "Sorry," he said. The teenager gave him a hurt look, "That's the third time you've done that," the boy said. He picked up his gear and moved down the pier. Pop chuckled gleefully. "Whippersnapper," he said
—Bob Wells, Long Beach Independent, February 3, 1962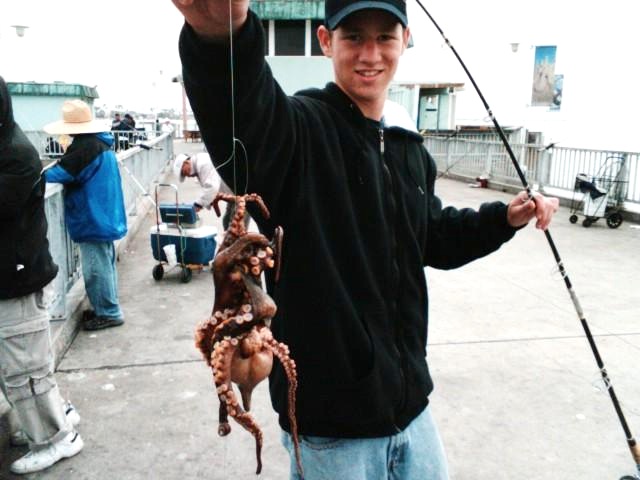 A gnarly little octopus
<*}}}}}}}}}>< — Halibut are one the favorite fish for SoCal anglers and though the pier is generally a fair to good producer of the flatties, few days match the following:
Belmont Halibut in Fantastic Run
Halibut were flopping on Belmont Pier Thursday and Friday almost as fast as fishermen could bait hooks with live anchovies and cast out practically in the breaker line. All of the fish were being caught in extremely shallow water.
More than 100 halibut were caught within three or four hours Wednesday afternoon and the pace was keeping up Thursday morning. Most of the flatties were in the small class, one or two pounds, but there were some larger. For instance, Al Koerner had one that weighed 11 pounds, 4 ounces. Wayne Harris had a 5-13 fish and Paul Kardell had one that tipped the scales at 5-10 ½.
There were losses, too, as fishermen tried to wind up the fish and toss them on the pier. Hooks came out of monofilament knots, lines broke and other fish just fell off when the hooks came out of their mouths. Along with the halibut came a run of small bonito and occasionally a barracuda.
Belmont Pier's smiling woman manager, June Ascoles, and her helpers were kept busy scooping live anchovies out of the tank for the customers, who stood almost shoulder to shoulder at times along the pier near the land end.
Sportfishing boats and private craft got into the act when it was learned that the fish were so close to shore. The G. W., out of Seal Beach Pier, has been harvesting a beautiful catch of halibut every day just outside the Long Beach breaker line.
—Donnell Culpepper, Long Beach Press-Telegram, May 24, 1968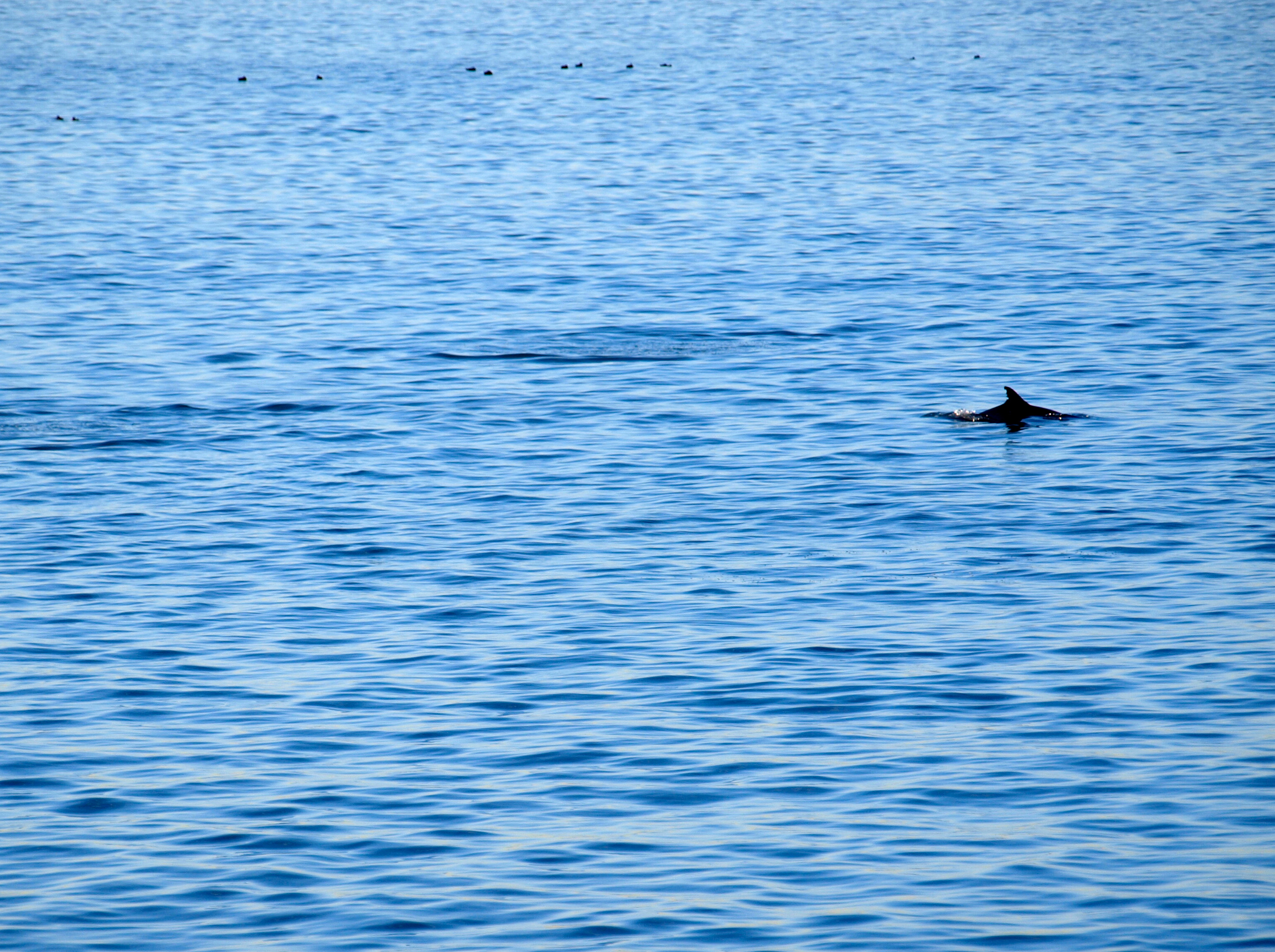 Dolphins are a common companion
<*}}}}}}}}}>< — Although halibut are one of the most sought after fish from piers, yellowtail rate as something special—and their catch from any pier is rare.
Halibut Boy Anglers Make Unusual Kill — Youths Take Yellowtail in Belmont Pier Battle
Two Jordan High School boys, an anchovy and a 17-pound yellowtail made local fishing history at Belmont Pier at an early hour yesterday morning.
Eugene Twombley, 16, of 5859 Gardenia Ave., and Tommy D'Amico, 15, of 1701 E. 60th St., started fishing at the pier Friday night about 7 o'clock. Eugene said they fished by the shelter house for a while and then all along the pier.
They rested at times but kept at it all night. They snagged several jack smelt, five sand sharks, one shovelnose shark and scads of herring and tomcod.
But, it was along about daybreak that Eugene baited up with the anchovy and made a mighty cast out into the ocean from the end of the pier.
"Wham!" Out went a hundred feet of line. The fight was on. Tommy said Eugene battled a while and then he took a turn. The yellowtail went to the bottom, it darted one direction and then another but gradually the boys worked it into the pier where a lone spectator stood ready with a net to help the lads.
Eugene was at the reel when the fish neared the pier. It darted under the pier and the boys just had enough strength left to pull the fish back from under the pier long enough for the stranger to lower the net and bring up the prize.