After 40 plus years of pier fishing. Catching and releasing numerous types of rays without incident. It finally happened today at Seal Beach pier. While releasing a small round sting ray, I got stung on the outside of my right thumb. The pain lasted for about 3 hours. numbness, burning, swelling, stinging, throbbing. Pain also traveled to the tip of my index finger. Currently I have no pain, but the sting area feels like a bad burn with numbness. Crazy! Picture of the round sting ray that nailed me.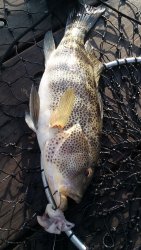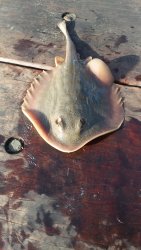 All in all it was a good fishing day. Caught and released the following: 5 thornback rays, 1 round stingray, 1 large rock crab, a 16" spotted sand bass, 1 yellowfin croaker, and a purple starfish!
Caught a few mackerel for bait. Mackerel bite was slow.