I won't complain when I catch fish, but this season the benchmark Thirty Inches remained elusive for a long time. But I got there this morning around 10:20-25. This was about 100 yards from Redfish's recent beauty. East Bay Shoreline rules.
I was foraging bait around 7:30-8:30 and got a good net full of six shiner perch, none pregnant. Moved to a shoreline spot and was in the water by 9.

The tide was already moving out and the bottom rocks were treacherous, upholstered in green lettuce. There was a small craft warning issued from 9am onward, so my time was limited. Like clockwork the wind came up at 9 and blew pretty steadily. Casting into it was a challenge.

Fishing light gear in the wind is a challenge, for that matter. I rely on the first nibble, the first twitch. I want that pole in my hand for the next bite, so I can set the hook and catch the fish. When the wind is jiggling and jostling the rod tip, this is somewhat difficult.
With live bait I'll wait for maybe 15 minutes and then check. Two times came up with an empty hook. Crabs. One more time, forward into the gust. I was ready to catch a fish. Big net on hand, Trader Joe's bag to the side: I use the burlap bag to cover seaweed rocks and prevent me from slipping. Got a twitch, set the hook, fought the fish for a splendid fifteen (?) minutes, all the time climbing down the rocks and walking on burlap. (I became a grandfather recently and sure looked like one as I descended.) But mission accomplished: caught my own bait and landed my own fish, a respectable size.
31" Left-Eyed Halibut
Ugly Stik lite 7' one piece (renovated from stripped blank)
Okuma Avenger 3000 (with a snail's pace retrieve)
CXX 10# line
Sliding bait rig with 2oz ball and size 1 Owner SSW.
Tuesday 2021-05-18
Sunrise 5:56 PDT, Sunset 20:15 PDT
Moonset 1:33 PDT, Moonrise 11:32 PDT
High Tide: 4:18 PDT 4.9
Low Tide: 11:39 PDT -0.2
High Tide: 19:26 PDT 4.5
A truly enjoyable battle.
The tide was at 0.17 when I caught her.
Wind from the South, 8 knots gusting to 12 knots
She had released her eggs weeks ago.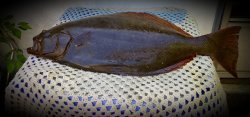 Last edited: