I'm sure everyone has seen enough of these Avalon reports, but given the current state the weather and its effects on mainland piers, I elected to squeeze out one last Avalon trip before heading back up to Davis.
I was going to catch the 6 am ferry out to Avalon, but it was delayed by 30 minutes due to rough seas. Once the ferry left the dock, the ride to Avalon wasn't too bumpy, but definitely rougher seas than I was accustomed to. I got to the island ~7:45, and was joined by several regulars from Redondo. I started off fishing the Mole with a 40 gram jig, while they started off fishing splasher rigs with long leaders. Immediately one of them hooked up on a large 24" bonito. The surface bite was very good, with fish on almost every cast for them, while I had only brought jigs, and couldn't get a bite. I started retrieving the jig very quickly without letting it sink, which was the ticket.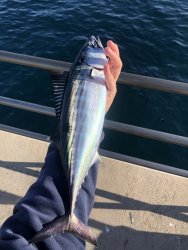 One of many bonito; I lost track of which one this was; they all kind of start fading together after you've caught like 20 of them.
The bonito bite was excellent until around 10 am, and even afterwards there were some sporadic bursts of activity. I caught my limit and released many others, most of the fish were >15", but I didn't see any more >20" fish being landed that day. At some point, I got bored of the constant action (yes I got very spoiled), and switched to trying to catch a live bait. There were scattered groups of baitfish feeding actively near the surface, but they did not want to bite. The few I got turned out to be amberstripe scad (
Decapterus muroadsi
), a usually warmwater species I hadn't seen in several years, probably swept in with the bomb cyclone with some other exotic visitors. Lots of pyrosomes and salps were also drifting by, and I snagged a particularly large one.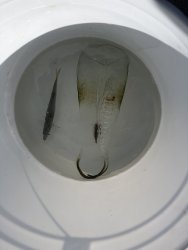 Amberstripe scad and Twin-tailed salp (Normally I'd use the scientific name, but in this case, I'd rather not use the scientific name here for reasons).
I dropped a scad to the bottom on a carolina rig straight down and left it with the clicker on. At some point, I got a hard run on the live bait, and fought what felt like a decent fish for a few seconds before it spit the hook. By now, there wasn't much forage fish around, so by 12 pm I decided to pack up and try the GPP for the Wrasse That Shall Not Be Named.
I started off fishing peas, and almost immediately caught a 12" fish. I decided to release this first one in an attempt to appease the sheephead gods, and they must have listened, as not long after, I caught a 13.5". I decided to not try my luck this time around, and kept that fish. The sheephead were significantly less spooky than the last time I was there, likely due to the decreased water clarity following the rains, and I caught and released a couple just-legal fish. Meanwhile the opaleye were strangely less willing to bite. They still responded to chum, but turned up any baits with a hook in them. At one point, I saw half a dozen opaleye gang up on and tear apart one of the many salps drifting by, so they might have been too full to care. Around 1 pm, I hooked a larger fish which immediately took me into the pilings. I somehow maneuvered it out on my light line, and soon I had a ~15" sheephead at the surface. However, I could tell my leader was frayed, so I couldn't just lift it onto the pier, or even the floating docks. I grabbed another rod, tied on a jig, and used it as a makeshift pier gaff to land the fish.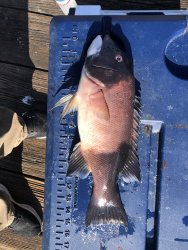 The Beast is vanquished. Maybe not the most sportsman-like catch, but after the humiliation these fish put me through, I was more than willing to take it.
Satisfied, I continued to fish peas for whatever else would bite, which turned out, was not much. I caught a couple garibaldi here and there, but otherwise couldn't get any more bites from opaleye or sheephead. That was fine, given I was flying back to Davis by Sunday, and I had caught my limit of sheephead. At the same time, there were transient schools of sardines around the pier, so I decided to fish for some to take home.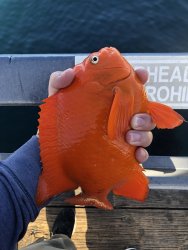 Making peace with my old nemesis.
As my 3:55 departure approached, I started throwing peas liberally into the water to watch the fish. Out of the "Skipper's corner", I saw some
big
sheephead coming up a good distance from the pier to feed. These were easily 20" fish, but they approached each pea like it was made out of dynamite, and only took
individual
peas after a thorough inspection. I threw some shrimp heads in to see their reaction, and, after a short glance, they darted away as if stung and didn't come back. These fish were obviously quite old, and very wise to fishing pressure. I left the GPP by 3 pm, and got in line at the Mole for my ferry home.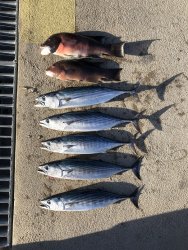 The day's catch (minus the dozen or so sardines that wouldn't exactly be photogenic).
Nice to start off the New Year with a bang, hopefully the rest of it will be just as good.