Inspired by EgoNonBaptizo's trip a week earlier, I decided to try my luck at the newly opened Cabrillo Mole in Avalon on Catalina Island.
Setup three poles:
A light setup with a high low rig (10lb flourocarbon leader, 15 lb braid - size 6 bait holder, and size 8 mosquito hook).
A heavier setup with a high low (20lb fluorocarbon leader, 30 lb braid - size 3/0 circle hook and size 1/0 circle hook).
A cast-a-bubble splash/feather rig for bonito.
Got my cart all loaded and boarded the Catalina Express out of Long Beach at 7AM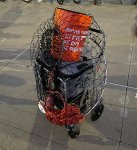 The boat was about 1/2 to 2/3 full and mask wearing was dutifully enforced: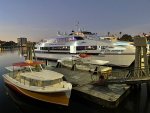 On our way into the harbor, we were escorted by some dolphins. The captain was nice enough to allow us onto the bow of the boat so we could witness the dolphin escort. It was amazing. I made a video of it here. You can see it here:
I had the following baits:
Live Ghost Shrimp
Blood Worms
Head-on Market Shrimp
Squid
Frozen Mussels
Green Peas
Upon my first casts, I knew what the challenge was going to be for the day: kelp.
Fish were not hard to find or hook. The fishing was awesome but on my first five casts I hooked 4 fish that ran me into the kelp. The one I was able to lands was this a kelpfish: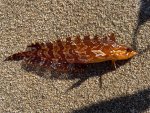 I lost 4 rigs in 5 casts and immediately used up all the rigs that I had pre-tied the night before. I refused to panic. I was determined to learn on the fly and get more effective. I realized that I need to find casting lanes where my retrieval was not obstructed by kelp. I identified a couple of these and started to land fish.
The dominant fish I was catching by far today was sheephead. My fish count for the day was as follows:
23 Sheephead
5 Calico Bass
2 Garibaldi
1 Half-moon perch
1 Pacific Whitefish
1 Giant Kelpfish
I caught about 12 Sheephead that were big enough to keep. I regretted keeping barely legal fish when I reach my limit of 5, as I was landing bigger and bigger fish as the day went on.
Some highlights of an awesome day:
I double up twice on exciting fish. Once with a legal sheephead and my personal best Half-moon perch (14"). Another time I caught another legal sheephead with what I looked ike a legal calico bass. The calico ended up being short (13.5").
Caught my first Garibaldi.
Caught personal best sheephead, calico bass (from shore), half-moon perch, and giant kelpfish.
I stopped fishing at 5pm to clean fish and got in line for the boat at 6pm. Here are the fish I kept (5 Sheephead, 1 Half-moon Perch, 1 Pacific Whitefish):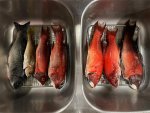 What I learned:
My "heavier" setup was an Okuma SST with a Kast King Baitfeeder 6000 reel. This was an unproductive setup. The Okuma SST is a fun "heavier" setup for a mainland pier because it still has enough bend that catching small fish is still enjoyable. I need a short, stiffer rod to pair with this reel which I had but did not bring. This would have allowed me to slice through the kelp and control the fish I hooked more effectively. As it was this rod was snagged way too often and eventually I downshifted to a Carolina setup to try to make it less snaggy. It worked but caught less fish.
To fish the bottom here I needed more pretied rigs that I prepared. I don't think it would be too much to have 10 of each type (smaller and bigger). I only lost my whole rig a couple times there we're many more missing/bent hooks and missing sinkers.
The most effective bait was blood worms. I was surprised at how many larger sheephead bit on blood worms. Second most effective bait was live ghost shrimp followed very closely by market shrimp. Squid was third. I also caught a couple keeper sized sheephead on squid.
What else was caught:
There was a group of Korean anglers that were fishing for Opaleye. They had an average day. I saw them land a few fish but surprisingly few given how many Opaleye you could see in the water. I did not attempt to fish for Opaleye so I can't speak to whether or not they were biting. The anglers just to my left caught decent size but short sand bass. A young man on my right caught a horse mackerel and asked if he should use it for bait.
I had an amazing time and learned a lot! I will definitely come back with better chosen gear and more pre-tied rigs.
Thanks to everyone for their recommendations. The information helped make this first trip a success and I am very grateful for all of you!
Last edited: