Went back to Cabrillo Mole this time with my girlfriend. We had a fantastic day!
Total fish count between the two of us:
Sheephead: 24
Halfmoon Perch: 14
Calico Bass: 9
Ocean Whitefish: 8
Garabaldi: 8
Blacksmith: 6
Sculpin: 4
Rock Wrasse: 3
Senorita: 3
Giant Kelpfish: 2
Mackerel: 1
Total: 82 fish
We ended up keeping 7 Sheephead, 2 Ocean Whitefish, 2 Sculpin, 1 Halfmoon Perch
First time catches for my girlfriend: Sheephead, Garabaldi, Rock Wrasse, Senorita, Blacksmith, Sculpin, Giant Kelpfish, Ocean Whitefish (from shore)
Personal Best for Me: Sculpin (~15")
My girlfriend had the distinction of catching the most fish with the best variety (44 fish total caught all species list except mackerel).
I had a good luck with generally bigger fish catching the majority of the fish we kept and perhaps the most exciting catches of the day with 2 bigger sized sculpin.
A risk pays off:
Taking the trip was a risk as common experience says that rain shuts down fishing and it did rain the day before in Catalina. Here are the ways I justified still taking the trip. Rain has been predicted for today (Monday) so I was betting that the fish would be more active in the gap between two rainy days. Also I have mostly been bottom fishing at the Mole and the water there is pretty deep so I was also betting that the fish at the bottom would be less affected by the rain. But mostly I thought intuitively it was going to be fine, so we booked our ferry tickets and went.
I brought my girl with me this time. I felt this pier would be particularly important to her because she hates jetty fishing. Without the ability to fish from jetties this pier would be the easiest chance to catch a keeper sized California Sheephead from the comfort of a pier.
Based on my previous experience here, I shortened and stiffed up my bottom rigs. I felt bad because my light rig did so well the last time and I felt like turning that rig into a float rig was a bit of a demotion after such a stellar performance.
We brought four poles:
A short stiff Okuma Axeon (7', 15-30lb, M) outfitted with a KastKing Sharky 3, 6000 Baitfeeder reel. This was our heavy setup with a high-lo rig with a 3/0 circle hook on the bottom and a 1/0 on the top and a 2 ounce bank sinker.
Toadfish Inshore Rod (7'2", 10-30lb, MF) with KastKing Sharky 3, 4000. This was my smaller hi lo setup with size 6 baitholder hooks and a 2 ounce bank sinker.
Penn Battle 3 Combo. My girl's smaller hi lo setup with size 6 baitholder hooks and a 2 ounce bank sinker.
Okuma Shadow Stalker (7', 8-17lb, M) with KastKing Sharky 3, 3000. My light setup was outfitted with a slip bobber and size 6 bait holder and size 8 mosquito hooks with a 1 ounce torpedo sinker. I did this to try to get my girl on some Opal Eye which is a fish is also has yet to catch.
What ended up happening is that we both focused on our smaller high low setups and switched occasionally to the heavier hi lo or float rig to keep the interest high or to target different species.
I also pretied 6 larger hi lo rigs (3/0, 1/0 circle hooks) and 12 smaller hi lo rigs (6, 8 baitholder hooks).
In general the adjustments were successful. I avoided having to stop fishing to tie rigs and the stiff rods helped us control the fish more effectively and we lost way fewer rigs to the kelp than I did on my previous trip. Our bigger Hi/Lo was also more productive as we were able to tweak that setup to target bigger/different fish instead of it being merely a less effective and more snag-prone version of the smaller rig. Both sculpin and a couple of the larger sheephead were caught on the bigger pole.
Bait:
We brought, 3 cartons of blood worms, 3 lbs of frozen squid, 2 lbs of head on market shrimp, a bag of frozen peas. The combo of blood worms and shrimp was the best for targeting sheephead. Squid was good as a switch up to calm to sheephead bite down and haved a tougher bait that lasted longer to try and catch diffferent/bigger species at the bottom. The peas we used for the float rig and there were effective at catching blacksmith and halfmoon perch while generally avoiding garibaldi.
Looking for advice to improve:
I boneheadedly forgot my small bucket for collecting water and this caused us to waste more time necessary collecting water and cleaning fish. Where do people clean fish on the Mole? Is there a cleaning station on the Green Pleasure Pier? If so, is it worth walking over there to use it or should I concoct some other setup or walk over to the ramp to the right off the mole and clean fish on the kelp covered ramp? I ended up doing this and it wasn't bad. Would have probably been perfect had I had my smaller bucket.
We did not catch any opal eye. My girlfriend spent a decent amount of time fishing the float rig and caught quite a few fish on it (mostly halfmoon perch and blacksmith) but no opal eye. I personally don't have interest in targeting Opal eye as there are mainland jetties were the Opal eye fishing is excellent but for my girlfriend it would be nice for me to find a way to catch them here.
The heavier Hi lo was definitely more productive this time but I'm still looking to tweak it so that it requires less active attention and is able to operate as a bait and wait setup looking for bigger fish. I was baiting it with larger pieces of squid and shrimp (even trying whole versions of each). These baits still get way too much attention from what I feel like are smaller sheephead. They nibble bigger baits off the hooks too often for the setup to be delivering what I want it to. Would love to have this setup as a way to catch bigger bottom fish like sculpin, cabezon or any other kind of rock fish and larger kelp bass. Perhaps using a live whole fish like a small mackerel? I have no idea what kind of bait fish are available off the Mole.
I called this picture the
United Colors of Avalon
. Kind of looks like a flag to me: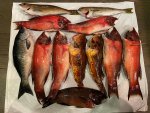 Had a great time and can't wait to go back! Thanks to everyone for all the advice and help!
Last edited: