Warning: Long with lots of pictures. I went on a 3 day camping/fishing trip to Two Harbors after finishing all of my summer classes. I took the sardines and mackerel I had been catching over the past couple months as bait, as well as some squid and shrimp.
8/10
I took the 9 am ferry out of San Pedro that would stop by Avalon before going to Two Harbors. The Mole is still under construction, and only the northeast corner appears to be finished.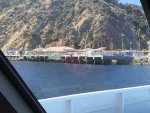 The ferry arrived at Two Harbors sometime around 11:20 am. After checking into my campsite, I grabbed a few sardines and squid from my cooler and headed straight to Cat Harbor. I fished the beach next to the yacht club, and fished fishfinder rigs. I caught a leopard shark and a shovelnose, both released, then left at around 1:50 to unpack my things.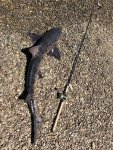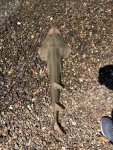 After unpacking and setting up my campsite, I fished the rocks next to the campsite. There were a few other anglers, who had decent luck on opaleye. I caught one short calico on a dropper loop with shrimp at around 4 pm, then moved closer to the other anglers. One of them caught a decent sized bonito, so I started throwing a megabait. I only got bit when I burned the jig in as fast as I could. I caught well over my limit of bonito, releasing them or giving them to the people next to me. Most were small, with a few larger ones mixed in. I also caught a few small chub and jack mackerel that I kept for bait. At around 6, the bite dried up, so I switched back to bottom fishing. I caught two whitefish, then was driven off the rocks by swarms of yellowjackets at around 7:30. After washing up and eating dinner, I headed down to the beach in front of the campsite, and fished cut mackerel on wire. I caught one very small horn shark and a moray eel before calling it by 11 pm.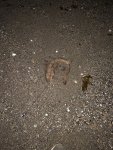 8/11
I woke up at 4:30 am and headed to Cat Harbor. I fished the North side of the harbor. The water was full of microbait, and there were fish actively feeding on them. I started off throwing a swimbait for little luck, then switched to a Lucky Craft, and after a few casts, got a violent hit that turned out to be a short barracuda. I caught another barracuda before moving to the dinghy dock. Until around 8 am, I had steady action on short barracuda and halibut, with a sand bass, spotted bay bass, and a 15" calico mixed in.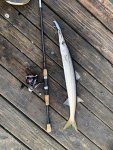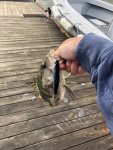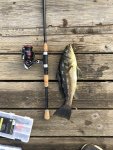 Once the bite dried up, I walked back to the town, and while waiting for the general store to open at 9 am, threw the lucky craft off the beach. I caught a couple small bonito scarcely bigger than the lure itself, all of which were released. Once the store opened, I bought ice and walked back to my campsite. After putting the ice and the fish in the cooler, I grabbed some mackerel and headed back to my spot from the previous day. I fished the same rigs, and caught three leopard sharks, all released. I headed back to camp at around 2 pm, having run out of bait, and took a nap until 4 pm. I then fished the rocks again, and started off throwing the megabait. It was immediately jumped on by a bonito that cut me off in the rocks next to shore. I switched to a Coltsniper and proceeded to catch my limit and then some.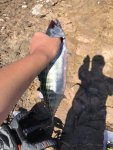 There was another angler on the rocks, who was not having much luck. I lent him my setup, and he caught two bonito before breaking one off in the rocks. I headed back to camp and put the fish away. I headed back and tried bottom fishing again, only to be driven off the rocks by swarms of yellowjackets, receiving an obscene number of stings on my arms and legs (100+!). After heading back to camp and washing up, I fished the beach again from 8 to 10 pm, and caught a horn shark and a lobster, both of which were released.
8/12
I woke up at 4:30 am again, and headed back to the dinghy dock for similar, but somewhat slower action, catching a 21" halibut and a few other shorts. After a while, I moved onto the beach and walked around, casting as I went. At one spot, I caught several short calico, sand bass, halibut, a nearly legal barracuda, and a yellowfin croaker, all on the Lucky Craft, which at this point had been stripped of most of its paint. I walked back to the dock and fished for a little longer, catching only two more short halibut and a barracuda before heading back to camp to pack up. After packing up, I grabbed the last of my bait and headed back to fish for leopard sharks. It was extremely slow until around 1 pm, when several sharks began cruising right in front of me. After two pulled hooks, I managed to hook one and land it. After releasing it, I sat down and watched the leopard sharks swim around until 2:30, then walked back to town. I packed up, washed up, and took the 4:45 ferry home.
I took home a limit of bonito, the 15" calico, the larger of the two whitefish, the croaker, and a jack mackerel that I forgot to use for bait.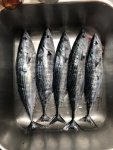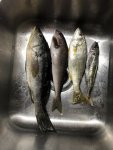 Last edited: