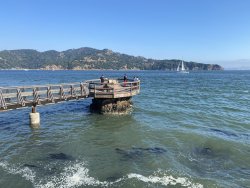 Elephant Rock Pier​
After finishing up at the Kids Day on the Pier, I decided to head over to the Elephant Rock Pier in Tiburon for a couple of hours of fishing. Two hours produced two BIG black perch, a BIG walleye surfperch, two mid-sized brown rockfish and one spotted kelpfish. All caught on pile worms.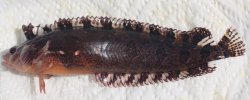 Spotted Kelpfish​
Two guys down the railing were fishing for sharks/rays and hooked a nice-sized bat ray. They didn't have a net but I did. We netted the fish, around a 75-pound fish, and then I showed them how to remove the stinger without cutting off the tail (which they planned to do) and how to properly hold the ray by the mouth (which you should always do). Showed them PFIC on my cell phone so maybe we will have a couple of new members.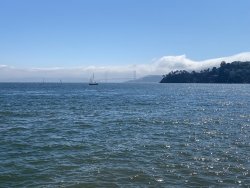 San Francisco Bay looking toward the Golden Gate​
I no longer fish for rays due to my shoulder but generally take along my hoop net and it's amazing the number of large fish I have been able to help people bring up with the net. I don' t know why people aren't more prepared. if you are going to fish for large fish like rays you need to bring along a net.