I rarely post any more unless I have an interesting story or I have something to rant about.
Unfortunate to hear about the closure of Muni. I did really good there the last couple of years. The last time I had spoken with Ken Jones, I predicted that Muni was on the chopping block and I was proven right. I have another prediction:
Ft. Point is NEXT
.
Left the house at 4:00 a.m. to catch anchovies.
CATCH
, not
BUY
. I blame J&P Bait for contributing to the combat fishing that is prevalent in the Bay Area. I can't wait until they charge
$200 per scoop
. Shout out to the Berkeley/Richmond fishermen. I will
ALWAYS RESPECT
the
guys who catch their own bait legally
or
guys who plug legally
.
Got to my bait spot. Caught some anchovies. Not a lot, but enough for a day of fishing. ~Dozen nice ones. 3-4 inches. Big enough to catch virtually anything.
I spent the whole night looking at water clarity, water temperatures, and salinity levels and settled on one spot. I haven't fished this spot in years. The last keeper butt I had caught at this location was in 2016 at 3:30 in the morning on a frozen anchovy. First time bringing live anchovies to this spot.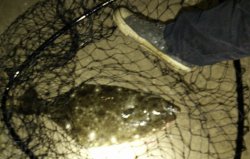 Pretty uneventful morning as the tide was bottoming out. A plugger showed up close to noon and landed a nice 23-24" halibut in less than an hour of fishing. He left shortly afterwards. Great day of fishing for him. He fished for an hour and left for work with a keeper. Not much longer after his keeper, in the corner of my eye, I thought my pole had a hit. Looked at the rod tip and sure enough, the fish was munching on the bait. Munch, munch, tug, and I set the hook and up came a 23" butt. First keeper of the year. I haven't really targeted halibut much because I was focused on landing a sturgeon during the winter months. I totally struck out with the dinos, but pulled up a lot of shaker stripers in the process. This was probably only my third halibut outing.
Had another nice run a few hours before high tide in the late afternoon. I knew right away it was a quality fish. 24" striper. A fatty. First keeper of the year too. Kind of made up for the nice one I had lost at another spot about a month ago that made a run into a snag. Decent day of fishing. Hooked 6 fish totalling 50+ lbs. on
12 baits.
Only 8 lbs. was worth keeping. Had one fish come unbuttoned during the hook set. The hook got straightened out. Always replace the hook after battling a big fish. Kind of tweaked my left shoulder throwing back the said fish...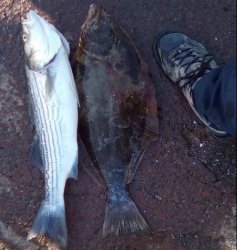 ------------------------------------------------------------------------------------------------------------
Leader: 5-foot sinker line / 8-inch line for 3-way / 19-inch line to swivel / 18-inch hook length
Leader material: 20 lb. Seaguar Invizx / 40 lb. Momoi Hi-Catch Diamond / 40 lb. Momoi Hi-Catch Diamond to a 65 lb. Spro Ball Bearing Swivel / 25 lb. Seaguar Invizx
Hook line: Double perfection loop tied to the hook and merged with an Improved Albright a la
Hippo Lau
.
Hook used: 1/0 Owner Mosquito
3-way: 75 lb. Offshore Angler Barrel Swivel wedged in-between Pucci beads - 5 mm and 8 mm
Bait used: Live anchovies
Amount spent on bait this year: $0
Not having to deal with rookies who crowd spots with J&P anchovies:
PRICELESS
I find it laughable that a few years back someone was lecturing me that my 5-foot leader is ineffective. Yea, if I drop it straight down. Does it look like I'm dropping it straight down? F-ing idiot. Saw that same idiot recently somewhere in the North Bay and he still fishes with 3 lines...
Last edited: