Started fishing around 4:45AM. Alternated between a hi lo rig with blood worms and shrimp, a Carolina rig with squid, and a fish finder rig with the head half of a head on shrimp.
Lots of kelp in the water today. One of the worst days for kelp that I have experienced. The water was being stirred around so the rigs would get covered with kelp and tangled on themselves.
I got some intriguing bites off the fish finder setup. I cast this way out to the reef and with the head half of a shell on market shrimp, I was got two very good bites. The first I pulled too early and found that the head of the shrimp was missing. The second, I hooked the fish but the fish ran into the rocks and broke me off. It was exciting to get bites in this area and on that bait and presentation. It was likely sheephead as this is the exact type of setup I used and bite that I got when I caught the 14" sheephead here late last year.
The Carolina rig with squid was also getting sampling bites but between the kelp and the less aggressive bites, I was unable to hook anymore fish. I also got a few sample bites on the hi lo rig on both the worms and the shrimp.
I packed up my stuff and had even earlier taken one of the scenery photos that people post when they skunk: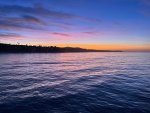 But my high lo rig still had 1/2 a blood worm on each hook so I kept bait on: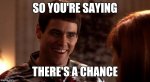 Stopped at the bathroom and before I went in, I cast out and put a bell on. Nothing there.
Stopped mid pier and chatted with a few guys fishing there. They also had not caught anything yet. I cast out a couple times and...nothing.
Stopped just before the Lifeguard Tower and cast out a couple times...nothing.
Finally the last stop inshore from the Lifeguard Tower and on the opposite side. I cast out a couple times and felt a pull. God Bless yellowfin croakers. After a morning full of non committal bites, it felt great to feel a fish bite hard enough to set the hook. The first fish still left my bait on so I cast out a couple more times and caught another very similar yellowfin croaker. Discarded 1/8 inch piece of blood worm that remained on my rig and left, content to have avoided the skunk.
Last edited: