It's with extreme sadness that I report the passing of Boyd Grant (Pierhead) at 9:40 this morning in Pittsburgh. I am at a loss for words but I considered Boyd a friend, a great man, a man of peace, the voice for the Goleta Pier, one of the main voices for UPSAC both in its founding and work over the years, and one of the strongest members of the PFIC family. I will hopefully write a few better words later but have included a connection to an article below that I wrote about Boyd several years ago for those who did not know him.
I talked to his wife and he will be cremated and his wishes were to have a ceremony at Goleta Pier. No date is set but it will not be before December and perhaps even later.
I will post the information as I receive it.
http://kenjonesfishing.com/2012/03/end-of-a-dream-boyd-and-the-goleta-pier-angler-center/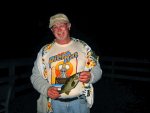 .