Although we've had several reports over the years of bat rays weighing 200 pounds or more, the official state (and world) record remains a fish that weighed 181 pounds 0 ounces. It was caught at the Huntington Beach Pier on July 24, 1978 by Bradley A. Dew, a senior at Huntington Beach High School. Records indicate it was 23 pounds over the prior record and, according to the Dept. of Fish and Game, the fish had a 5 1/2-foot-wingspan, a 3-inch-long stinger, and the width across the bat ray's eyes was an even ten inches.
Unfortunately, the state records seem to be a mess, and I have not been able to get a picture of the fish. We do though have several pictures of big bat rays. (1) the large bat ray caught by Mola Joe back in the '70s and (2) the large bat ray (203 pounds?) caught at Stearns Wharf in 2004 (and authenticated by Pierhead (Boyd Grant). I never heard why the second fish did not qualify for a record.
https://www.pierfishing.com/bat-ray/
http://kenjonesfishing.com/2015/08/bat-ray/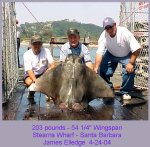 .