Received some Intel that Big Corvina around the pier. Brought my best surface lures. Fished today from 12pm to about 245 pm tossed everything for nothing. Only thing exciting was a big needle fish followed my shimano waxwing lure, but it did not strike. Saw some major boils away from the pier.
Saw 2 big mackerel caught on sabiki rigs. One guy using shrimp caught 3 black croakers. A lady next to me caught a small needle fish. Cool looking fish.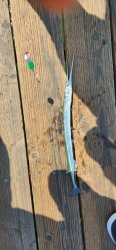 BTW...a Russian yacht was seized by customs and docked nearby. For you rich guys it's currently bidding at 325 million.