I went out to Monterey on Friday, waking up at 5:30 to stop for some donuts. If you've never had the experience of being one of those lonely souls walking into a local donut shop at dawn like the customers from Nighthawks, your missing a absolutely essential part of every "big fishing trip". Sure, it would save time and money just going straight to fishing, but the same could be said for just buying fish from the market. The warm donuts, terribly bitter coffee and the idle banter from other customers about their lives, wives, and little white lies are all part of, for me at least, a grand day out fishing.
I made it to Wharf no.2, hoping to luck out on some more fresh anchovies. They were dancing just beyond the surf, shimmering back and forth as seals and comerants lazily picked off a couple here and there. For some reason, they refused to bite my sabiki, with only one getting snagged for his slothfulness. I switched over to my cast net, and after a hour caught about a dozen or so along with some small herring mixed in.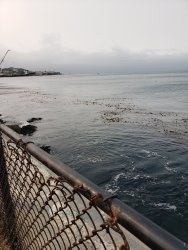 Arriving at the Coast Guard pier at 8:05am and, moving along the holes, caught 6 keepable B&Y rock fish and threw back just as many. After taking a much relished lunch break at noon and cleaning out my catch, I meet with Nic, one of my high school buddies to hang out a bit. Taking him roughly to the same spot I had stopped, I noticed a hole that I had failed to try out earlier. Casting into it, I immediately fell a gentle taptaptap and handed the rod to Nic to reel in. Lo and behold, a leviathan grass rockfish materialized on the end of his line, heavy enough that I had to help handline it over the fence, the frayed wisps of monofilament just barely hanging on. If anyone asks me for proof of beginners luck, I'm sure a 4+lb rock fish from under your feet on the FIRST CAST would be fairly solid evidence.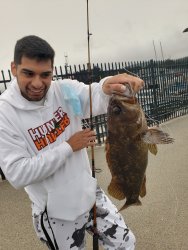 After a couple hours, Nic left for dinner, insisting on leaving me with the grassie since he didn't know what to do with it. I'm glad I had earlier traded my last donuts with him, otherwise it would have been a life long debt I would never feel repaid. From then on the bite was a slug and after 5 lost rigs in the span of 3 hours, I finally got the message that Posiden was telling me that go home, and left Monterey at 4:12pm.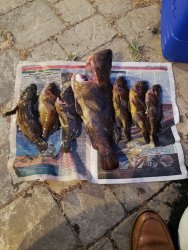 I BBQ'd the rockfish yesterday, with the grassie in frozendog's recipe and the B&Y's with just plain salt and pepper. A excellent dinner and wonderful memories with a friend 👍