Checked out Wharf 2, starting at 5:30am in the morning. Tried to see if I could snag some smelt or small perch for a lucky halibut. In the meantime, I threw out a anchovy popsicle to see if anyone wanted some ice cream ¯\_(ツ)_/¯.
Nothing for live bait, but something did nibble on my anchovies. Kept going smaller in bait and hook size, but just couldn't get a hook set. A thorn back ray casually drifted by, peacefully content with the quite morning. Left at 9:30am after getting some squid and shrimp. They were selling a impressive halibut whole, giving me some more hope in catching one. Someday…
Got to the Coast Guard Pier, and it was definitely a frustrating experience. The city installed new parking meters, but I only had cash while the majority of the machines only take change or cards. The one that did take cash was busted, taking my crisp Lincoln's and giving them back like crumbled candy wrappers. Thankfully, a city worker who had been working on them showed up and helped pay for my ticket. According to him, these meters have been nothing but trouble since they started. One weekend saw a throwback to simpler, less greedy days when the whole system errored a "free parking" message for all the parking meters in the ENTIRE CITY. For a whole weekend. In Monterey, one of the most heavily tourist visited cities in California.👏👏👏😂
Anyways, if you plan on visiting Monterey, bring cash, change and a card. You'll never know what's gonna work out there
Fishing was slow here too. Only got one small B&Y in 3 hrs of fishing🤷‍♂️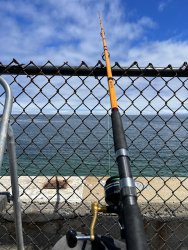 Anyways, left for lunch at 1:07pm. Went to the El Estero Snack Bar. Great burger, ate the whole thing before I thought about a picture. They also have hand-breaded corn dogs, something for next time 👍. Did some more fishing out by pacific grove, but skunked out there too. Oh well, can't catch them every time.