-Still good tides. A PFICer, Alex Poon wanted to fish today after he saw the success I had two days ago.
-We fished 2:30-5:30p.
The striper I hooked on his rod and handed it to him to reel in . The 41" sturgeon came on my same rod as before with the 525. Tag002 burnt.
-Eel/herring-striper/ Sturgeon-straight eel threaded on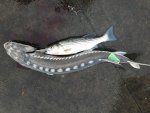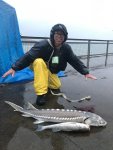 Last edited: