Took my Dad to Avalon to fish Cabrillo Mole on Sunday. We took the 6AM Ferry. He returned on the 2:45PM, I came back on the 7:45PM.
Most of the day we fished with Hi-lo rigs with size 6 hooks using a mix of mostly market shrimp with a lug/bloodworms and an occasional piece of squid. We also met a nice young lady Amber who was on the island with friends and was more interested in fishing than what her friends were doing, so I lent her a pole and the three of us enjoyed fishing together.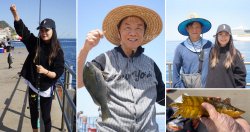 I also spent some time catching live bait and fishing mostly with live senorita wrasses on either a dropper loop or a carolina rig at the base of the pier. Hooked a few notable fish this way and finally landed a keeper size calico bass and lost a couple really good sized fish to the rocks and kelp.
I would characterize the bite as below average. The bite casting out away from the pier was slow. Close to the pier there was a reliable bite but it was mostly smaller reef fish like senorita, rock wrasses, blue perch and garibaldi. We also caught a few giant kelp fish and a couple opal eye on the day. Notably absent on the day was ocean white fish.
I caught a couple keeper sized Sheephead and released the smaller one (12") and kept the larger (13"). The most exciting catch of the day for my Dad was good size Opal eye that gave him a great fight close to the pier and required assistance to hand line over the rail. Did not see any evidence of bonito on the day but no one was really targeting them until the end of the day when I saw a couple anglers throwing stick baits with no bites.
I stopped fishing at 6PM and went to the landing to clean fish near the water and pack up.