Went to Huntington Beach Pier on Monday morning and fished from 7AM-11AM. When I arrived the end of the pier was just tailing off of a solid mackerel bit. As I was rigging up people were pulling up sabikis full of mackerel both trolling and fishing with a float. Unforunately the mackerel bite slowed significantly after I rigged up and was replaced with big jack smelt. Had fun catching larger jack smelt and a few mackerel mixed in.
Bit was very slow on the bottom so most of the action was experienced by people using floats or my choice retrieving rigs just below the surface of the water. Best bite on these types of fish was on the south side of the end of the pier.
At around 9AM, an angler at the end hooked a small thresher shark and got it all the way to the pier but lost it as he was trying to gaff it to bring it up.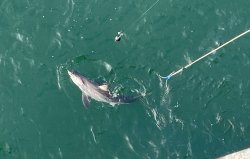 Moved to mid pier for the last hour of fishing just behind the bathrooms on the South side. Fished a live smelt with not detectable bites although upon retrieving my bait, it had been bit by something (possibly a crab). Only bites we could get in this part of the pier were small smelt right near the base of the pier.
Glad to go back to this pier. I had forgotten on spacious, clean and nice it is!