My first yellowtail. I caught it on the Sea Biscuit out of Islandia Sportfishing in Mission Bay in May 1966.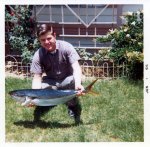 A yellowtail being held up by my young son Mike. I caught it on the Malihini out of H&M Sportfishing in San Diego in June 1976 and it was just big enough to win the jackpot. I used the money to buy a new rod and reel to catch stripers in San Francisco Bay.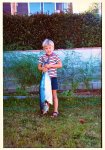 My son Mike's first yellowtail. He caught it on the New Seaforth out of Mission Bay in August 1984. Not a bad-sized bonito either.