Went fishing along the central coast rocks and sandy shore and hooked some interesting bycatch..
From the rocks I tossed a large swimbait in hopes of a hungry lingcod, cabezon or rockfish.. no dice. But I did manage to foul hook a sea cucumber of some sort.. Any ideas on what this is? I always thought California sea cucumber were more warty/spiky on top but this one seemed more smooth. Very rough and tough on top, like sandpaper.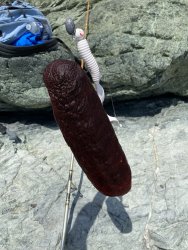 Here's a view of the bottom: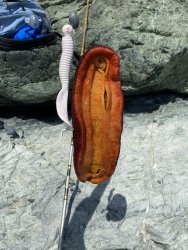 Needless to say, I was shocked and somewhat disgusted at the same time. I threw him back promptly.
Fished the sandy shore thereafter and foul hooked a few sand crabs on the lucky craft, also no dice.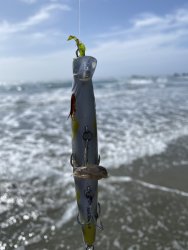 -Shawn