Went back to the Mole with my girlfriend twice. Our tactics are not changing that much so I'll leave out the repetitive details. We are both focusing on bottom fishing targeting primarily sheephead but also looking for ocean white fish, sculpin, and bigger calico bass.
2/21 was a great day for my girlfriend. She has been trying to catch her first opal eye on the Mole and this time she was finally successful. She got a small opal eye on squid using two size 8 mosquito hooks fished under a float rig. She was using peas earlier but her bait kept getting stolen. She also landed an 18" sheephead which was the largest sheephead that either of us have caught at the Mole. She also caught a 16" sheephead. The opaleye, two larger sheephead, and 33 total fish that she landed was probably her best day of fishing ever!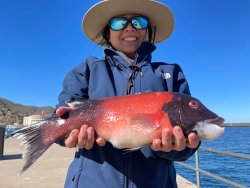 I had an average day, landing a couple keeper sheephead and some ocean white fish and 20 or so smaller fish. The fish seem to be getting smarter or I was just having an off day. They stole lots of shrimp and bloodworms today. I caught a more than usual amount of senorita and rock wrasses so maybe those bait stealers were more abundant today. My girlfriend was smart and switched to squid which resulted in fewer bites but more landed fish. I, on the other hand, was stubborn and insisted on try to hook the fish with the softer baits. Her strategy resulted in a better day.
2/27. The mole was the most crowded I have ever seen it today. There was a large group, close to 20 anglers that came to target Opal eye. They were fishing a mix of float rigs, stick baits and sabikis. There were very few Opal eye caught. In fact I don't remember seeing a single one. That group did land a couple handfuls of bonito, some mackerel, and a 15" kelp bass.
My girlfriend had trouble finding her rhythm all day. She was getting plenty of bites but the fish kept snagging her in the kelp. I had a better than average day, landing 3 keeper sized Sheephead, a 13" sculpin and a few ocean white fish along with 30 or so other fish. Once again we had a trickier time hooking fish on the softer baits. I think a factor is that we have been freezing unused shrimp and this is resulting in an even softer bait. I will try salting the frozen bait and bringing fresh shrimp and see the difference in performance. I also threw 10-15 casts on a 42 gram colt sniper with not bites. I was keeping an eye on the other anglers throwing stick baits and looking for a wide open bonito bite. It never came, just onesey, twosies through the first half of the day and then nothing.
My most interesting catch of the day was doubling up on a garibaldi and a small moray eel. The eel was tricky to unhook. It was tying itself in knots trying to get off the hook and in the process tangling itself in the line just below its gills. I had to take my sinker off, de hook the eel and put the eel and my tangled line in a bucket of water. From there it slithered its way out of the line and I was able to return it to the ocean unharmed.
Brought a new friend of ours who has never fished the Mole. He had a great time. He caught a few ocean white fish, three keeper sized sheephead and a bunch of smaller fish (mostly sheephead and sculpin).
I tried a new recipe for beer batter fish tacos with the sheephead. It was delicious! I made the beer batter with a new nitrogen infused guiness stout and the batter was light, crispy and delicious! I also made ceviche with the thinner portions of the fillet closer the tail.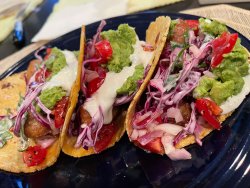 Last edited: