Stayed at Avalon for another night, this time with a friend who had never gone fishing before.
After getting off the Express, we started off fishing the Mole with the bonito splasher, only for it to fly off on the third cast. I cast at it for several minutes before finally snagging it. In the meantime, my friend caught a couple small whitefish on squid.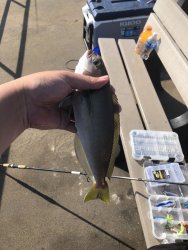 Afterwards, we started fishing the splasher again, and I hooked a fish and handed it off to my friend. After that first fish, fishing slowed considerably, and we caught smelt to keep ourselves occupied. At around 12, we decided to pack up and head to the GPP. Big mistake; as soon as we had packed up our rods, the water exploded in fleeing baitfish, bonito and calico were chasing bait up and down the Mole. In the scramble to set up, I was able to get the splasher rig ready, but immediately lost the fly and most of the leader to a fish. We got one fish out of that flurry, but after about another hour of hard fishing, had nothing else to show for it.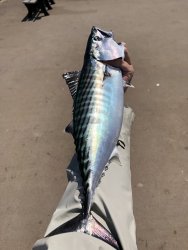 We headed to the Green pier and fished for short calico just to stay occupied. I caught two opaleye and a legal calico in the mix, while my friend was plagued by 12-13" shorts.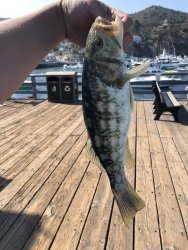 We headed back the Mole by 4:30 pm, and started throwing coltsnipers for barracuda. I caught a legal cuda at 6, while my friend caught a short at 7. Around 7:30, barracuda began boiling hard on the micro bait. I farmed something like five fish, while my friend caught another short. We stayed out for a little longer before calling it at 8 pm.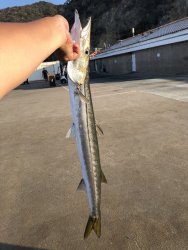 We woke up at 4:30am the next day and began fishing the Mole. My friend caught the first fish of the day, a short bass and a scorpionfish on the coltsniper. Unlike last week, there were no barracuda around, instead, there were only periodic bursts of activity from what I presume were bass coming out of the kelp to feed on the baitfish.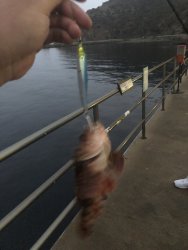 (apologies for the terrible picture)
We met with Hashem at around 7:40~50, and started fishing for bonito. I don't exactly remember the timeframe, but my friend caught two bones, while I caught one over the course of the morning. In between, I fished bait under a float and caught a halfmoon and a couple garibaldi.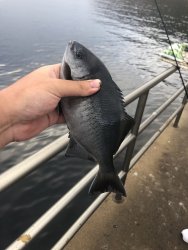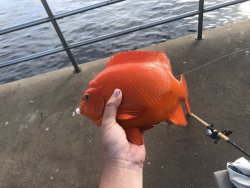 The wind picked up in the afternoon, and made it difficult to fish. After no luck casting the splasher and fly and the coltsniper for several hours, we started packing up at around 6 pm. My friend decided he was done fishing, and stood in line for the ferry, while I continued to fish. At the very last minute, around 7:20, the wind died down and I caught three or four short barracuda before rushing to catch the 7:45 boat home.