I took the 6 am boat out to Avalon for a 1 day fishing trip. I started off fishing mackerel on dropper loops, while fishing a float rig for opaleye. No opaleye were around, but I did catch quite a few small halfmoon and blacksmith. When I released the smaller fish, an immense (>24") calico came up from underneath the pier and ate them. However, whenever I dropped down a live baitfish with a hook in it, the bass immediately turned away. Although at one point it took a flylined senorita wrasse, it busted me off almost immediately and returned to its spot by the piling. At around 8:30, I met Reel Newbie, and we began fishing together. (I swear this was not planned) The sun came out, and fishing immediately slowed. I could barely scrape out a couple short calico and an almost legal sculpin. Casting a coltsniper jig, I was able to catch a jack mackerel, which I tried to send out on a wire leader, but it flew off the hook during the cast. I made the move to the GPP at around 12, and began fishing for opaleye. There were not very many around, but I managed two after picking through dozens of short calico. I also caught an amberstripe scad, the first that I had seen in several months. Around 3 pm, the bite for all fish slowed substantially, and I decided to try somewhere else. I dropped some of my gear off at the storage service, and took my backpack, a bucket with ice, and my medium baitcasting setup to Pebbly Beach. Initially the fishing was slow, but then around 4:40, the whitefish bite kicked off. I caught well over a dozen, and kept six nicer size ones. I returned to the Mole by 6 pm, and began cleaning/packing up, while leaving one rod out with mackerel on a dropper loop. I also fished a float rig for opaleye, and caught a nice sized halfmoon. I took the last (7:30) boat home.
Overall mediocre fishing (especially compared to some of my trips during the winter), but still fun, and it was great being able to meet site members.
Pics: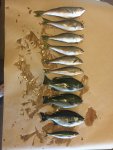 Note the more gently curved lateral line in comparison to Pacific jack mackerel, fewer lateral scutes, yellow stripe running down its side, and the reddish-brown coloration in the lower lobe of the tail.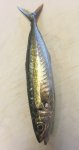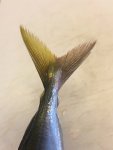 Last edited: